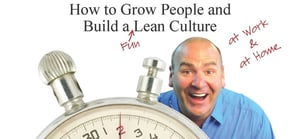 A few years ago a friend of mine gave me a book called "2 Second Lean" by Paul Akers. This book, which is a very easy and fun read, has changed the way we operate here at Turfscape. Paul Akers takes the extremely complicated concept of "lean manufacturing" and breaks it down into a simplified version that can easily be implemented into any business. The idea of lean was originated in the auto industry with "TPS", or Toyota Production System and has gained lots of traction in the manufacturing arena. However lean can also be applied to a service business such as a commercial grounds maintenance company like Turfscape.
The basic principles behind lean are eliminating waste and continuous improvement. This is important because Turfscape is a better company when we can remove non-value adding activity while focusing on delivering a higher value service to our customers and improving their quality of life. This supports our purpose as a company, which is "Making a difference in peoples lives". Here are some of the changes we have made at Turfscape that are helping to build a lean culture.
The Morning Huddle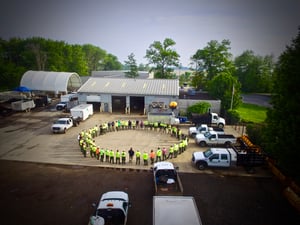 Every work day starts at 8:00 AM with our morning huddle. Everyone gathers up prior to heading out to the commercial properties that we service to meet and have a quick meeting to talk about operations, safety, company updates and to share important information. Huddle Video.
Eliminating Waste
There are 8 forms of waste that can happen when performing our commercial grounds maintenance services. These are hung up on the walls and talked about all the time: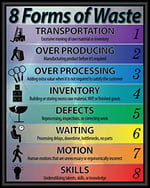 2 Second Improvements
In the book, Akers talks about simplifying the concept of lean as much as possible. Instead of focusing on making major improvements in a process, it is easier to focus on achieving smaller victories, such as a 2 second improvement of a process. Turfscape is focused on making a 2 second improvement daily and we talk about them all the time.
Respect for Others
Treating each and every individual with respect is paramount to building a lean culture. We show respect for others when we leave things better than we found them. Whether it is cleaning the bathroom after we use it or washing off a muddy mower prior to turning it in for routine maintenance.
By practicing these lean principles we can continuously improve and provide a better service to the commercial properties that we partner with. If you would like to find out how our lean culture can add value to your commercial property please
.