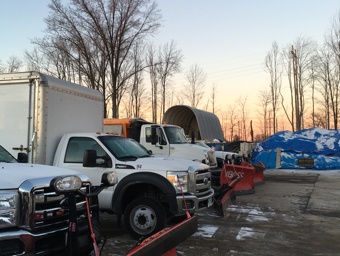 What does our sales and estimating team do when we receive a request for a snow removal bid? We ask questions. And then we ask more questions.Not only does this allow us to create a competitive bid, it benefits you, the Facilities Manager, to be assured you're receiving a quote on the services you require…at a cost-effective price.
Below are three factors that go into commercial snow removal pricing:
1. Requirements
As a commercial Facilities Manager, you want to make sure you're getting bids that are comparing apples to apples. To be sure the bids are as accurate as possible, your prospective contractor should be asking these types of questions:
What are your operating hours? i.e. 24/7, open on holidays, open on Saturdays
What trigger depth do you require? i.e. 2", zero tolerance
Do all sidewalks need to be shoveled? i.e. some facilities manage sidewalks in-house
Do you require salt or calcium for deicing services? i.e. calcium is more expensive but easier on new pavement
2. Accurate Takeoffs & Measurements
The key here is to solicit snow removal bids early. During the summer months is ideal for prospective contractors, but even early fall is ahead of the game. Here are a couple of reasons why:
Getting your contract secured before the first snowfall of the year can help guarantee accurate measurements. This allows a physical site visit and in-the-field-measuring on any areas that are unclear via satellite imagery. If the property is covered with snow, it cannot be measured properly until the following spring.
Some contractors limit the amount of new snow removal work they accept each season. You might compromise service if you wait until the last minute to solicit bids. There will always be someone to service your commercial or industrial property, but it limits your options on choosing the best contractor for your customized requirements.
By planning and securing a snow contract early, it allows your snow contractor to allocate the appropriate equipment necessary to service your property i.e. skid, loader with pusher box, 550 with a plow, epoke for salting, etc.
3. Building Contract to Individual Property's Specifications
Now that the snow removal requirements of the property have been discussed and the property has been measured and/or visited, the contract needs to be built. With the input of you, the Facilities Manager, the scope of work needs to be dialed in, which could include:
Seasonal vs. Per Occurrence Pricing

Seasonal = insurance policy knowing property is covered all winter
Per Occurrence = if it ends up being a heavy snowfall winter, you might end up paying more overall or vice versa

Salt after every plow vs. upon request
Deicing with salt vs. calcium
Any other property-specific customization
Not having a snow contractor in place well before the first snowfall of the season can be detrimental to the safety and convenience of your employees and visitors. Contact a reputable commercial snow removal company today…it's never too early.