"Winterize" is a term that is mostly likely spoken by those of us blessed to live north of the Sun Belt. You might view the tasks associated as a curse, but when you realize that getting ready for the winter is actually quite simple, you can attack it with relentless fervor! For commercial properties, the work is very similar to what you might do at home.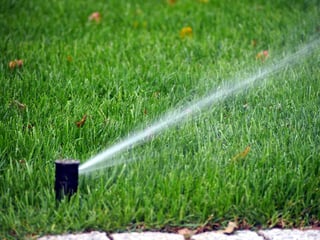 1. Shut down your irrigation system. The backflow exploded, underground lines have cracked, and heads need replaced. This nightmare can cost thousands of dollars in the spring. It is critical to properly shut down your system before November 1st. A qualified contractor will perform a final test on the components, blow out water from all the lines, and shut down the control box. (Don't forget to take your garden hose off and turn off outdoor spigots at home, too.)
2. Get your plants ready for dormancy. All the boxwoods are brown, the arborvitaes have salt burn, and the site looks a mess. A professional landscape contractor can help you so your spring doesn't have to start like this. A final fall clean up should be done, including removing spent annuals/perennials/grasses. The lawn should be cut at 2 ½" to prevent disease issues. Annual pots are picked up and stored indoors to prevent breaking over winter (unless using for holiday décor). Evergreen plants benefit from protection to prevent wind-burn or salt-spray damage. They can be treated with an anti-desiccant which keeps them from drying out. Temporary burlap or silt fencing can be erected to break up wind and hold back salt spray. (Your home landscape will thank you if you get this done there, as well.)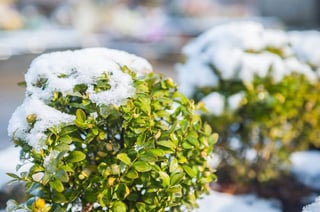 3. Bring in Holiday Cheer. Bah humbug. It's the holiday season and no one is in a good mood at work. Why not try some festive potting arrangement? Similar to summer annuals, pots can be planted with evergreen plants, boughs, and colorful branches like red-twig dogwood. Suddenly, you're on Santa's nice list! (At home, go nuts… try to out-do Clark Griswold from Christmas Vacation. Your neighbors will thank you.)
4. Wrap up your budgets. You didn't get those plantings installed like you wanted, and now your boss tells you that next year's grounds budget is being cut. Autumn is an excellent time to install plants, renovate turf and get a jump on spring. Numerous studies have proved that well-maintained landscapes improve property values, boost morale and increase tenancy. (You've only got a few more Saturdays to get this done at the house. Get 'em off the honey-do list.)
5. Get ready for snow. It's December 2nd and when you pull into the lot, there is 4" of snow covering everything. "What happened", you ask yourself, "I sent the contract to him yesterday!" Commercial snow removal contractors are planning now. Actually, the best ones started planning in June. It's time to walk the site to determine where snow piles should go. Assess the property for pot holes, broken curb lines, and drainage issues (think: slip and fall). Time to talk about them and get them fixed now. A snow contractor is invaluable in these regards. Get your contract sent in and sleep comfortably knowing everything is taken care of. (Well, almost… you still need to get the shovels out of the attic and get the snowblower tuned up so Jr. can take care of the home driveway.)
Are you ready for the winter? Yes, you are. At least you know where to start.