When you run a commercial landscape business like Turfscape, you tend to acquire quite a large fleet of vehicles and equipment along the way.

But it's not the size of the fleet that matters, but how you use it and take care of it.

In fact, you might be thinking right now that as a facility manager you care very little about the types of equipment we use and trucks we drive as long as the work gets done. And we understand your point.

But think for a moment about the time a landscape professional spends on your property. Imagine if your tenants, customers, employees, or site visitors saw those pieces of equipment on your property. And it really is bound to happen at some point. What would their perception be of their business and their work just based on their fleet? And how could that positively or negatively impact your reputation as a result?

Let's take a look at 3 reasons why facility managers should care about a commercial landscape professional's fleet of vehicles and equipment … because, ultimately, you benefit.
How Vehicle and Equipment Improvements Impact You
Go ahead. Find a company who is picky about vehicle and equipment care, showing pride in their proactive behaviors. This might actually become one of your secret weapon questions when interviewing potential service providers.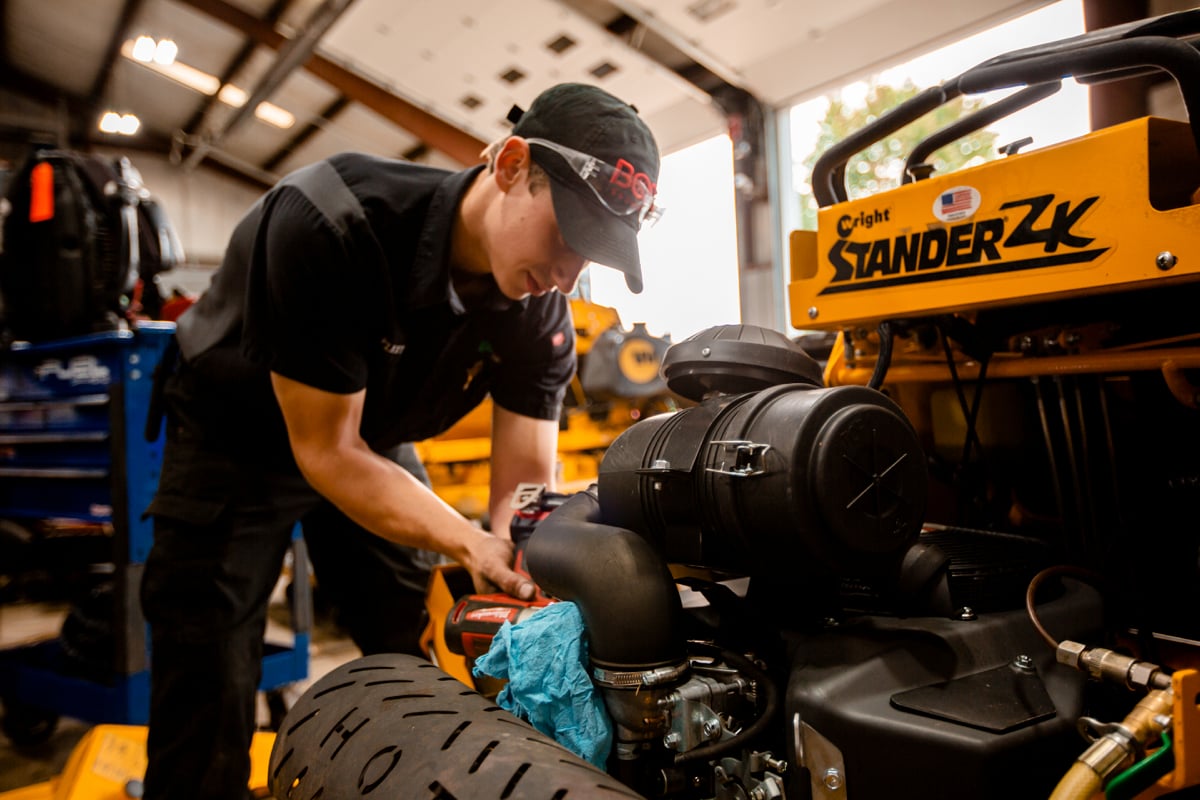 Why? If they invest heavily in the care of their trucks, trailers, mowers, and snowplows, imagine how much they will invest in their care for your property.

From first impressions to enhanced safety measures to better customer satisfaction, there are some crucial reasons why looking into how your service provider treats his equipment can give you insight into how they'll treat your property.
1. First Impressions Matter
What kind of impression do your landscape professional's trucks and equipment make when they pull onto your site? What do your customers think? Have you ever felt uncomfortable or embarrassed by the look of their fleet on your property?

Let's be real: The appearance of your commercial fleet of vehicles, equipment, and even people working and moving about on your property is a direct reflection on your own reputation.

Clean and well-branded vehicles accompanied by crews wearing tidy, pressed uniforms not only display professionalism, but they also act more professional. You know the feeling of slouching in sweatpants versus sitting up straight in a suit and tie or dress. Dressing for the job improves your behavior on the job. And, if your landscape crew members look good and their trucks are shining with clear branding, you look good, too.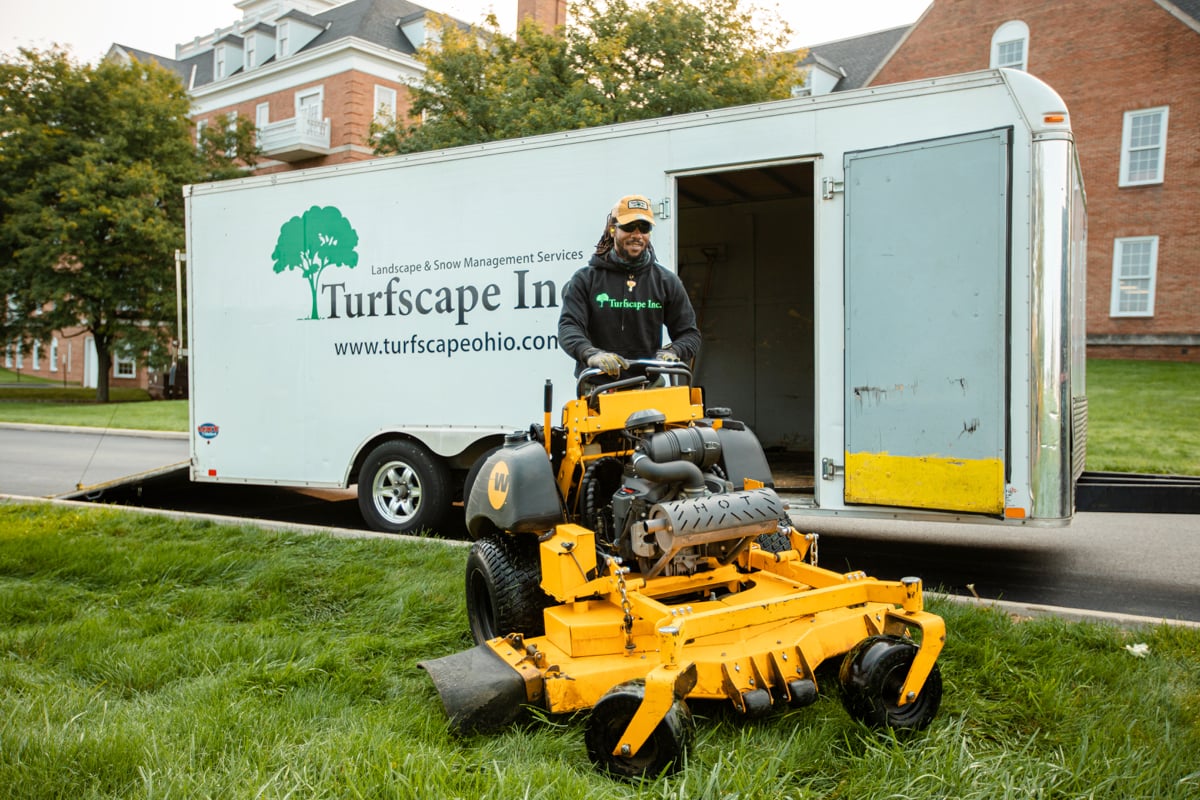 2. Equipment Maintenance Improves Your Service
Equipment that leaks oil on your property or lets off excessive noise or emissions is also a poor reflection on the landscape business on your site, as well as your property and management company.

Landscape businesses that make investments in their fleets are doing so to ensure there is little interruption to your maintenance schedule. A broken down machine means caring for your property is delayed. Mower blades that aren't sharpened means a dull cut on your lawn that is noticeable.

At Turfscape, we replace our mowers every three years and replace our trucks every five to 10 years. We employ three full-time mechanics to perform preventive maintenance and repairs so our equipment runs well for as long as possible. We have a regular schedule for replacement parts, as well as spare equipment, so downtime is limited while machines are being repaired. Each quarter, we review the condition of all pieces of our fleet so we can continue to proactively plan for repairs and replacements.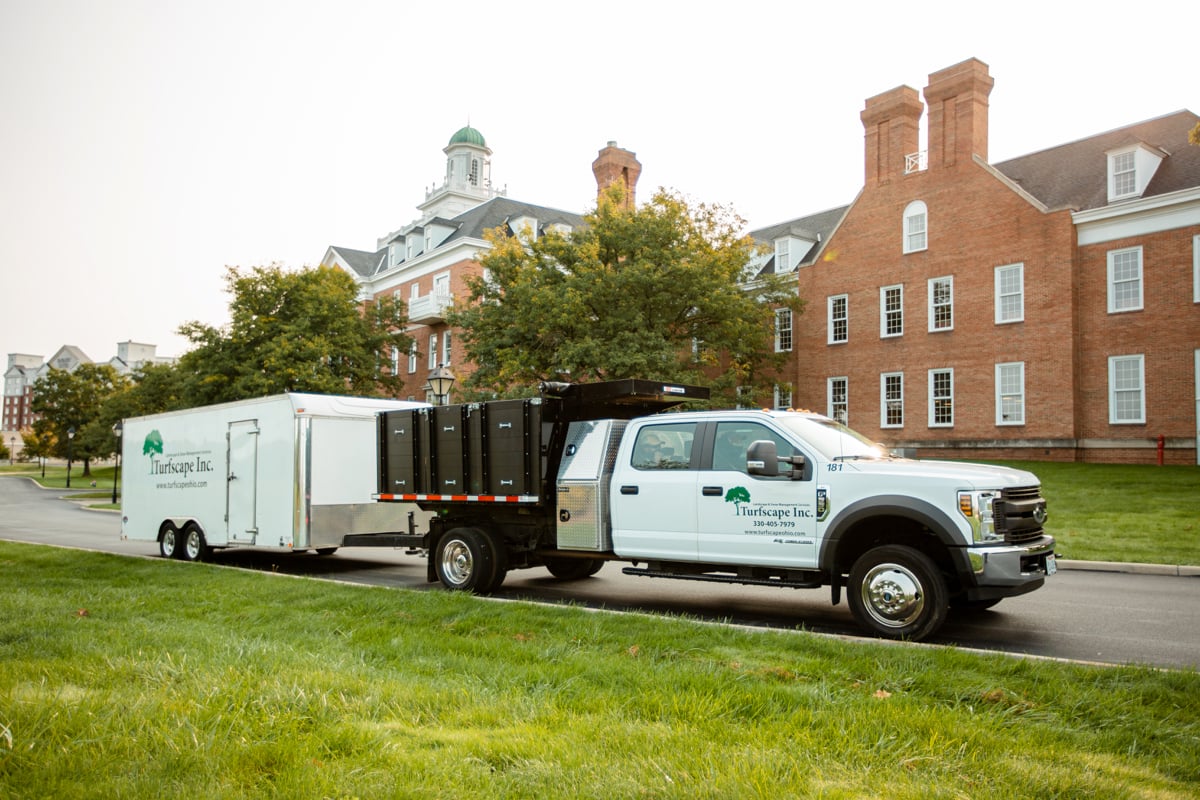 3. Secure Equipment Enhances Safety on Your Property
Safety is always an important consideration on your busy commercial property.

The commercial landscape service you hire should be able to share with you how they secure equipment when it's not in use and cover debris they collect to ensure the safety of everyone coming and going on your property. They should be able to exhibit their safe driving record and act with courtesy and consideration to others while they are working on your site. All of these behaviors not only boost overall professionalism on your property, but they also lower your liability.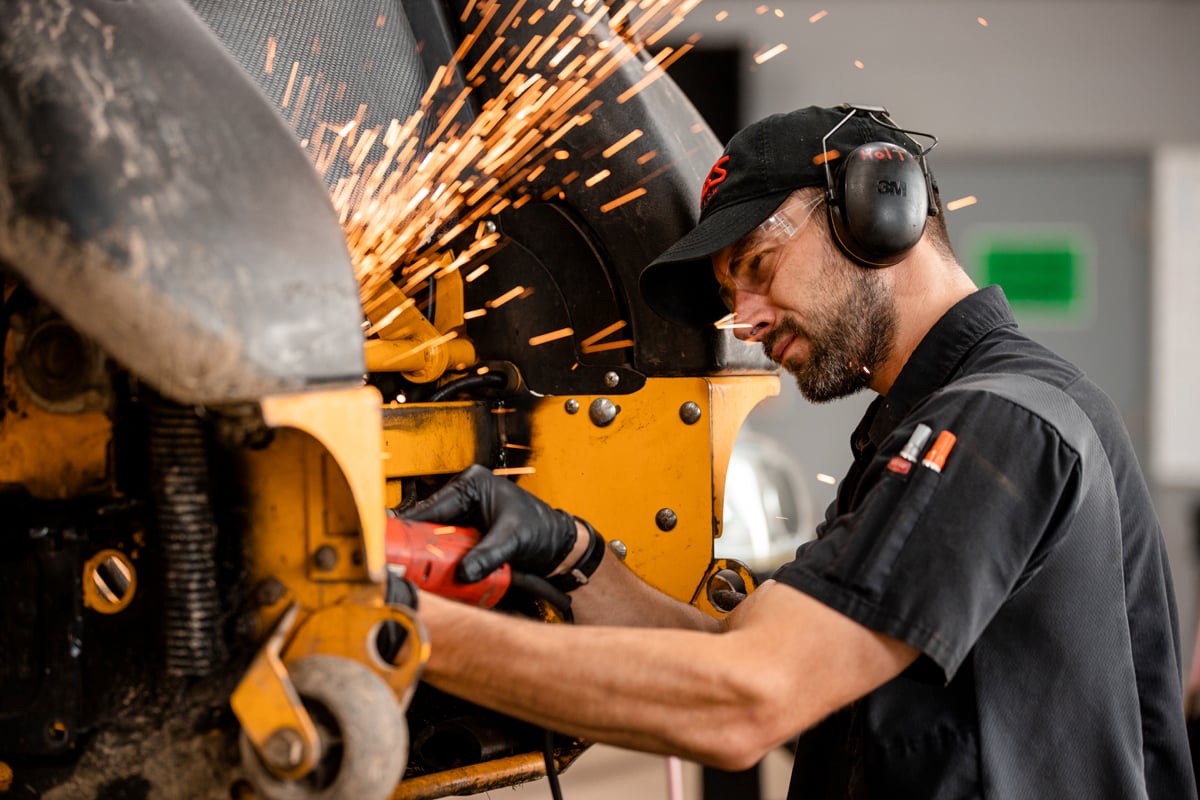 In today's climate, to amplify safety measures, trucks and equipment should be wiped down and sanitized daily, in addition to pressure washed weekly.

At Turfscape, we believe investing in our fleet keeps our crew members safe as well. A rundown piece of equipment can be a safety hazard to the crew members using it. Equipment that isn't properly secured can fly off and hit something or someone. Mowing with shoots down ensures rocks and sticks won't fling from the blades into the air. These are practices we train and ensure our crews follow to enhance safety and security while performing their daily tasks.
Proper Equipment Maintenance Saves You Time and Money
It's very clear that a commercial landscape company that cares about the maintenance of its equipment and vehicles will also care about the meticulous details involved in properly maintaining your property.

A proactively maintained fleet costs less to operate and reduces risks, lowering service costs overall. This also prevents any disruption in landscape care, protecting your valuable time.

Your commercial landscape contractor is a part of your team. At least we hope you see it that way; they work for you. That means how they look, drive and conduct themselves on your property can reflect positively or negatively on you and your company.

Let Turfscape help amplify your reputation and limit your headaches when dealing with service professionals. We'd be happy to share with you how we maintain our equipment and vehicles and how this impacts you. Request a proposal today. We'll review your options together so you can make the best choice.