When you think about what you want your Northeast Ohio commercial property to do for your business, you probably want a few key things: high impact visual appeal and low-stress maintenance. Who wouldn't want that? And, more importantly, who wouldn't want that at the same time?
There are some plants in your commercial landscape arsenal that can work wonders to deliver these facility traits you seek. Among them are ornamental grasses.
Ornamental grasses in Ohio receive great recognition for their environmental friendly qualities, including pest resistance and drought tolerance. Enhancing your commercial landscape with multiple textures, varieties, and heights, ornamental grasses are also stunning additions to your site.
Use them correctly, and ornamental grasses can wow your visitors, tenants, guests, and clients as screens, in borders, as ground covers, and even in containers at your industrial, office, retail, hospital, or educational facility.
Ornamental Grass Benefits For Your Northeast Ohio Commercial Property
While beauty is a top attribute of ornamental grasses, they also boast quite a bevy of benefits that you may not expect to see.
For a sustainable and long-lasting, low-maintenance commercial landscape, there are more than a few reasons landscaping with ornamental grasses for commercial landscapes is ideal for your Northeast Ohio property.
Ornamental Grasses Are Drought Tolerant
If you're trying to conserve water use, ornamental grasses in Ohio can be long-lasting without taxing your irrigation system or increasing your water bills.
They can handle harsh summer heat and resist any negative impacts from dry or biting winter weather and winds.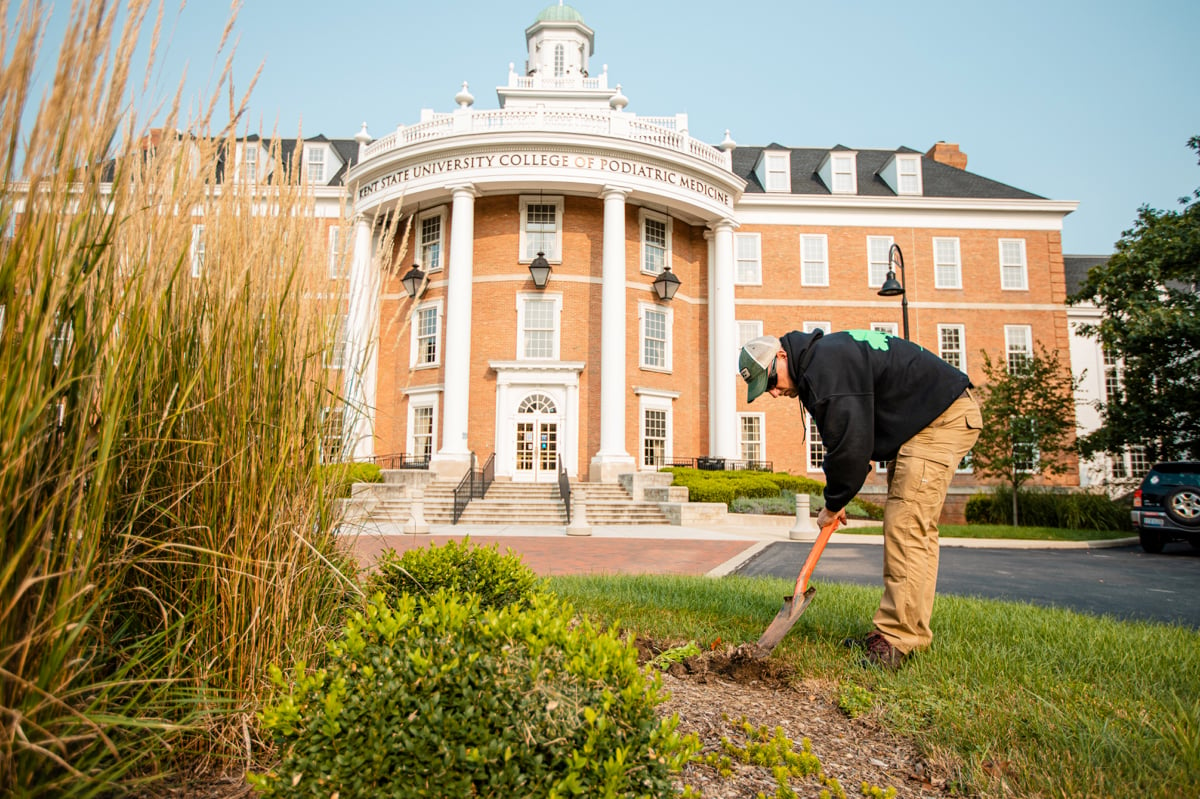 Ornamental Grasses Boast Pest and Disease Resistance
Ornamental grasses in Ohio can also stand up to common pests and diseases, which make them commercial property assets.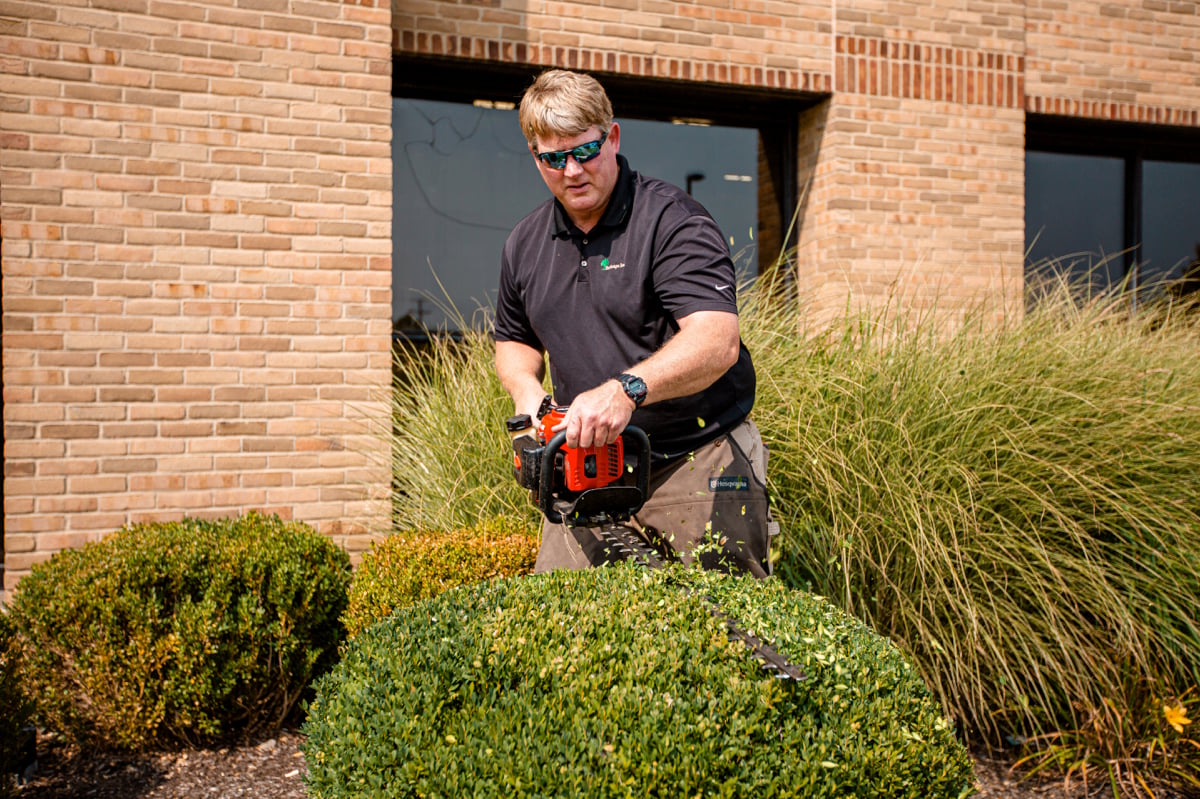 This also can reduce your maintenance tasks since they don't require excess fertilizers or pesticides or any special attention. And they still look great even when you're not paying them a lot of attention.
Ornamental Grasses Are Known to Be Hardy
You are a busy facility manager and don't have time to micromanage your plants. That's why ornamental grasses in Ohio can be your best friends.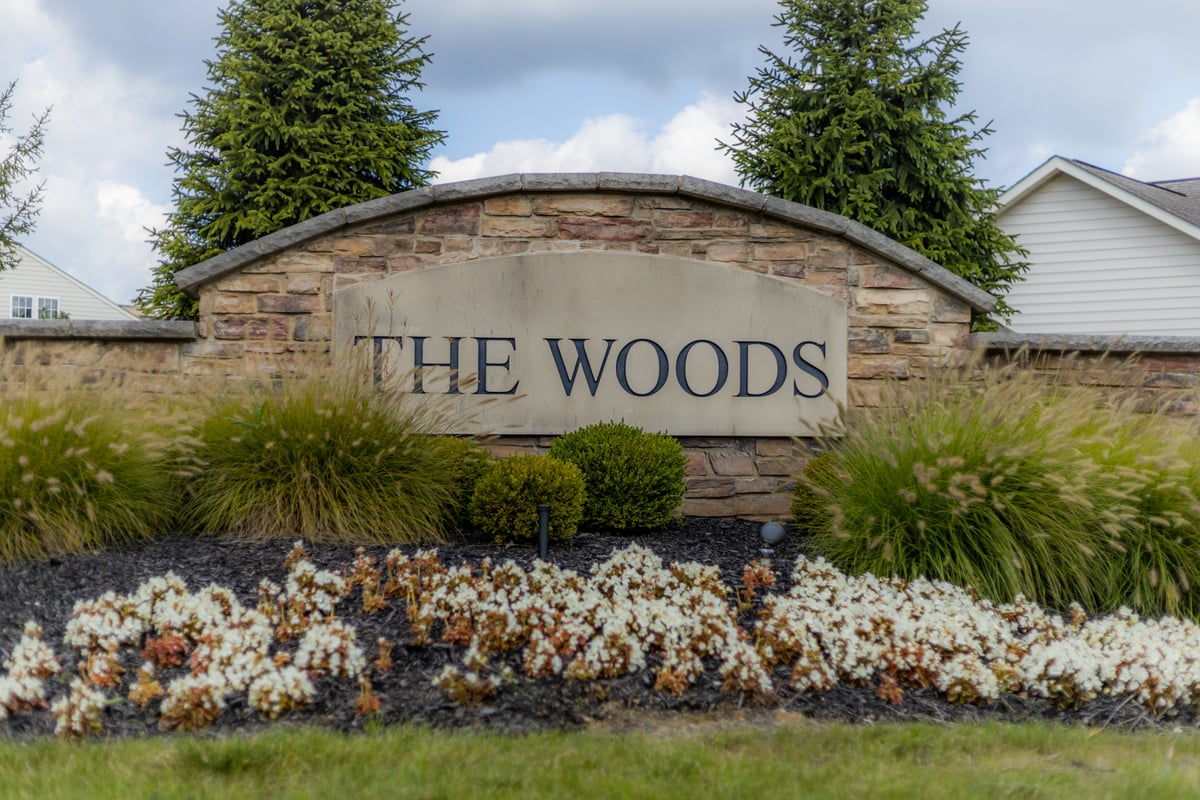 They come in various sizes, shapes, colors, and textures – ranging from spiky to feathery to mounding versus tall. As they move in the wind, they sway and shimmer, adding a great elegance to your commercial landscape.
Ornamental Grasses Are Adaptable
Ornamental grasses in Ohio can be used in multiple ways on your commercial property.
As curb or border plants, they can offer striking volume, year-round color, and a durable alternative to texture and unique interest in your landscape.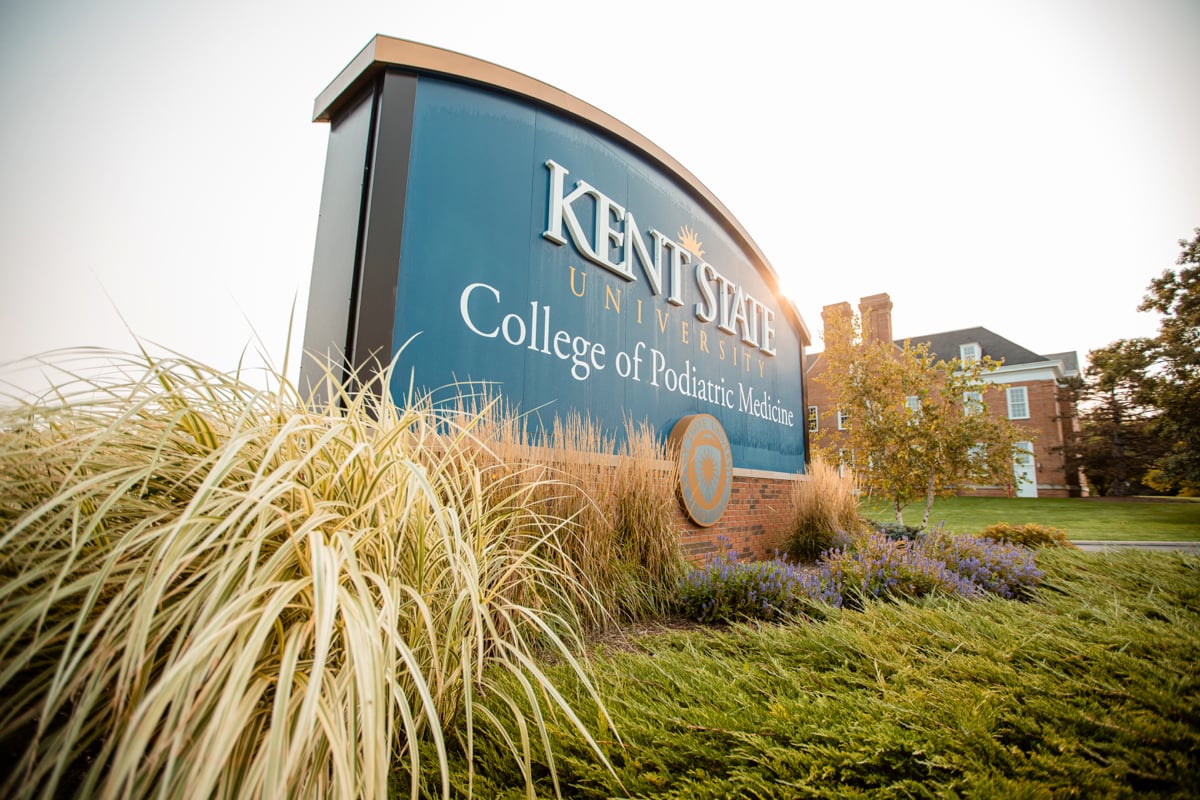 Some ornamental grasses can even grow to an 8 feet height, providing some nice privacy in the form of a natural fence.
Also, ornamental grasses make great thrillers in your landscape containers, bringing height and some movement.
Finally, if you use ornamental grasses as ground covers, they can grow some deep roots and give hard-to-mow spots some color, as well as stabilizing hillsides and slopes.
The 6 Best Ornamental Grasses For Ohio
Now that you know the intrigue and interest ornamental grasses in Ohio can add to your commercial site, it's time for the best part: learning about the best ones to plant.
These 6 amazing and adaptable ornamental grasses are on the list of those we like to use in our commercial clients' landscapes because they are great performers and have some qualities that make them attractive favorites.
1. Karl Foerster Reed Grass
Truly one of the best ornamental grasses for Ohio, Karl Foerster is a reed grass that boasts tan seed heads that wave in the breeze atop bright green plumes.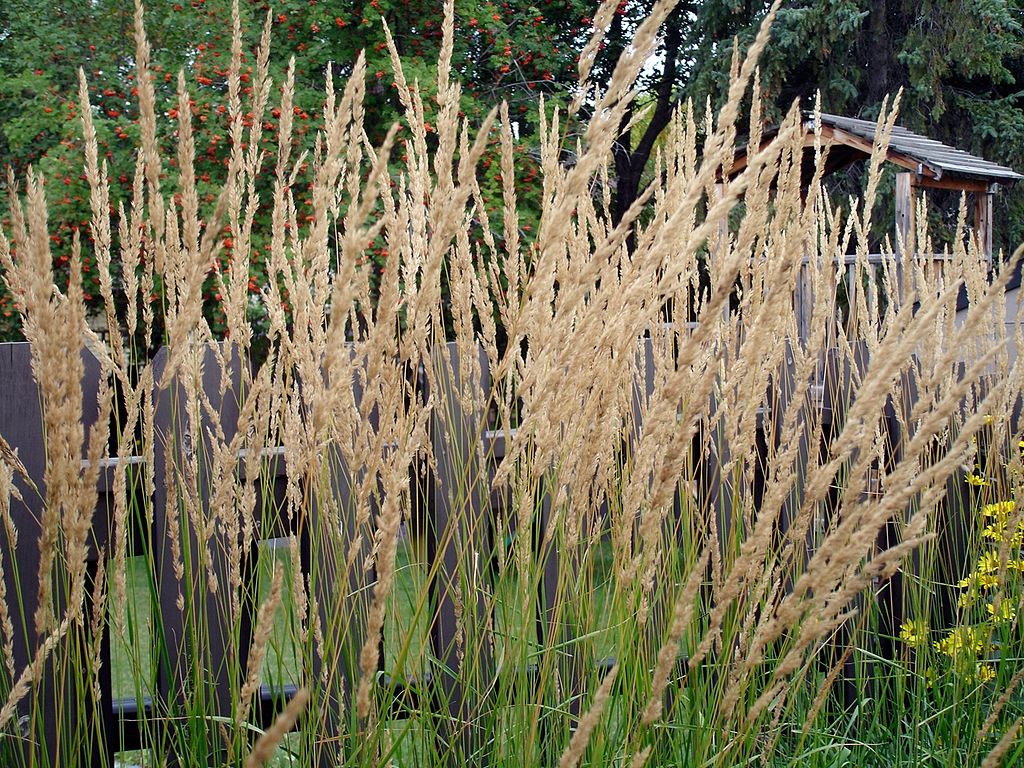 On top of being beautiful, this grass is also a lover of both sun and shade, and is also super tolerant of high-traffic areas and urban locations. It's heat tolerant and performs well in both warm and cool weather.
Growing to 5 feet with a spread of 32 inches, dramatic reddish-copper plumes can be eye-catching in summer.
2. Maiden Grass
As a great vertical accent plant, maiden grass can be used in so many places – as a hedge or in a mass planting.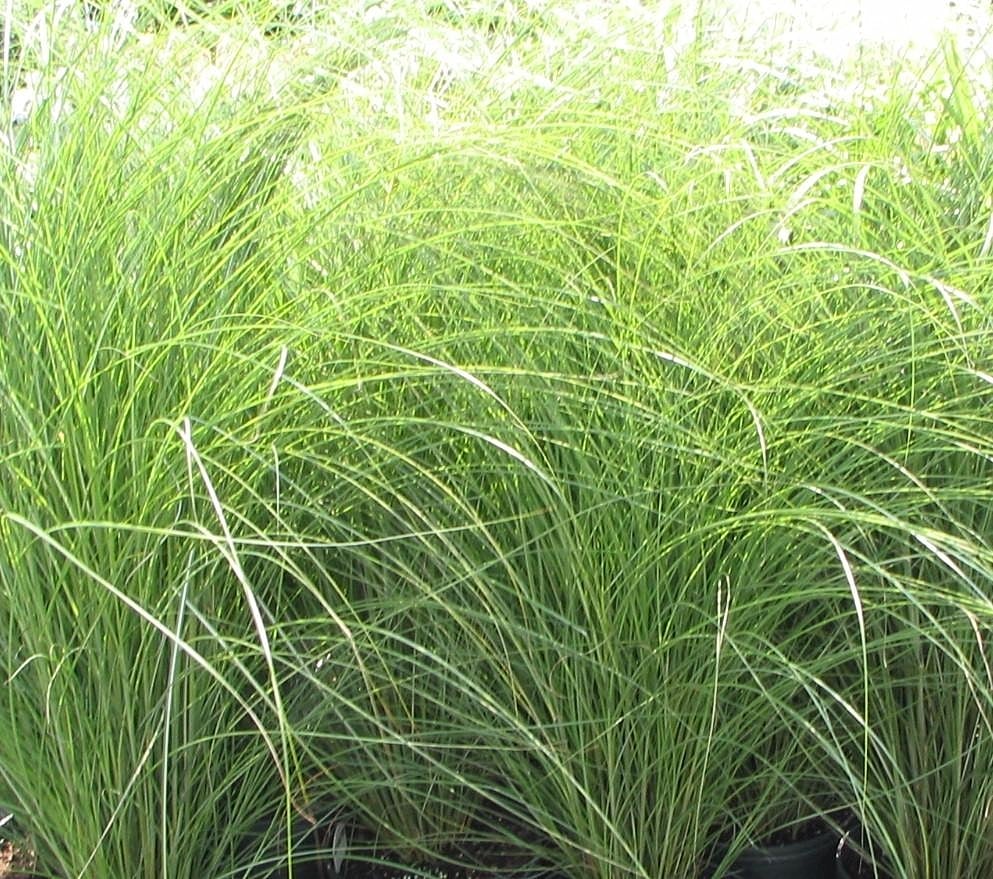 This best ornamental grass for Ohio has silverish seed heads that appear at grass tops beginning in early autumn and lasting to winter. Foliage, in the meantime, goes from green to green- and white-striped to yellow-striped. The stems turn bright red in fall.
These 5- to 10-feet tall and 2- to 5-feet wide silvery plumes on narrow, arching foliage make perfect backdrops to showcase other perennials. The sun shining through the plumes can add another glittering element to your site.
3. Liriope
This tall perennial ornamental grass in Ohio is adaptable as a ground cover to keep hillsides intact, surviving a variety of conditions – from wet to dry. And, as a bonus, it can even grow in full sun or deep shade.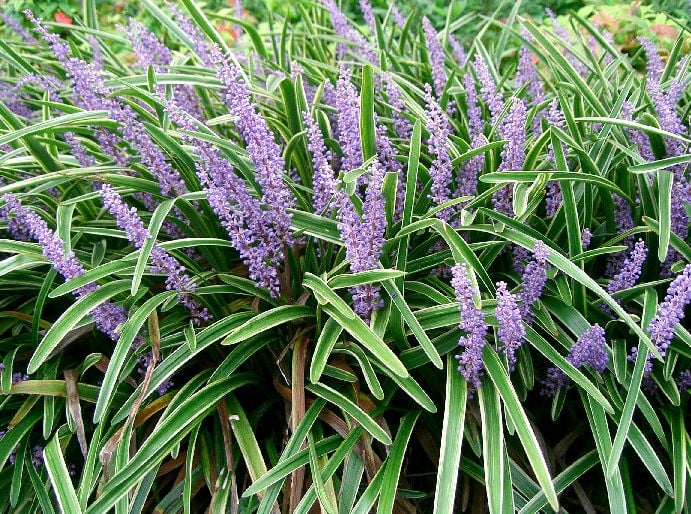 Since liriope also grows nice and thick, it prohibits weeds from growing.
There are quite a few varieties of liriope you can choose from – some have glossy, dark green leaves with lavender flower spikes, and others have variegated glossy green and creamy white spikes with thick purple flower spikes.
4. Dwarf Fountain Grass
This fine-textured ornamental grass for commercial landscapes adds bright green foliage to your facility that turns gold in fall. Some varieties start in light beige and turn pinkish brown in fall.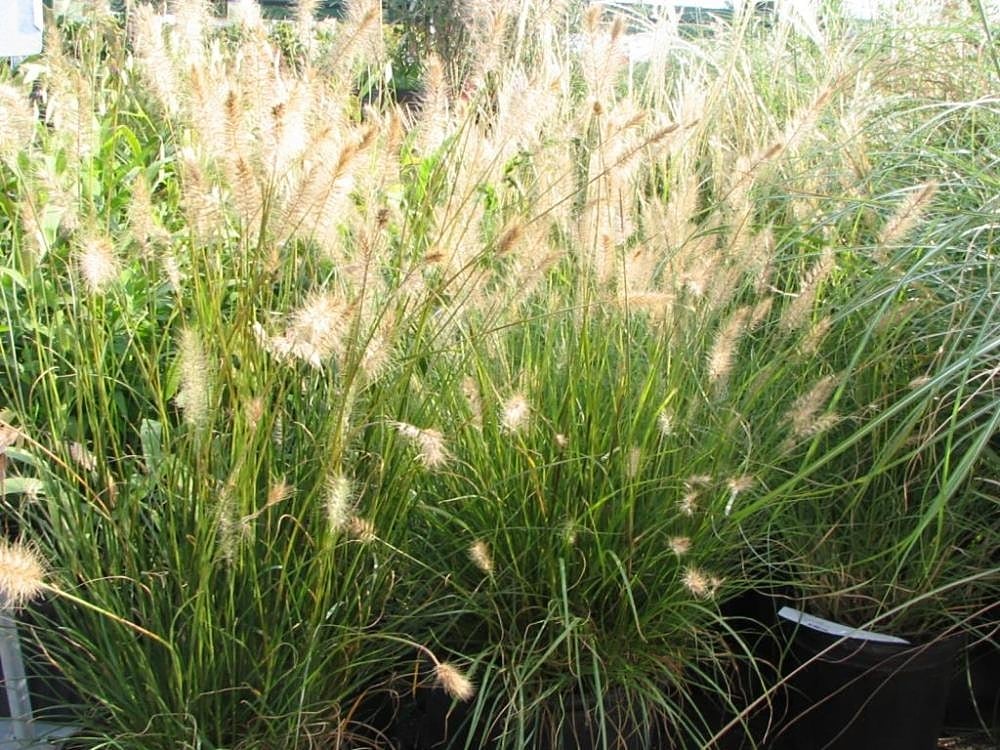 A visual perk is when blooms appear as little tops of bottle brushes in whites and violets. And it blooms earlier than other ornamental grasses to boot.
Only reaching 2- to 3-feet tall, this dwarf fountain-like display can be great for smaller landscape beds or courtyards in sunny, well-drained places.
5. Japanese Forest Grass
This brilliant, golden yellow ornamental grass is upright and vigorous, adding graceful mounds to your commercial landscape. Its arching, bright green leaves are 10 inches long in late summer. By fall, they become radiant in rust or a brilliant orange-bronze.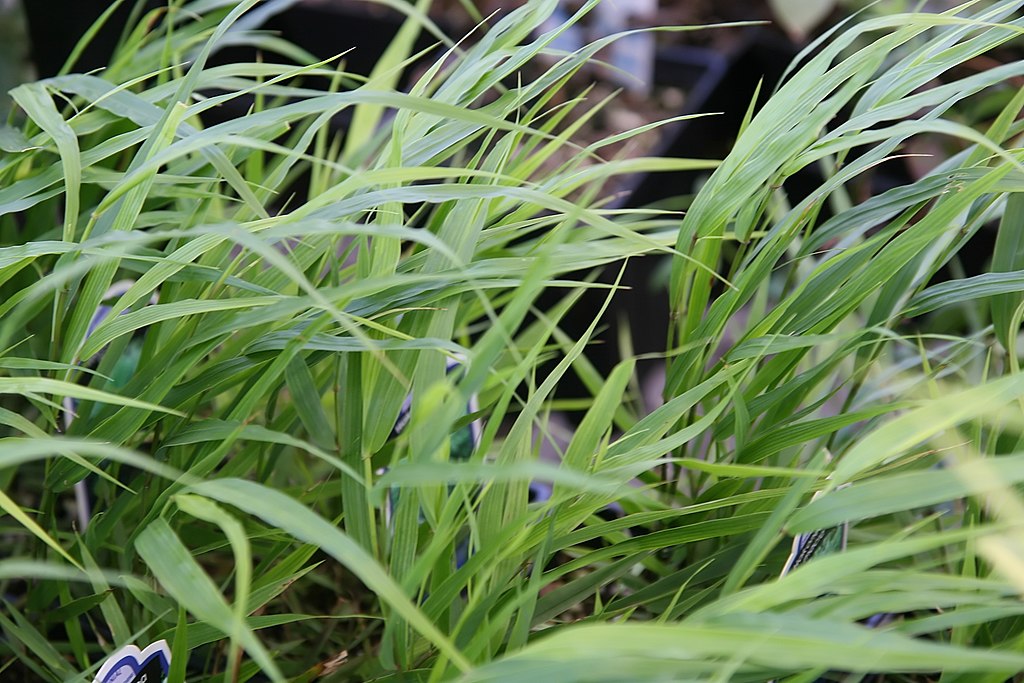 They can provide some textural spillers in containers or stand out as garden accents.
Plant these 18-inch high and 24-inch wide ornamental grasses for commercial landscapes in shade to partial shade gardens for attractive golden or chartreuse mounds.
6. Switch Grass
Native to North America, this tall prairie grass grows in a wide range of soils and comes in a variety of textures and colors – green to red or silvery blue.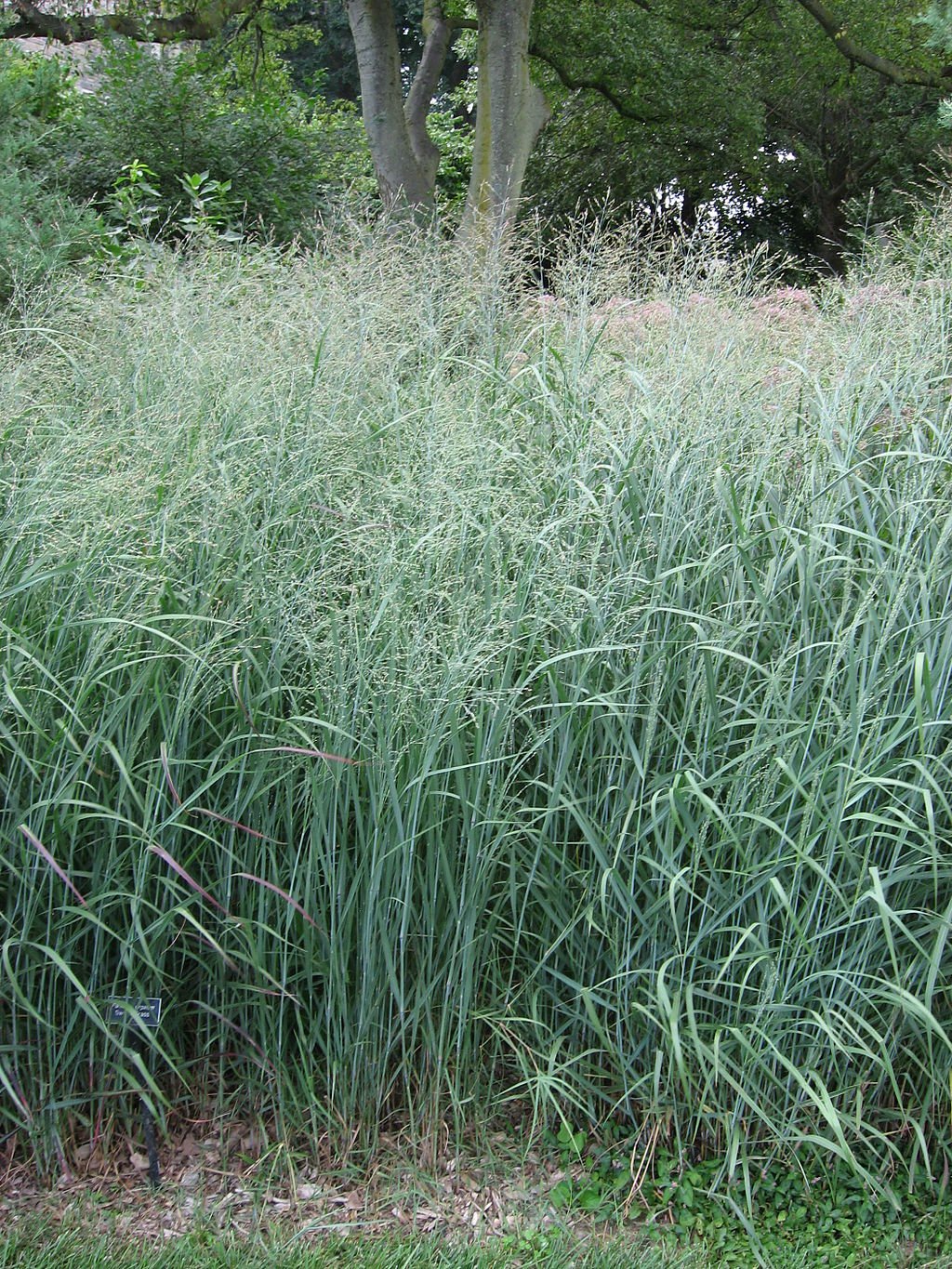 Blooming in mid-summer, switch grass has airy, pink-tinged flower spikes that rise 1 to 2 feet above the foliage. Turning golden brown in autumn, the grasses continue to wow, bringing songbirds to the scene for their seeds.
Plant switch grass in full sun for 4- to 6-inch tall and 2- to 4-foot wide ornamental grasses in Ohio. It can be grouped in the back of perennial borders, used in mixed plantings, or added to native gardens.
Embrace Ornamental Grasses For Commercial Landscapes
Ornamental grasses certainly can steal the show on your commercial landscape.
They are drought-tolerant, low maintenance, pest resistant, fast-growing, and provide year-round color and texture. Who wouldn't want to add a few to their site?
But it can be confusing choosing not only which varieties to add to your Northeast Ohio commercial site, but where to put them and how to best use them.
We understand. It can be a lot to learn and take in when there are so many varieties available of ornamental grasses in Ohio.
Let Turfscape help. We have vast knowledge of all plants, including ornamental grasses, on Northeast Ohio commercial properties, and we'd be happy to bring that insight to your facility for installation, maintenance, and top-notch care of your plants.
We can help you choose amazing ornamental grasses, insert them into your site creatively, and keep your property looking beautiful while also being low maintenance. Then you'll have much fewer worries on your plate, as your property continues to deliver perks for you.
Want to learn more about the ornamental grasses that could work best in your space? Get started today with a free quote. We'll review your options together so you can make a great choice.
Image Source: Karl Foerster, Maiden Grass, Liriope, Dwarf Grass, Japanese Forest Grass, Switch Grass