As a facility manager of an office space, you have quite a few concerns and tasks on your to-do list.

There's employee traffic during rush hour times, as well as managing highly used common areas and entryways. In addition to that, you have to ensure the property interior is well-maintained and accessible.

What's more, you have to keep the faciity operating through winter weather. Work doesn't get snow days, so you have to ensure employees can make it in and out with ease.

This is particularly true in an area like Richfield, Ohio, where light snowfall can turn into winter flurries in a second, causing nasty conditions – everything from feet of snow to icy walkways and roadways.

And for an investment firm like Charles Schwab that never shuts down, keeping Old Man Winter's surprise attacks under control is even more important.

For Charles Schwab, finding a commercial snow removal professional that can offer quality services, as well as prioritize communication to keep needs clear was crucial to develoipng a mutually-beneficial relationship.
Commercial Property Snow Removal Challenges & Solutions
Managing the snow and ice buildup on your commercial grounds is a big priority on any Northeast Ohio property management to-do list.

You want to keep everyone who visits your site safe. No one wants liability issues from employees or visitors slipping and falling on ice or tripping through thick snow. No one wants tree branches to fall from the weight of heavy snow and ice, damaging buildings or vehicles either.

Of all the commercial properties in this Richfield corridor, one of the most challenging properties to meet snow removal expectations is Charles Schwab. The Richfield, OH location is one of three Retirement Plan Services operational centers in the United States.The stock market does not get snow days and neither do the employees at the Investment Firm Charles Schwab.
Charles Schwab Snow Removal Challenges
Since Charles Schwab's Richfield, Ohio, location is one of three Retirement Plan Services operational centers in the United States, it knows remaining open and operating – despite the weather – is crucial.

And since Charles Schwab must remain open, it takes employee and customer safety very seriously.

The investment firm demands a "clear, wet parking lot" from the time their employees report to work in the morning until the last employee goes home.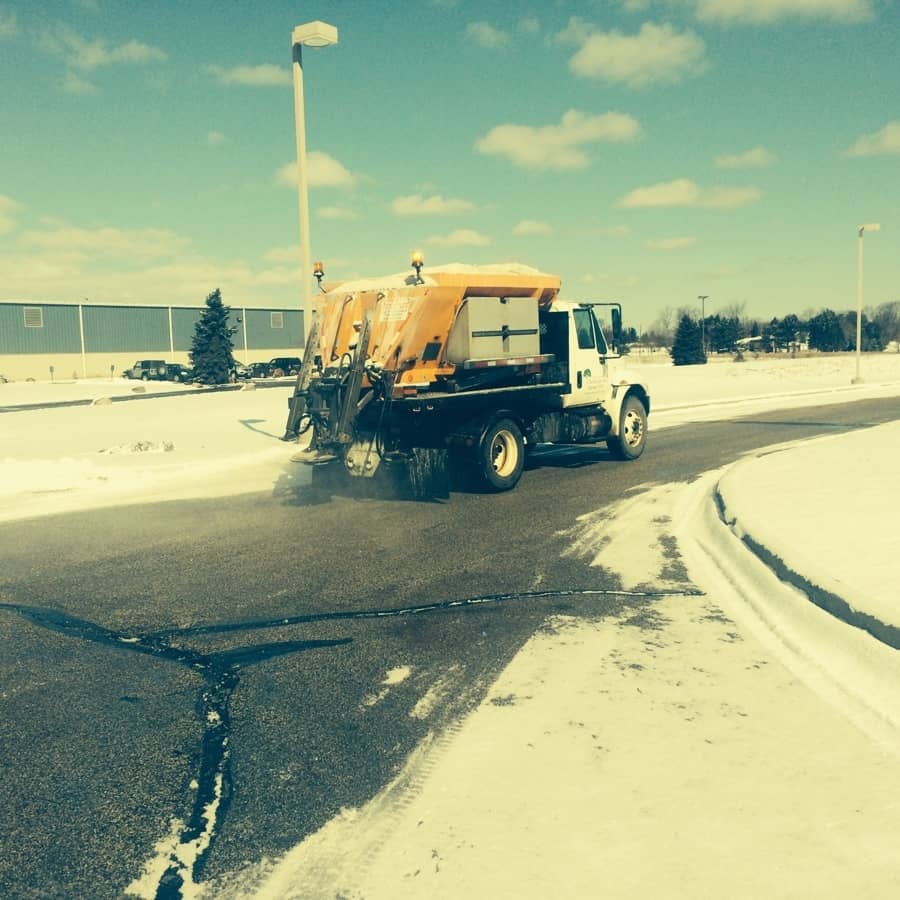 They wanted to work with a commercial business that understands commercial property snow removal. This meant having attention to detail and knowing how to keep tabs on the weather, as well as respond quickly when storms strike.

Turfscape was the company to deliver, alleviating their challenges and pain points by presenting viable solutions.
Charles Schwab Snow Removal Solutions
Charles Schwab needed a commercial property snow removal company they could count on for swift and reliable services to ensure easy and safe passage for its employees and visitors.

Turfscape provided the business with what they were looking for: strength in numbers, regular communication, and a landscape plan to ensure seasonal interest all year long.

Here are the ideas Turfscape came up with that helped Charles Schwab with their commercial property maintenance.
Same-Day Response
Communication is a vital part of commercial property snow removal. When you're a facility manager juggling multiple areas of your commercial property, you want to know you can count on snow removal companies. Keeping you in the loop is an important part of that process.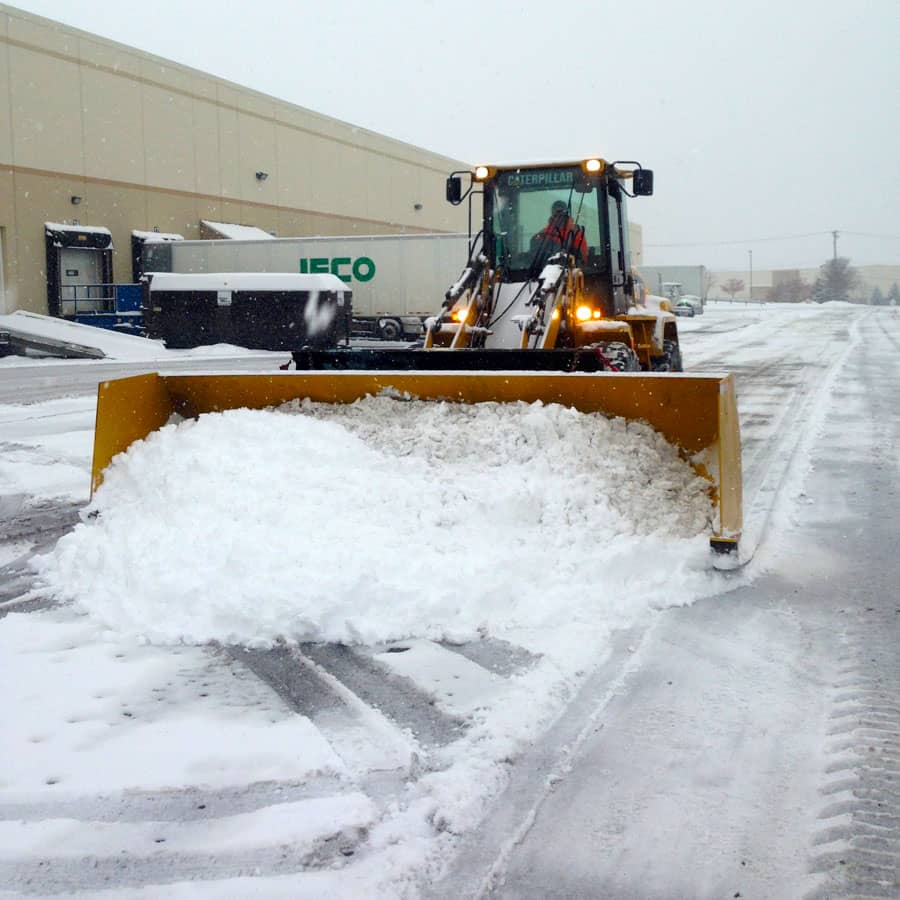 In fact, a facility manager must know what's going on at the site at all times to ensure work is being completed when storms hit and issues are addressed in a timely manner.

Turfscape account managers ensure same-day response on questions to ensure communication is top priority and facility managers are never left in the dark on current plans, maintenance schedules, updates, and concerns – especially when snow removal is concerned.
Strength In Numbers Workforce
Since snow removal is considered an emergency service, similar to police, fire, and emergency medical personnel, it must be executed using urgency. Sure, snow removal businesses aren't putting out fires or providing life-saving care, but they do remove snow and ice which can be a huge safety concern on a commercial site.

To ensure a clear pathway during employee rush hours, your commercial property snow removal professional must be reliable, not taking on so much work that it can't service your commercial facility in a timely fashion. Charles Schwab certainly wouldn't stand for delays.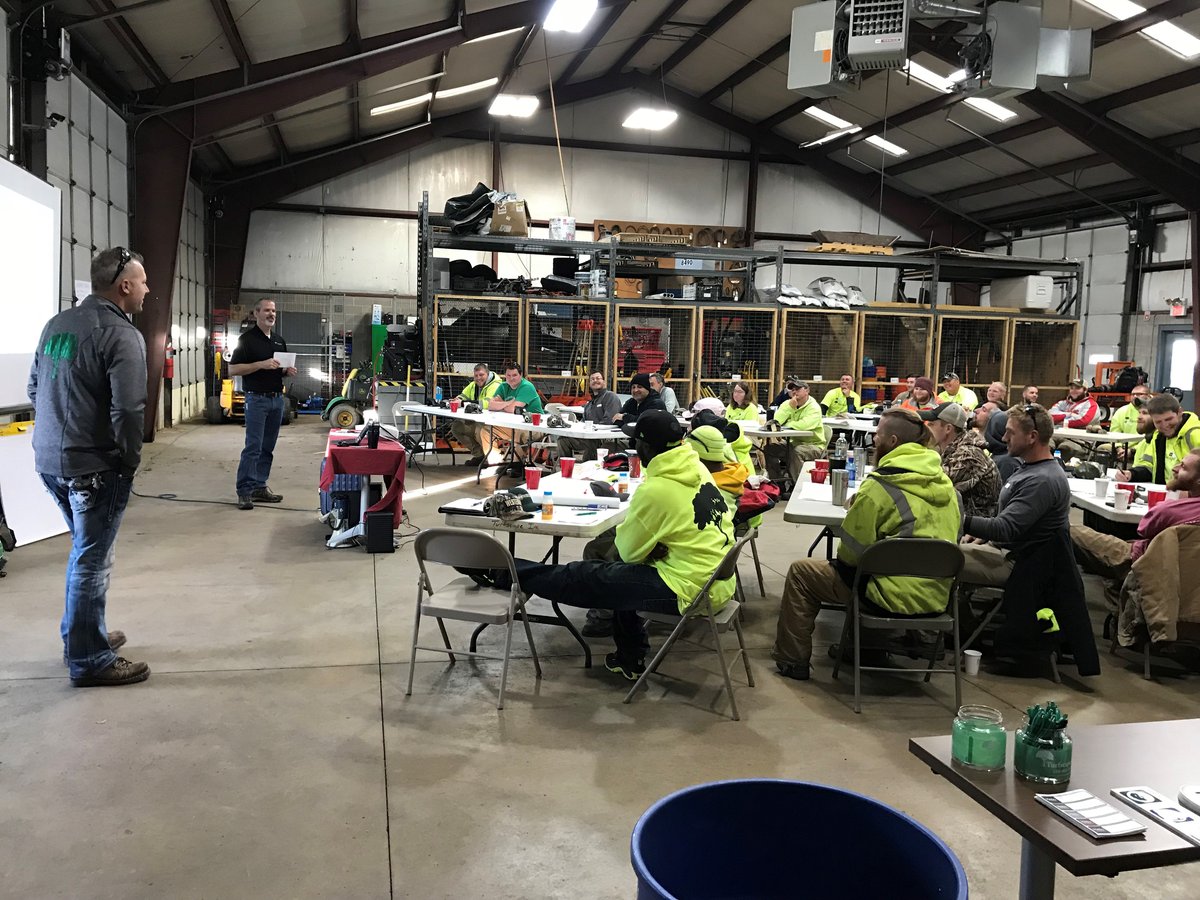 Turfscape offered the company a viable, strength-in-numbers workforce that can accomplish the work while the property is quiet, which is valuable to a facility like Charles Schwab.

"They provide you with excellent communication and an assurance that your expectations will be met," says Christiann Conner Walls, Facilities Coordinator at Jones Lang LaSalle-Charles Schwab. "Turfscape makes it a point of emphasis in keeping our parking lot and walkways clear and operable for our employees and visitors."
Beyond Snow Removal
After removing snow and applying salt to walkways and driveways to melt ice, Charles Schwab then must also consider its landscaping aesthetics during the other times of the year.

Since scheduled visitors and potential investors from across the country and throughout the world visit Charles Schwab's Richfield location, deadlines must be met so the property looks great all year long.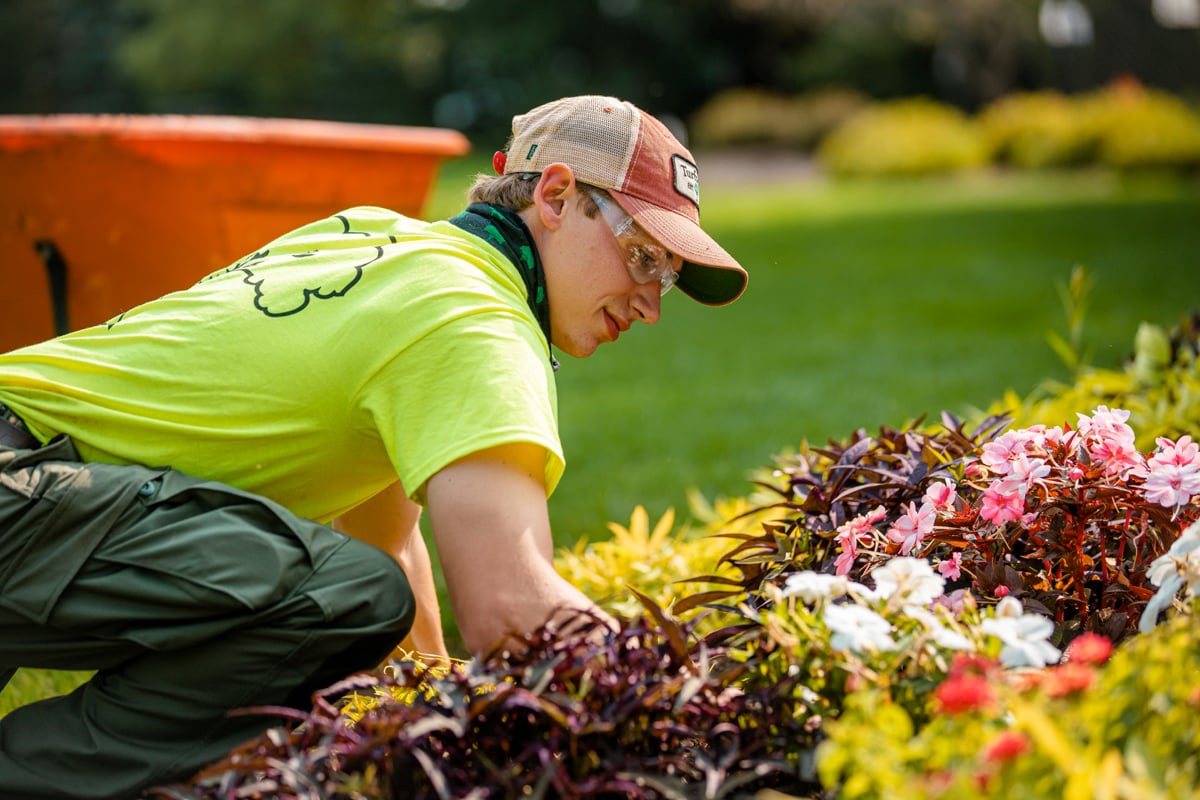 Turfscape uses a mix of early and late spring perennials, summer annuals, lush green grass, and fall color to achieve seasonal appeal.

Meeting deadlines isn't always easy, considering Charles Schwab's 9 to 5 workweek and regular traffic from hundreds of employees and visitors.

"There is a reason why Turfscape is our year-round provider for both lawn maintenance and snow removal," explains Conner Walls. "Turfscape has proven time and time again over the years that their response time and resources to meet deadlines, during both the landscape and snow removal season, is second to none."
Using Special Equipment for Commercial Snow Removal
If you operate or manage a large commercial site like Charles Schwab, then you likely need larger equipment to handle massive amounts of snow and ice. This means skid-steers, loaders, and sidewalk snow removal machines. A property like this also needs larger amounts of salt and deicing products.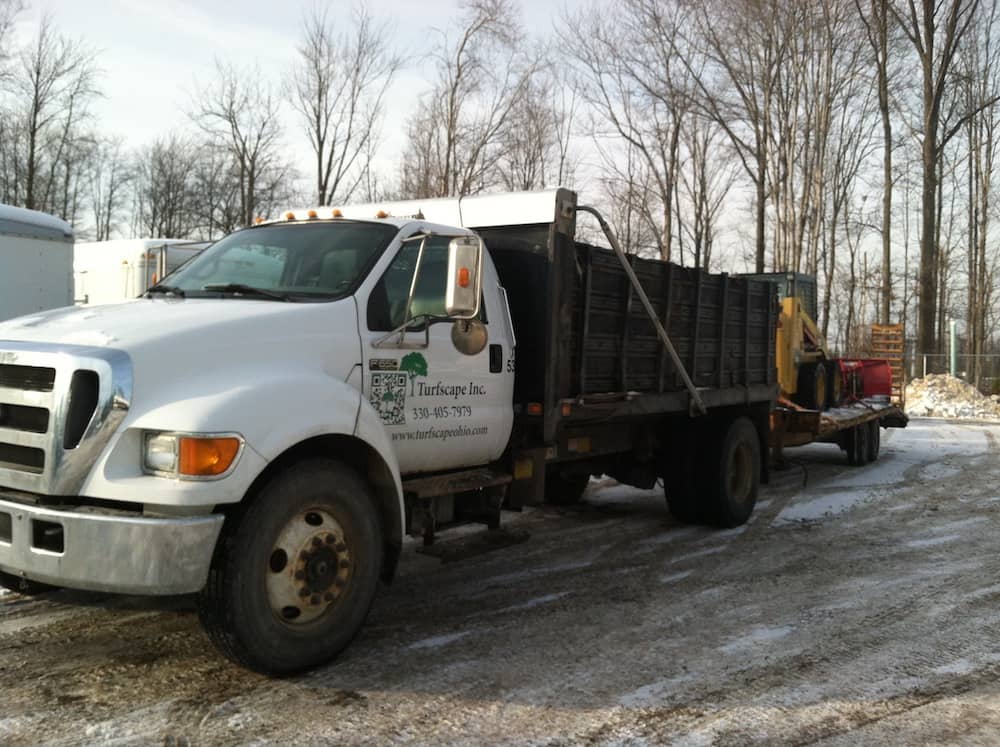 Turfscape has enough equipment and resources to service a property of Charles Schwab's scope and size.

In addition to that, in the middle of extreme storms or massive snow and ice events, if one of their pieces of equipment shuts down, Turfscape has enough backups and mechanics on hand to maintain and replace equipment swiftly to minimize downtime and keep your property open and operating.
The Safety Impact of a Solid Commercial Snow Removal Plan For Your Northeast Ohio Office Facility
Turfscape has been working with Charles Schwab for quite a while.

The company loves the partnership and communication they receive to help them keep their busy property free of snow and ice. The seasonal color they provide also enhances their site during spring, summer, and fall, giving it a professional and attractive appearance.

Just like Charles Schwab, your office building or office park may need some attention to improve the property's look and keep it safe and secure during winter's worst.

But maybe you also have a lot on your plate, and you don't have time to micromanage a landscape company or worry about whether your facility is being neglected by the service provider you choose.

We understand. You're busy and your time is valuable. Let Turfscape help. We can discuss your priorities and build a relationship of trust with you so you feel like we're really listening to you and your needs. We can communicate with you in the ideal fashion you choose and respond promptly so you're never left wondering what's next or if something is not complete or if snow and ice will collect in the middle of the night and cause business delays in the morning. We can proactively share impactful ideas with you to boost areas of your property and keep it looking professional and clean.

Want to learn more about our commercial snow removal services in Northeast Ohio? Get started today with a free quote. We'll review your options together so you can make a great choice.