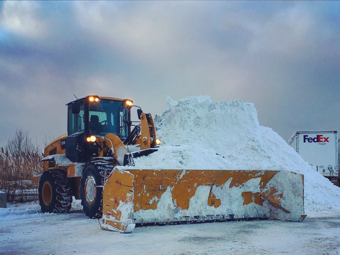 You are a facility manager at a place of business (it could be a school, a manufacturer, or a hospital). It's about to snow and you wonder again, "Why didn't I outsource this to someone more qualified?". You've thought about it, you and your boss have talked about it, and now you realize the reasons that keep you awake at night.
Things aren't getting done: The snow is flying and my staff is scrambling outside. I've got projects that need to be completed. If this storm goes longer, my overtime budget will go through the roof. I wonder if they are milking the clock and avoiding their real responsibilities? I need a company to help me keep my staff doing their real jobs!
My budget is over-run with costs: I've got a plow and a spreader but it's constantly breaking – do my employees even know how to use it? I can't get salt from that guy who told me last summer that he "knows some people" … heck, he won't even answer my call! Now I'm paying 50% more. I need a company to save me money!
I'm afraid to admit it, but I don't know what I'm doing: The weather app on my phone said it was supposed to stop snowing yesterday. We keep putting down salt, then we just plow it into snow piles. Everyone is unhappy and I'm at my wit's end. I need a company with expertise!
When you hire a professional snow and ice management firm, you get solutions and results.
Expertise: Snow fighters know the weather, some even employ meteorologists to help with forecasting and real-time decision making. The knowledge of the area is also critical – microclimates exist and it pays to have someone ready at a moment's notice. This helps get plowing and salting done at the right time to achieve results.
Scale of economy: Snow fighters have leverage with at least three salt suppliers, thus never running out. Fleets are heavy duty and the right equipment is used for the commercial snow removal job. Labor is more readily available and can flex dependent on the type and duration of the storm. Who wants to own and maintain all that equipment… and have to worry about salt?
Results: Snow fighters are using brine to help get better results at lower costs. Equipment is calibrated to help protect the environment. Staff are trained to do what they do best (this allows you and your people to do what they do best).
If you're tired of thinking about it, talking about it – it's time to realize that you can do something about it.