Your commercial landscape in Northeast Ohio experiences a lot through each and every season.

In spring, it pushes through some intense growth as temperatures warm up and buds blossom and bloom. With proper care, including adequate irrigation and pruning, your commercial landscape survives summer's rising heat, drought, and storms.

Then we have fall. It's a time of cooling temperatures when your trees, shrubs, and plants take a collective breath after going through the busy spring and summer months. They slow growth, regroup, and begin to prepare for winter.

And this is why autumn is the ideal time for some landscaping fall guidance to ensure you are doing all the right things to get your commercial landscape into tip top shape for the winter.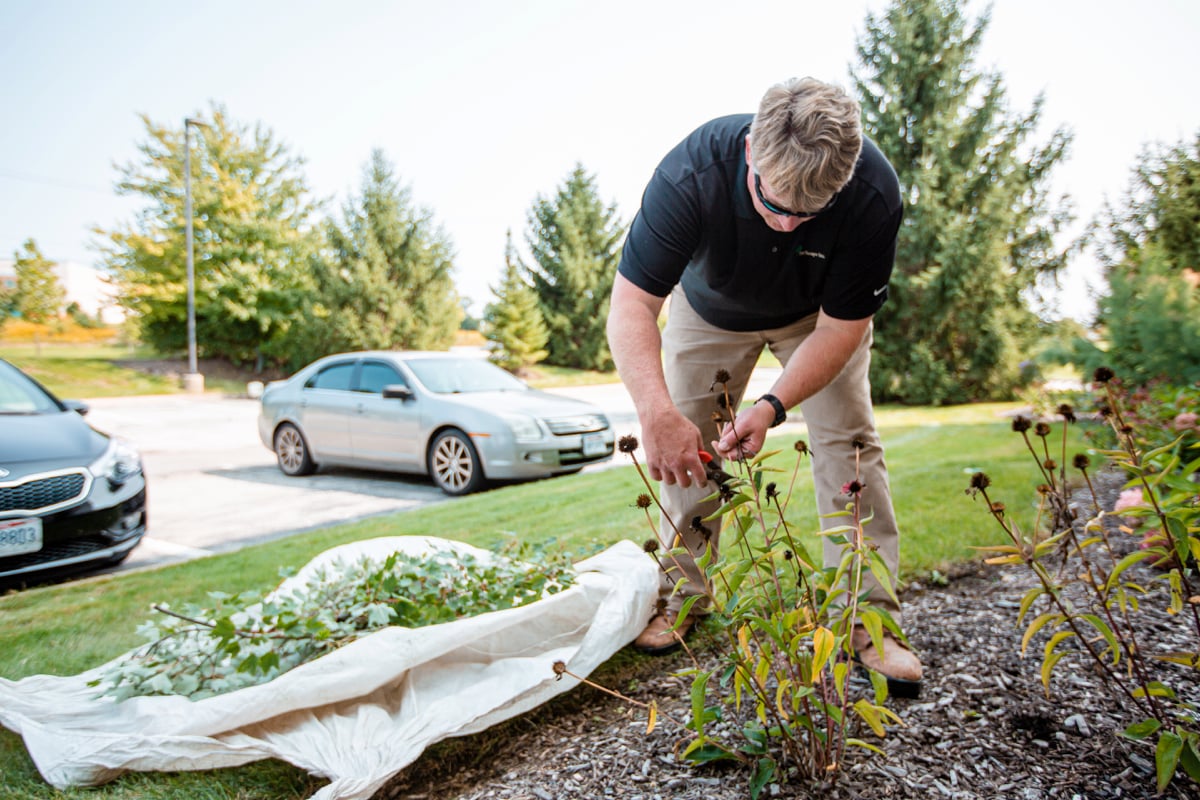 Let's look at some winter landscape tips you should prioritize to ensure your commercial property is ready for the season.
8 Commercial Fall Landscape Tips
To remember what you need to get done in autumn to get your commercial landscape prepped for not only winter, but the next spring growth surge, you might need commercial fall landscape tips to focus on exactly what you need to do.

These targets will keep you on task, while also helping you maintain a professional aesthetic that continues to work for your business.

Here are the tasks that we recommend you prioritize this fall.
1. Keep Up With Leaf Removal
We know leaf cleanup can feel very overwhelming during the fall months, especially if you have a lot of trees on your commercial facility landscape.

But removing leaves from the grass is incredibly important for the health of the turf underneath. It will ensure it prevents snow mold and any grass die out that can happen under those bigger piles of leaves. That's why you can't ignore this landscaping fall priority.

We suggest raking leaves or blowing them into manageable piles and removing them or disposing of them. This will keep your lawn looking great, while it prepares it for winter.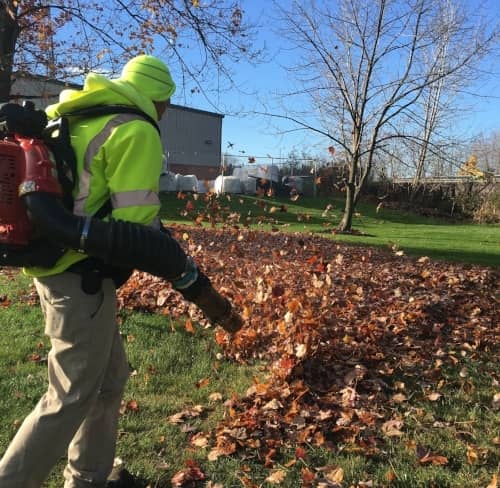 2. Clean Up Perennials, Trees and Shrubs
Your commercial landscape perennials have done a great job adding aesthetics, color, and interest to your facility during spring, summer, and fall.

They will naturally require maintenance to maintain their shape and health. As they wind down in autumn, this is a perfect landscaping fall task to add to your list.

To do this right, you'll want to deadhead or cut back perennials and ornamental grasses. This will keep them looking tidy through fall and winter, in addition to preparing them for the next spring.

For trees and shrubs, make sure to conduct fall fertilization and properly prune them to promote new growth and disease resistance.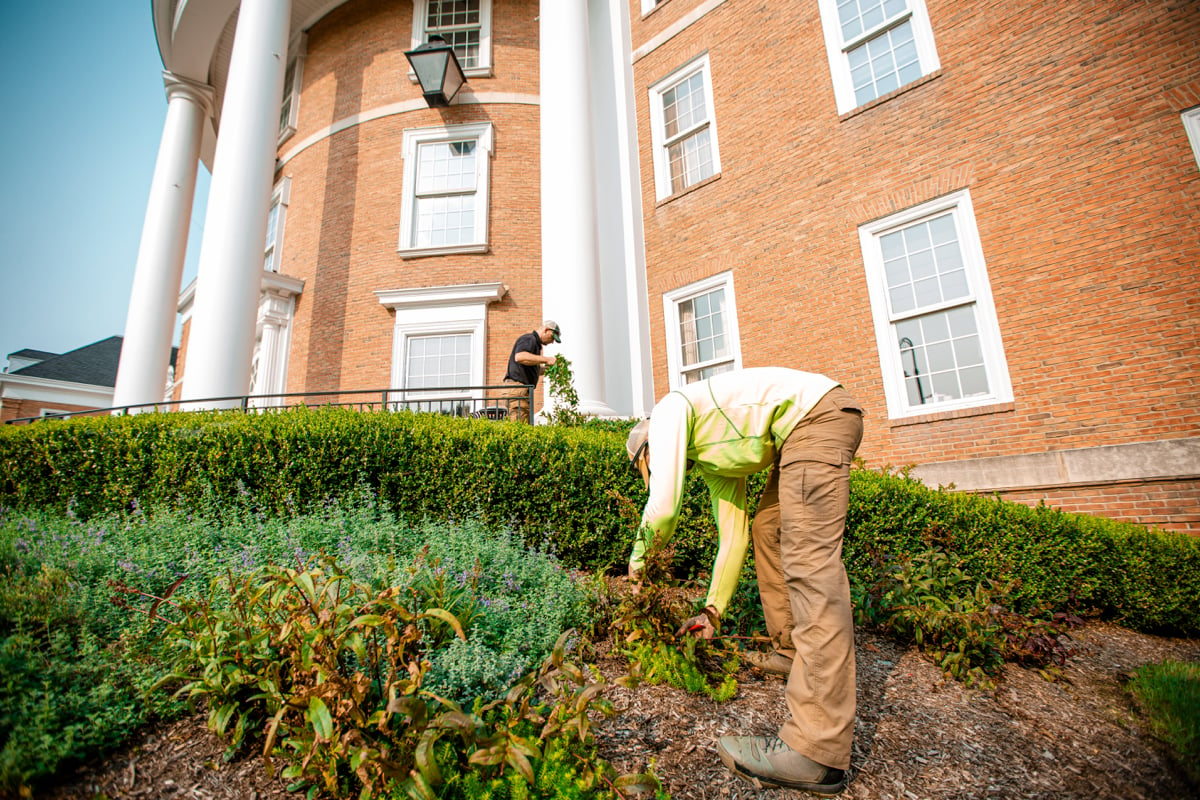 3. Add Seasonal Color For Impact Through Another Season
Even if we have cooler weather in fall in Northeast Ohio, you can add an additional season of festive and fun color during the autumn months as a way to keep your commercial landscape fresh and exciting.

Seasonal color can be a vibrant addition to your commercial facility's landscaping fall plan. It boosts visibility and keeps visitors, customers, guests, tenants, and others coming back to see containers that give life to this cooling season. You can use chrysanthemums and contrast them with vibrant purple or lime green-colored ornamental kale and sweet potato vines. This is a festive season for Ohioans, so it's a good business move to celebrate it with them.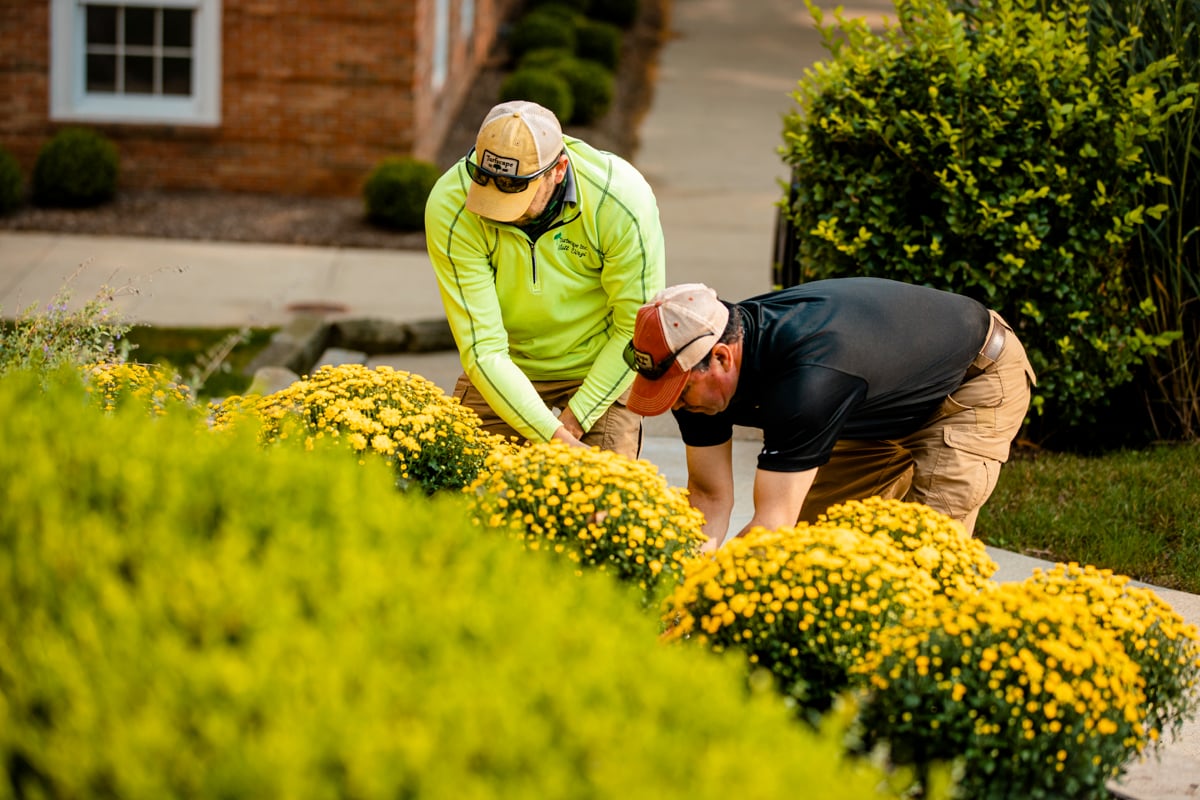 Once you have seasonal color in place, you can also think about planting some bulbs now to plan for early spring color after winter, so your commercial property landscape wakes up ahead of your competitors.

By hiring the right grounds maintenance service provider, you can create a landscape that feels new each and every season, while also boosting its health and longevity.
4. Shut Down and Winterize Your Commercial Irrigation System
All of your commercial property's trees, shrubs, perennials, annuals, and turf areas require regular irrigation throughout the spring and summer months.

But as fall settles in and temperatures cool, while rainfall normalizes, your property needs less and less irrigation.

In autumn, shutting down your commercial irrigation system properly – blowing out any remaining water and winterizing the system – is an essential winter landscape tip. It helps you avoid having any remaining water in your irrigation system that can freeze and damage pipes and cause flooding – something you don't need to deal with on your commercial facility in winter. Avoiding costly damage and repairs is essential in an area like Northeast Ohio where winters can get pretty cold.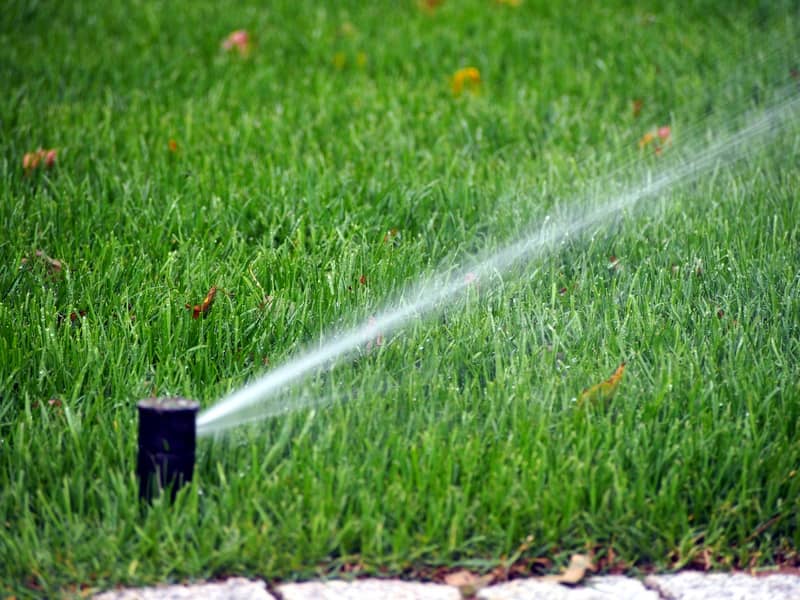 5. Fertilize Your Turf in Fall
During the fall, taking the time to properly prepare your commercial turf for the upcoming winter is an important landscaping for winter priority.

This includes remembering fall fertilization. It helps boost nutrients in your lawn and ensure you grow stronger roots at this time of year, which can aid your lawn's health come springtime, making it stronger and healthier.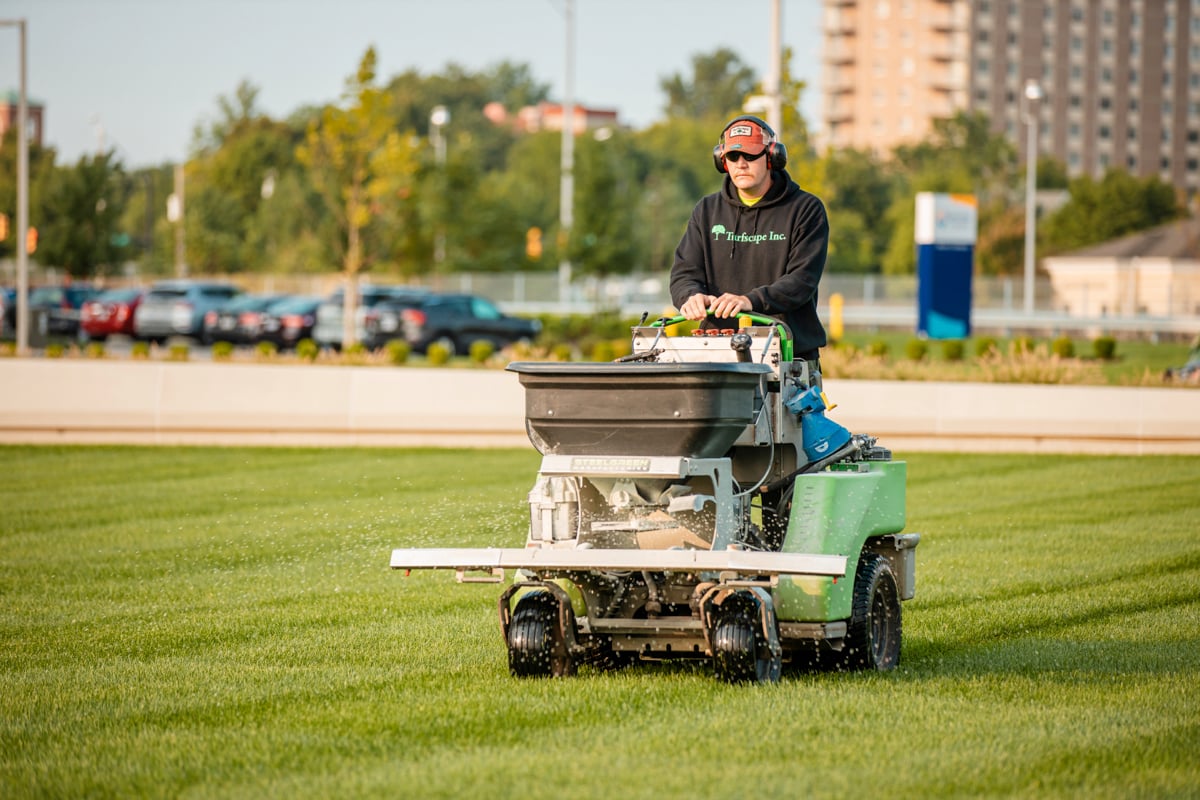 6. Conduct a Final Mowing
Later in fall, you'll want to mow your commercial turf for the last time. This is a winter landscape tip you can't neglect.

During this mow, you cut the grass just a little bit shorter to prevent the possibility for snow mold buildup.

Tidying up turf in fall is a great task to prioritize and help avoid lawn problems and ensure spring success.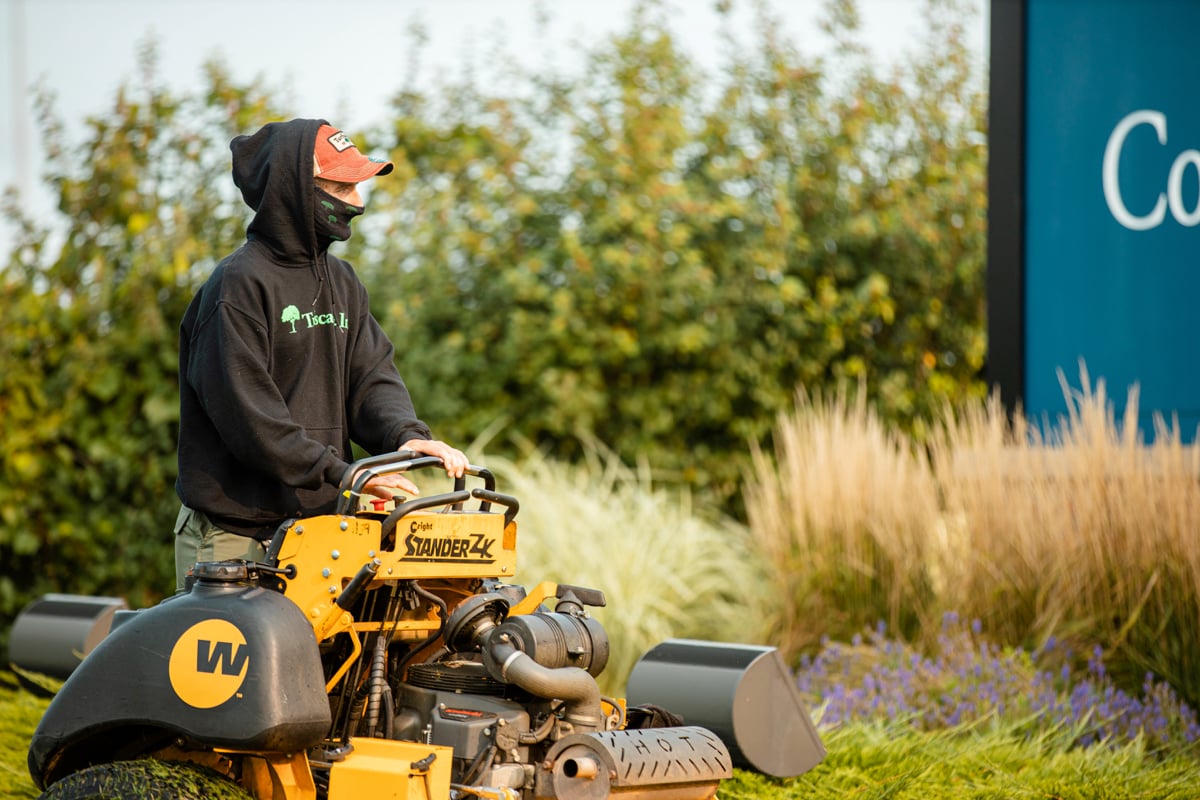 7. Aerate and Overseed Your Turf
Autumn is also a great time for some additional turf maintenance in the form of aeration and overseeding.

Aeration, as the removal of small plugs of soil with an aerator, allows your grass some time to develop stronger roots while exposing the soil to a good dose of nutrients. It gives your tired, worn, compacted lawn a chance to more easily receive oxygen, nutrients and water at the root-level where it's needed most.

Overseeding is a part of landscaping fall tasks that can thicken your lawn up when partnered with aeration. This is because those plugs that are removed through aeration create the perfect holes for turf seeds to contact the soil and germinate. This improves the germination process, making overseeding more successful in strengthening your commercial turf.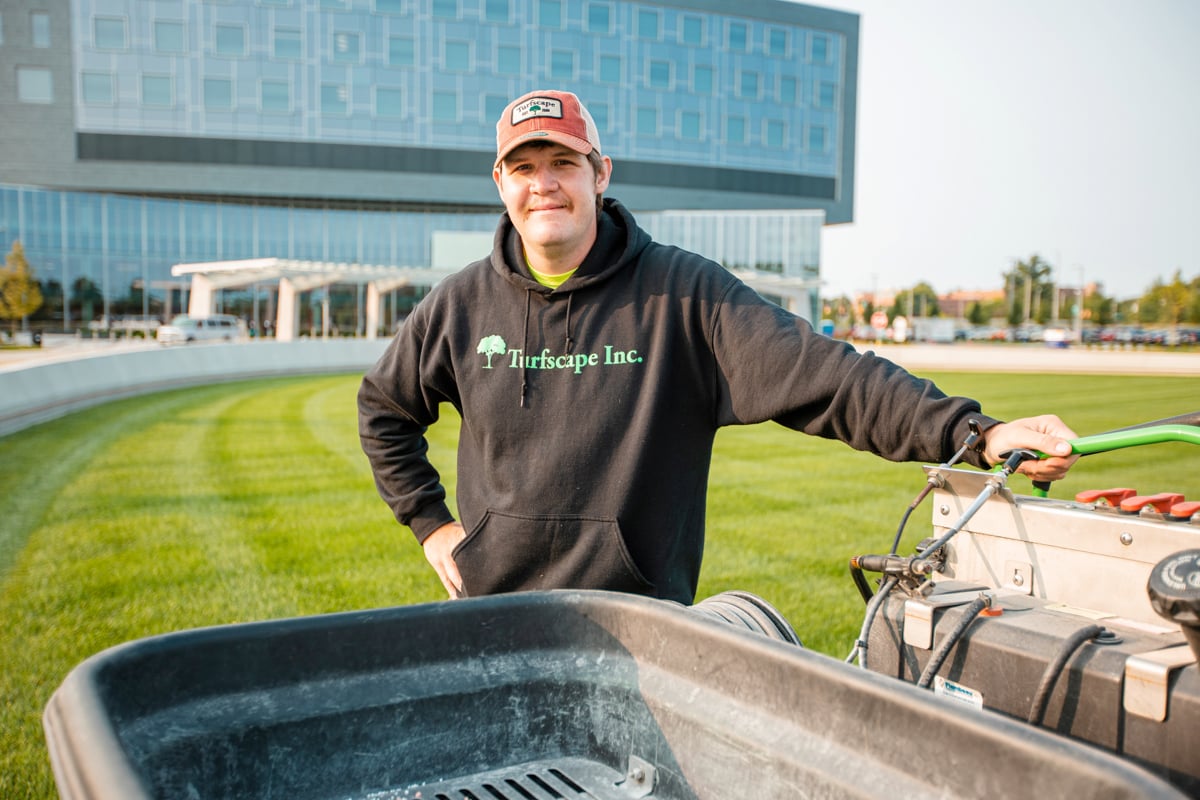 8. Prepare for Snow and Ice
Winter landscape tip: Get ready for snow and ice during the fall months so you are prepared for any storm to hit.

This ensures snow and ice doesn't stop you from welcoming tenants, visitors, guests, or shoppers. And it also limits any landscape damage.

First, secure your snow and ice removal professional in autumn so you aren't surprised by unexpected early storms, which we can get here in Northeast Ohio. Does anyone remember Snowtober?

Then you'll want to make sure your snow removal professional installs snow fencing where needed. Some of your trees may need to be wrapped with burlap to avoid winter burn as well.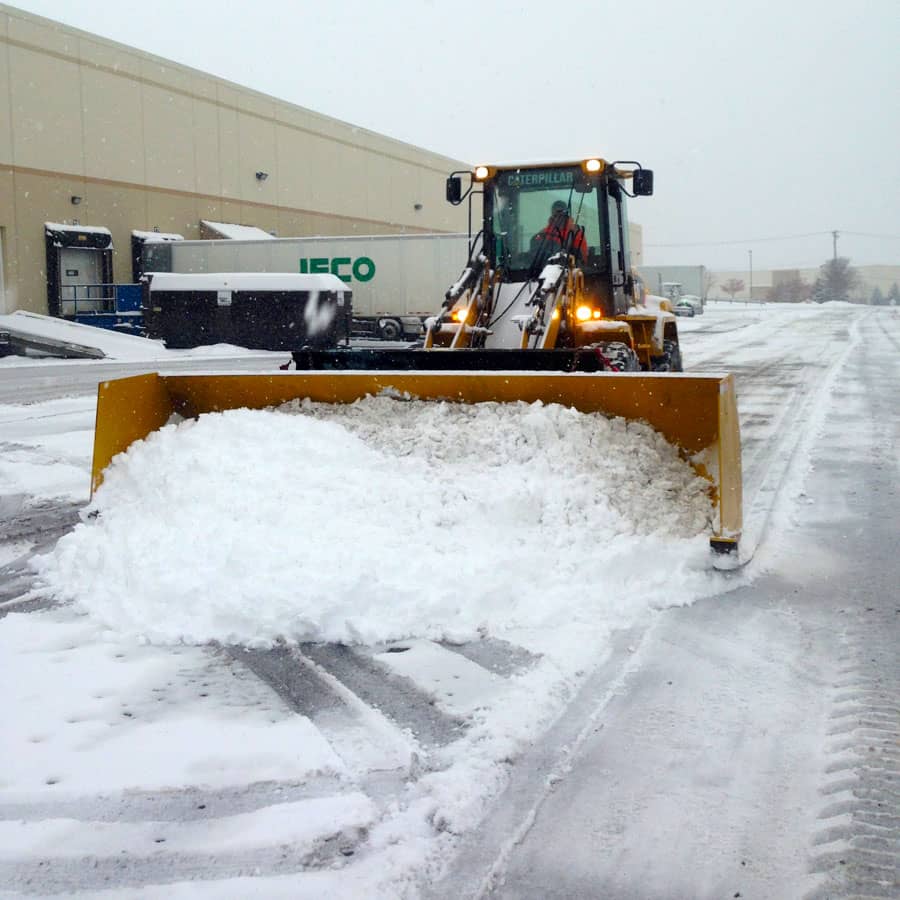 Don't Plan Too Late When Landscaping For Winter in Northeast Ohio
As school starts in many suburbs and weather is beginning to cool, fall is knocking on your commercial facility door.

You might already be looking around your commercial property and seeing the worn out perennials and turf and wondering when you should adjust or winterize your irrigation system. With everything on your to-do list, the last thing you want to do is to go out there and start cleaning things up and preparing for fall and winter. We get it. We know your plate is full.

But you also don't want to wait until the last minute. Turfscape can help you prepare for a successful autumn, so you can put your facility in the best position possible for a manageable winter and then a renewed and revived spring landscape.
Want to learn more about our fall commercial landscape maintenance services in Northeast Ohio? Get started today with a free quote. We'll review your options together so you can feel confident and make a great choice.