For any commercial business, first impressions are incredibly important. When potential customers, tenants, employees, patients, and visitors see the appearance of the company they are approaching, they form an opinion of the organization. They can't help it.
In fact, no matter how great the service or facility is at doing its job, if its appearance leaves much to be desired, it will not attract as many people to its grounds. That's why a great visual look can be a huge advantage in drawing people in.

Corporate landscaping can help you with this task, giving your Northeast Ohio company a new look.

Your landscape will certainly include lawns, trees, shrubs, colorful plants, ornamental grasses, and other softscapes, but you may not realize that hardscapes are a key part of the commercial landscape as well.

Let's look at what hardscapes can do for your commercial property landscaping, and discuss the many benefits they can offer your business.
What Are the Differences Between Softscape and Hardscape in Corporate Landscaping?
You might be wondering what the differences are between the softer materials and the harder materials in a landscape for commercial buildings. This is a good question, since understanding all your potential options for your site can help you create a better, more appealing, longer-lasting facade.

Softscape typically describes the organic living features of your commercial landscape. This refers to plants, trees, flowers, shrubs, ground covers, and grasses. These elements will grow and change as your landscape matures.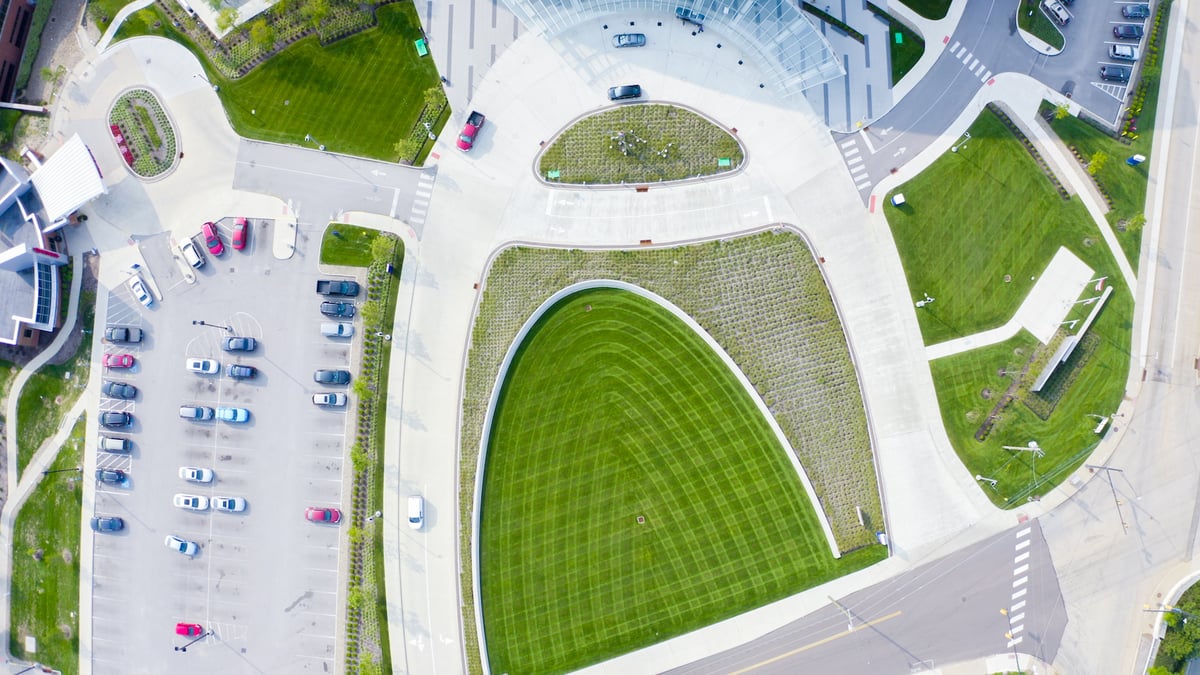 You may have added some plants to your property and thought that was enough in sprucing up your grounds. But softscapes aren't the only parts of commercial landscapes.

Hardscapes are nonliving elements in the landscape that are typically components like patios, pergolas, waskways, benches, bricks, stones, rocks, boulders, gravel, wood, and even lighting. Water features would also count in this category.
What Purposes Do Hardscapes Serve On Commercial Property Landscaping?
Hardscapes are important parts of every commercial property type for several reasons.

Possibly you want to incorporate paver patios and sidewalks that compliment the natural elements of your property while providing additional function or add retaining walls that prevent erosion in a visually appealing way. Or maybe you're looking at hardscape edging to keep your grass areas separated from your flower beds and cut down on bed edging costs. You could aos want to create rock beds, which are visually appealing areas that create contrast between mulched areas and also reduce the annual cost of mulching.

Whatever hardscape you choose, you can't deny the importance of commercial landscaping with their inclusion. Here are some of the key purposes of hardscapes on your site.
Hardscapes Offer Practicality
In essence, hardscapes are meant to protect the organic parts of your corporate landscaping.

For instance, retaining walls prevent erosion, pavers can provide easier access through your landscape, drainage solutions divert water away from places you don't want it and toward areas where you'd like it to go, and shade features protect plants and your visitors from the sun's rays.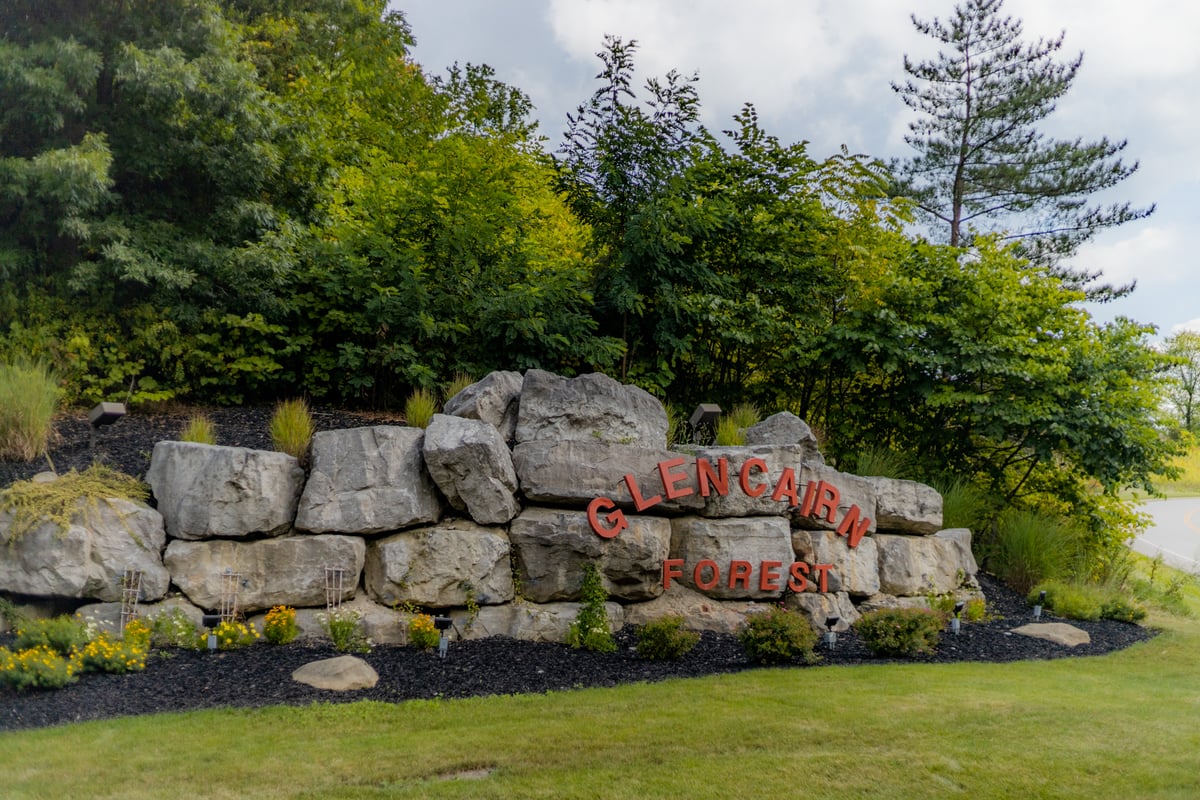 These are practical uses that hardscapes facilitate naturally on your property, while also looking good and adding an aesthetic benefit.
Hardscapes Are Regularly Used On Your Property
Hardscapes also encourage the regular use of your commercial landscape.

Commercial property landscaping with no pathways might be hard to navigate, for instance. Patios, benches, and decks bring people outside and encourage them to sit and stay awhile. Water features draw people in.
Hardscapes Boost Your Overall Property Appearance
Hardscapes also offer some structure and aesthetics to your corporate landscaping.

You might hear hardscapes described as the bones of your landscape. They bring shapes, style, and color. The style of hardscape you choose can define your landscape as modern and contemporary or traditional and elegant.
5 Ways Hardscapes Enhance Corporate Landscaping
Commercial property landscaping has been adopted by offices, retail stores, industrial establishments, non-profits, educational institutions, banks, hospitals, and hospitality facilities to attract more customers and improve their image.

As a part of your commercial landscape, well-designed and maintained hardscapes strengthen this plan, delighting you and your customers.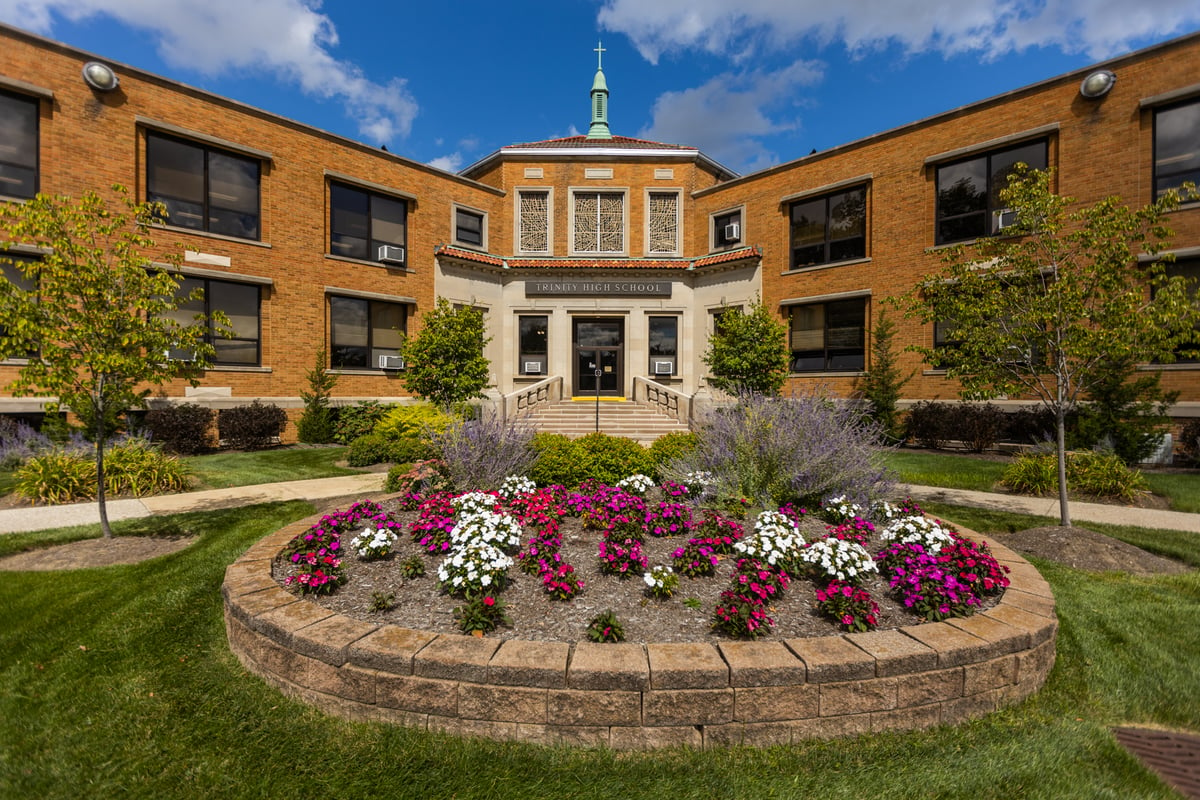 Here are the top 5 reasons adding hardscaping to your landscape for commercial buildings is vital to your overall business reputation and growth.
1. Hardscapes Amplify Safety & Security
Safety and security are essential on every type of landscape for commercial buildings.

And hardscapes – as both functional and fashionable landscape elements – do double duty for your site. Walkways, for instance, direct traffic, ensuring traffic moves where you want it to on your property and not where you don't.

A properly installed and maintained walkway will also reduce the change of trip-and-fall accidents on your landscape caused by uneven ground. Installing these paths also demonstrates your commitment to accessibility for everyone who comes to your site.

Decorative retaining walls can also serve as a visually appealing way to discourage people from wandering into restricted areas, as well as containing stormwater and debris.
2. Hardscapes Boost Property Value
Incorporating hardscapes into your Northeast Ohio corporate landscaping is a great way to show pride of ownership. This demonstrates that you care about not only beautifying your own buildings, but also enhancing the aesthetics of the surrounding area as well.

This makes commercial hardscaping a sound investment that can easily boost your property value – whether you plan to stay in your current location for years or are looking at moving to a bigger or different facility in the future.
3. Hardscapes Increase Curb Appeal
Whether you like it or not, people will judge your company from the moment they set eyes on your property.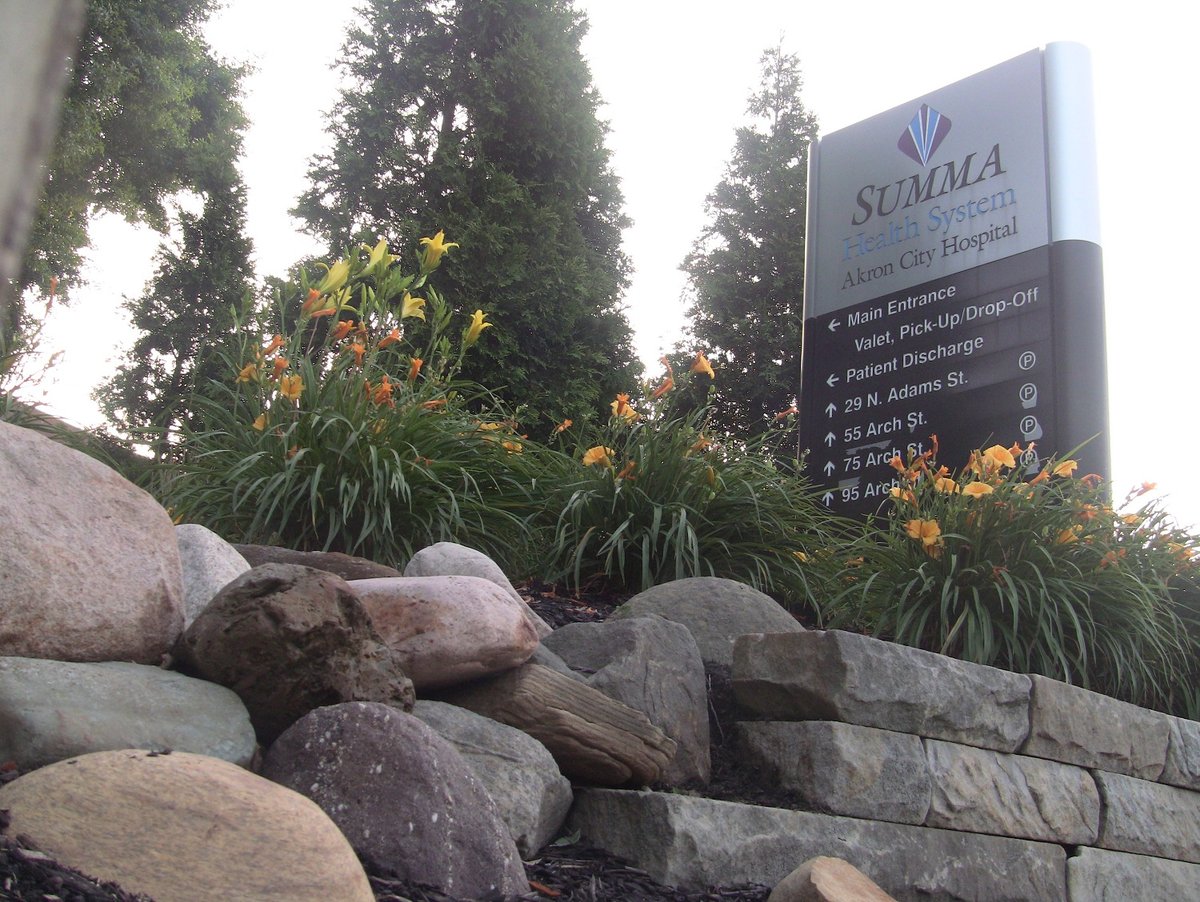 That's why making a great first impression with a welcoming, eye-catching commercial landscape design is essential. This is one of the key reasons showcasing the importance of commercial landscaping.

Hardscaping can help you make that positive impact by giving your facade a better look and feel.
4. Hardscapes Offer Better Landscape Maintenance & Efficiency
There might be some areas of your property that need a little work. Maybe plants don't grow well there – whether it's from too much sun or too much shade. Hardscape elements can solve these problems, making these trouble areas look good and reducing maintenance at the same time. These areas then no longer need mulching, weeding, or mowing.

Hardscapes may be more expensive up front, but because they are naturally low maintenance, they are great at reducing or eliminating problem areas, saving you later. They are also a perfect complement to the natural aspects of your commercial property landscaping.
5. Hardscapes Enhance Durability
Hardscapes are called that for a reason. They are made of durable, strong materials that last a long time.

They hold up to harsh weather, regular traffic, and can take a beating but still look great as a part of your commercial property landscaping.
Trust Your Commercial Hardscape Design & Maintenance to Turfscape
From outdoor dining and entertaining spaces to employee break areas or common areas to creating an inviting atmosphere that can be enjoyed by visitors all year long, hardscapes are key elements of your corporate landscaping.

We hope our list of reasons why hardscapes are essential parts of commercial landscaping can help you understand their use and function in your space.

If you are eager to add some hardscape areas to your corporate facility or have some questions about how they can help your site, give Turfscape a call. Our experts will be happy to talk you through some options and share some ideas to help you maximize your business reputation and image, as well as attract more people to your property.

Want a commercial facility that draws more people because they are attracted to your memorable hardscapes? Request a proposal for a custom design today. Together, we can help your commercial property grounds look amazing while also providing great areas for function and usability.