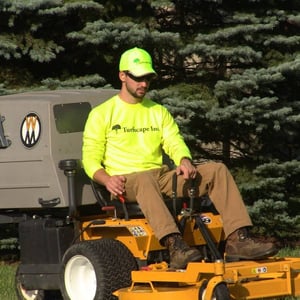 Looking to reduce your property's environmental footprint?

One way to do that is through sustainable landscaping. Sustainable landscaping is the practice of using strategic methods to offset negative environmental impacts such as stormwater runoff, soil erosion and sedimentation.At Turfscape, we focus on implementing sustainable landscape design practices that improve efficiency and minimize waste in a way that is cost-efficient over the long-term.

From using environmentally friendly fuel in our low emission fleet and equipment to recycling all of our green debris to calibrating our pesticide and salt applications, we concentrate on sustainable solutions every day. Here are some of the ways we're making a difference in sustainable landscape design for one local university.
Grass Cycling/Grass Cutting Height
This allows us to be more efficient by not having to collect grass clippings
Replaces nutrients in the soil and makes it so grass requires less watering
Because of the natural nutrients being returned to the soil, we do not have to use as much fertilizer (most fertilizers contain phosphorus, which is one of the leading causes of algae blooms)
The height the grass is mowed at is strategically chosen to reduce the water evaporation rate and prevent us from having to water the turf
Perennials/Pollinator Garden/Native Plants
We let the native perennials go to seed so they can grow back the following season
It costs our customer less money to replace them, and it's one less thing we have to worry about in the spring
Our plant pallet is designed with native plants in mind to help with resistance to native pests and diseases
Besides providing beauty to an otherwise forgotten area of campus, the pollinator garden at the natatorium is an area full of native Ohio plants where bees and butterflies collect pollen and make the surrounding area's plant life healthier
Both honey bees and monarch butterfly populations are declining in the area, and this is one way to help them flourish
Yard Waste Dumpster/Recycling
We keep yard waste out of the regular landfill waste stream. This allows the yard waste to be reused as mulch or compost.
Scrap metal, along with a myriad of other materials, gets recycled and kept out of the solid waste (to landfill) stream
All material brought to campus on pallets gets used and then the pallets are returned to our Twinsburg shop to be reused and recycled
We recycle our used oil
Fertilizer/Insecticides/Fungicides
Instead of treating the entire campus, we choose to spot treat for pests and turf fungus. We keep chemicals off the grass, which in turn keeps the chemicals out of the runoff from campus.
It also conserves the product and saves both parties money
We use IPM (integrative pest management) to reduce the number of harmful chemicals
We conduct soil samples around campus to see which areas need fertilizer to keep them healthy. If an area doesn't need fertilizer, then we won't apply it, or we'll apply less than other areas.
Other sustainable landscape design practices include:
Incorporating bioswales or rain gardens to reduce storm runoff and conserve water usage
Plant selection that creates an enhanced wildlife habitat in urban environments and is low maintenance
Energy-efficient landscaping using trees as windbreaks and for shade
Renewable energy sources including solar-powered landscape lighting

We understand that each commercial property brings its own unique landscaping and snow removal conditions and challenges. You can rely on Turfscape to work closely with you to deliver a sustainable solution that meets your expectations and budget. Contact us to learn more about our sustainable landscape design services.