So, you just got done meeting with your account manager and you are super excited about the enhancement project that you just discussed at your commercial property or condo association.

Usually

the first question we will get asked is when can Turfscape get the work done.

It is not as easy as waving a magic wand and having a talented commercial landscaping crew at your property tomorrow or by the end of the week.

There is a lot of planning and behind the scene logistics that need to be done in order to get your project completed.

Here is a little insight into the enhancement process to help you understand why it may take a few weeks to finish the project.
Step #1:
The first step in the process is to meet with the account manager who oversees your property.
You will discuss your wants and needs and develop an idea for the new flower bed, retaining wall, patio, plant installation, or special enhancement project you would like completed.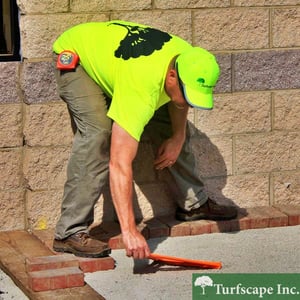 After compiling all of the information about the project the account manager will come back to the office and begin the process of developing a plan.
Sometimes this means meeting with our in-house landscape designer to draw up a design.
The estimate needs to be created that will include all of the materials, equipment, and time to complete the finished project.
The account manager will meet with you a second time or send a detailed email to review the design and the estimate.

Any changes and adjustments will be made at this time.

If an agreement on the proposal is made you will sign the contract.
Once the contract is signed the account manager will get to work in scheduling enhancement project.

Typically speaking our enhancement crews will be scheduled for 3-4 weeks out, and potentially longer during the busy spring months, so if you want a project done by a certain time it is important to plan ahead.
Although we keep a stock of regularly used landscaping supplies such as topsoil and mulch, we are not a greenhouse and do not have a variety of plant material on hand and we need to order them.

In most cases we get a plant order in every 1-2 weeks and we keep them watered and thriving in our nursery until they are ready to be installed.

We also own a large variety of landscaping equipment that we will use to complete your project, but we do not have everything and may need to rent equipment which needs to be scheduled as well.
Living and working in northeast Ohio proves that the weather does not always cooperate when we have a landscaping project scheduled.

Sometimes this will create delays in our enhancement schedule.
Believe us, we are just as excited as you are to get your project completed.

That is one of the benefits about being a professional landscaper, watching your plans come to life and enjoying the accomplishments of a finished project.

Now with a better understanding of the enhancement process please feel free to reach out about the next project you would like completed at your property.