An effective Arbor Car Program for a Condo Association or HOA should provide a detailed plan to maximize the well-being of trees. Healthy trees obliviously benefit our communities by improving air quality, providing shade, and help provide beautiful landscapes.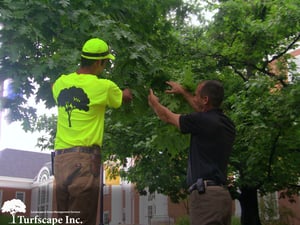 An arbor care program includes:
Pruning

Fertilization

Mulch

Regular inspections

Insect and disease prevention

Root Collar Excavation
From a management standpoint, proper preventative maintenance can also be very cost effective in the long run. Proactive tree care provides specific steps to prevent tree defects and diseases. Reactive tree care typically means removal because the tree is too diseased to survive. Depending on the size of the tree it could be much more expensive than providing proper arbor care.
Once a tree becomes diseased or damaged, it is best to repair it as soon as possible. The longer it takes to address a defect or disease will allow more time for it to grow and spread becoming more expensive to resolve.
As trees and other plant materials grow, they compete for resources that keep them alive and help them grow. There is only so much water, nutrients and sunshine to go around. Pruning and maintaining trees can prevent other plant material such as shrubs and turf from suffering due to lack of resources.
Proper Arbor care also keeps an inventory of the amount and types of trees on a property or in an association. In the event that a tree needs to be replaced or an association determines they would like to plant more trees, a proper inventory will allow good decision making when deciding what to plant.
Tress are always a great resource and provide associations with many benefits. With proper arbor care we can keep the trees healthy and beautiful for years to come, and help cut down on expensive removal cost. To learn more about how Turfscape can help implement an arbor care program with your association please