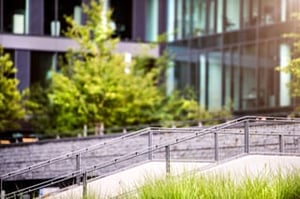 As we make it through the gloomy gray clouds of winter, most of us can't help but wish for spring's arrival. When the back-to-back days of bright blue skies arrive, along with the first signs of spring flowers, we get excited for great weather and all the things that relate to spring. As for landscapers and property managers, this is when our season really begins to ramp up. In this blog, I will explain the process and details of the first lawn maintenance season services that landscapers call "spring clean-up."
Spring clean-up is the general clean-up of the grounds with the ultimate goal of having no obstructions when we arrive for the first mowing. I describe this service to my customers as "preparing the commercial grounds for the first mow of the year."
The timing of spring clean-up will always depend on the weather. In Northeast Ohio, we all know that the weather dictates the majority of what we can do outside. We also know that it can change day in and day out or even hour to hour. So for a general rule of thumb in a landscaper's mind, spring clean-up generally starts in early March and goes through mid-April or until our first mowing of the year.
Spring clean-up services include but are not limited to:
Leaf clean-up: Pin oak trees that hold the majority of their leaves through winter and pear trees that drop their leaves late in the season will all be cleaned up at this time.
Debris clean-up: Our crews are looking for any debris that has accumulated throughout the winter (i.e. sticks, leaves, pine needles and pine cones). We will also clear any debris that has accumulated on hard surfaces like walkways, driveways and patios.
Snow plow damage repair: Our crews repair any winter plow damage that has occurred, whether it's placing back loose pieces of grass or soil and seed repair.
Check for snow mold: Our crews will survey the condition of the grass and look for any snow mold that may have developed over the winter months. If snow mold is located, the crews will use rakes and back blowers to fluff up the matted grass to allow air to circulate through the grass before any significant damage occurs.
Cut back perennials: Our crews will cut back any perennials that were left through the fall or winter months. Depending on the property's requirements, some ornamental grasses may be left during the winter months. At the time of the spring clean-up, our crews will cut back these plants and haul away any debris.
First fertilizer application: Our first fertilizer applications will be applied, along with bed pre-emergent, to help with the control of weeds.
The number one issue that we face during spring clean-up will always be the weather. April showers may bring May flowers, but to a landscaper, it only causes scheduling issues and makes quality control harder to manage. Wet grounds make it harder for landscape maintenance companies to remove debris, keep heavy equipment damage to the turf at a minimum and avoid muddy situations around buildings which can cause turf damage — aesthetically or horticulturally. Even though each property has its own unique challenges, our crews will use the training they have been provided, along with the guidance of their manager, to ensure that we get the spring clean-up done with quality and in the most efficient way possible.