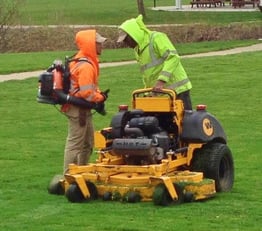 If you live in North East Ohio it is easy to understand that the weather isn't always a landscapers best friend. The weather is one variable landscape professionals cannot control and can make things difficult. We often get the call from some of our customers wondering why we are mowing grass in the rain. The answer is pretty simple: "BECAUSE WE HAVE TO", not necessarily because we want to. Mowing grass in the rain takes substantially more time and creates a dangerous environment for our staff to work.
Of course we do not always work in the rain, and sometimes it is a judgement call whether or not to continue routine services when inclement weather is in the forecast. Our management team will look at the forecast and make a decision about whether or not to postpone work. In some instances it is a full day of work and in others it is simply waiting out some spotty showers. When making this decision, two of the biggest factors that get considered are safety and quality. Here are some of the things we keep in mind when making that decision.
Schedules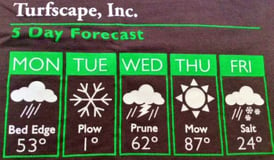 Each of our commercial grounds maintenance crews has a weekly schedule from Monday through Friday that is scheduled to keep the crew busy for 35 - 40 hours a week. Ohio averages 148 days with a chance of precipitation a year, roughly 40% of the time. Skipping a day every time there is rain in the forecast will push the schedule back and work will not get completed.
Overgrown Grass
Sometimes the decision has to be made between the lesser of 2 evils. Either mow grass in the rain or allow it to grow. Allowing grass to become overgrown can be more damaging to the turf than mowing the grass while it is wet. When turf becomes overgrown it creates an unhealthy environment for weeds to grow but also can become a breeding ground for bugs and insects. Fleas and ticks thrive when the grass is tall and becomes a safety concern to not only our customers but to our team members who work on the property.
Managing Wet Turf
Wet grass can strain mowers, clump on mower decks, and stick to hard surfaces. It is a difficult task, but not impossible. Fortunately Turfscape invests in high quality equipment that is powerful enough to handle the difficulties of wet grass and our staff is trained to turn mower blades at higher RPMs to mow grass efficiently. Sharpening blades often will ensure a smoother cut, and proper mowing techniques will prevent blowing clippings onto hard surfaces.
Nobody enjoys working in the rain, but when the weather report shows precipitation in the forecast we have a difficult decision to make. Whichever decision is made, it is made with the right intentions to service the commercial properties that we partner with. If you would like to find out more about how Turfscape can help manage your property throughout the rain and the sunshine
.