Many people would argue that nothing can spruce up your Northeast Ohio commercial property more than some color.
Spring blooms are bright and cheerful and wake us up from the gray winter clouds and piles of snow and ice. They signal that increase in sunshine and longer, warmer days. Their aroma is intoxicating and vibrant, along with their high-energy hues.
As summer eases in, the blooms get brighter, the sun gets hotter, and butterflies and hummingbirds enter the mix.
By autumn, as temperatures begin to cool down, the colors change and become richer and deeper. They make one stop and stare in awe when the mix of a sunrise or sunset merges with a brilliant crimson-leaved tree.
And then the bones of the landscape – trunks and branches in various shades of browns and grays and even reds – get a chance to shine in winter against that white backdrop. Evergreens also bring you that lush green that pops against the snow.
As a commercial property, you get a chance to welcome each of these seasons in, celebrating them for anyone who visits your site – from the health care workers at the local hospital to the shoppers at the retail center to the homeowners who live in the HOA, to the employees going to work at the office park, to the workers at the industrial facility, and everyone else in between.
And seasonal color for commercial landscapes does quite a bit to entice them in, keep them coming, boost your property's curb appeal, continue interest throughout the year, and build your business and community reputation.
How can just a bit of color make such a big difference? When a commercial landscape professional designs and installs annual color on a regular schedule at your commercial property, it can turn your property around, making your site stand out among the rest.
Let's learn more about how color can transform your Northeast Ohio facility.
Top 6 Tips for Annual Plants on Commercial Properties
Bright, fresh annual plant displays on commercial properties can give your facility an updated feel as each season progresses.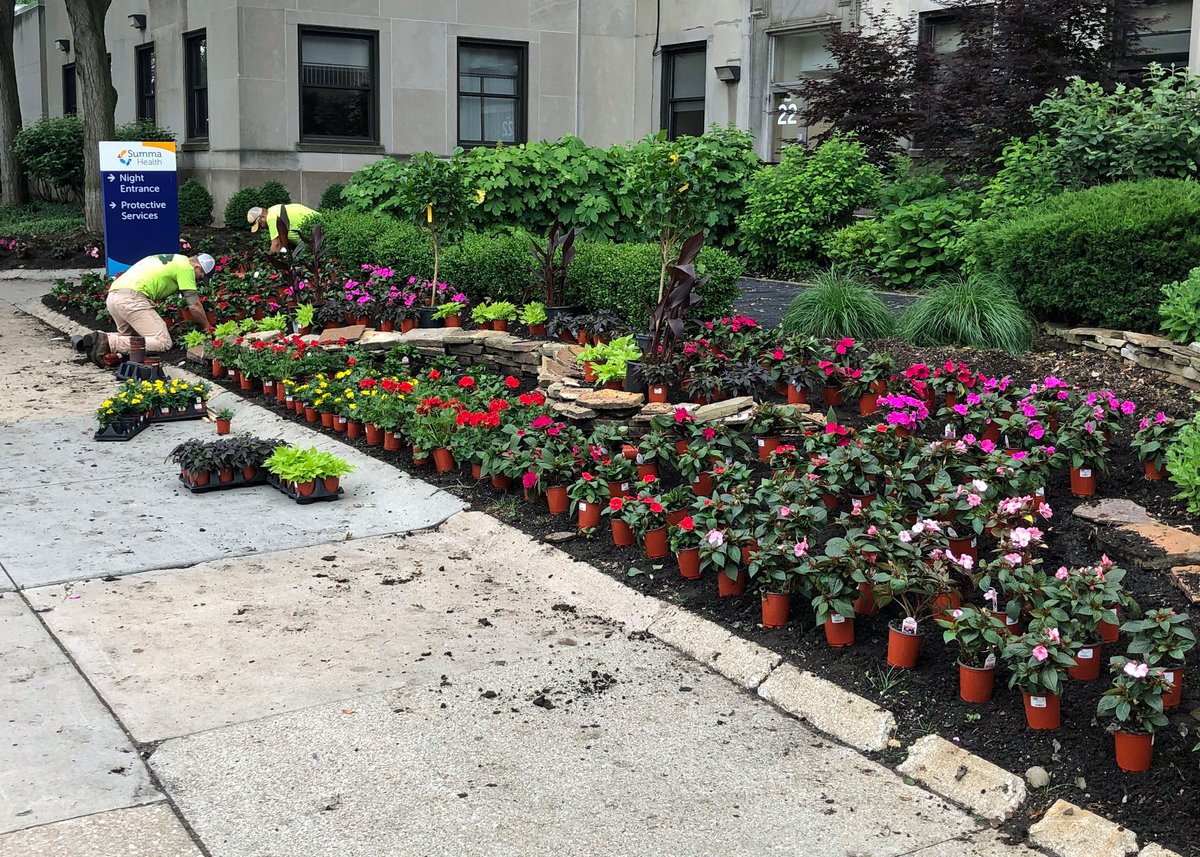 Unlike your other more permanent landscape plants, trees, and shrubs, annuals surprise visitors with some pop and punch, capturing the feel of each season.

Here are some suggestions for how to embark on an annual seasonal color plan the right way.
1. Follow Proper Annual Installation Timing
When it comes to seasonal flowers for commercial properties, you want to adopt a proactive approach that includes planning ahead to refresh color each season.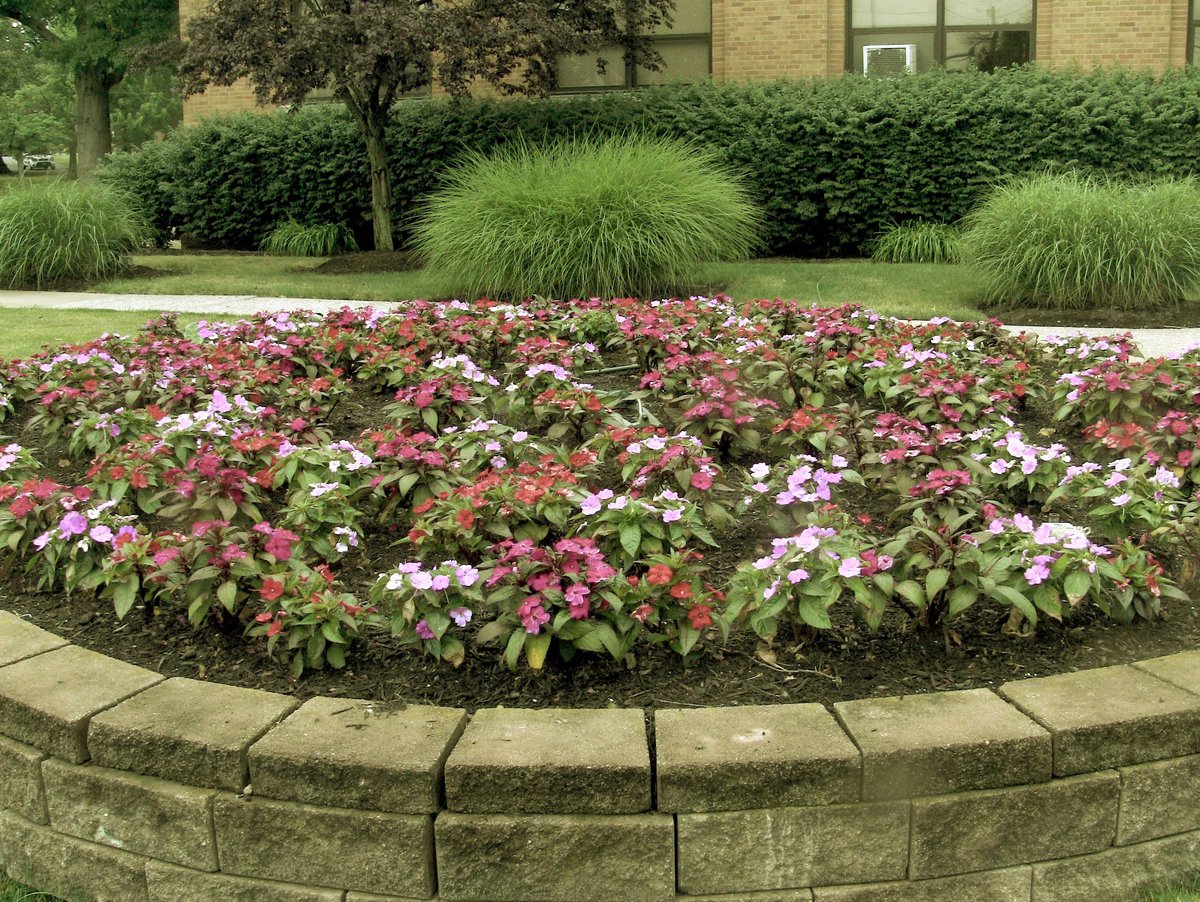 This means you're installing spring annual displays in March or April, summer annual displays in May or June, and fall annual displays in September and October. Timing is, of course, dependent on frost-free weather conditions so your flowers don't suffer.
2. Embrace Proper Planting Conditions For Best Color
Seasonal flowers for commercial properties perform their best when they are planted properly.

First, cultivate landscape beds by rototilling the soil and adding soil amendments and fertilizer so the planting area is prepped and ready for your annuals.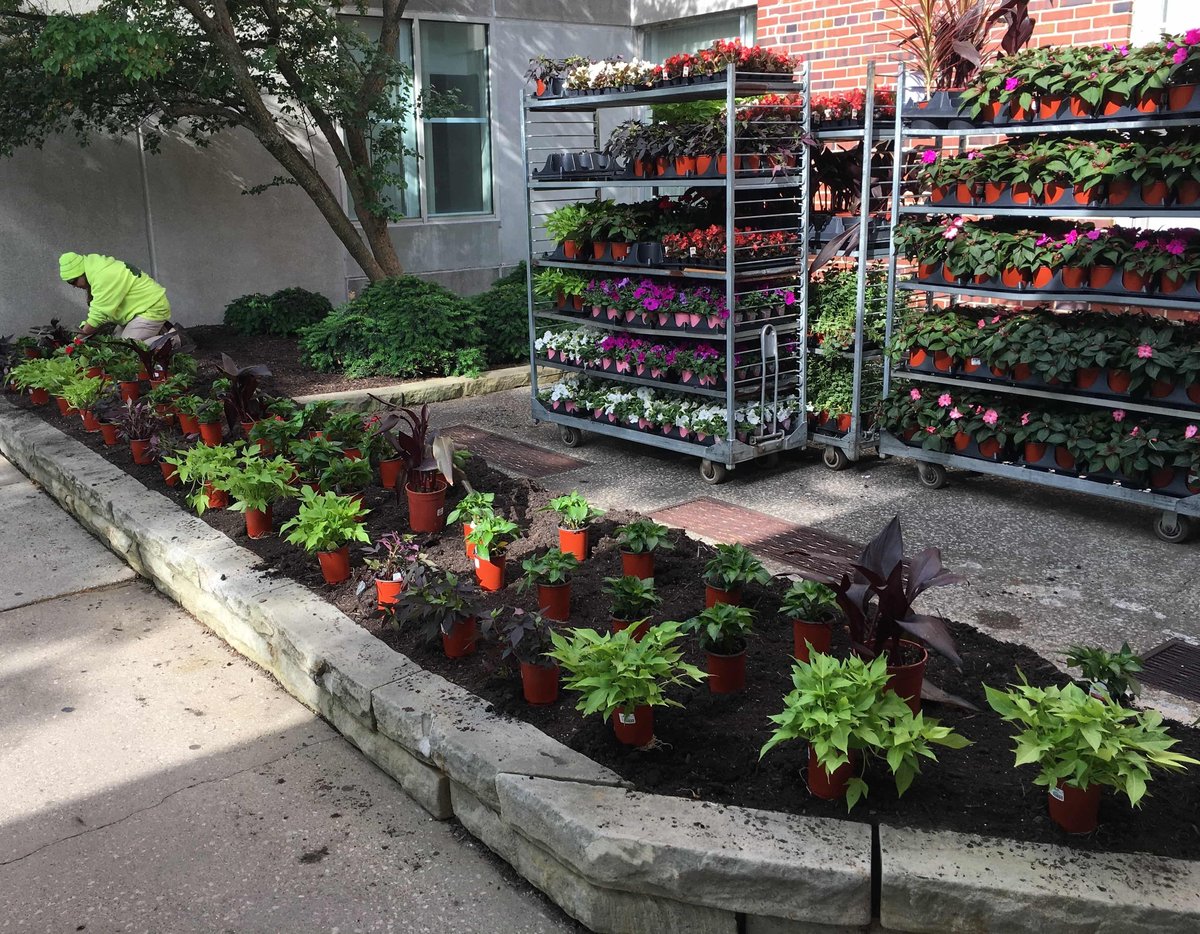 In addition to a creative design that mixes the right plants for your sunny and shady areas and soil conditions, adding a thin layer of mulch can help retain soil moisture, maintain soil temperatures, and keep weeds at bay.

New flowers should always be watered in thoroughly, with supplemental irrigation maintained through the season, particularly if Mother Nature isn't supplying any rainfall.
3. Be First With Color in Spring
As Old Man Winter takes its time to pack up and leave your Northeast Ohio commercial facility, spring is right there ready to burst at the seams.

You can be one of the first properties in the area to showcase spring's best shades by planting some bulbs in fall along with spring annual plants on commercial properties to get a jumpstart on the season.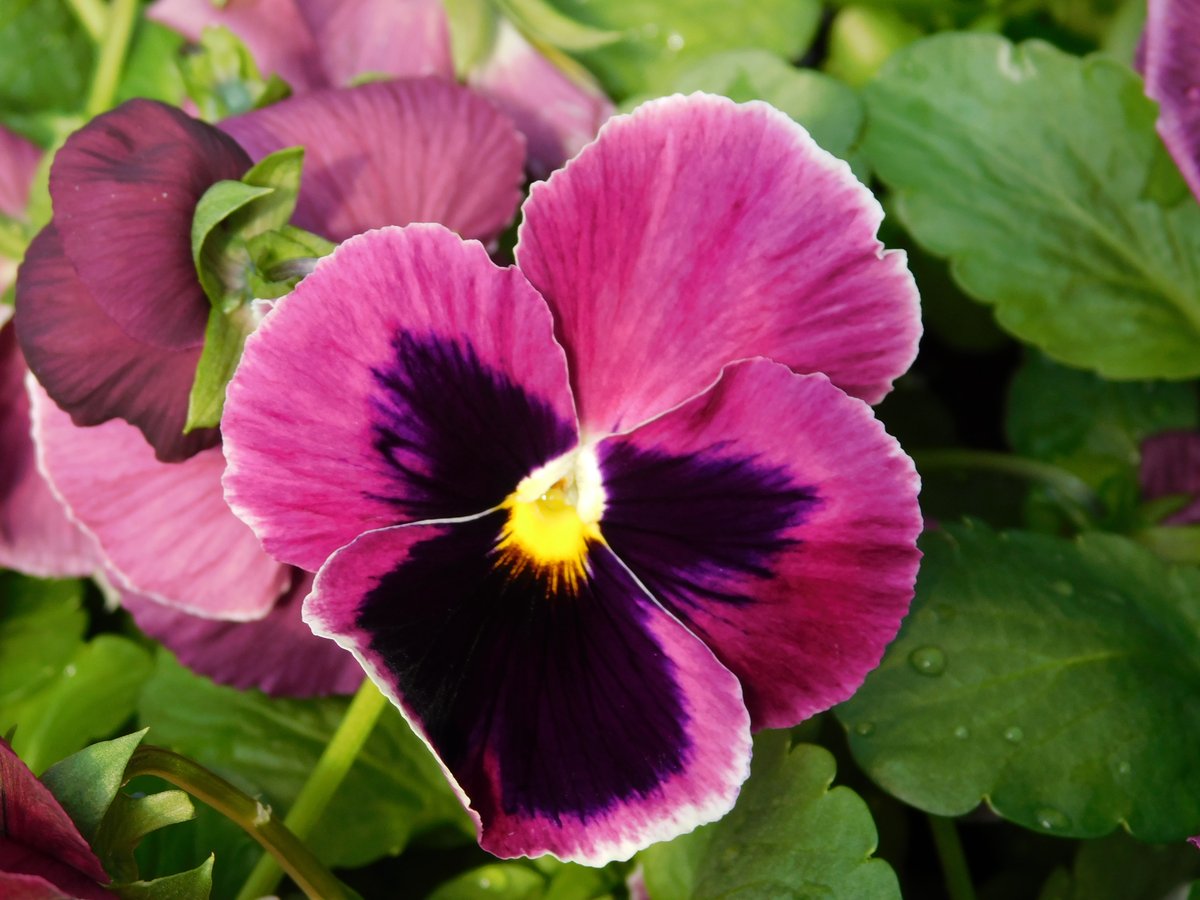 Everyone will be flocking to your commercial site if you try one of these spring flowers:
Tulips - Blooming in April and May, these bright blooms erupt from smooth, blue-green leaves as symbols of the season. Plant them in late fall or early winter so they get the 4 weeks of chilling underground they need to ensure they pop up in spring.
Daffodils - These gems are like small balls of sunshine that stand tall and strong, coming in yellows and yellow and white varieties. Plant bulbs in mid- to late-fall for early spring blooms that come forth about one month after final frost.
Hyacinth - These extremely fragrant bright blues and purples can warm any Northeast Ohio commercial landscape in May. Plant bulbs 6 to 8 weeks before the first frost in autumn.
Pansies & Violas - These delicate floral faces may look dainty, but they are tough, adding hues in cool and warm tones and lasting until the heat of summer. Then they can be incorporated again in the fall to lengthen your color show. Plant them in April as long as temperatures aren't expected to drop below 30 degrees Fahrenheit.
4. Don't Leave Out Fall Color Options
Even though the trees do their part by changing leaves from greens to shades of gold, copper, tangerine, and cherry, there are some amazing autumn annuals that bring other warm shades to the mix, completing and extending your color show.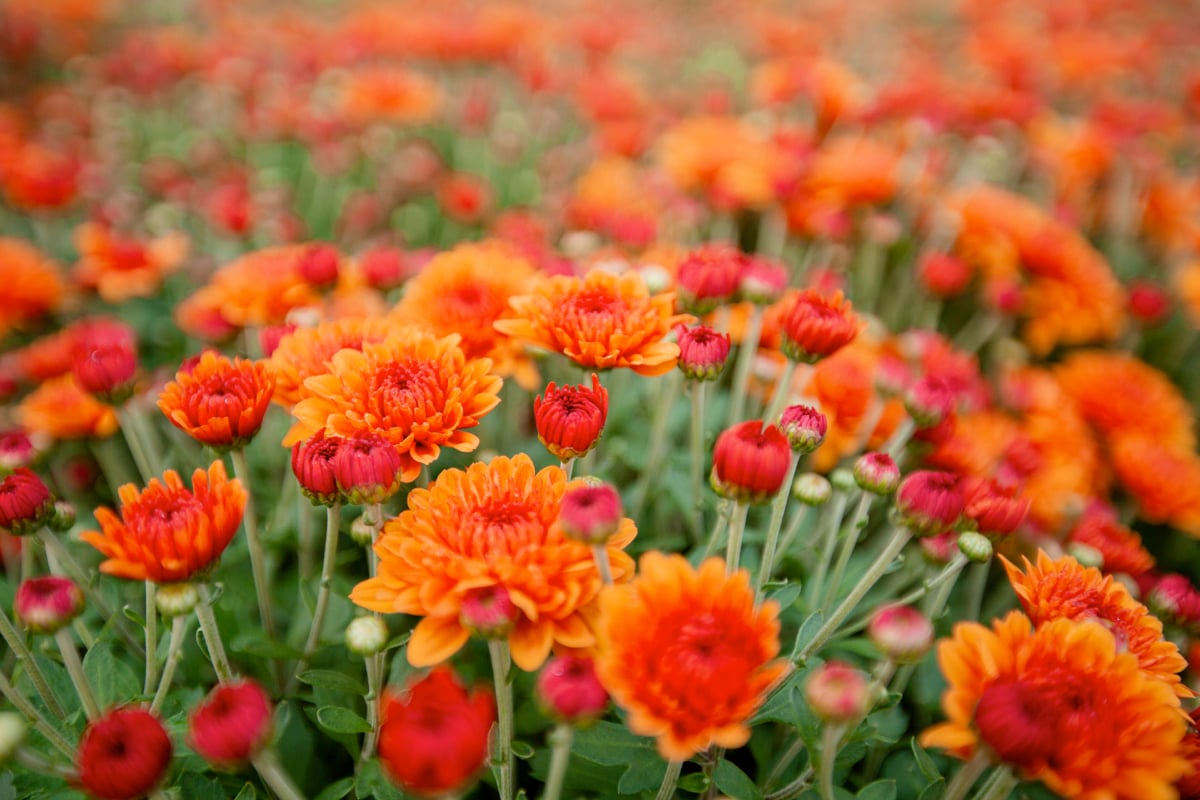 Here are some of our favorites for the season:
Mums - Chrysanthemums in your commercial landscape can create colorful cushions in festive fall hues of crimson, magenta, pumpkin, yellow, and white, among others. Mums are hardy and fairly inexpensive so their bigger blooms highlight the season. Plant them in large batches of a single color for a powerful visual impact or mix it with coordinating shades for a visual feast. Mums like full sun and well-drained soil.
Flowering Kale & Ornamental Cabbage - As the weather gets colder, these annual plants on commercial properties get brighter foliage in shades of rich, deep greens mixed with purples, pinks, and creams. Both bring their color in their foliage – kale leaves are more frilly, while cabbage leaves are smooth. Use them as border plants, in containers, or to add foliage color through mass plantings.
Pansies - Get some cool-season color in a variety of shades with pansies. These flowers have dainty blooms that are very versatile and hardy. Frost-resistant and cold-tolerant, the yellow, white, and blue varieties are the toughest, followed by the rose, red, and orange varieties. Use them for pops of color bordering your commercial landscape beds or in your container plant displays.
Ornamental Peppers - If you're looking for a little something more unique to add to your fall annual plant displays on commercial properties, these peppers fill plants with bits of orange, red, white, yellow, or purple and offer a showy, stand-out shape and color that lasts through the season. Heat- and drought-tolerant, as well as pest-resistant, as flowers fade, these peppers continue to shine with color.
Purple Fountain Grass and Sweet Potato Vine - When you want spiky height or a trailing habit, particularly in your containers, purple fountain grasses and sweet potato vines add great burgundy and purple accents that add contrasting texture and color, enabling your other blooms to pop. Plant them in full sun for best color and growth.
5. Where to Plant Annual Color on Your Commercial Property
You might think you can just put color anywhere on your site and it'll shine. Sure, color is great, but having a well-designed planting plan can elevate your color and draw attention to areas you want to highlight.

Adding color to your entrances can invite people in and naturally draw eyes toward where people need to go. Planting seasonal flowers for commercial properties around your signage can also boost your brand recognition.
Consider annual color as ways to amplify focal points. You can set up displays near common gathering areas on your commercial facilities. Think abou outdoor spots where people stop for breaks, rests, lunches, meetings, or chats. Adding color and aroma can encourage people to enjoy these places more.

And, of course, containers can also be great places to put spring color displays, and those can coordinate with your buildings and be moved anywhere you need them to.
6. Remember Special Events
If you're holding any special events on your property, such as corporate meetings or college commencements, annual plants on commercial properties can add a unique element to your property for the event.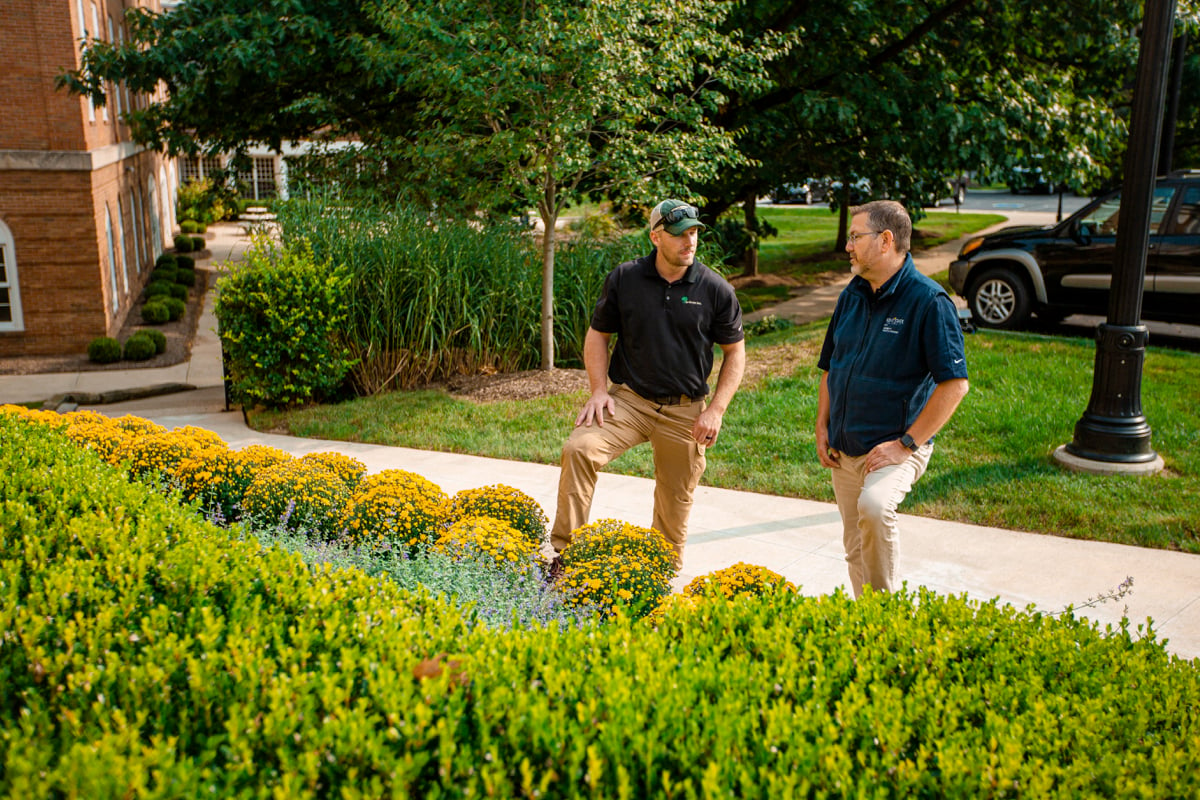 Not only do you have more eyeballs on your property for these events, but you can elevate the overall feeling and outcome of the event with a little extra color, visual interest, and polish on your site. This can also set the tone for encouraging other future events at your facility, if that's one of your goals.
Create A Colorful Year on Your Commercial Property
Flowers aren't just for one season. Flowers can be incorporated all year in your Northeast Ohio commercial property. You just have to know which blooms work for certain spaces and their optimum bloom timing.

You may know what annual plants on your commercial property can do for your image, brand, and business. You may want to celebrate the seasons, too. But maybe you aren't sure which flowers will work best, how to install them properly, and how to keep the flower show going as weather conditions change.

That's OK. We can bring our years of expertise to the table. Turfscape can help you make a great decision on what colors and flowers will blend well and shine on your commercial site. As your service provider, we'd be thrilled to assist you in coordinating colorful seasonal color displays throughout the year so you don't miss a beat.

Want to learn more about what annual plant displays would work best in your commercial space in Northeast Ohio? Get started today with a free quote. We'll review your options together so you can make a great choice.