Whether you're hiring your first commercial landscape professional or you've worked with one or more landscaping companies in the past but were unhappy, finding a business that you can count on to bring fresh ideas, follow through on promises, and do amazing work may feel overwhelming.
After all, the number of top commercial landscaping companies in Northeast Ohio can seem vast. You might be wondering how to compare all of your options and how to choose the best one for your facility's needs.
We understand that. The last thing you want to do is research many businesses and then be dissatisfied with your decision or the results. You have people to answer to, and you don't want to waste time or budget dollars choosing the wrong landscape service provider and then have to go through the process all over again -- all while the landscaping at your facility suffers.
What you do want is to feel confident in the choice you made, not stressed.
We'd like to help. Take a look at our list of some of the best commercial landscaping companies in Northeast Ohio.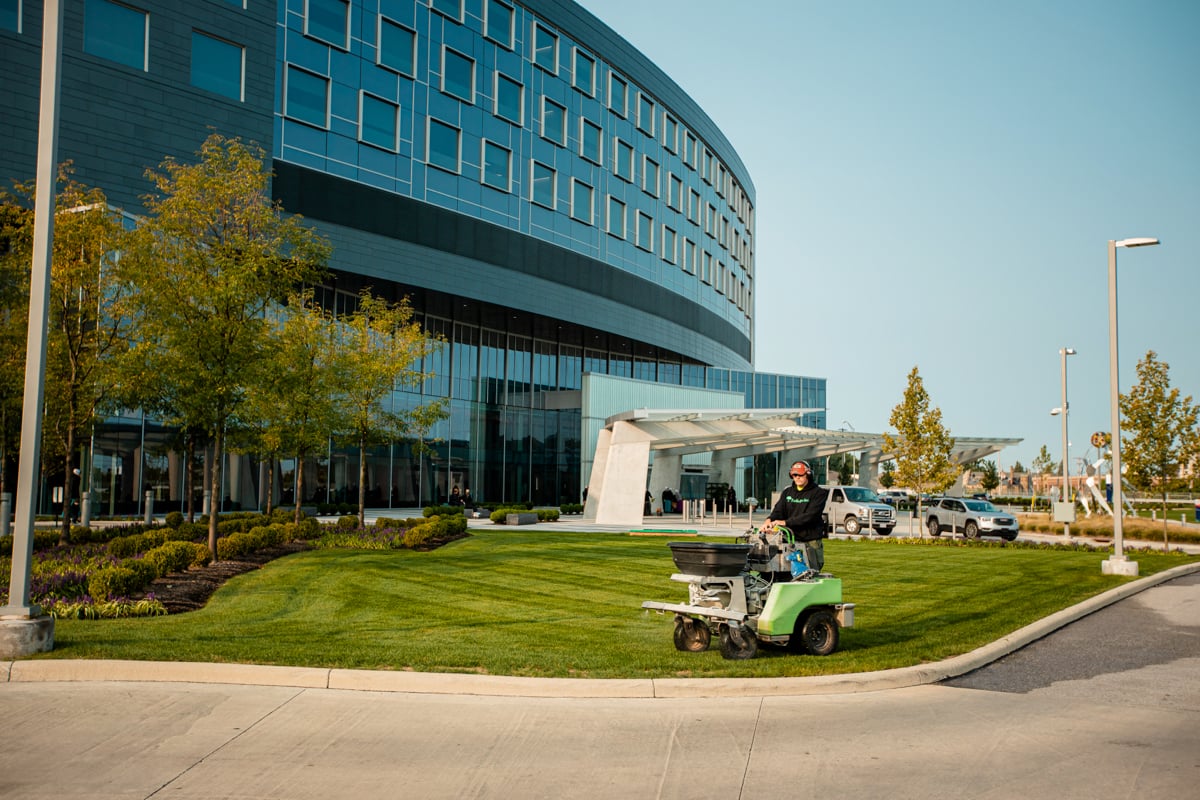 The 5 Best Commercial Landscaping Companies in Northeast Ohio
If you've searched online for "top commercial landscaping companies in Northeast Ohio," you may have found a long list of those located nearest to you, but that doesn't necessarily mean they are the best.
To aid your search, here are the companies that will likely come up first. They are the most respected commercial landscaping companies in the region, and we've compiled some helpful information for your comparison exercise.
Enviroscapes
Enviroscapes is based in Louisville, Ohio, which is about one hour south of Cleveland, Ohio, The business began in 1987 with a $5 per week residential mowing customer.
The company started out in residential maintenance and now offers commercial maintenance. In fact, the business is made up of approximately 70 percent commercial services and 30 percent residential services today.
Enviroscapes says its service area is within a 60-mile radius around Louisville, but the company does provide services as far as Columbus, Ohio.
Suncrest Gardens
Suncrest Gardens, based in Peninsula, Ohio, has been around since 1976.
The company offers residential and commercial landscape services with the motto, "Bringing life and beauty to gardens and homes in Northeast Ohio since 1976." They also have a garden center for residential customers.
Impullitti
Impullitti Landscaping is a family-run business in its fourth generation. The business has been around since 1952.
The company also offers a mix of both residential and commercial landscape services.
Schill Grounds Management
Schill Grounds Management was founded in 1993. They offer commercial landscape and snow removal services.
In September 2020, Argonne Capital Group purchased a controlling investment in the business. Owner Jerry Schill plans to continue on as CEO, however.
Turfscape
As you compare the top commercial landscaping companies in Northeast Ohio, we hope you'll also consider Turfscape in your search. We started our business in 1988 with the goal of providing responsive commercial landscape services to the Northeast Ohio community. Our focus has always and will always be on commercial landscaping because we believe maintaining that core focus makes us better.
These differentiators are what set us apart from the competition.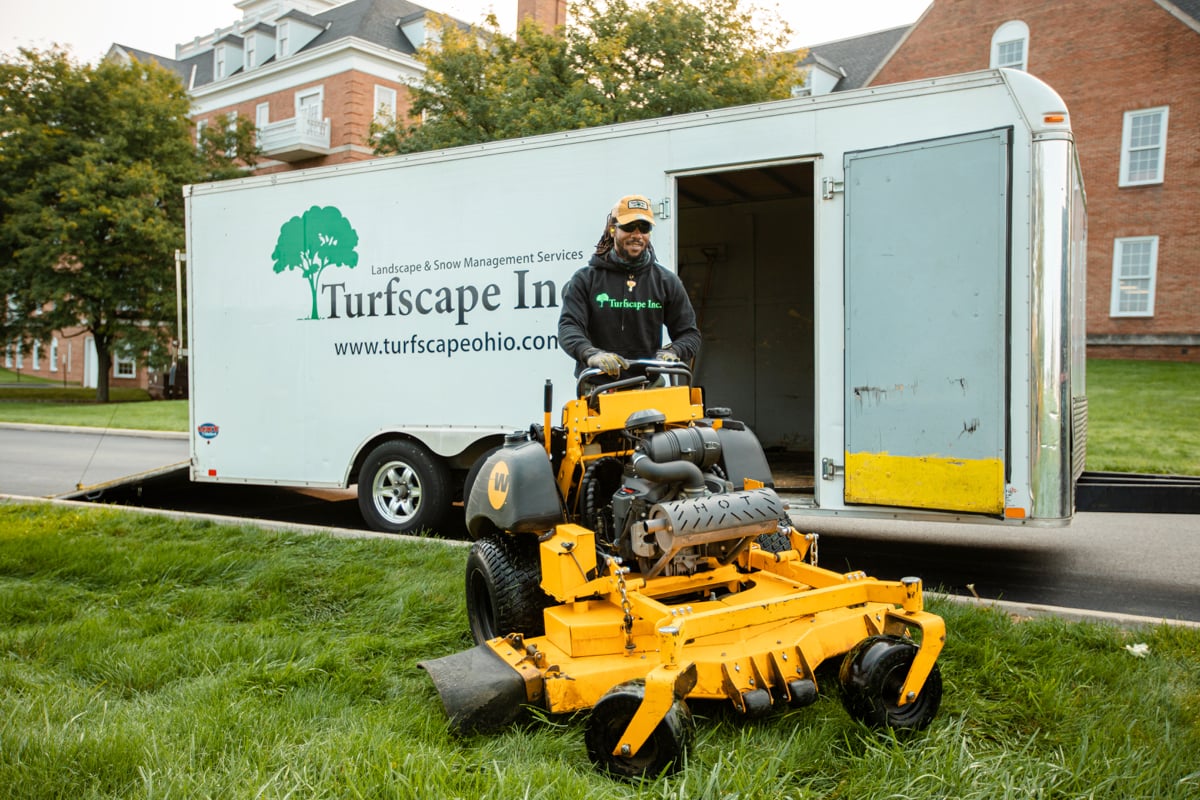 Our Employee Tenure
Advancement from within is a major focus of our core employment philosophy.
That means the people in our management positions have all worked their way up from field crew members.
Most of our managers are also landscape industry certified with a certified landscape technician or a certified landscape professional designation, as well as licensed in pesticide applications.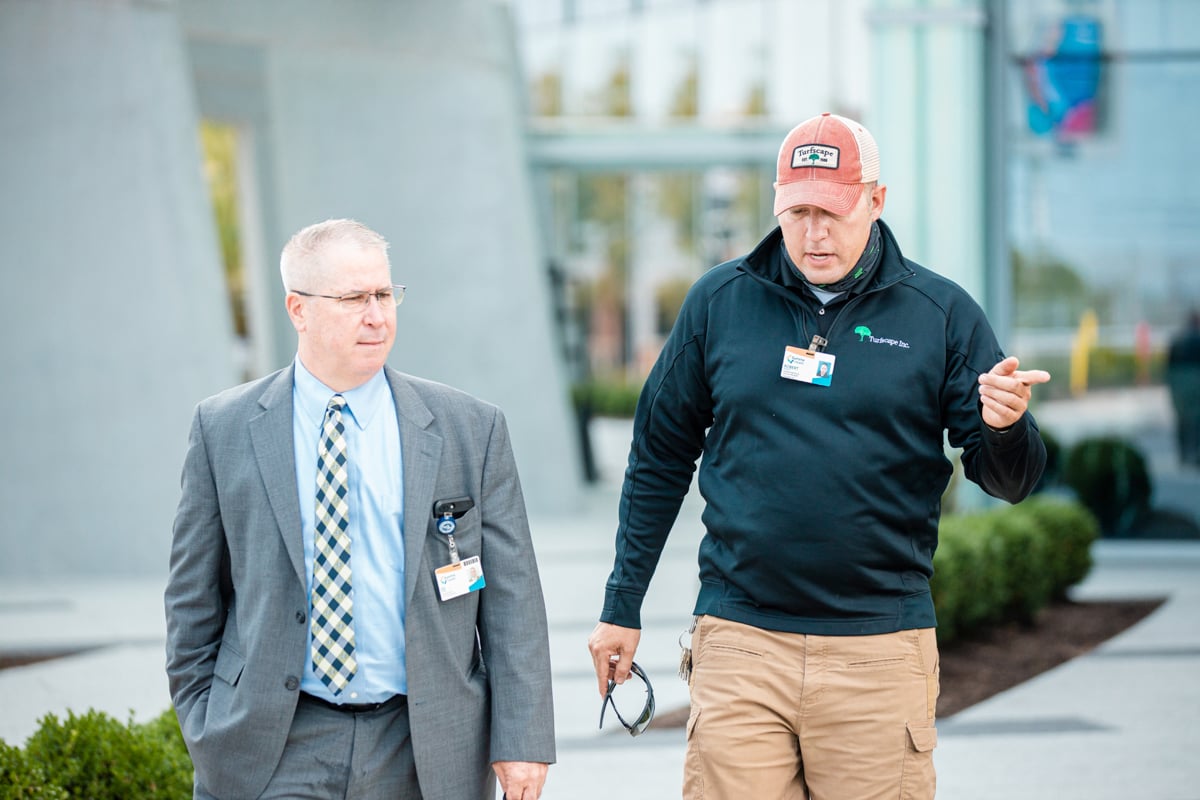 We firmly believe that when we take care of our commercial landscaping company team members, they take better care of our customers.
Our Team Takes Pride in Continuous Improvement
We believe maintaining employee training elevates our quality control and customer service, which we feel is important in every single commercial landscaping company job.
Every morning before each day starts, we do a morning huddle, discussing best practices, seasonal changes and tips, and safety reminders. Our account managers and field supervisors are also out in the field all day checking on crews, critiquing and teaching service techniques.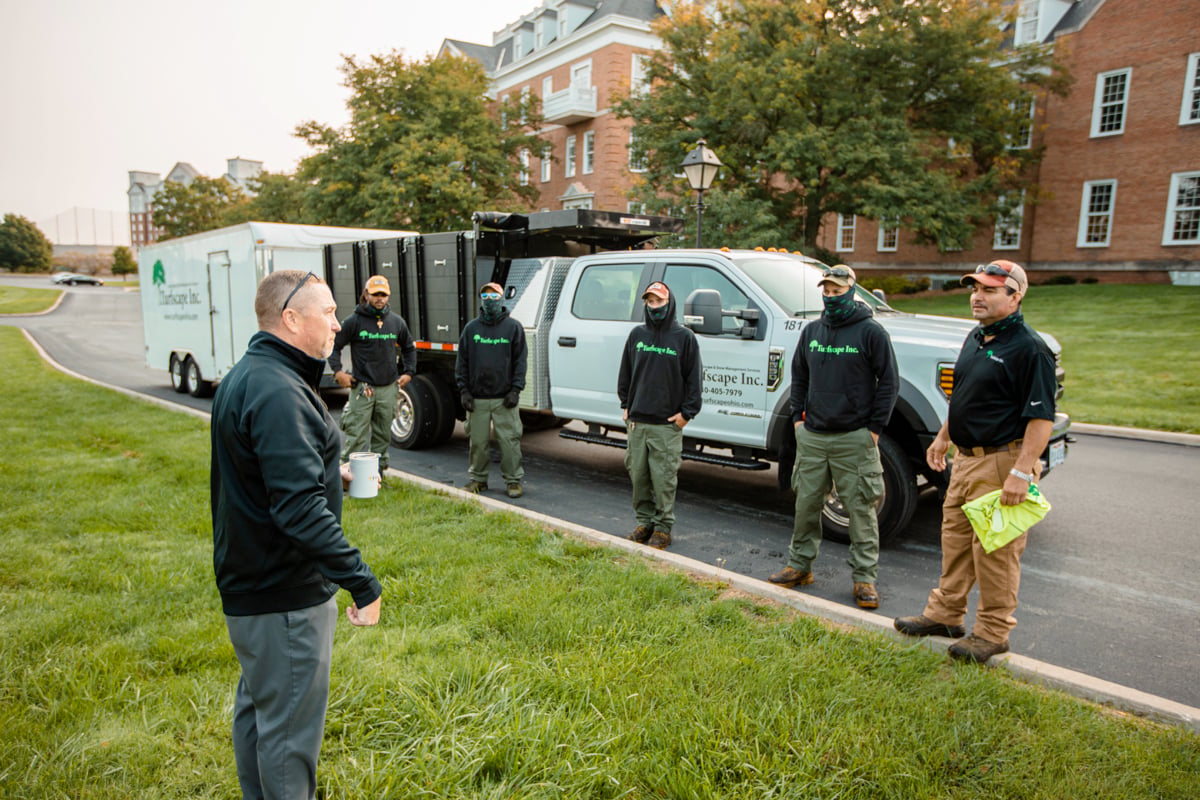 Our Focus on Customer Communication
Communication is something facility managers appreciate and crave. You don't want to have to guess what was done or what's going on or if something will be done on your property. That's what you are hiring a professional for.
At Turfscape, we appreciate consistent and regular communication, too. That's why we guarantee same day communication with our customers. This doesn't always mean we can solve your problem in 24 hours, but we will text, email, or call you back, depending on your preference, and let you know we're aware of your question or issue and that we're working on it.
Internally, we take this communication piece very seriously as well. In our process, work is not marked complete until it's communicated to the client as complete. Until we reach out to you and let you know a problem was resolved or a project is considered finished, it is not filed as complete in our office. This is to ensure that communication is not forgotten or neglected. We refer to this process as "closing the communication loop."
Choosing the Best Commercial Landscaping Company For You
Doing the research on which commercial landscaping company could be a good fit for your facility is an important step.
You want to build a partnership with a business you can trust to listen to your ideas and provide you with great insight, ideas, communication, excellent service, and attention.
When you're searching for the best commercial landscaping companies in Northeast Ohio, we want to be at the top of your list. And we want you to get what you're after: piece of mind knowing your commercial property is well-maintained and always looking at its best -- without you having to worry or micro-manage the process.
Ready to learn why Turfscape could be your choice for commercial landscaping in Northeast Ohio? We'd love to learn more about you. Get started today with a free quote. We'll review your options together so you can feel confident and make a great choice.