In Northeast Ohio, spring is the time of year when everything in the landscape wakes up.

Your commercial landscape is coming out of winter slumber, and it's gone through quite a bit. Between the freezes and thaws, mud and slush, there's a lot to clean up after.

As a facility manager, you want to keep your landscape in the best shape possible in every season, including through the transitions. You can't risk your hospital becoming unsafe with branches strewn about; your retail facility tripping shoppers with unkempt walkways; your office parking lot lacking cleanliness and security; or your college, school or multi-family facility losing students and tenants due to a sloppy look.

Mother Nature may not help keep things smooth as she transitions from season to season, but with the right preparation and planning, you can get your Northeast Ohio commercial property ready for spring in a smooth fashion.

To aid you in being prepared for the best spring has to bring, let's talk about the top commercial property spring cleanup activities you must do to kick Old Man Winter to the curb and polish up your property aesthetics.
The 8 Best Spring Cleanup Landscaping Tips For Your Commercial Facility
As winter slowly disappears and spring awakens your commercial landscape in Northeast Ohio, you'll notice some of the same issues that tend to emerge each year. This makes them easy to recognize and stay ahead of.

Being proactive and planning ahead so you know what's coming and what to look for can do wonders for avoiding problems that winter issues can cause.

Since your outdoor facility is always changing with the weather as it grows and evolves, incorporating spring commercial landscape services that include a few key cleanup priorities. These can ensure your property stands out from the rest and continues nurturing your professional and positive reputation and community presence.

Keep these 8 key to-dos on your spring cleanup list for Cleveland commercial properties.
1. Repairing Snow Plow and Other Winter Damage
First thing's first. Winter damage can be the worst when it comes to the mess it can leave on your commercial property. Everything from the impacts of snow and ice accumulation to snow plow damage or salt burn on your grass.

The initial job that is a must-do in spring cleanup landscaping is assessing what winter has done to the commercial landscape.

As snow and ice builds up and melts, it can take a toll on all your plants and hardscapes. You can see a wide variety of impacts, including branch breakage on trees and shrubs to turf issues.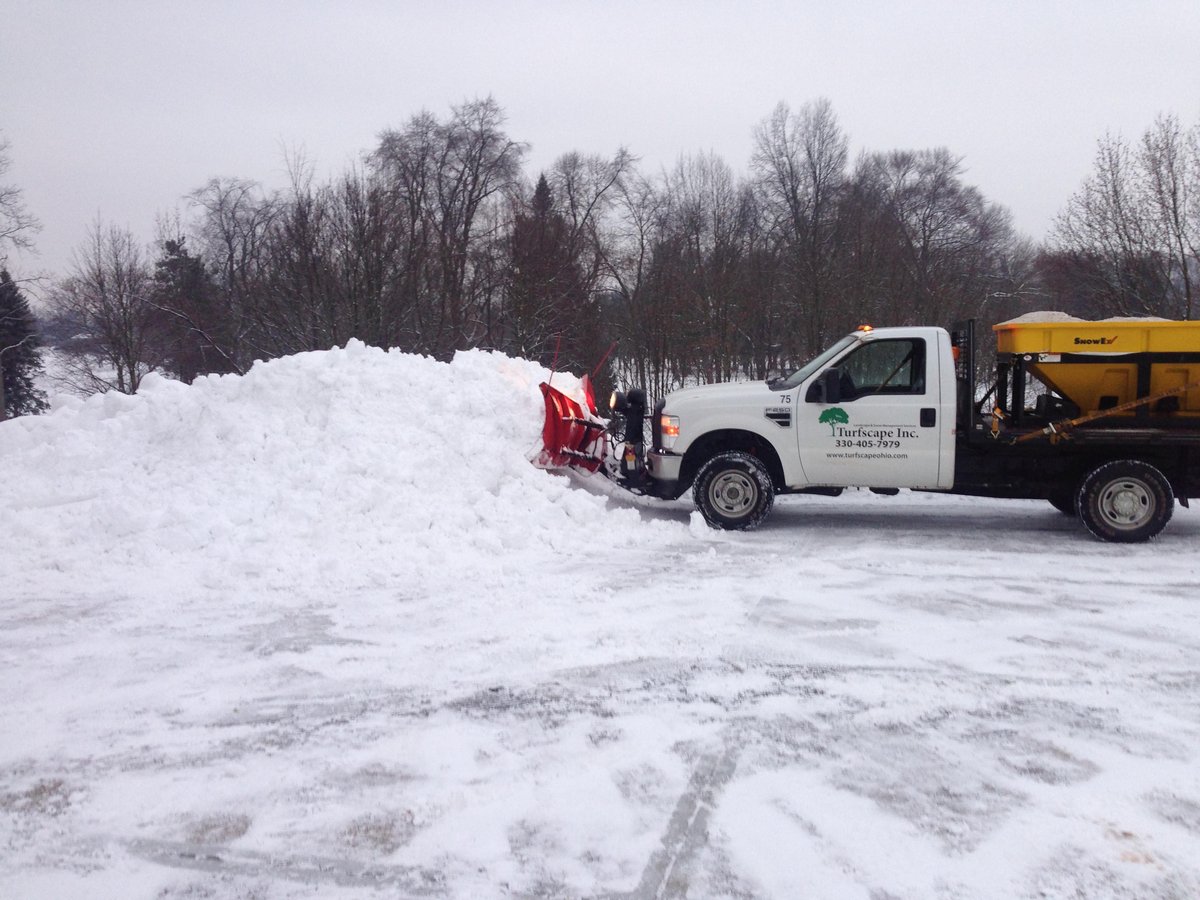 Your commercial landscape service provider will inspect your trees and shrubs, trimming any damaged or broken branches to ensure all your plants are clean and tidy following winter's harsh wrath.

For your turf, your commercial landscape professional will remove plow stakes and look for matted down turf or signs of snow mold, which are usually pink or tan patches. They'll rake out areas that need more air to recover. They'll also check turf edges for snow plow damage and reseed areas that need touch-ups. When it comes to salt damage, commercial landscape service providers are looking for burnt areas or brown spots near lawn edges that edge against pathways, parking areas, and driveways and apply gypsum if necessary to balance the soil pH levels from excess salt.
2. Cleaning Up Fallen Branches, Sticks, Leaves and Debris
Another key commercial property spring cleanup task is looking for random debris that will have fallen during winter storms and winds.

Everything from sticks to leaves to pine needles and pine cones to branches and other debris will gather on hardscape areas and in shrubs or mulched areas.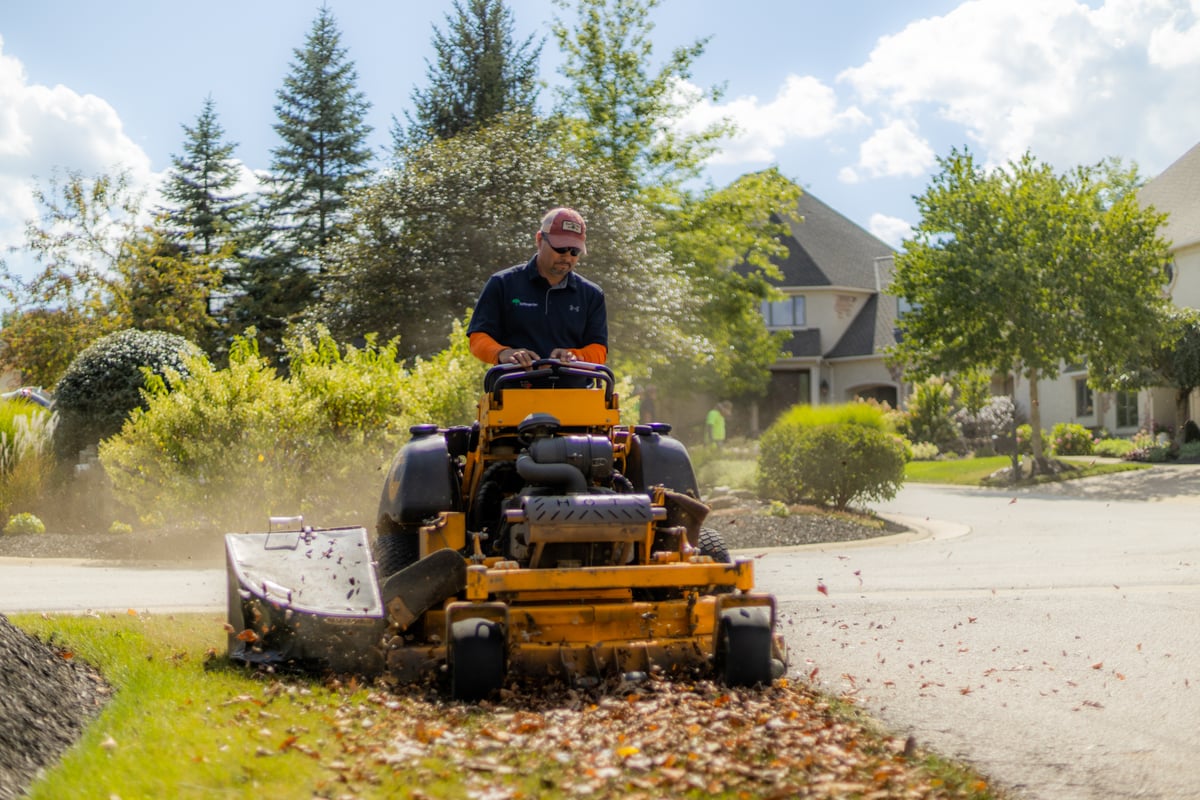 In addition to natural debris, there will also be trash that may have entered the area as a result of wind, and then becomes trapped by shrubs or buried by snow. Cleaning in spring will include removal of all debris for a nice freshening of your space.
3. Preparing Landscape Beds With Edging
Your landscape beds need some TLC, too. As part of spring commercial landscape services, your commercial property maintenance company will edge your plant beds.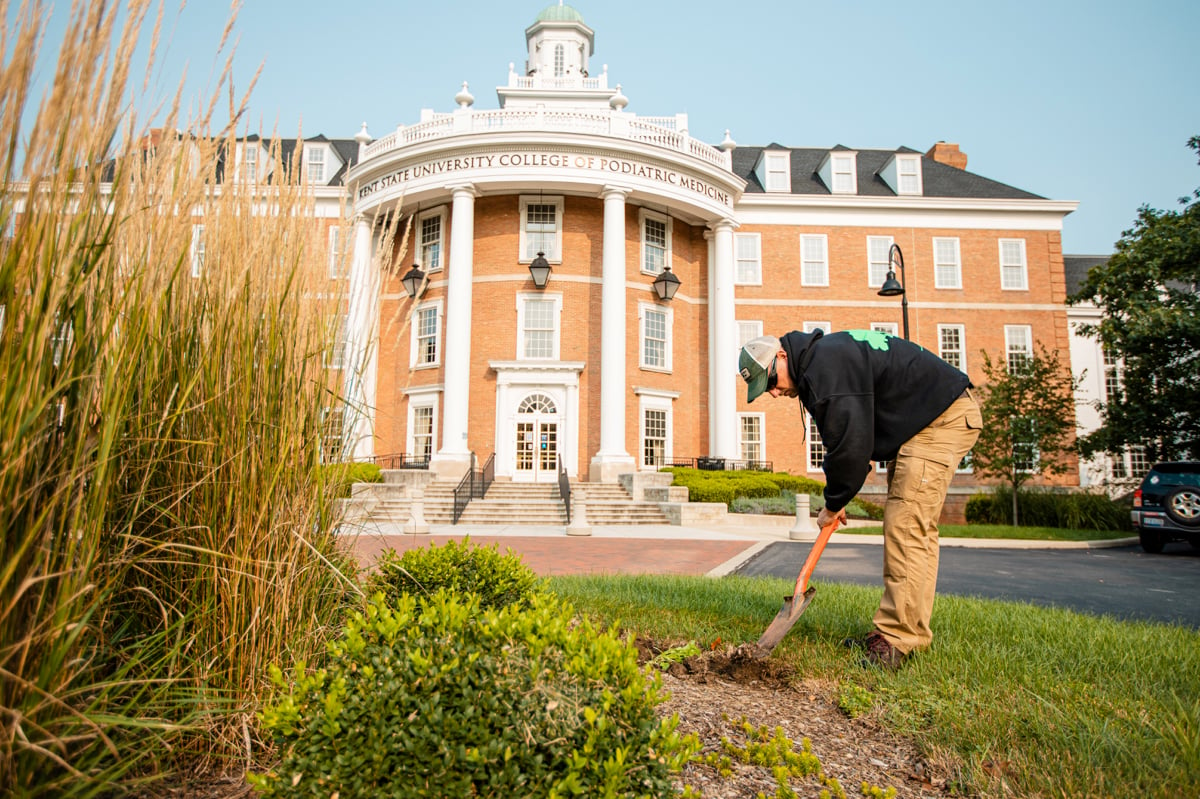 This cleans up their look, creating those sharp separations between turf and landscape bed areas that are incredibly visually appealing.
4. Applying Pre-emergent Weed Control
In addition to edging, your commercial landscape beds need another spring cleanup landscaping touchup, and this one has to do with weeds.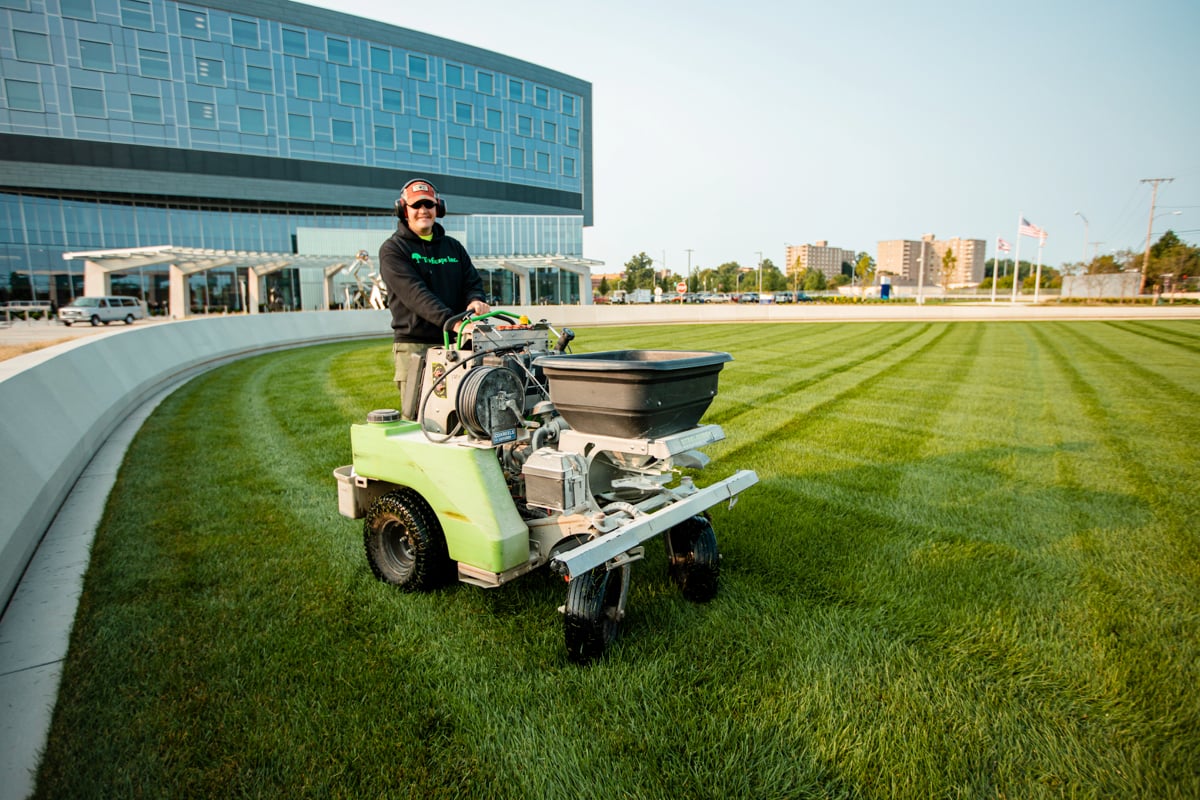 There are a number of weeds – the dreaded crabgrass among them – that are best controlled before they emerge from the soil.

Putting down pre-emergent weed control on your landscape beds in spring to get ahead of weeds like crabgrass definitely reduces their numbers, giving you a more polished, weed-free look on your commercial site.
5. Mulching Your Commercial Landscape Beds
Once your landscape beds are prepped, your commercial property spring cleanup is elevated with a mulch application.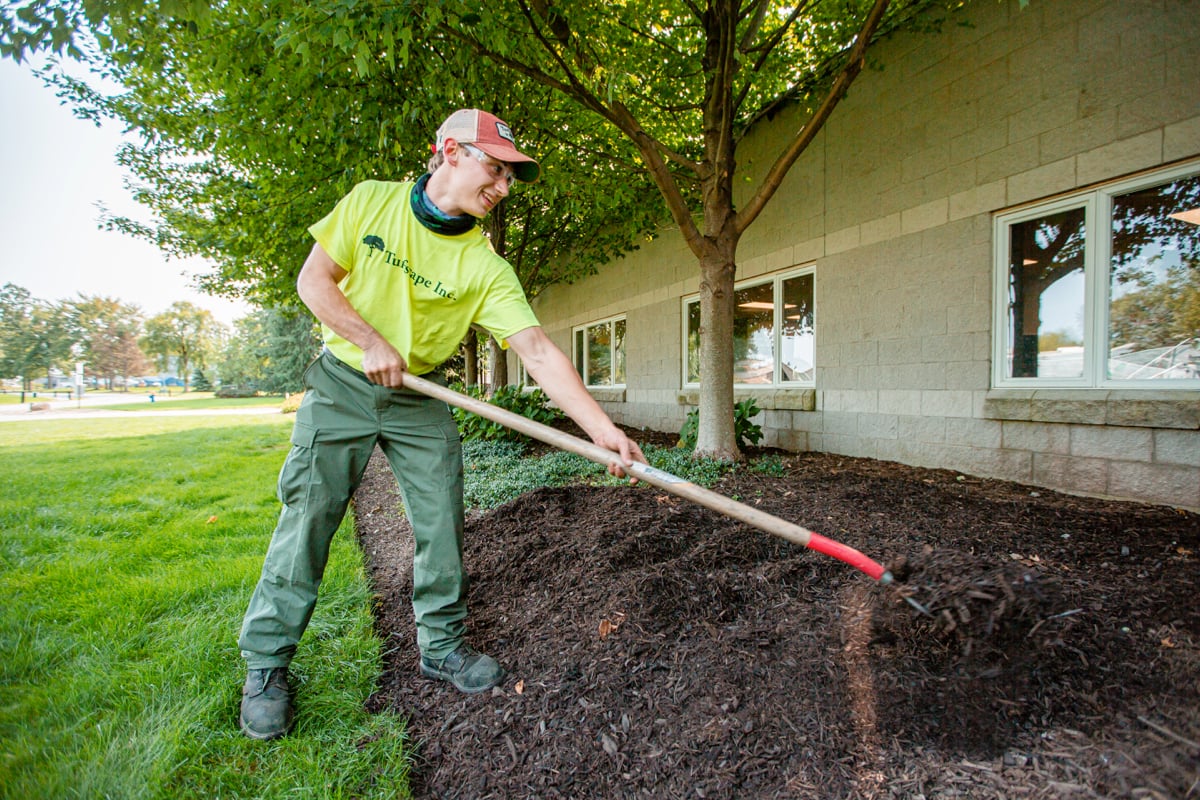 Mulch adds quite a bit of value to your commercial facility landscape. It suppresses weeds, keeps the soil temperature at an even level, retains soil moisture, and incorporates some essential organic matter into your soil.

Ideally, your commercial property maintenance company will add 2 inches of double-shredded hardwood mulch to your landscape beds so they can experience these incredible benefits.
6. Fertilizing Your Commercial Lawn
Your lawn areas might make up the largest spots when it comes to your commercial landscape. As such, you want to give your turf care during spring cleanup landscaping.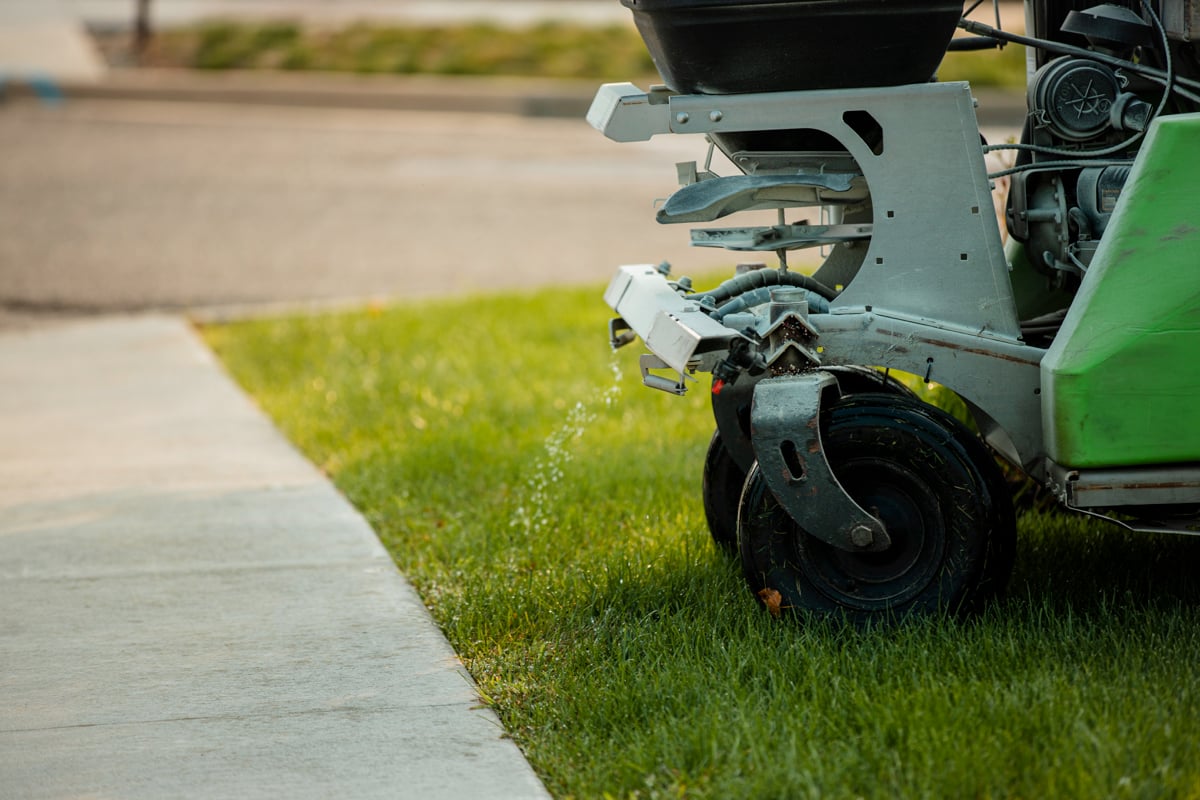 Enter spring fertilization. It can give your lawn nutrients as it enters a phase of spring growth. Your commercial property maintenance company should provide balanced fertilization based on your lawn's specific needs. They will also begin cutting your lawn in spring with sharpened mower blades to provide a clean cut that has a neat versus torn appearance.
7. Cleaning Up Trees and Shrubs With Dormant or Early Spring Pruning
There are a number of pruning techniques your commercial facility maintenance professional will use on your commercial site.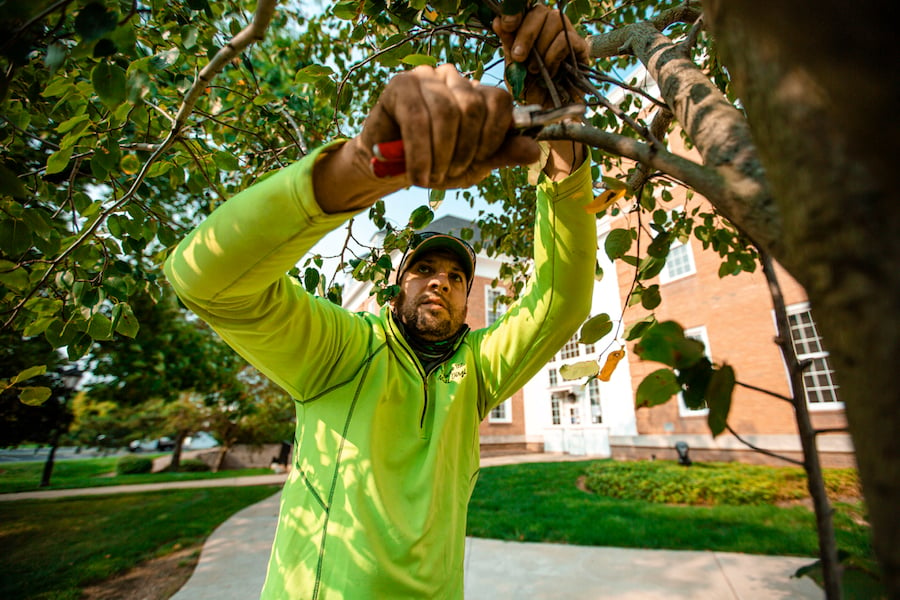 One of those techniques that are best done in late winter/early spring (late November through mid-March) when plants are dormant is aptly named dormant pruning. This is a bit more aggressive than maintenance pruning, including larger cuts that clean up trees and shrubs and encourage more vigorous growth.

Pruning at this time of hibernation as part of commercial property spring cleanup ensures more detailed pruning without jeopardizing the health and vitality of your plants.
8. Installing Annuals Can Give Your Commercial Landscape a Spring Facelift
Another spring cleanup landscaping essential is incoporatng color to give your commercial property a competitive edge.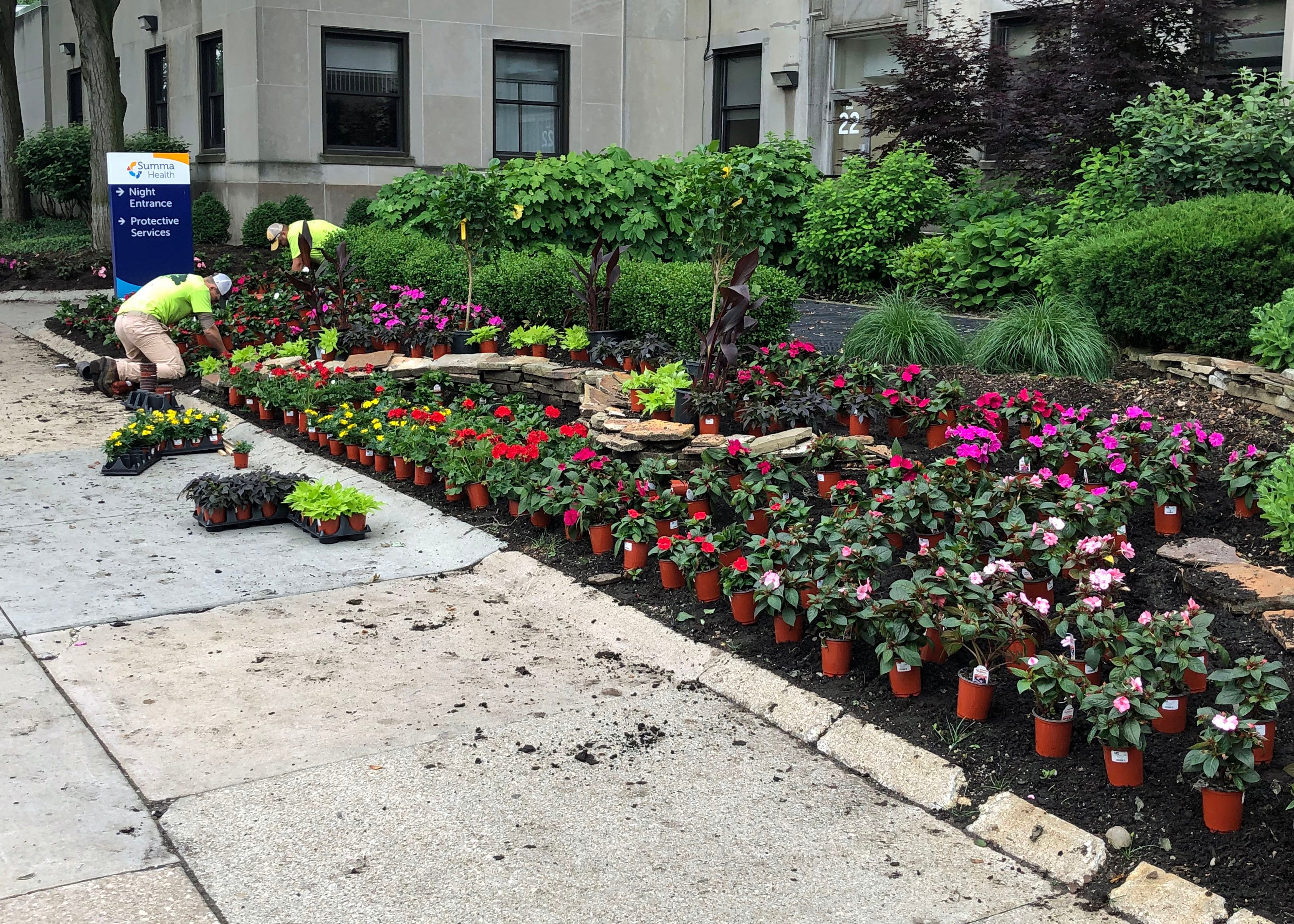 Spring annuals give Northeast Ohioans a rush of positive energy and some bright hues they've missed during those winter months. This can be an important addition to your tenants, visitors, guests, employees, patients, or anyone in your community that enjoys spending time near your site.

There are a lot of choices when it comes to spring annual color as well. Installing fall bulbs, such as tulips, daffodils, and hyacinths can create early color pops of whites, yellows, and blues. And flowering shrubs like forsythia can add bright yellow, while creeping phlox, pansies, and violas offer mixes of vibrant shades that are cold-tolerant to those unpredictable spring weather temperatures.
Don't Let Important Commercial Property Spring Cleanup Opportunities Pass You By
Your commercial property can look great in early spring when it's coming out of dormancy in the Cleveland/Northeast Ohio area. All it needs is the right commercial property spring cleanup.

We hope this list of essential spring maintenance tasks keeps you focused this coming spring so you can get your commercial property looking polished and professional before the warmer weather kicks into high gear.

To be a competitive commercial property takes preventive maintenance, after all. It's how you ensure a great look, professional image, positive reputation, and secure business for the year.

While this list may look extensive, it's completely doable. If it looks overwhelming, that's OK. What you need to help get the job done is a commercial grounds maintenance company that can help you focus on your strengths, touch up your weaknesses, and give you a site appearance that you crave for your business.

Let Turfscape help. We have refined the spring cleanup checklist of priorities and would be happy to discuss them with you so you can make a positive impact on your property throughout the year by starting right early in the year. Not only will your property shine, but so will you.

Want to learn more about Turfscape's spring commercial maintenance services in Northeast Ohio? Get started today with a free quote. We'll review your options together so you can feel confident and make a great choice.