Industrial properties, warehouses, and fulfillment centers are busy places.
Employees, customers, and equipment are constantly moving at these long, low buildings with expansive parking lots and hectic loading docks. But these repetitive comings and goings are what drives the success of these businesses.
On consistently bustling sites like these, how hard can installing and maintaining plants be? Stick them in the ground, water them, and watch them grow, right?
Well, there's actually a bit more to it.
Use the wrong plants in the wrong places with inadequate or poorly timed care and your commercial property can be left with browning, dying plants that look bad -- not to mention the interruptions to how your business is run. This means you look bad, too.
While industrial facility landscaping poses challenges, that doesn't mean the facilities don't deserve and benefit from great spaces. In fact, the right commercial landscaping services tailored to these sites can not only enhance their aesthetic appearances, but they can also provide much-needed relaxation for employees during breaks and even for clients visiting.
Not sure where to begin? We're here to help. Let's talk about the best landscaping ideas for industrial facilities, warehouse, and fulfillment centers.
Industrial Facility and Warehouse Landscape Ideas
Because of the busy nature of industrial properties with trucks and people moving about quite often throughout the day, these sites can be quite the challenge to landscape and maintain.
On top of that, all this movement about the site presents safety challenges commercial landscape companies must keep top-of-mind when working in your landscape.
For these reasons, there are 4 industrial facility landscaping ideas that tend to work best.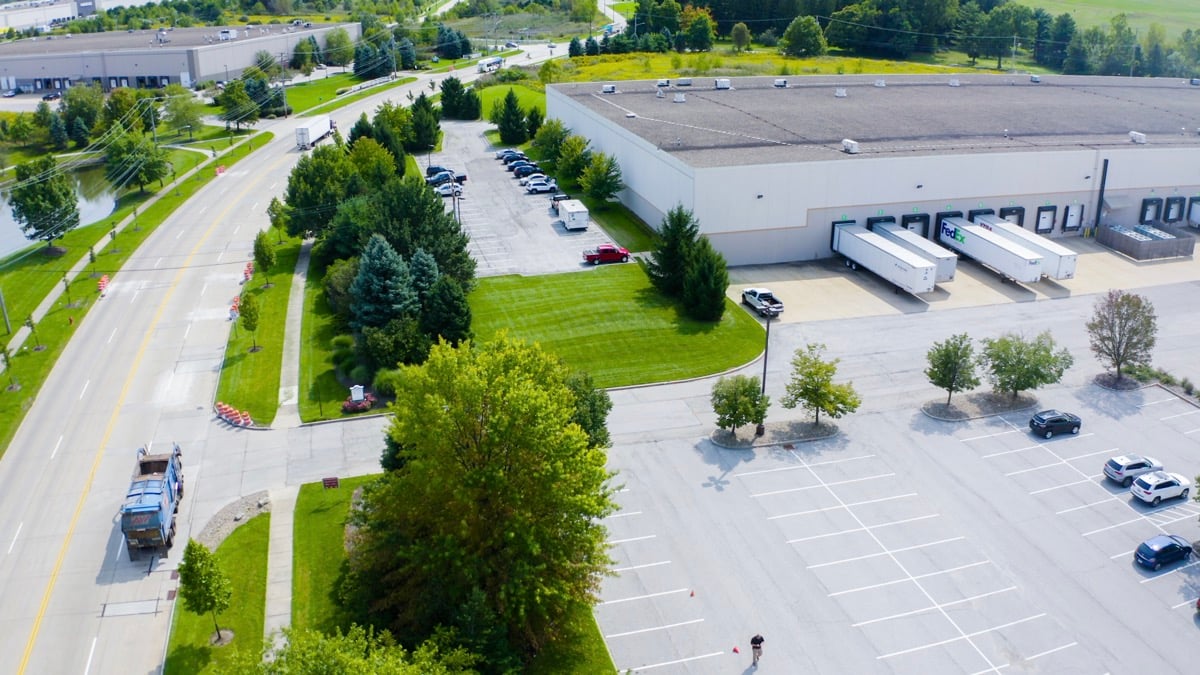 1. Low-Maintenance Plants
Let's start with plants. So, an industrial property that has tons of concrete spaces needs plants that are hardy, drought-resistant, and are just all around tougher. They need to do their job in harsh conditions -- and do it well.
Plants need to be able to handle foot traffic, and if they are near any concrete parking lots or walkways, they need to be able to handle salt in the winter.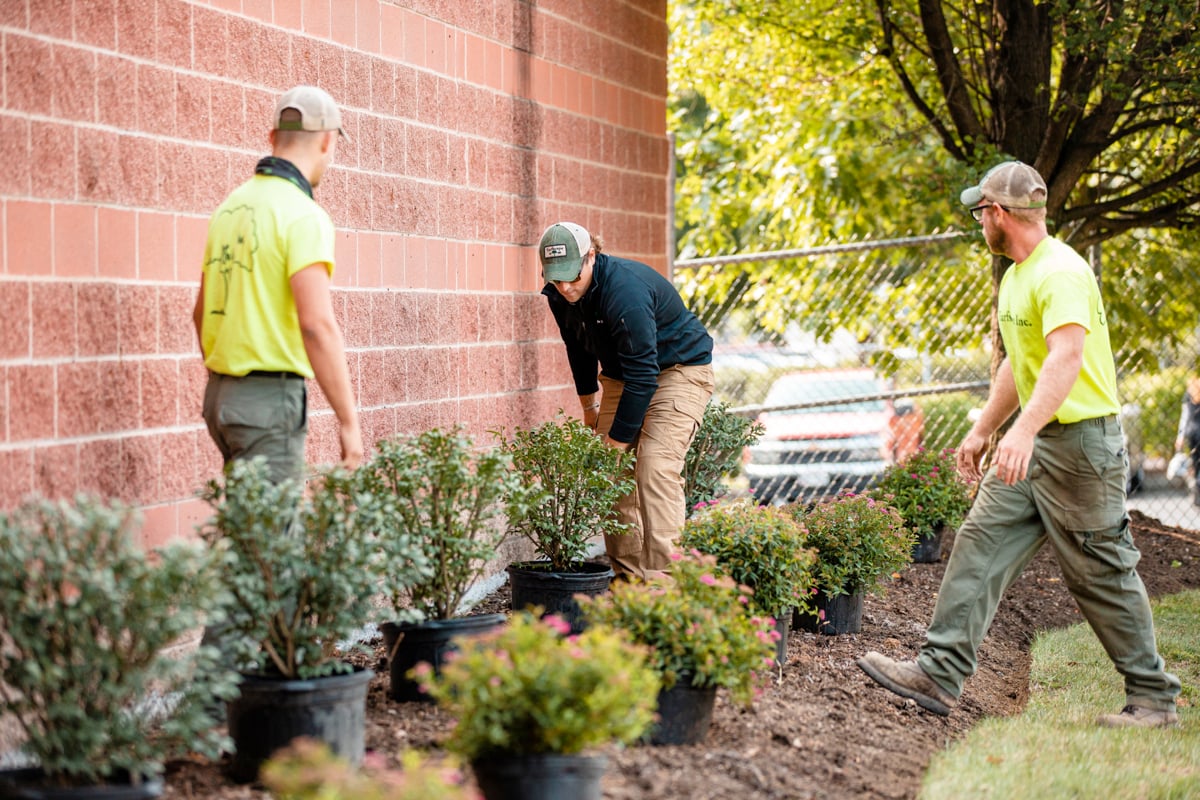 Ornamental grasses are a great bet here. They are very tolerant of all types of weather conditions and traffic and extremely easy to maintain.
Also, deciduous and evergreen shrubs are excellent choices. Deciduous shrubs like burning bush, oak leaf hydrangea, viburnum, barberry, spirea, and low-growing sumac can add some color and interest to your entryways.
Solid evergreen shrubs that can shine through all the seasons and endure tough conditions include boxwood, juniper, holly, and rhododendron.
A landscape designer or architect from a reputable commercial landscape company can use a great, coordinating mix of all of these low-maintenance plants placed in the best areas to maximize their ability to thrive and show off for a positive impact on your business.
2. Safety and Respecting Traffic
Because there is so much movement at fulfillment centers and warehouses, commercial landscaping services on these sites need to take into account safety first.
This means pruning properly and regularly so there aren't overhanging branches that get in the way of people moving about or unruly plants that impede swift deliveries.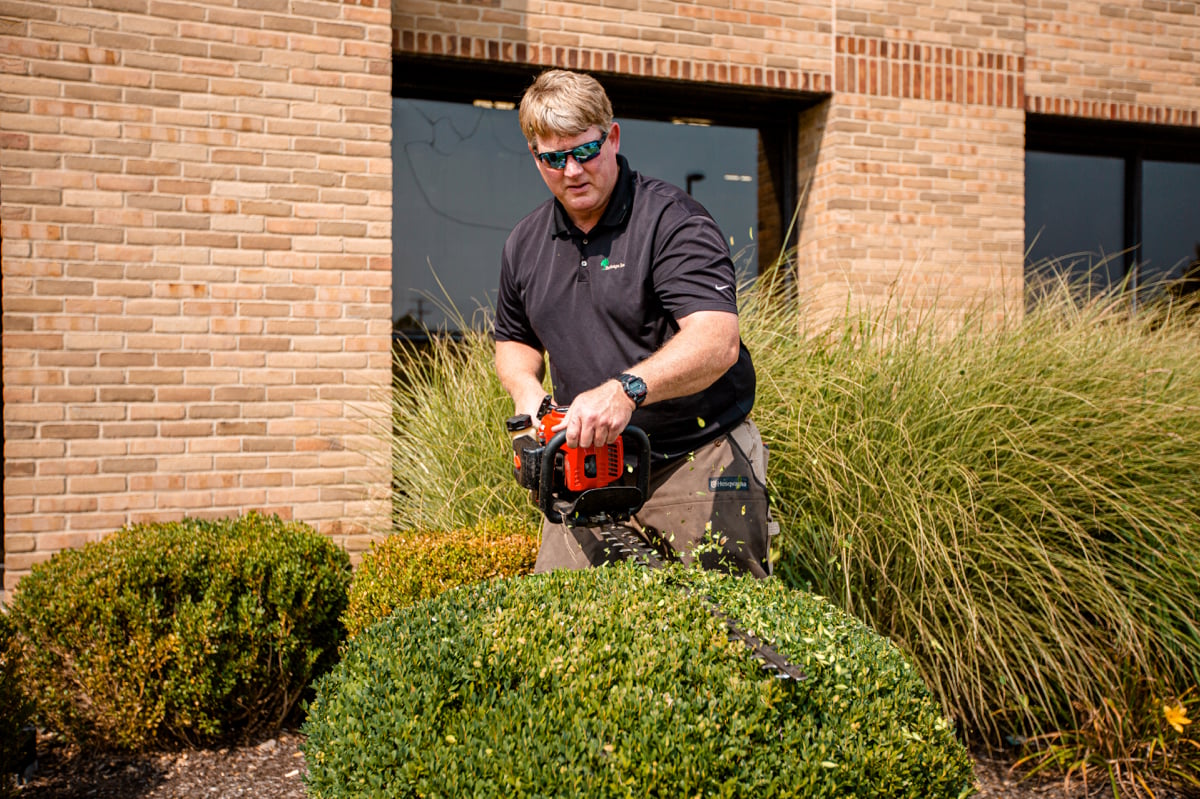 Also, because industrial properties tend to have a lot of concrete, mulch can bake in the sun. To prevent fires from thrown cigarettes or over-dry mulch, river rock can be a great substitute for mulch to create a great appearance and enhance safety even further.
3. Functional Enhancements
Entryways are extremely important for industrial properties because these are the best places for commercial landscaping services to shine, proudly representing the facility's brands.

As a result, these are places where you can focus your budget dollars on improvements or more colorful plants. A well-designed entryway with creative plant design and lighting can highlight your signage and create just the right focus and attention on maintaining or even improving your reputation.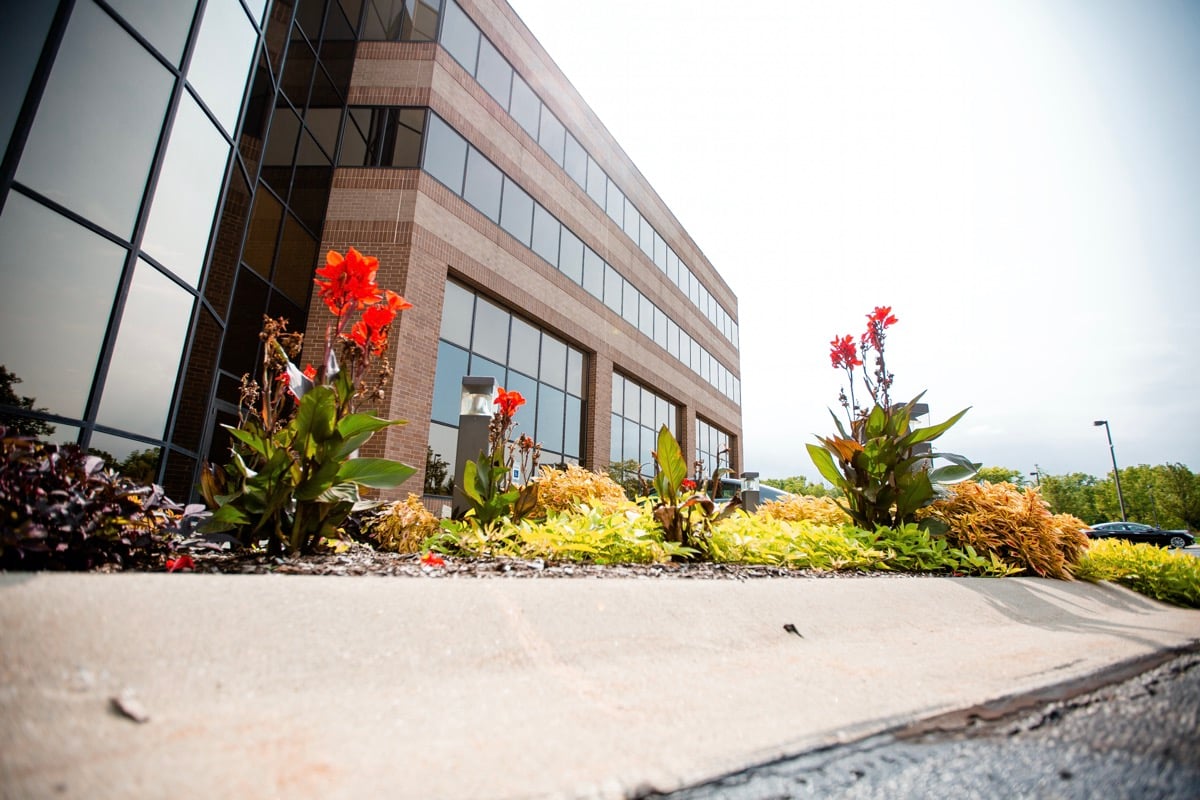 Industrial property facility managers also look for improvements on their sites that serve a functional purpose. For instance, at one of Turfscape's industrial client's sites, they installed a rain garden that helped filter water running off of the large parking lot before it hits the water system. This created an area that not only looked pleasing to the eye, but also had a practical, helpful purpose. The client's dollars were simultaneously reaching multiple goals.
4. Flexible Scheduling
Whether your Northeast Ohio industrial facility, fulfillment center, or warehouse is large or small, the professional landscape team you hire should become an extension of your team.

Since your property has constant movement from vehicles and employees throughout the day, the crew you hire must be sensitive to the timing of deliveries and such. This includes turning off equipment when necessary or working at specific times or on specific days that suit your schedule best to reflect well on your brand.
Make a Confident Choice For Industrial Property Landscaping Services in Northeast Ohio
If you manage an industrial site, you already know your time is limited and your plate is full.

So when you look at commercial landscaping services for your property, you want it to be low-maintenance, easy to manage, and for your vendor to have an understanding of the repetitive deliveries and visits that you experience daily.

We understand it can be hard to find the right partner that truly empathizes with your unique challenges. But the work must get done. An industrial property's landscape maintenance program is about partnership at its core, and Turfscape wants to help you make the fastest, most informed, and best decision for you.
Want to learn more about commercial landscape companies and their service offerings for your industrial site? Get started today with a free quote. We'll review your options together so you can make a great choice.