Offices are busy places throughout the year. From meetings to project pitches to annual reviews to strategic planning, there's always something going on.

Employees need a conducive office space to develop new ideas and bring their A-game to assessments and brainstorming sessions. That's where office building landscaping can make a huge difference. It lets employees and managers step out for fresh air, clear their heads, and then refocus.

From an expanse of lawn to a patio or lunch break area to entryways and parking lots, there are a lot of areas in office park landscaping that need regular maintenance to continue to build your positive reputation and give the people inside what they need to thrive.

Here are the major landscaping services for office buildings that you should prioritize to ensure you're keeping your space up-to-date.
5 Must-Have Landscaping Services for Office Buildings
When a landscape is freshly installed, it gleams with its clean edges, neat lawn, fresh mulch, happy plants, and new color.

But every landscape is meant to be used -- office parks maybe more than most. That means there will be trash, traffic (as well as the resulting compaction caused by all that movement), overgrowth, damage, and drought.

That's why you need maintenance to keep things in order and adapt as plants grow and conditions change, as well as keep things glowing for the people who consider that fresh air very important during busy, hectic work days.

These 5 office building landscaping ideas will accomplish all you need and more.
1. Landscape Cleanup Services
A landscape will always have occasional debris. Debris could be defined as sticks falling from trees, fall leaves, and even trash. An office building with multiple people using the landscape daily may have even more areas where things get a little messy around patios, trash receptacles, and parking lots.

That's why cleanup is an important part of your commercial landscaping for office buildings. And it's essential all year long. First, there's spring cleanup when you're clearing away winter debris and preparing the landscape for the growing season. Then, while things are thriving and summer is beaming, people are outside a lot more frequently using your space. Regular trash pickup and maintenance keeps these areas nice for your employees throughout the season. In fall, leaf cleanup and prepping the landscaping for winter are ways to ensure a great return of your plants come springtime.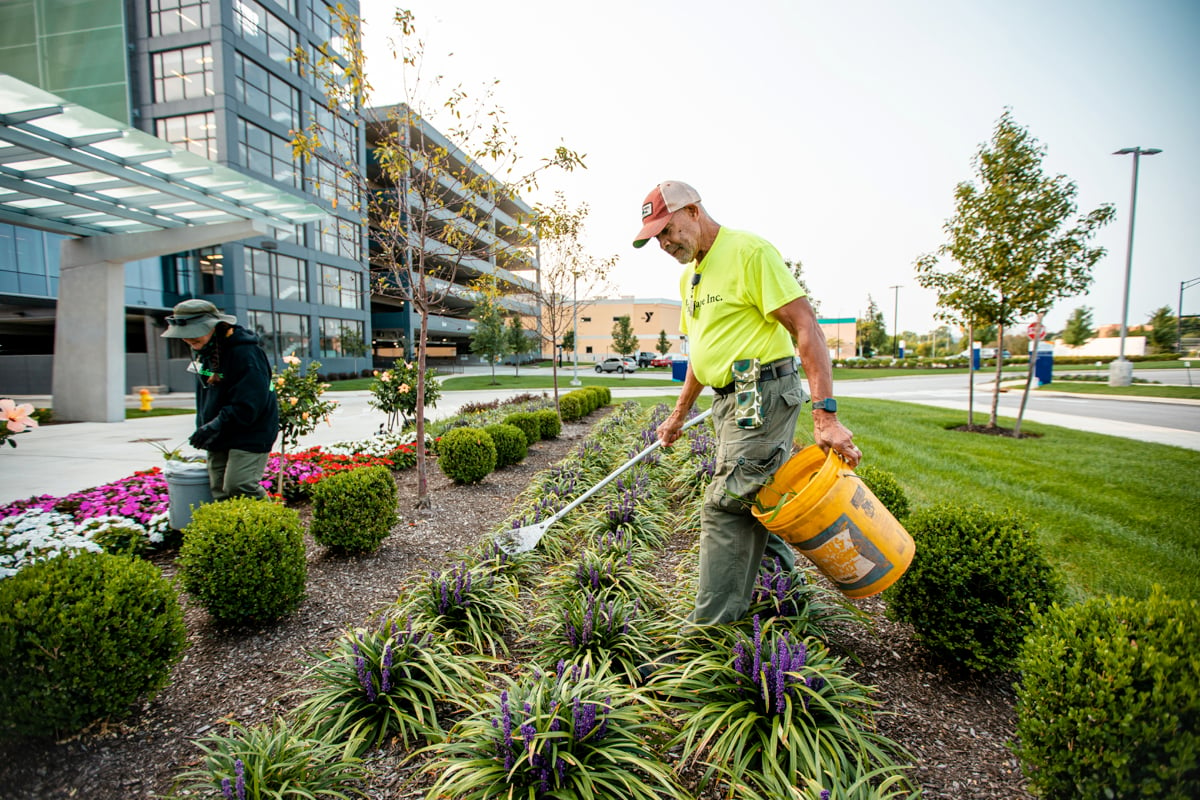 Trash and debris cleanup is also important to prevent trips and falls, enhancing your property's safety.

Many times, a day porter who is part of your commercial landscape crew can get this job done on a regular basis at larger office parks so you won't even know trash was there in the first place.
2. Give Your Entryway Some Attention
Your office building landscape needs to have clear and easy-to-read signs at all entryways and exits for people to easily navigate their way to and from your building.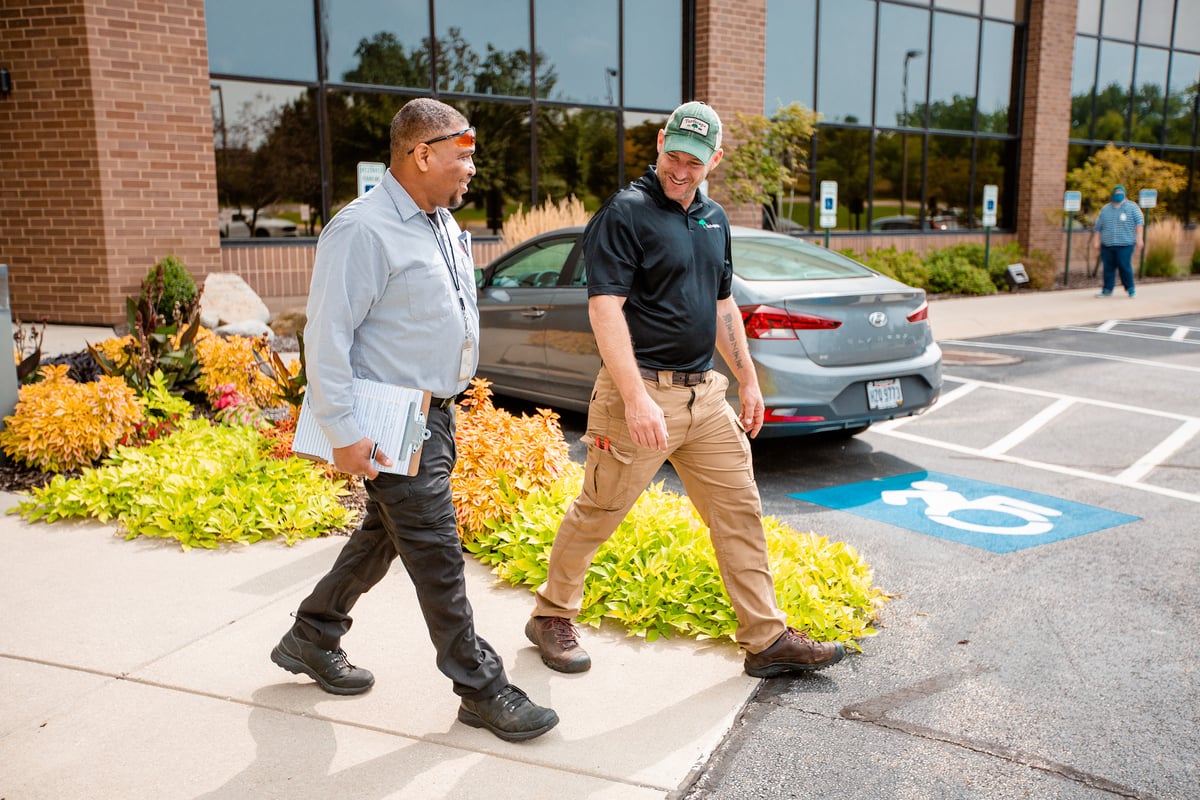 Here, regular pruning is important to ensure any overgrown trees or shrubs don't impede signage or block pathways. Lighting is also helpful so employees arriving early or working late can find their way and read directional aids.
3. A Trim & Tidy Appearance
Regularly mowed and well-tended lawns, tidy and weed-free flower beds, and trimmed trees and shrubs all give a neat and orderly appearance.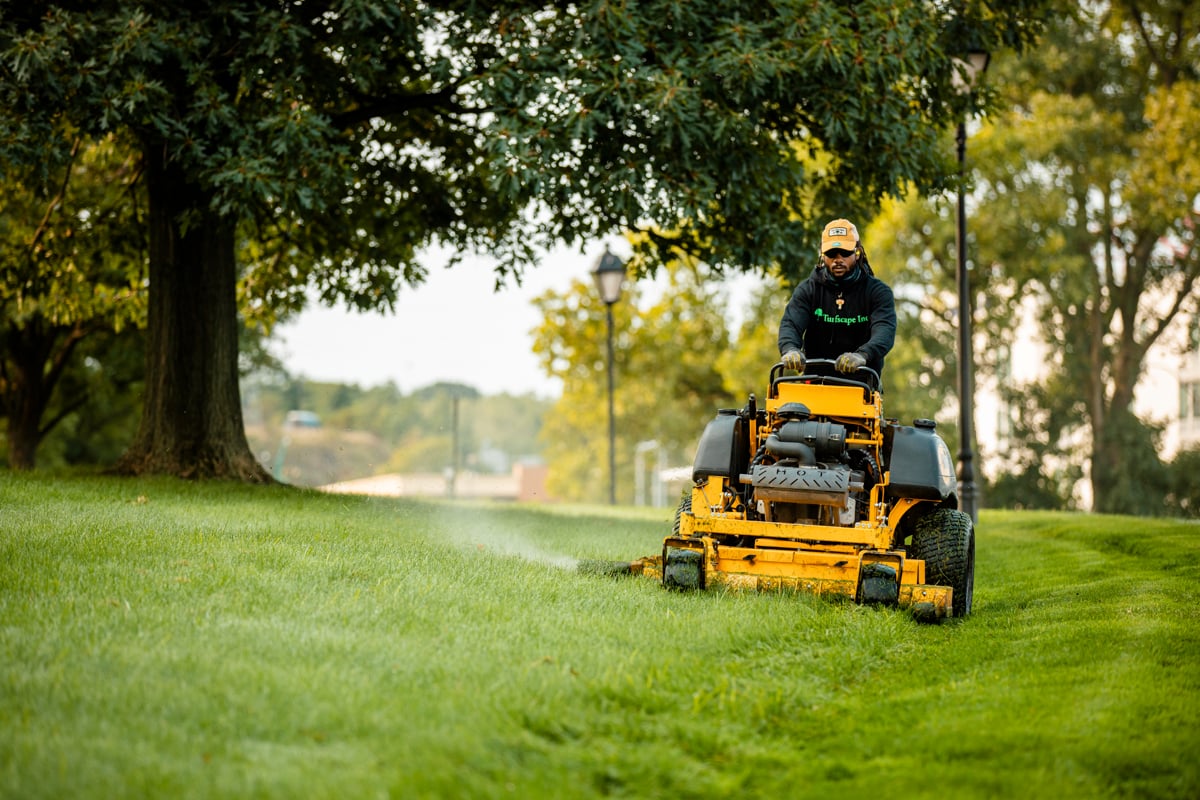 This is a great impression for employees working at your property because it shows them you're continuing to invest in the company's future, as well as theirs. Orderly office building landscaping is also an important visual sign for those visiting your site for the first time who are looking to rent office space or gain a job at one of the companies inside.
4. Snow and Ice Management
Slippery surfaces are not welcome in many places, but they are a big negative at an office park where employees are coming and going daily. Employees need to feel safe when arriving and departing work, and limiting trips and falls can reduce your worker's compensation claims as well.

Invest in reliable snow and ice removal as part of Northeast Ohio landscaping for office buildings to keep your property clear at all times.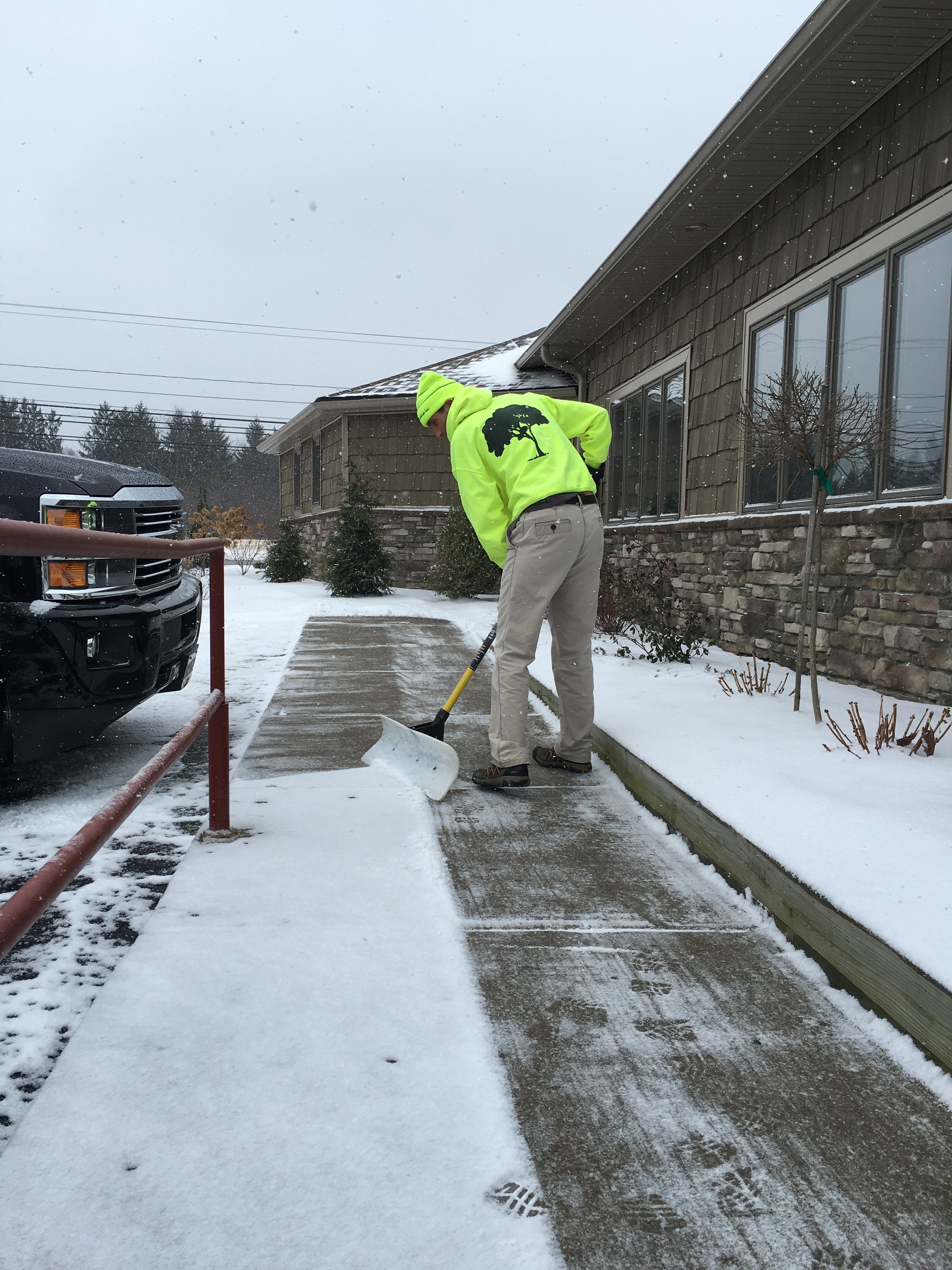 5. Seasonal Color and Enhancements
Along with meticulous maintenance, you want office building landscaping that includes some color. Seasonal color adds to the aesthetics of your site, welcoming visitors and employees and boosting your reputation and appearance with each change of season.

You can use colors that coordinate or embrace a monochromatic theme or even choose floral colors that can be planted in patterns to resemble or highlight your logo colors. You can even ensure gardens can be seen from inside to give employees a view of nature in between meetings and deadlines.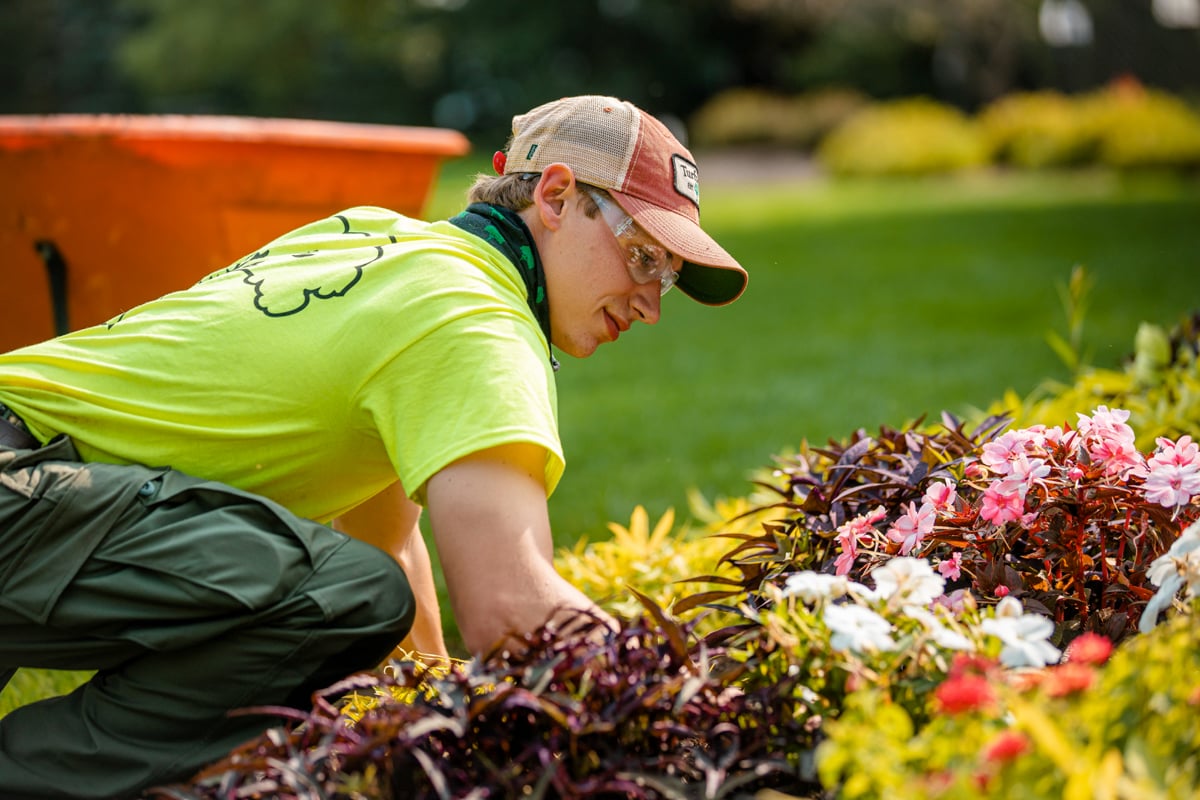 At places where employees congregate for lunch or breaks, you can even consider adding a water feature to bring the relaxing sound of trickling water to the landscape to ease work stress.
Boost Your Office Building Appeal With Landscaping Services
There are daily fires to put out at every job, just as there are daily fires to tackle when maintaining your office building landscaping. It can become a lot for a facility manager to focus on when there's so much else going on inside the building as well.

We understand how busy you are. That's why Turfscape professionals can prioritize the maintenance and improvements on your site, making your office park a haven for employees and visitors alike.

Turfscape would be happy to discuss some of these office building landscaping ideas with you. Request a proposal today for your Northeast Ohio property. We'll review your options and budget together so you can make the best choice.