A great looking Northeast Ohio commercial landscape is your ultimate goal.

And we don't blame you. No one wants to deal with a busy health care facility with people coming and going in a messy, muddy space, or an office park that feels drab and dull or a retail center that has no color and polish or a school landscape full of weeds.
The goal is trimmed trees and shrubs that frame thick, green grass, as well as neat landscape beds full of color and containers that pop with bits of texture and brightness. You want clean hardscapes that shine and move guests smoothly to and from their destinations.

It's not too much to ask for. On top of these commercial landscape maintenance basics, you also want to make sure you stay within your budget.

At a time when costs continue to skyrocket, finding ways to save money is important. At Turfscape, we're feeling that, too. Our materials costs have increased 30% to 40% on everything from fertilizer to mulch to soil, seeds, and even plants.

To help you stick within your budget amid rising commercial landscaping prices, we suggest some of these ideas to help you keep your property looking great without exceeding your cost limitations.
How to Lower Commercial Landscaping Costs
Prices are rising on everything today – from fuel to fertilizer and everything in between.

So naturally you want to make sure you're making choices that can ensure you're not taken by surprise and exceed your commercial landscaping prices budget before you're even halfway through the year.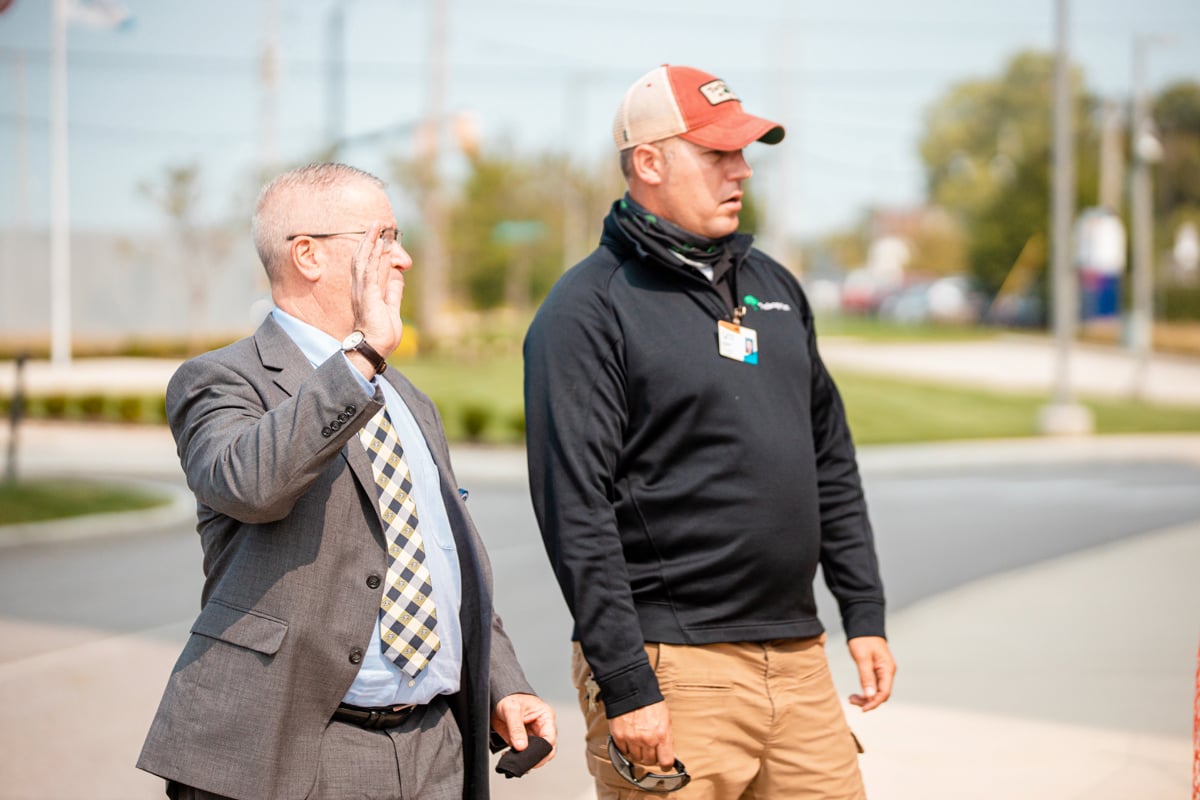 Finding areas to save some money can be a wise move when you need to cut costs or keep your budgeting tight.

Building a relationship with a commercial landscape professional who can offer these suggestions can help. You don't want to just cut important services from your maintenance list. Instead you want to make smart choices so no one notices the switch, and your landscape still looks good and benefits from your choices.

Try these 4 ways to lower commercial landscaping costs.
#1. Mulch Later in the Year or Try Mulch Cultivation
Mulch naturally refreshes your commercial landscape.

And in addition to a great look, mulch also does some great things for your landscape. It keeps your soil cool in summer with insulation, it helps hold moisture so your plants' roots don't dry out, it suppresses weeds that you don't want coming up between your beneficial plants, and it breaks down to help improve your soil over time.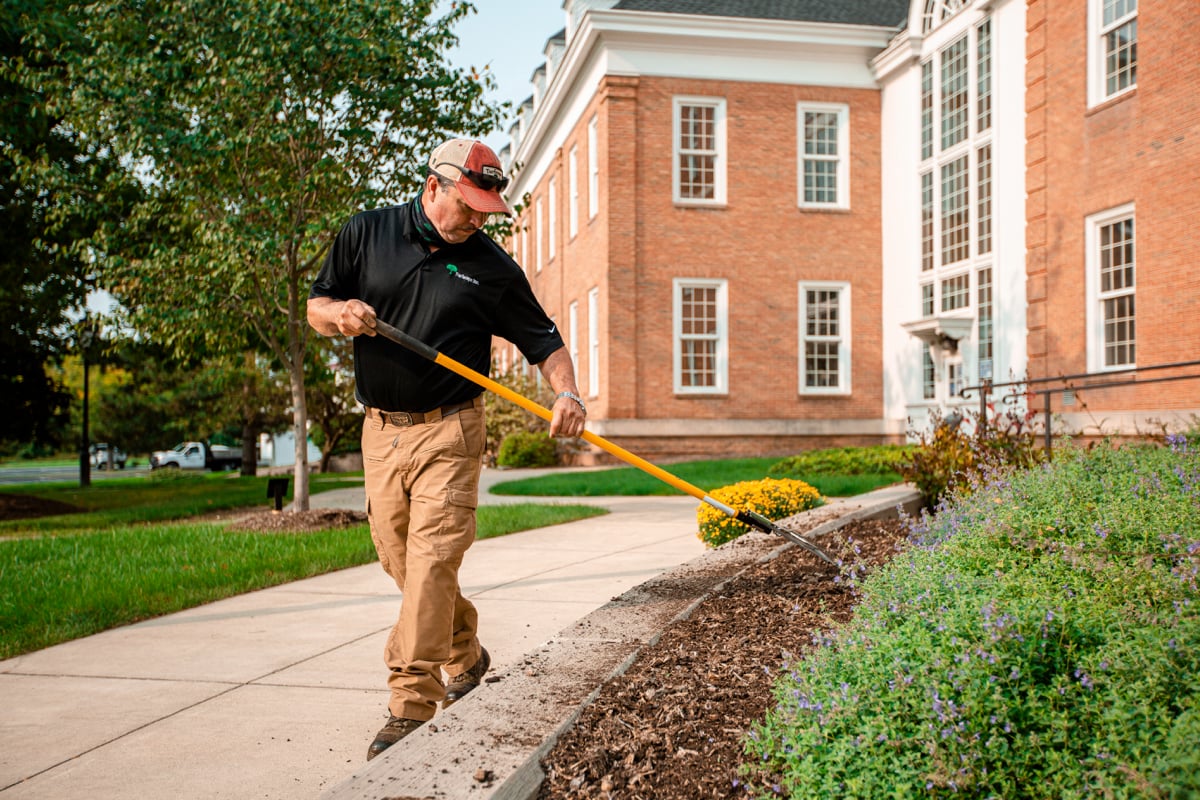 To help save on your commercial landscaping costs, you could try mulching later in the year. Another option is trying mulch cultivation. This is the process of turning over your old mulch, freshening it up to give it a bit more life.

If your budget is forcing you to wait to add new mulch, then mulch cultivation could help your property still look great while saving you some money this year.
#2. Sign a Multi-Year Contract
While short, transactional contracts might give you the illusion of being more in control of your commercial landscaping costs, they can actually increase your prices over time since you are constantly adding or changing them.

Signing a multi-year contract, on the other hand, can help you develop a relationship with a contractor over three years where you don't have to worry about price increases, your property needs, and – maybe most importantly – you can plan and discuss improvements each year so by the end of that longer period, you see a marked improvement in your overall commercial landscape.

A three-year contract can also save you time in putting together RFPs and reviewing and responding to bids each year.
#3. Outsource Your Commercial Landscape Maintenance
As commercial landscaping costs and other maintenance costs rise across your entire facility, you constantly struggle to get the most out of your property management crews. As you focus on indoor issues, you may even find you neglect outdoor maintenance because crews lack the time or experience.

Outsourcing commercial landscaping services can actually help you save costs.

When you partner with the right commercial landscape professional, they will ask you about your goals, so they become a part of your team in helping you reach them. They can also step in when you need fast help or additional manpower to prepare for something quickly – maybe for a special event, for instance – without you having to find and pay for additional help.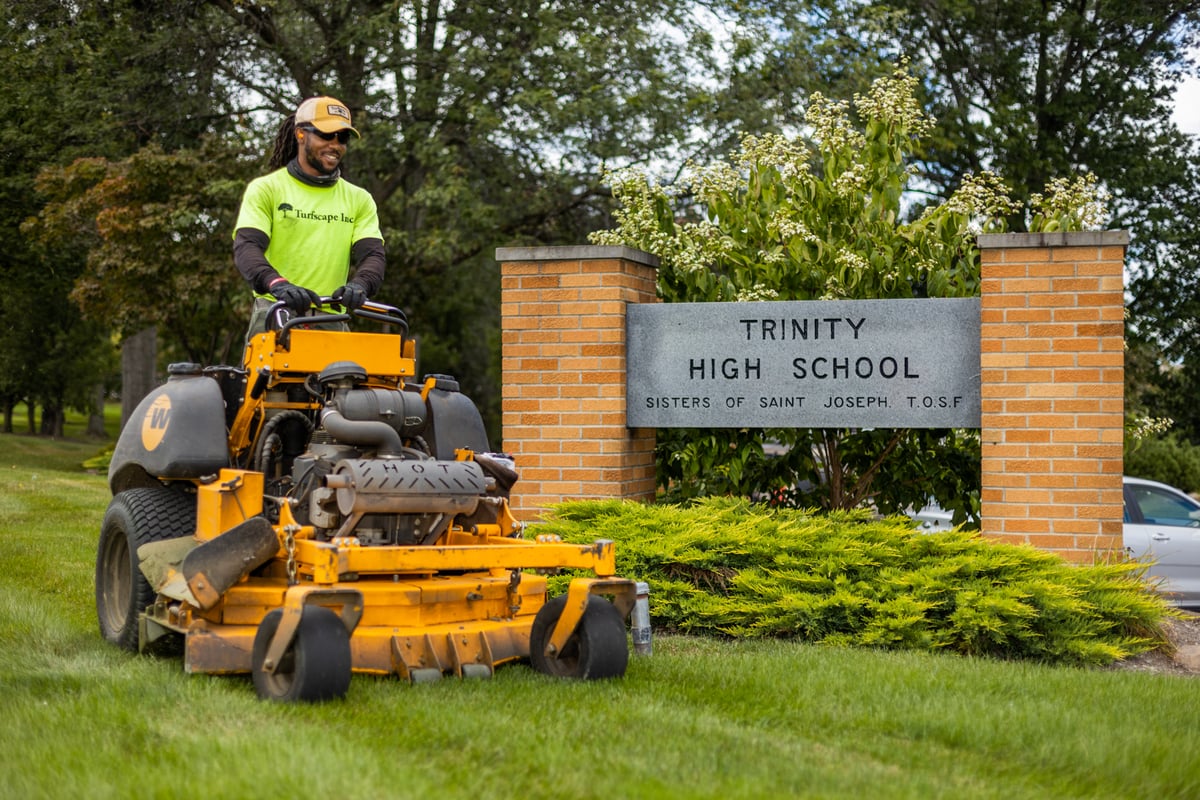 Also, you're saving on having full-time employees and equipment. With in-house employees, you have to cover wages, insurance, benefits, workers' compensation, and also spend time managing their reviews and progress.

With in-house equipment like mowers, blowers, trimmers, snowplows, and other machines, you have to fuel, repair, and store them properly. You also have to obtain the right materials to use, such as fertilizers and mulch. All of these costs require a level of expertise to buy in advance or buy in bulk to save costs, as well as store properly to ensure you aren't wasting those costs.

Not having to deal with all of this scheduling and costs internally can save you quite a bit of time and money in the long run.
#4. Plan Ahead to Secure Services and Timing
Your building's curb appeal is important because it helps create an environment that gives visitors, guests, owners, employees, and tenants a positive first impression.

To get great curb appeal, you need to plan ahead. The more you plan ahead for the year of commercial landscaping costs, the better off you'll be in not only locking in good prices but also in ensuring you actually have the materials and services you need for the year.
#5. Build a Great Working Relationship With Your Commercial Landscape Professional
When you're going through a tough time looking at your budget amid rising costs, you want to make sure you're working with a service professional who will work with you and be able to share ideas with you.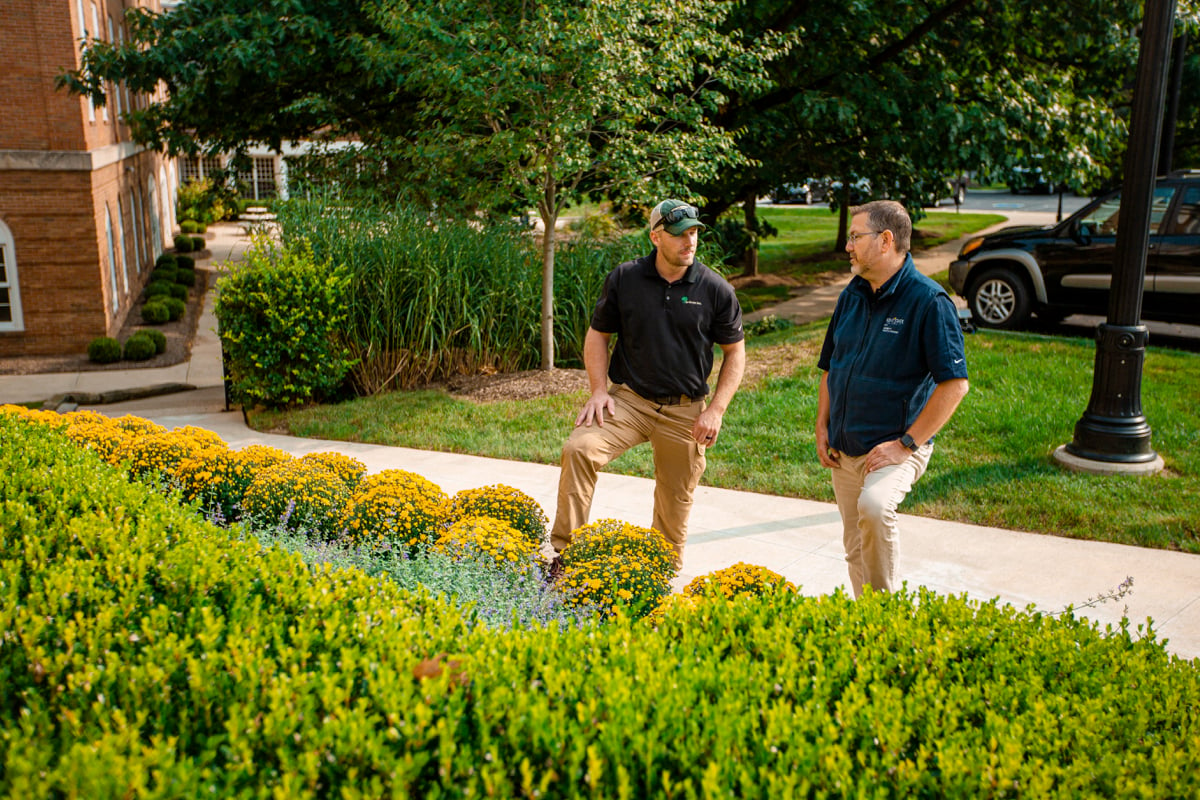 As a facility manager with a lot on your plate, you can't be expected to come up with every solution to every problem in front of you all the time. Having a trusted professional you can talk to can help you look at some new solutions to different commercial landscaping prices and problems and find ways to adapt or adjust.

A landscape vendor who wants to take the time to build relationships with you can also help ensure every year runs smoothly – whether your budget is tight or you have a big budget to work with and want to plan for some improvements.
#6. Limit Landscape Beds
Landscape beds are great additions to your commercial facility.

But since they do require some extra upkeep to spice up your entryways, signage, and outdoor gathering areas, they do tend to increase your commercial landscaping prices.

During years where you have to be more conservative, you can strategize the landscape beds that give you the most immediate impact and limit others by reducing plants, using stones or mulch, or focusing on turf.
#7. Choose Perennials Instead of Annuals
Color is great in any commercial landscape, particularly after a long, dull, gray winter. Annuals can bring that immediate impact and can be changed or updated each season for fresh color and impact.

But annuals can raise your commercial landscaping costs because they only last one year, need replenishing, and require more frequent watering and maintenance for continued blooms.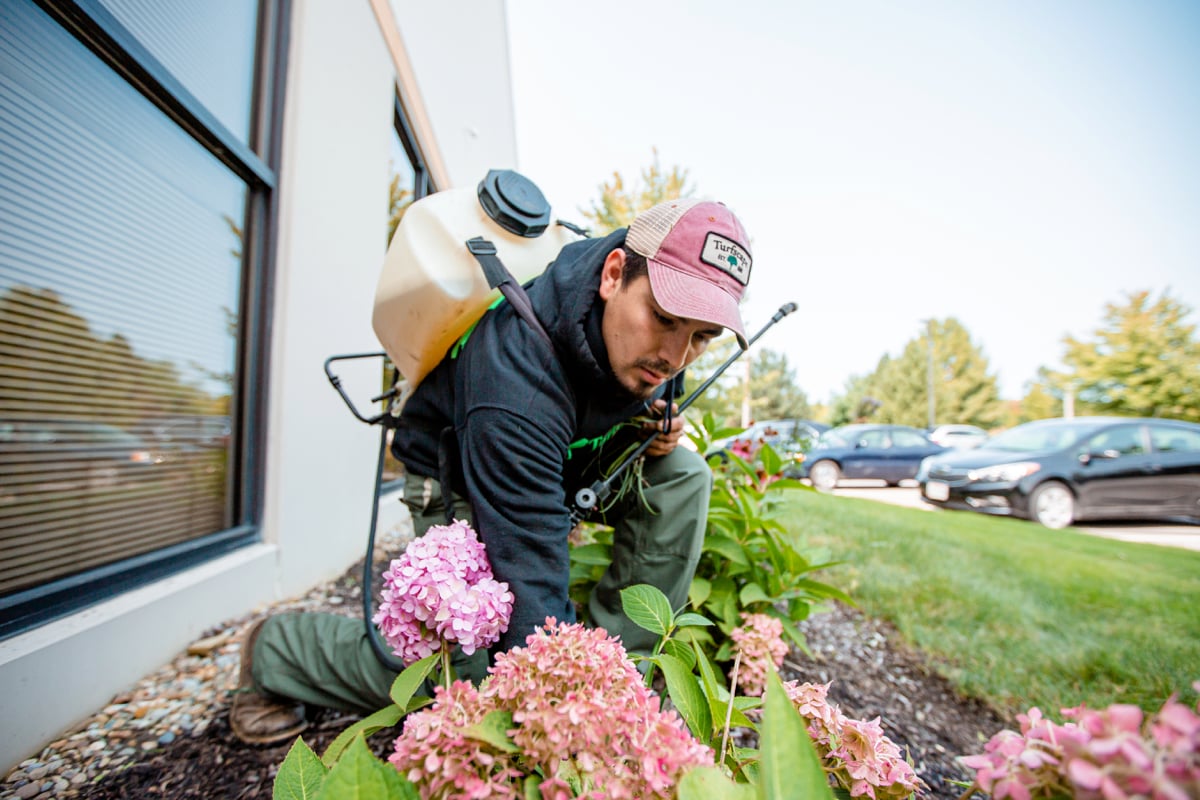 But annuals aren't the only way to get color in your landscape.

Perennials are a great way to add variety – in texture and hues – to your commercial landscape. They also grow back each year after going dormant during Northeast Ohio winters, requiring less maintenance. Normally, they only need some cutting back in spring or fall.
#8. Install Trees & Shrubs That Require Less Pruning
If you want to save some commercial landscaping costs, you can also try choosing some trees and shrubs that are easier to maintain.

Boxwoods, for instance, are always ready for any spot and any season by being extremely versatile. In winter, they keep their strong shape and rich, green color, and in summer, they provide a great backdrop for your blooming plants. They have a naturally formal shape that can refine any landscape bed.

When it comes to trees, the American hornbeam can grow in shade or parietal shade and has distinctive hardwood bark, showy catkins, and beams with yellowish-red fall color. As a native tree, the American hornbeam can tolerate a lot of conditions and can reach an average height and spread of 20 to 30 feet over a 50- to 150-year lifespan.

Both of these options require minimal pruning to keep their attractive, natural shape.
Choose a Commercial Landscape Partner That Can Help You Stick to Your Budget
You want to feel good when you work with a commercial landscape partner. You want to know they are keeping your property top of mind and helping you reach your goals and stick to your budget.

Your schedule is full, and you don't have time to worry about these extra responsibilities and issues. Having a solid partner can help you focus your resources in so many ways.

A knowledgeable service provider will give you options that can help you do the right things for your property within your budget constraints instead of just selling you services. This way, your commercial landscaping costs can stay in check because your service partner is doing their job and noticing issues or concerns before they happen, as well as finding solutions to problems before they become extensive.

If you'd like to save some costs or find some strategies to stay within your budget this year, give Turfscape a call. We have experience providing options to Northeast Ohio commercial facility managers, so you're not left with only one choice or one option.

Want to learn more about our commercial landscape services? Get started today with a free quote. We'll review your options together so you can feel confident and make a great choice.