Your commercial landscape goes through a lot during the year.
It bursts into life in spring with a flush of growth. Then, with adequate care, it survives summer's heat, storms, and potential drought.
As summer winds down, it's getting ready for those cooler temperatures of fall, when it can take a sigh of relief and regroup, preparing to hunker down for winter.
To remember what you need to get done in fall to get your commercial landscape prepped for not only winter, but the next spring growth surge, a fall property manager checklist might be exactly what you need.
Checklists keep you moving ahead, helping you check off your need-to-dos, while also giving you a sense of accomplishment because you check items off your list to stay on track.
An inclusive list can keep your whole team on task and ensure your outdoor priorities don't fall (pun intended for the season) to the wayside.
Fall Property Manager Checklist
Ready for a comprehensive fall maintenance checklist for property managers?
We hear you! Keeping track of everything on your plate can be tough. We'd like to help make your job easier by providing this extensive seasonal checklist.
Check these to-dos off your list in autumn and it will do wonders for keeping your commercial landscape looking great all year long.
Leaf Cleanup
Leaf cleanup can feel very overwhelming during the autumn months, especially if you have a lot of trees on your commercial property.

But removing leaves from the grass is super important for the health of the grass underneath. That's why this fall property maintenance task shouldn't be ignored.
Raking up the leaves or blowing them into piles and disposing of them or removing them helps your lawn not only look fresh, but it also better prepares it for its winter slumber.
Perennial Maintenance
Your commercial landscape perennials have done a great job adding aesthetics, color, and interest to your site all spring and summer long.
By fall, they need maintenance so they can do their job again the next year. Fall is the perfect time to add this chore to your property manager checklist.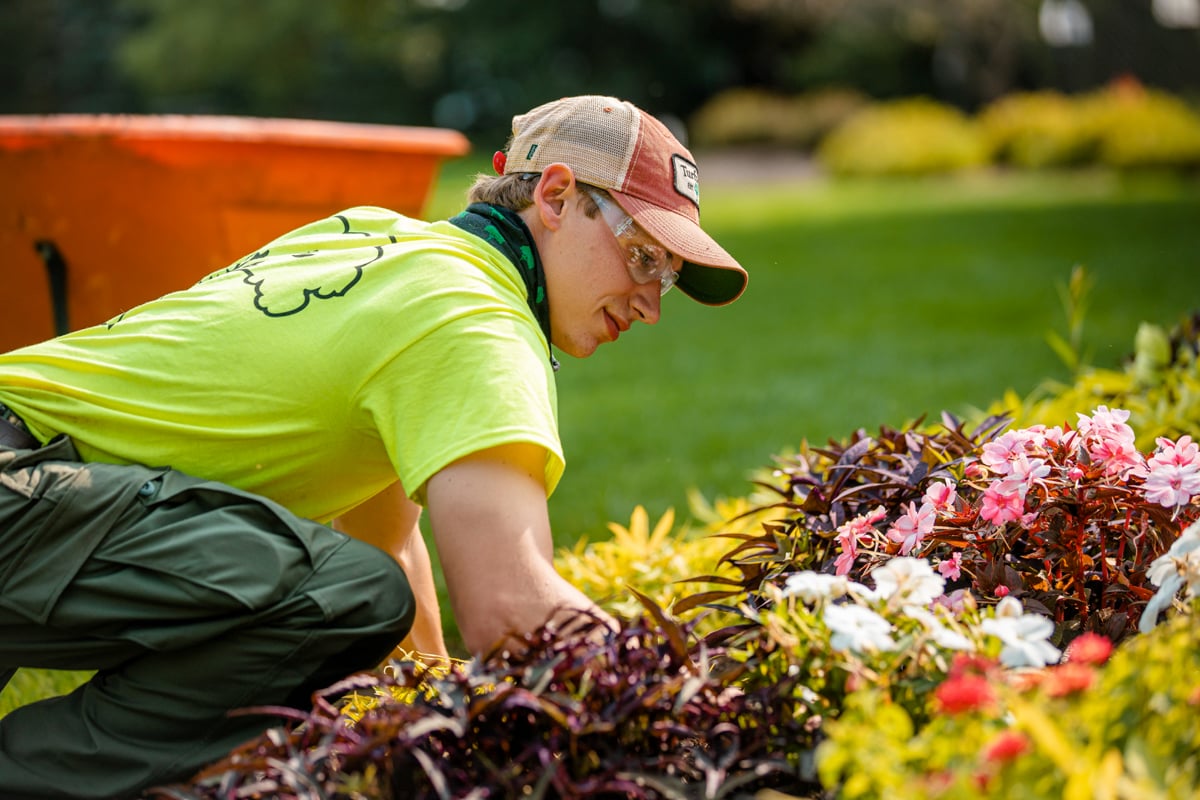 This tidying usually includes deadheading or cutting back perennials and ornamental grasses so they remain neat through fall and winter and are ready for the coming spring.
Seasonal Color Impact
The year may be coming to an end as the cooler weather rolls in, but fall in Northeast Ohio brings a whole additional season of potential when it comes to color.
Seasonal color can be a vibrant addition to your commercial facility's fall landscape, boosting visibility and keeping visitors, customers, tenants, and others interested through containers bursting with impact and variety. Everything from the many colors of chrysanthemums to the deep contrast when paired with the vibrant purple or lime green of ornamental kale and sweet potato vine can bring the perfect fall accents to your site.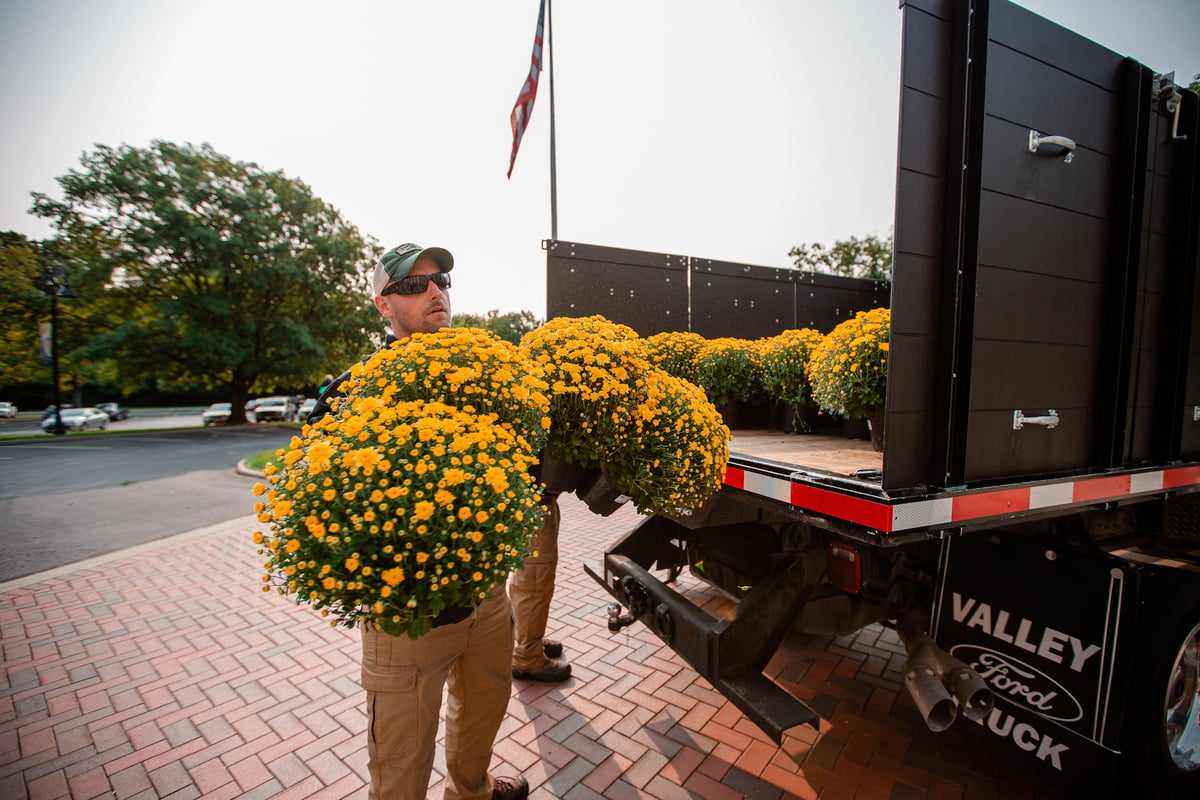 Once you have your fall property maintenance plans laid out with color, autumn is also a good time to consider planting bulbs to ensure your property is one of the first to erupt into color after the long winter is over.
A great commercial landscape partner can recommend aesthetically pleasing seasonal color solutions to enhance your unique property throughout the entire year.
Irrigation System Shutdown & Winterization
During the summer months, your commercial facility's trees, shrubs, perennials, annuals, and lawn require regular irrigation.
But as the year comes to an end, your property needs less and less water.
In the fall, shutting down your irrigation system properly, blowing out any remaining water, and winterizing the system is an essential pre-winter preparation step to avoid leftover water that can freeze and damage pipes or flood facility buildings when it thaws.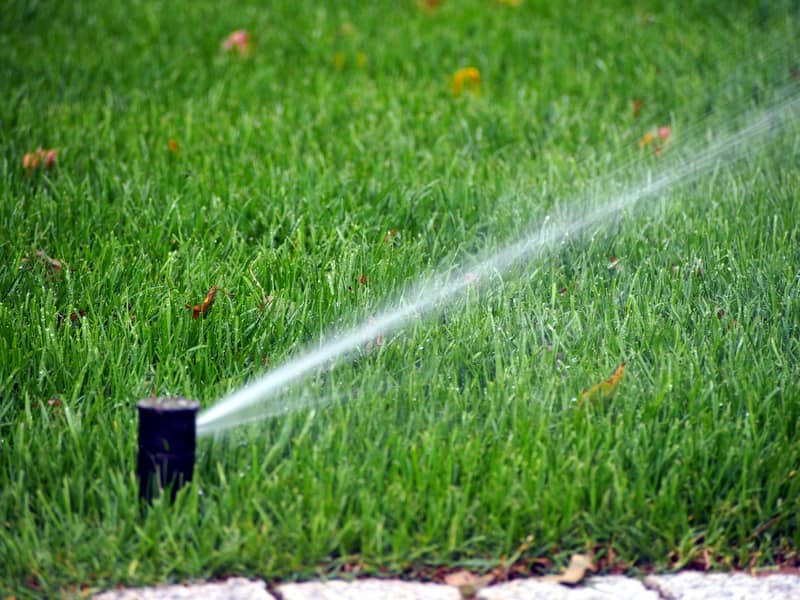 No one wants to face severe damage or costly repairs. This fall property maintenance step is a simple process that ensures you avoid unwanted hassles.
Fall Fertilization
During the fall, taking the time to properly prepare your commercial lawn for the upcoming winter is important.
One necessary fall property maintenance task in this process is fall fertilization. A professional commercial landscape company will look at your facility's lawn areas and evaluate their condition, determining what type of fertilizer is necessary.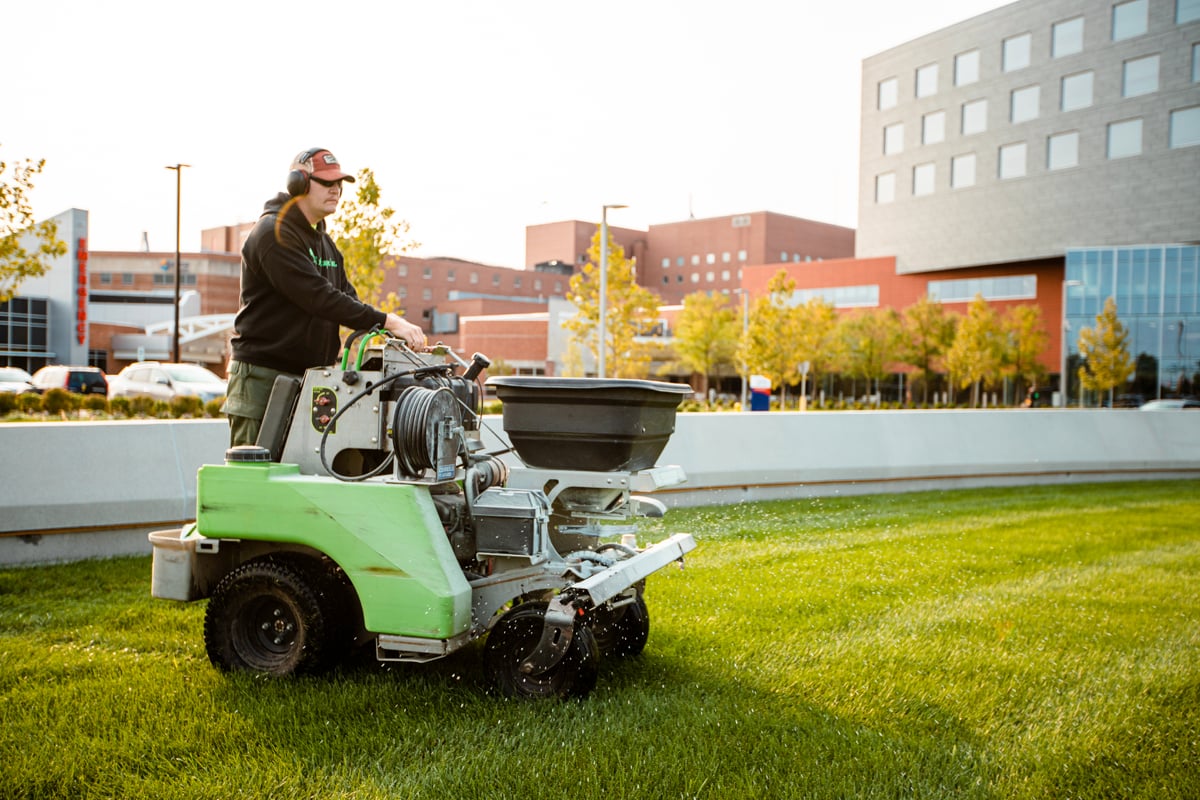 This process gives your lawn the nutrients it needs going into winter dormancy so it can burst forth with thick, green growth come spring.
Final Mow
As we approach the last mow of the season on your commercial property, we will want to adequately prepare it for the winter.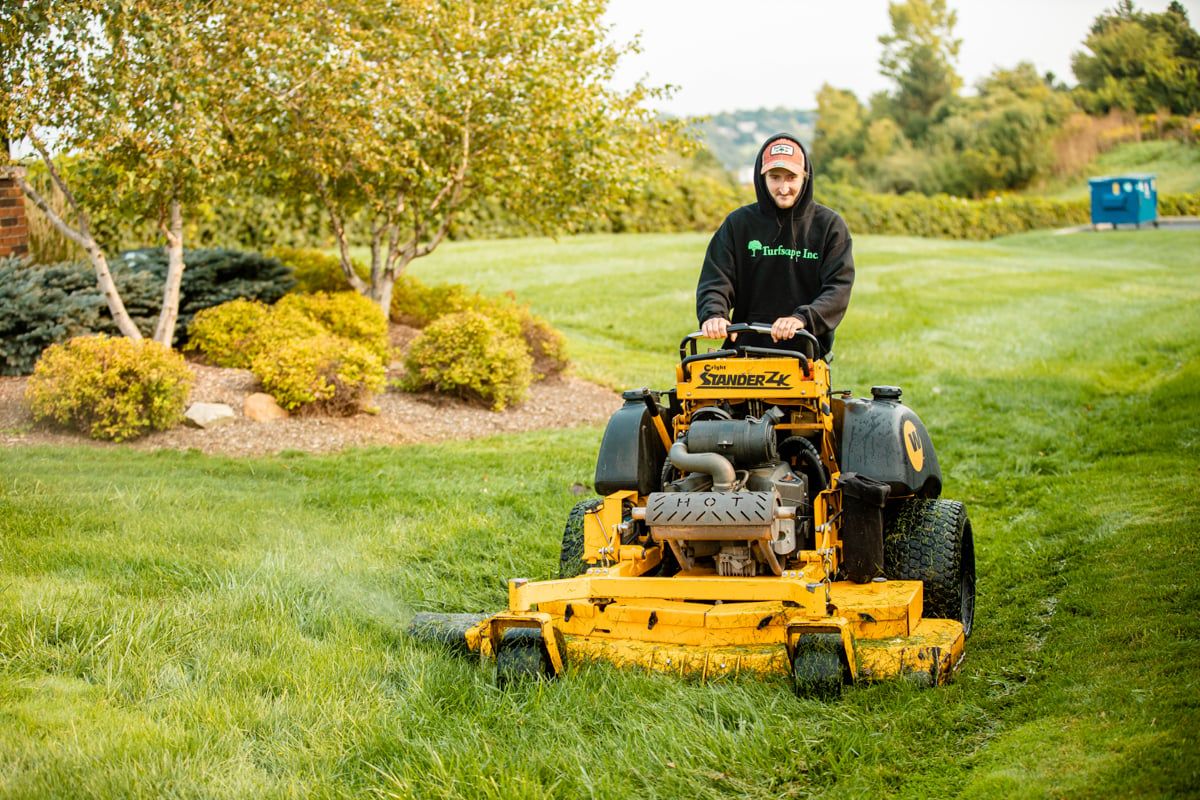 This means cutting the grass a bit shorter going into winter to prevent snow mold from accumulating where it can harm your lawn or cause it to look bad in spring.
No one wants to add another thing to their to-do list in spring as the growing season kicks into full gear. Keeping grass tidy in fall helps prevent you from having any spring turf issues.
Aeration and Overseeding
Fall is the best time to aerate and overseed your commercial lawn in Northeast Ohio.
First of all, aeration allows your grass some time to develop stronger roots while exposing the soil to a good dose of nutrients. Aeration, as the removal of small plugs of soil, gives your tired, worn, compacted lawn a chance to more easily receive oxygen, nutrients and water at the root-level where it's needed most.
Overseeding as part of fall property maintenance is perfect because those plugs that are removed through aeration create the perfect holes for seed to contact the soil and germinate. This improves the germination process considerably, making overseeding more successfully in strengthening and thickening your commercial lawn.
Winter Landscape Preparation
Many commercial properties get ready for winter during the fall months.
This is to ensure snow and ice doesn't stop them from welcoming tenants, visitors, guests, or shoppers. And some tasks also help keep snow and ice from damaging any landscape areas.
First, secure your snow and ice removal professional in fall so you aren't surprised by and unprepared for that first snowfall.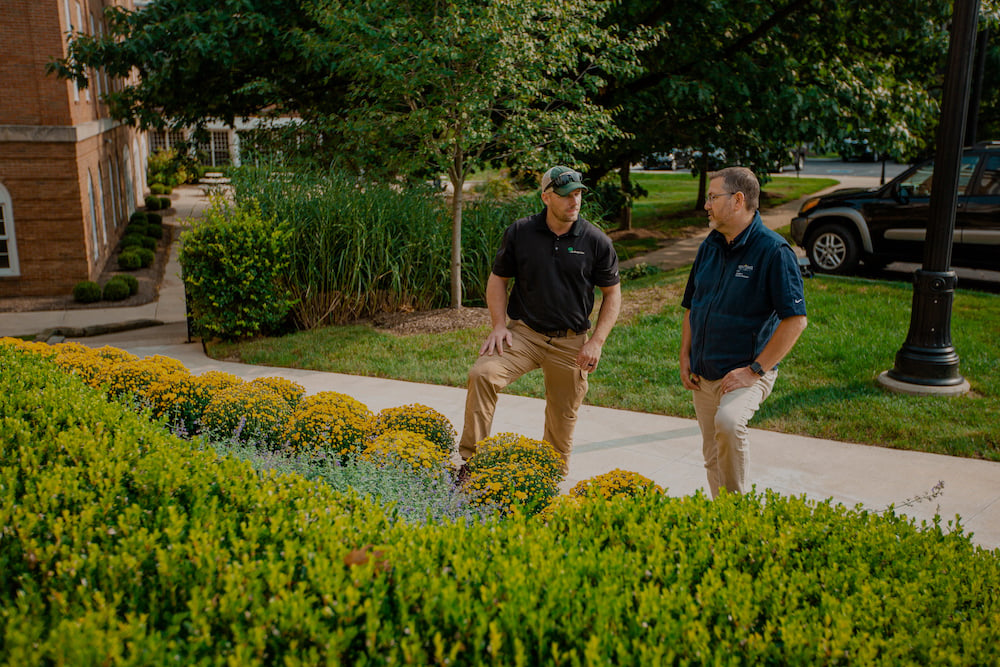 Your snow removal professional will then assess your site. Some areas that accumulate large drifts may require some snow fencing. Some of your trees may need to be wrapped with burlap to avoid winter burn.
These essential fall property maintenance chores can be done quickly in fall to give you a smoother winter as a facility manager.
It's Time to Schedule Fall Property Maintenance Services for Your Commercial Property
Autumn is knocking on your commercial door. School has started in many areas, so you know fall will be here along with it.
You might already be looking around your commercial property and seeing the worn out perennials and lawn and wondering about when to turn off your irrigation system. With everything on your plate, the last thing you want to add to your list is to go out there and start cleaning things up and preparing for winter. We completely understand.
But you also don't want to wait until the last minute. Turfscape can help you prepare for a successful fall so you can put your facility in the best position possible for a tidy winter and gorgeous spring.
Want to learn more about our fall property maintenance services in Northeast Ohio? Get started today with a free quote. We'll review your options together so you can feel confident and make a great choice.