There are spots on every commercial property that can be more challenging than others.

This is especially true in Northeast Ohio where Mother Nature likes to rise and lower temperatures in surprising gaps from day to day, keeping you guessing.

And when you think about your commercial facility's landscape, all you want is high visual impact and low maintenance. You want an attractive, neat, clean landscape that draws people in and looks professional. And you don't have patience for these spots that won't cooperate.

Many times these areas that are sketchy are places where you've tried to grow turf. And that grass won't stick or the area doesn't have conditions that encourage healthy grass. Or maybe the maintenance is more challenging – it's a slope or a soggy area – and it's not easy to keep grass green and growing.

Luckily, there are alternatives to grass for shaded areas that you can opt for to get rid of the mud and sludge or dead grass and replace it with something visually appealing and elevate your property aesthetics.

Let's look at some options for these tough areas on your commercial site.
Reasons to Consider Substitutes for Grass on Your Commercial Property
Everyone loves the look of a beautifully manicured, lush lawn. But, sometimes, turfgrass isn't necessary for every area on your Northeast Ohio commercial property. Sometimes, the conditions don't encourage turf growth or they require double or triple the maintenance because those areas aren't conducive to grass growth.

And this is a completely fine choice to consider grass alternatives for shaded areas. You want to work with nature and not against it to have the best-looking commercial property you can.

There are many reasons facility managers choose to opt for another option besides turf for some areas of their commercial sites.
There are better options available. Occasionally, a shady or wet site or one that involves a lot of slope or wetlands will just have better options available than turf. These will usually look attractive and require less maintenance, suiting the site's attributes and resources best.
They want to reduce water and input costs. In certain areas where grass is tougher to grow, commercial facility managers find they can save a bit on their input costs and budget by choosing options better suited to the conditions in those spots.
They want to embrace sustainability. Using native plants and reducing water use can not only be good for business, but they also help the environment. This can be a win-win for commercial properties that want to be "greener" all around.
4 Best Alternatives to Grass for Shaded Areas
Those tough areas on your property where you find grass won't grow well are usually those with a lot of shade. These areas are also sometimes wet.

Shade reduces photosynthesis, which weakens the plant and root growth of turf.

So finding grass alternatives for shaded areas is the best way to have great looking spaces without a lot of excess maintenance.
Grass Alternative #1: Ornamental Grasses
Ornamental grasses are one of the best substitutes for grass for your harder to manage landscape areas.
They not only look great, but offer tons of benefits.
They are mostly pest- and disease-resistant.
They can handle high heat and high winds.
They are low-maintenance.
They come in various heights, colors, and textures, offering great variety and movement in your landscape.
They can help stabilize hillsides and slopes with deep roots.
Wondering which ornamental grasses work best in Northeast Ohio commercial landscape?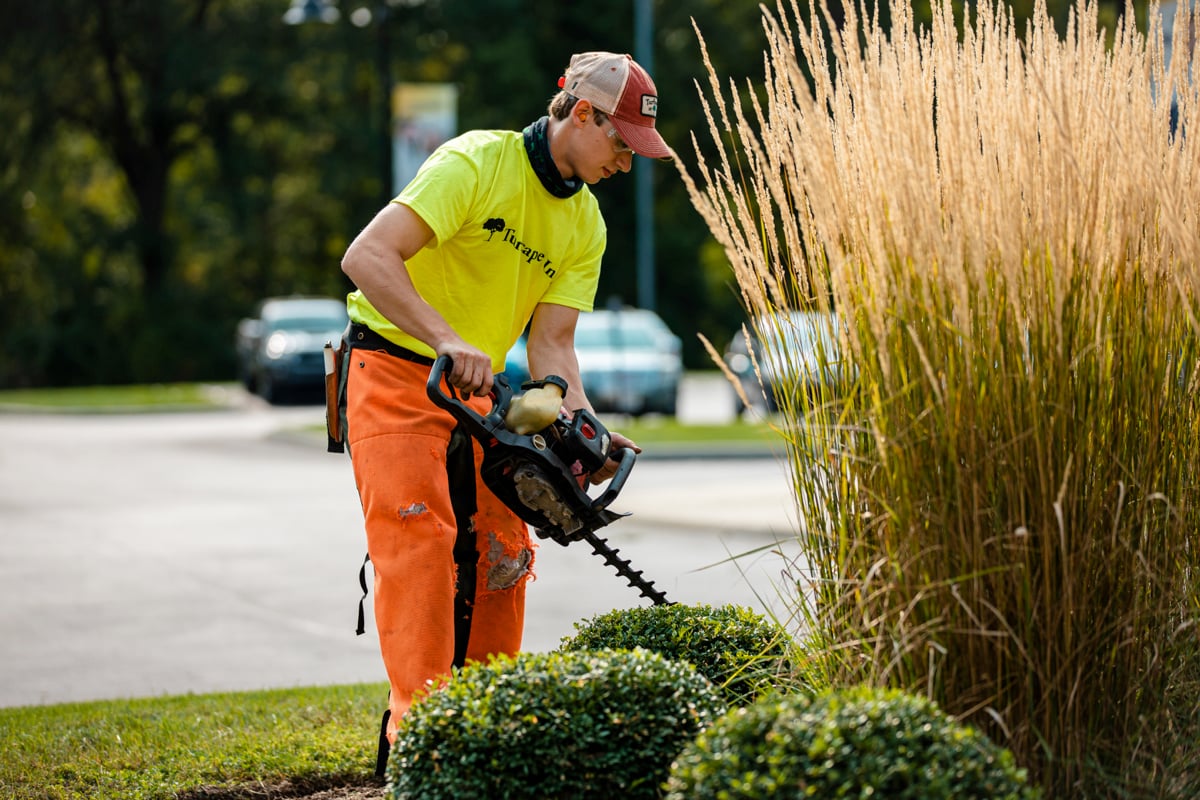 We like these 6 top performers:
Karl Foerster Reed Grass - Tan seed heads wave in the wind atop bright green plumes on this ornamental grass. It grows to 5 feet high and is tolerant of high-traffic and urban locations.
Maiden Grass - This ornamental grass boasts silvery plumes on narrow, arching foliage in colors ranging from all green or green striped with white or yellow. Growing 5- to 10-feet high, they can be used en masse or as hedges.
Liriope - With this ornamental grass, you can choose from dark green leaves with lavender flower spikes or variegated green and cream leaves with thick purple flower spikes. This one is great as a groundcover to keep hillsides from eroding and also can grow well in sun or shade locations.
Dwarf Fountain Grass - If you're looking for some bright green foliage that turns gold in fall. Summer blooms resemble bottle brush tops in whites and purples. This ornamental grass only reaches 2- to 3-feet tall, so it's great for smaller, sunny spaces.
Japanese Forest Grass - Try this ornamental grass in shade or partial shade areas for great golden color that can reach 18 inches tall. In fall, they turn orange or bronze.
Switch Grass - You can get varieties of this ornamental grass that range from green to red or bluish silver. Airy, pink-tinged flower spikes rise 1 to 2 feet above foliage in mid-summer. Reaching 4 to 6 inches high, this grass likes full sun.
Grass Alternative #2: Groundcovers
Groundcovers are also great substitutes for grass. They still provide that low-growing, spreading greenery, but are more suited to shady or wet areas that turf doesn't always grow best in.

Groundcovers also boast a ton of benefits:
They require less maintenance.
They offer greater value for wildlife like birds.
They help suppress weeds.
They can reduce erosion on hilly spots.
They insulate soil from excessive temperature fluctuations.
They add variety to your commercial landscape.
When choosing groundcovers to use on your commercial landscape, remember to consider the light conditions of your site, soil conditions, hardiness, ornamental features, traffic tolerance, and height.
Grass Alternative #3: River Rock or Gravel
Another great grass alternative to shaded areas is gravel or river rock. It adds a sophisticated element without alerting anyone but you to the fact that it's helping you deal with a more difficult area to landscape.

River rock comes in a blend of neutral colors – tans, beiges, grays, and light blues. Once you put it down, you don't need to replace it annually, and it is wind resistant and helps keep weeds at bay.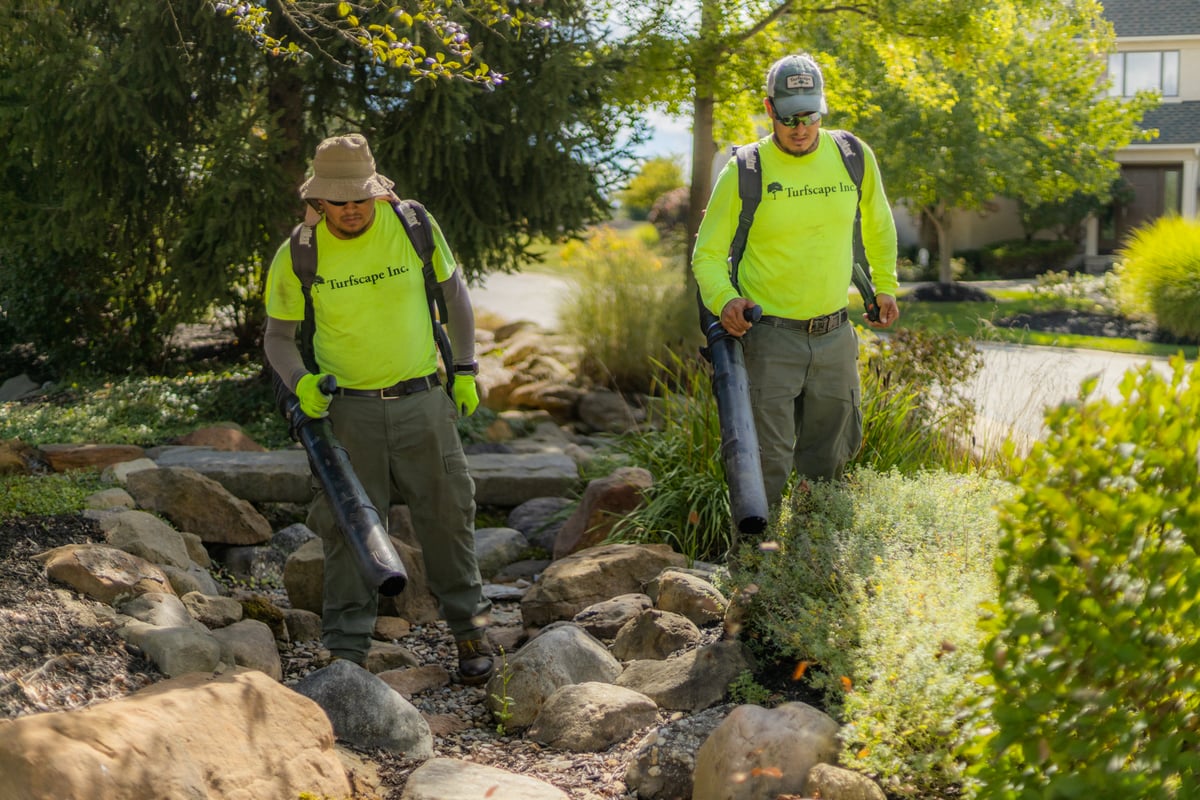 For high-traffic commercial areas, stone can look good while taking a beating from regular walking.

For all these benefits, stone will cost more than grass or mulch at approximately $100 to $120 per yard installed, but its long-lasting impact means that initial investment remains in place for more time before you have to do anything to update it.
Grass Alternative #4: Hardscape Features
Tired of dealing with grass in some areas of your commercial landscape because it results in a muddy mess?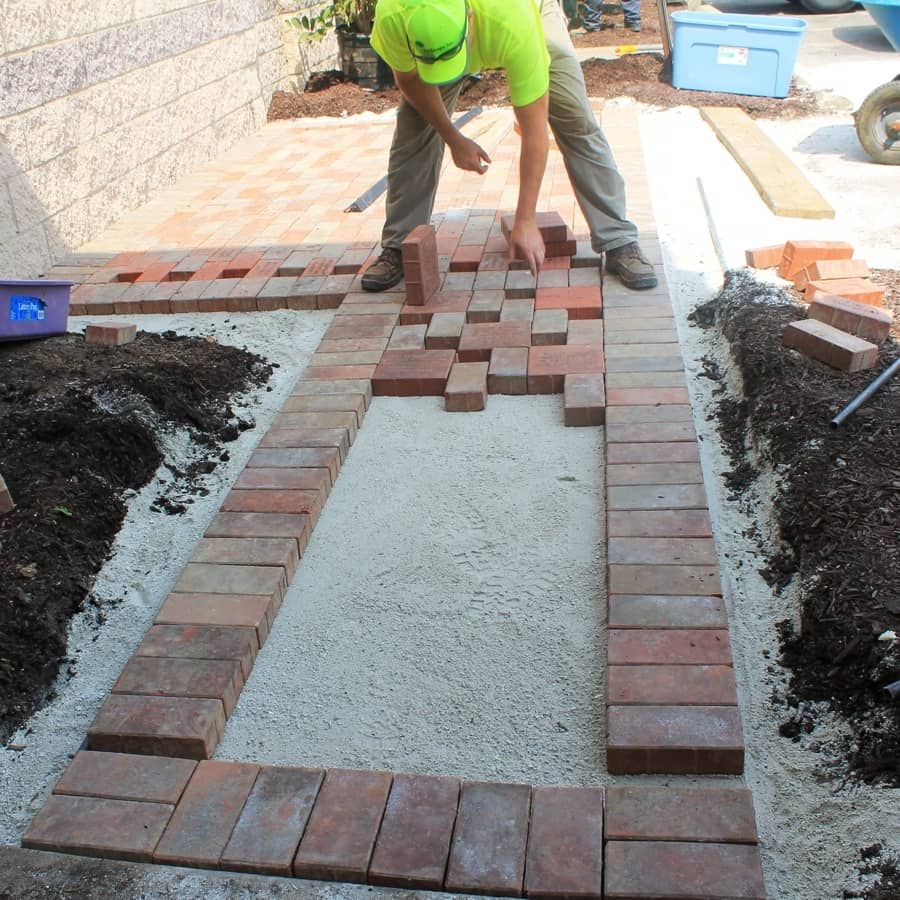 Hardscapes can be a great substitute for grass. For your office park, they can provide a comfortable place for employees to take a walk outside or indulge in a quiet lunch. For your industrial park, they can provide a pedestrian walkway for receiving delivery trucks that is less messy than a grassy area. For your retail center, they can invite shoppers in and provide an aesthetically pleasing space. For HOAs, they can add great curb appeal and welcome current and future residents.
Embrace Alternatives to Grass for Shaded Areas
As a Northeast Ohio commercial property facility manager, you are constantly looking for ways to improve the look of your property without adding to the fuss and upkeep time and costs. On top of that, you don't want to compromise the appearance of your landscape.

And with substitutes for grass, you can have all of your desires in one package. Some sections of your property have tough conditions that make it harder to grow certain plants – turf being one of them. By working with these areas and using plants or options better suited to those property zones, you can have a great looking landscape and benefit from the added perks of less maintenance or rough-looking spots that you constantly feel like you have to hide.

As you seek out great ideas for your harder to maintain spots, you might find you're confused at the options or you might not be able to envision what these areas will look like with a different treatment. It's certainly not easy to opt for an option you haven't seen before or aren't convinced how it will perform.

This is a great time to lean on your commercial landscape grounds maintenance professional for some insight. They can recommend the best drought-tolerant, low-maintenance, pest-resistant, beautiful options for your trickier landscape sections, showing you examples of options and talking out the pros and cons with you. This way you can be confident in making a choice that benefits everyone that uses or visits your commercial site.

Want to learn more about grass alternatives for shaded areas that could work best in your space? Get started today with a free quote. We'll review your options together so you can make a great choice.