There are a lot of things you might think about as year-round tasks.

Creating and maintaining your building management budget is one thing you do every year like clockwork. Keeping up with interior building checks is another.

When it comes to your exterior commercial property maintenance, though, you might think this is something you only need to worry about in spring and summer.

But this work is necessary year-round – not only for the benefit of your commercial property aesthetics, but also for your budget and bottom line. After all, you don't want to suffer unnecessary renovation and repair costs when you could have avoided those issues with proper preventive attention and care.

Let's talk a bit more about what year-round property maintenance includes and how keeping a landscape maintenance schedule can help you as a property manager of a Northeast Ohio commercial facility.
A Look At the Perfect Year-Round Landscape Maintenance Schedule
Sure, you want to have your crews address your landscape when it erupts into full bloom and is growing at a fast pace in spring and summer. You may even realize at this time that you need to bring in a professional to help keep your facility looking good and stay ahead of any turf, shrub, or tree overgrowth or weed management.

But instead of just trying to focus on a small part of the year, securing a commercial property maintenance contract to keep your property thriving throughout the entire year can actually help it to look better and deliver more for you in terms of improved brand reputation and community curb appeal.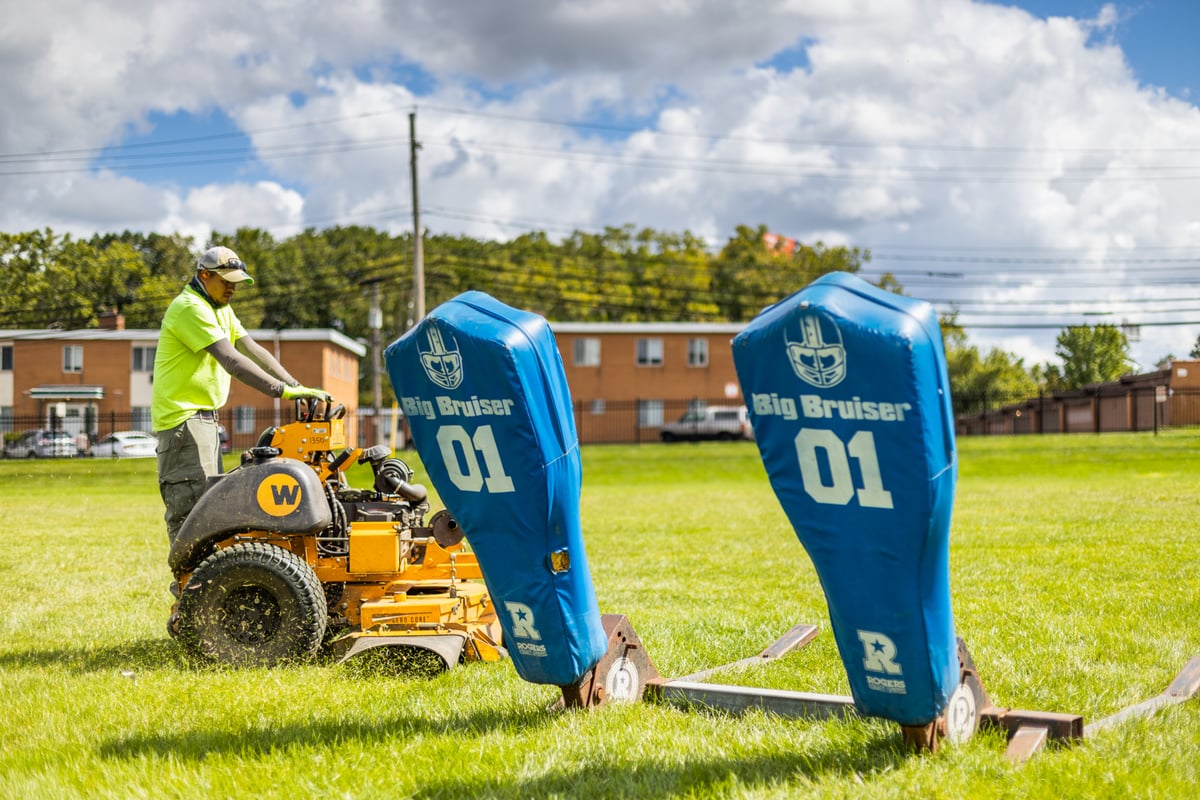 This can even result in savings since you're paying a consistent monthly price instead of trying to cram a lot of maintenance into a few months.

This is the typical landscape maintenance schedule you can expect with year-round attention from a commercial grounds maintenance service provider.
Spring
In spring, you want to clean up your site after a Northeast Ohio winter and ensure as plants and turf awaken and trees and flowers bloom, they are performing their best. You also want to stay ahead of advantageous and unsightly weeds that can grow quickly and ruin your commercial landscape picture.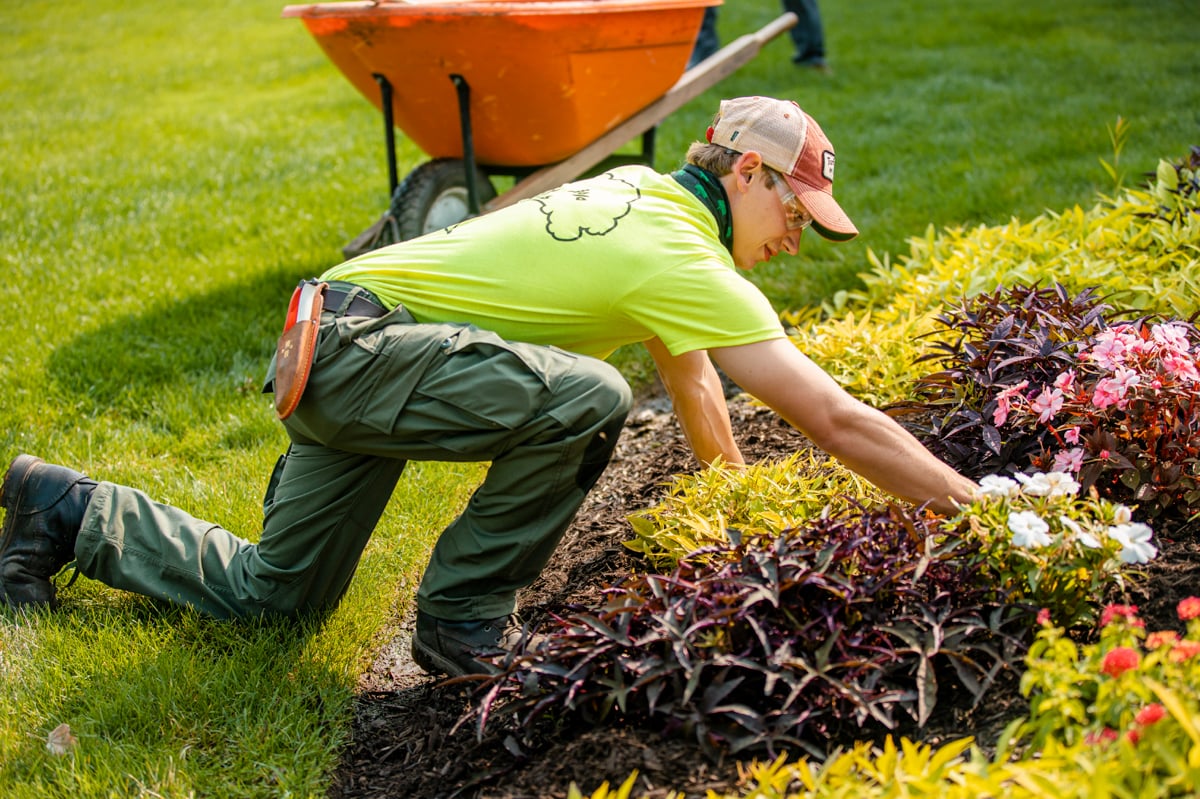 Some tasks that are important at this time include:
Debris removal and lawn de-thatching to ensure a clean and tidy site and remove any negative impacts from winter.
Fertilization and weed control for turf to give it a boost and keep weeds at bay.
Apply fresh mulch to landscape beds for a fresh look, to limit weeds, and maintain soil moisture and temperature.
Plant summer annuals for increased color and visual appeal.
Prune dead parts of shrubbery and trees so they look their best and target growth into healthy branches.
Summer
In summer, prime growth will continue on your site. And as plants flourish and temperatures rise, you want to stay ahead of watering and drought impacts, as well as foster healthy landscape growth.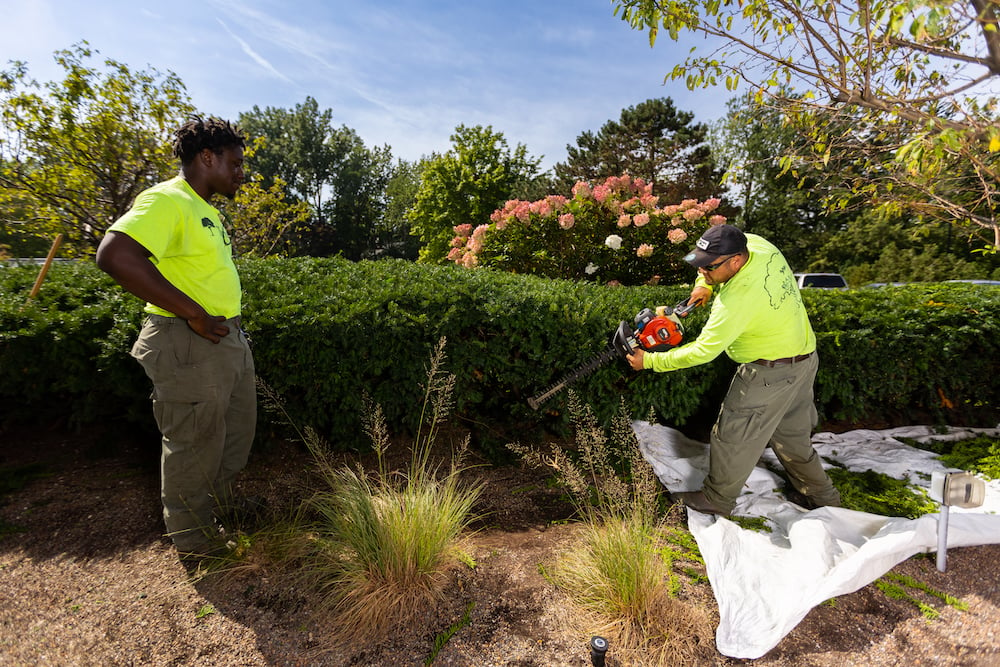 Tasks at this time of year on your landscape maintenance schedule will include:
Keep a regular mowing schedule to ensure your turf looks good and maintains a healthy height.
Perform pest and weed control as needed to stay ahead of these issues.
Professionally sweep parking lots or driveways and sidewalks so keep lawn debris from building up and maintain a tidy appearance.
Trim bushes and shrubs to keep overgrowth at bay.
Fall
While explosive landscape growth begins to die down in autumn, this is no time to slouch on commercial property maintenance. Not only are there leaves to manage, but there are things you can do for your landscape that actually improve its performance for the coming spring.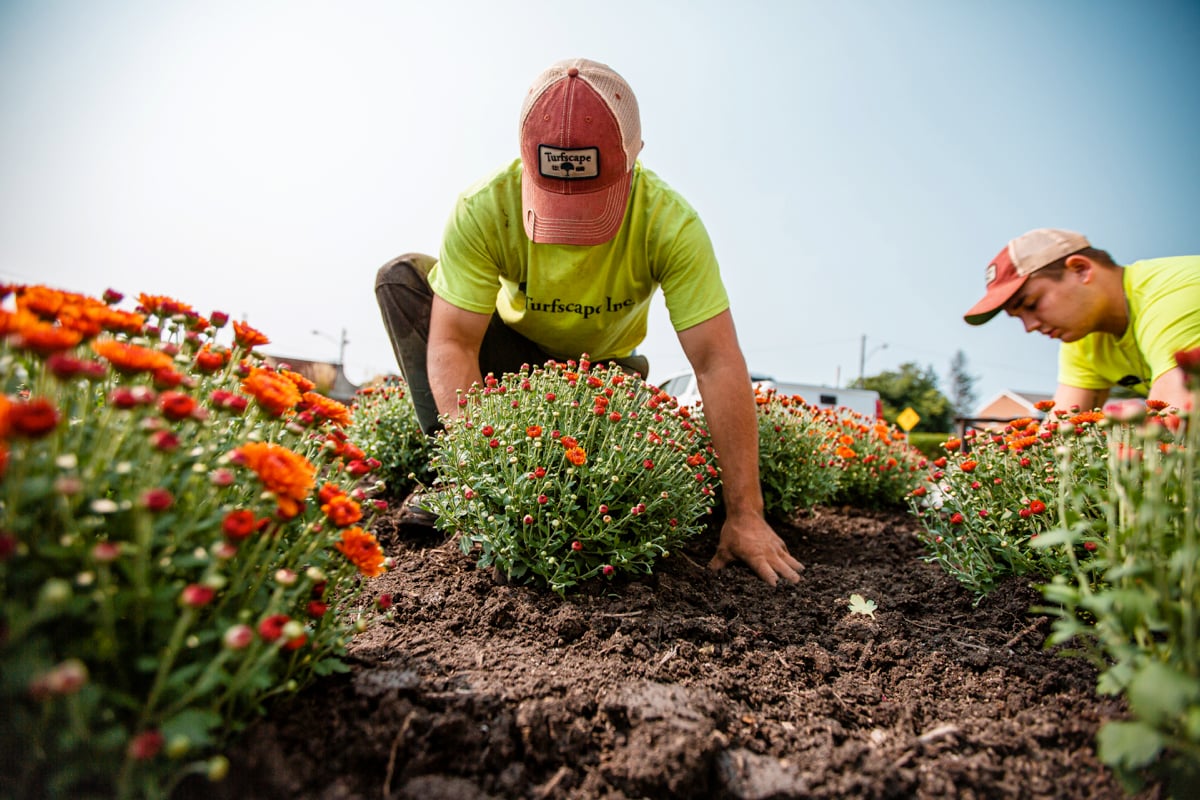 In autumn in Northeast Ohio, remember to include the following tasks in your grounds maintenance.
Aerate lawns to eliminate compaction and ensure stronger, thicker growth.
Conduct comprehensive leaf removal to stay ahead of this pileup and keep your property safe and slip-and-fall free.
Plant fall annuals to keep your property looking fresh and bring new life and color to your landscape.
Prepare beds for winter and trim back perennials to promote a neat appearance when these plants are done and prepare them for
the coming seasons, ensuring a great start when spring returns.
Winter
In winter, your landscape may be quiet, but there are things you can do to enhance safety as part of your year-round property maintenance and keep your commercial site looking good and easy to navigate for visitors and guests.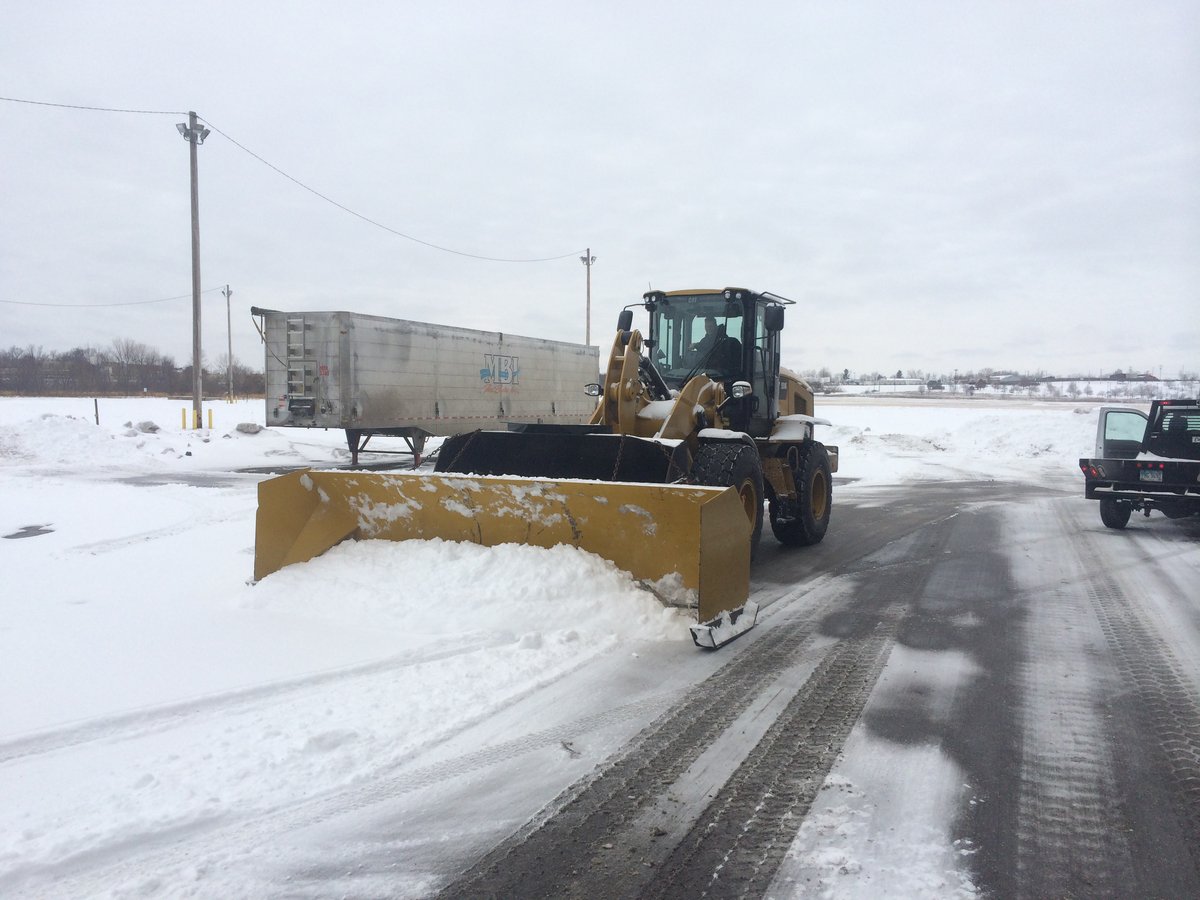 Remember to include these tasks as part of your grounds maintenance:
Provide snow removal for lots, walks, driveways to keep them clear and passable.
Treat areas with salt to melt ice and ensure safe transportation.
Winterize patios, benches, and seating areas.
4 Reasons Landscaping Maintenance is Important For Your Commercial Business
Your exterior commercial property maintenance is not something you can ignore if you want it to serve your business well.

In fact, hiring an experienced Northeast Ohio commercial landscape professional that has eyes on your facility throughout the year can ensure it not only looks good, but performs well, addressing any concerns ahead of time to save you time and money.

Proactive thinking is one of the traits you're looking for to ensure your commercial site is getting the necessary forethought and attention it needs for the next season, as well as into the next year or even a few years ahead.

This not only ensures your property is always performing, but it also lessens your stress by eliminating last-minute issues and repairs.

Here are some of the ways prioritizing year-round property maintenance can enhance your Northeast Ohio facility.
1. Establish a More Inviting Atmosphere
Recruiting and retaining employees and customers is important for any business today.

By focusing on an annual landscape maintenance schedule, you can create a more welcoming environment for employees and customers – not to mention tenants, guests, visitors, shoppers, and any other people who regularly enjoy your property.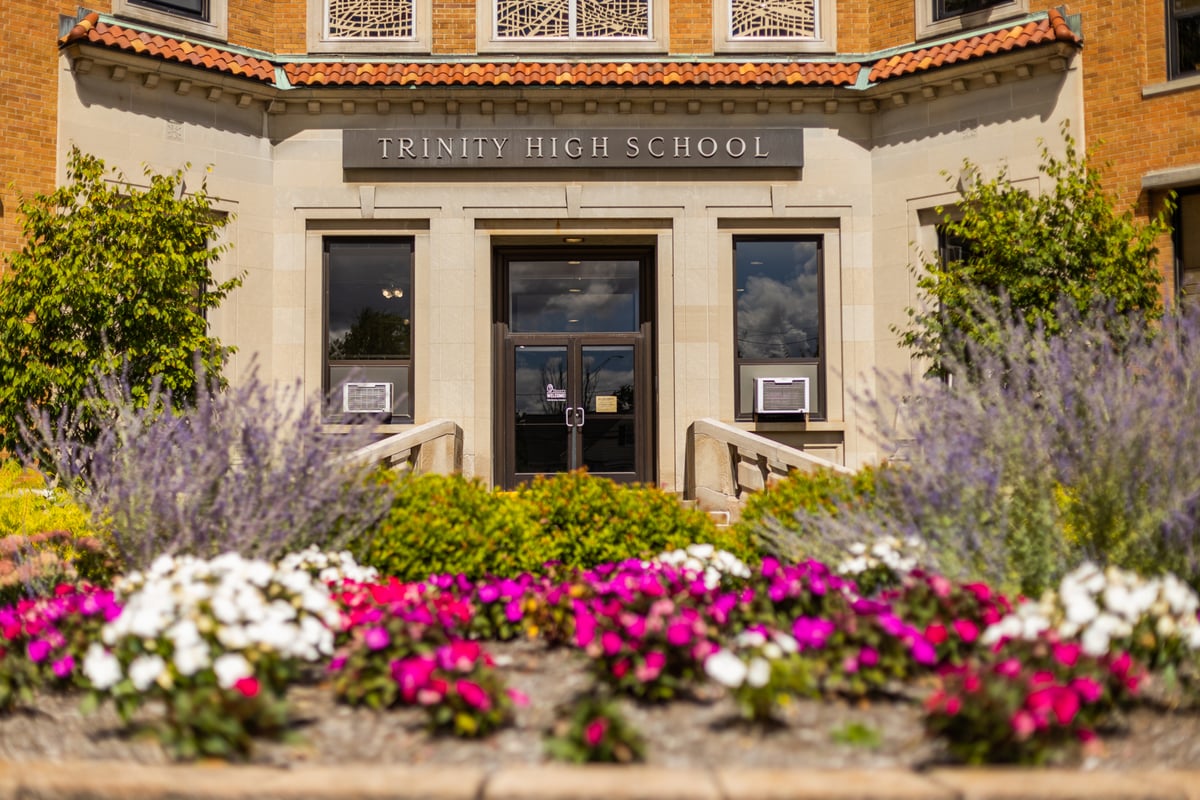 For instance, by installing and maintaining an attractive outdoor recreation area, you give employees and visitors a place to enjoy breaks or lunches. The same can be said for attractive outdoor seating areas at shopping centers or retail facilities. These areas invite people to stay awhile and can be the reason someone chooses to shop at your business over others.
2. Boost Curb Appeal
Curb appeal can do so much for your Northeast Ohio commercial facility. In fact, curb appeal enhances your brand visibility, ensures your business stands out from competitive companies, brings more traffic to your business, aids in building trust in your company's reputation, and even drives employee retention and pride.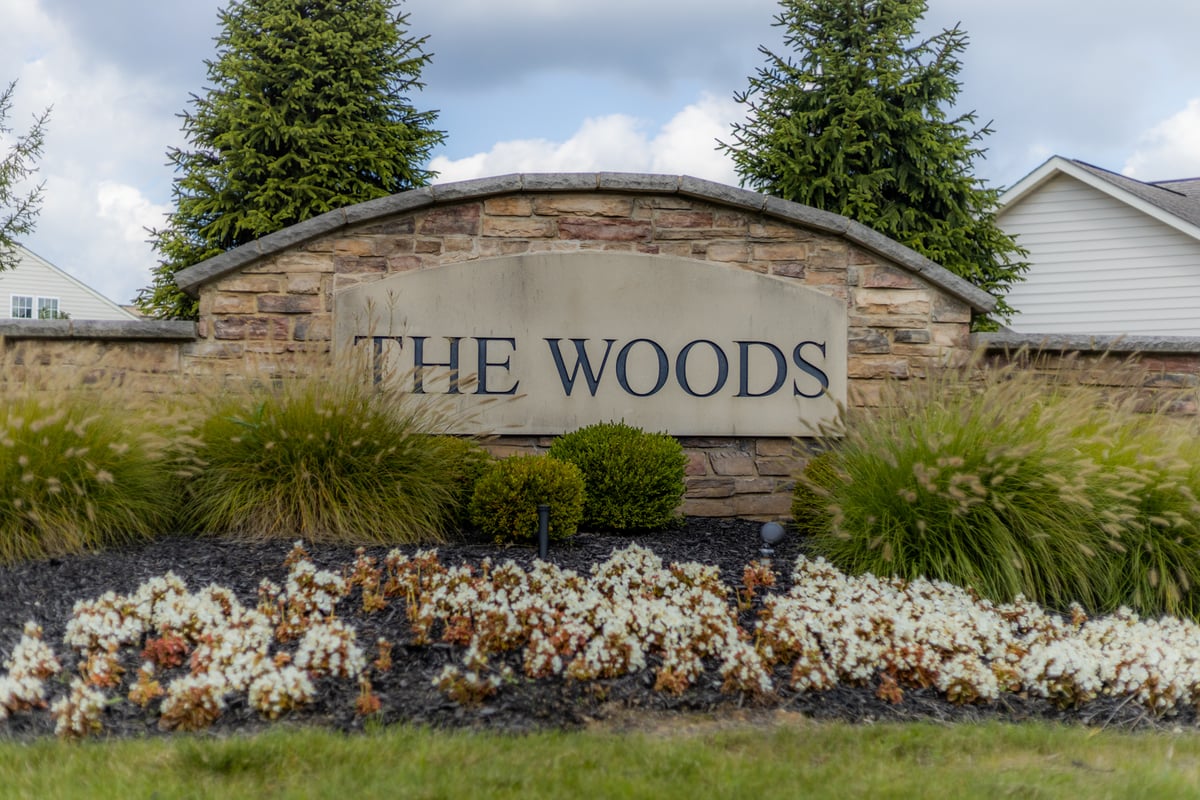 Professional, year-round commercial property maintenance is the best way to present a lasting first impression. If you keep your site tidy and trimmed, it shows you care about your appearance and presentation. This gives people the idea that you run a reputable business. An unkempt property full of weeds and overgrowth, on the other hand, can give people pause, making them unsure they want to do business with you.
3. Enhance Safety And Security On Your Site
Safety is a key part of maintaining both the inside and outside of your commercial facility in Northeast Ohio. You want to keep your property tidy and organized to make everyone who visits your site – from employees to shoppers to tenants to visitors and guests – feel safe.

Year-round commercial property maintenance can also help lower costs that can result from safety issues, such as fines or liability claims.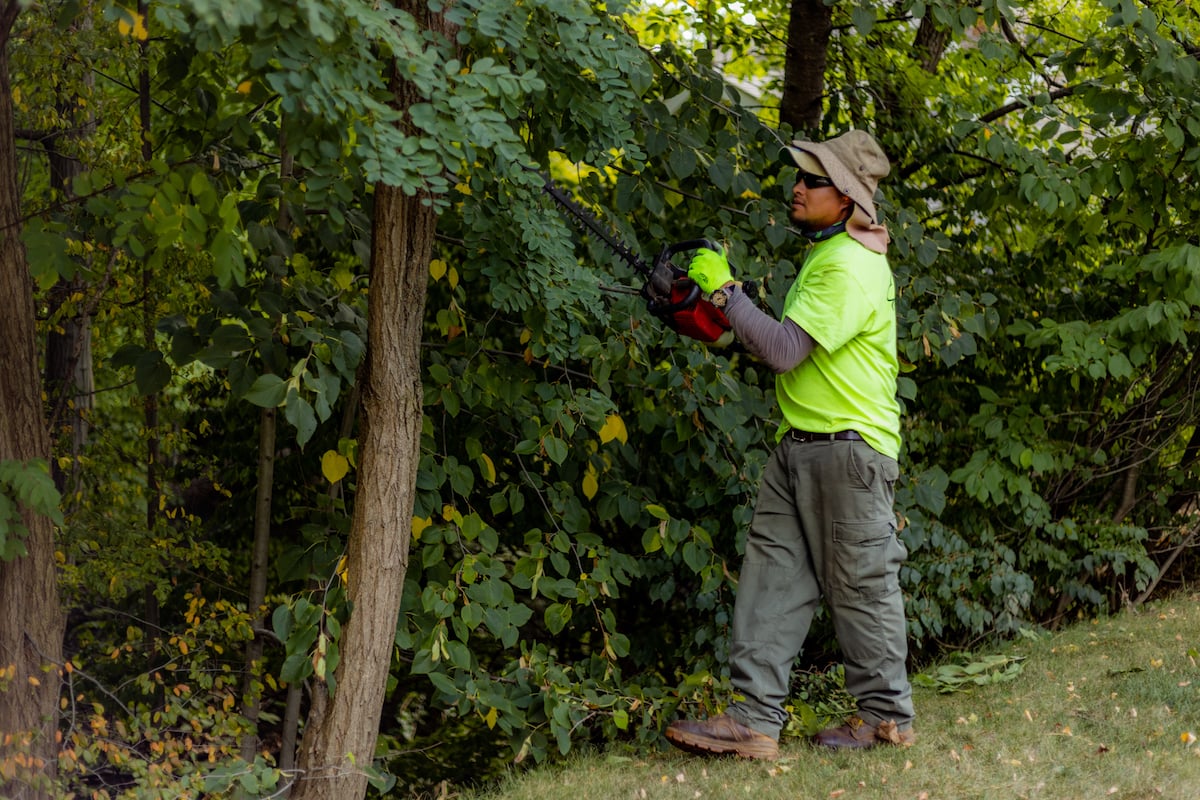 Some ways you can do this through year-round property maintenance include:
Trimming trees and shrubs to increase visibility for those entering your property and give thieves or criminals fewer places to hide, reducing crime.
Managing drainage and removing snow and ice can limit standing water and reduce slips and falls.
Adding lighting and enhancing landscaping around signage can ensure your entryways are easier to find for employees and visitors.
4. Highlight Green Initiatives
By planning your commercial property maintenance for the entire year, you can also find opportunities to target or grow your green projects and initiatives.

You can reduce runoff and keep erosion at bay by managing stormwater, for instance.
By focusing on your sustainability, you can also reduce your overall grounds maintenance costs. For example, using native or wildflower gardens can be a way to add a nice area that requires less maintenance in a large area on your site.
Year-Round Property Maintenance Can Help Your Site Thrive
When your commercial facility looks nice year-round with a fresh layer of mulch, seasonal color blooming each season, limited weeds, and trimmed and tidy turf and trees in Northeast Ohio, you enhance your business image and elevate your curb appeal.

And this proactive approach done by a professional grounds maintenance provider can keep you on schedule each week, as well as help you plan into the future.

We know doing this on your own can be challenging. It's easy for outdoor to-dos to fall behind when you have so much else on your plate.

Calling in a professional can help you do the job of keeping your property well-maintained and growing strong. On top of that, you can save budget dollars and repairs.

If you're having trouble, give Turfscape a call. We can save you time and energy and keep your commercial landscape looking elevated. We can also recommend some key ideas to take your facility to the next level.

Want to learn more about our commercial maintenance services for your Northeast Ohio commercial site? Get started today with a free quote. We'll review your options together so you can make a great choice.