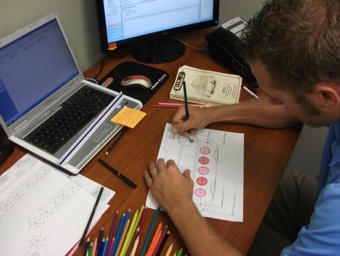 Snow removal is one of the most popular winter services for landscapers. They anticipate snowfall and jump at the first flake to plow and shovel. When the snow is on hiatus, however, they have a lot of downtime. This is when you should talk to your landscaping company about planning the landscape designs for your property for spring.There is more to planting flowers and foliage than simply choosing a spot and digging a hole. Any design takes careful planning, including evaluation of the property, specific plant choices to fit the space and allotted funds for the project.
Commercial landscaping companies will usually have a designer with expertise in landscaping enhancements come to your property to see the areas that need improvement. Some areas may be desolate and in need of brand new plants, while others may have an outdated look that needs freshening up.
If the outside of your business looks the same as it did from its founding in the 70s, chances are you could use an upgrade. Keeping your landscape fresh and clean gives customers the impression that you care about your property's appearance. A new and professional look will give a positive first impression to those visiting the property for the first time.
When choosing plants for your design, it is important to think about size, shape and color. The most important thing to remember about plants is that they grow. Wanting to fill the space from the get-go by adding as many plants as you can will cause an overcrowded look when they finally take root. Another aspect to consider is whether the planting area will block any windows or entrances and exits of your commercial property.
Having plants with bright colors on your property will attract customers, and people passing by will take notice. The shape of the design could be triangular, square or circular depending on the bed. Turfscape uses a 12-inch marker from the center of each flower to the next to ensure the space is filled and the appropriate number of plants are being used based on your budget.
The cost of updating the entirety of your property may seem overwhelming, but design projects can be implemented in stages, allowing you to focus on one area at a time. Consider creating a five-year plan for updates you want to be done and budgeting for them during the beginning of each fiscal year.
A well-thought-out design takes time and preparation. If you wait until spring, companies may already be implementing design plans for commercial properties that contacted them in the winter months.
Between their previously made plans and regular spring maintenance, companies may not have ample time to create a proper plan for your property. So as the new year approaches, begin with a fresh look for your business by contacting us about designs this winter. In the meantime, take a look at the commercial landscape design trends for 2019.