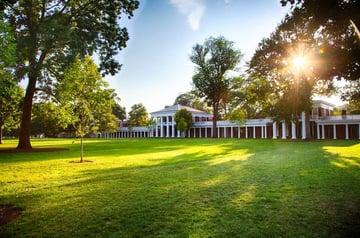 Outsourcing grounds maintenance will improve quality and save you money. If you are not currently outsourcing your grounds maintenance and snow removal, are you satisfied with the appearance of your property during the green season as well as the safety of it during the winter season? How would you rate your property?
Here are a few questions to think about before you answer.
For the green season:
Does your property have beautiful curb appeal for clients, vendors and employees?
Do you have crisp bed edges?
Do you have dead plants that need removed?
Are your shrubs and trees well pruned?
Do you have all the right equipment to get the job done correctly and safely?
Can your maintenance staff maintain safe parking lots and sidewalks?
When your staff is plowing, what other inside services are getting ignored?
Who monitors the weather conditions and manages the safety of your grounds if this is important to you?
Outsourcing provides several key advantages:
1. Specialization
Since an outside vendor specializes in grounds maintenance, they are able to take advantage of economies of scale since they are doing the same service for many customers, which in many cases will provide a higher quality of service.
2. Expertise
Outsourcing can provide expertise that may not be there currently. Outsourcing can help identify issues with grass, such as funguses and how to get rid of them, or suggest ideas to help beautify the property such as flowers. They specialize in the service and have been able to develop a vast knowledge base about grounds maintenance issues.
3. Opportunity Costs
Everyone watches costs. There are most likely other tasks, jobs or projects that need completed at your facilities. The resources currently being utilized on the in-house grounds maintenance could be better utilized to take care of those items.
4. Potential to save money
Outsourcing can relieve a company of costs that can add up, such as salaries and equipment.
Below is a worksheet to help figure out the costs of doing grounds maintenance in-house.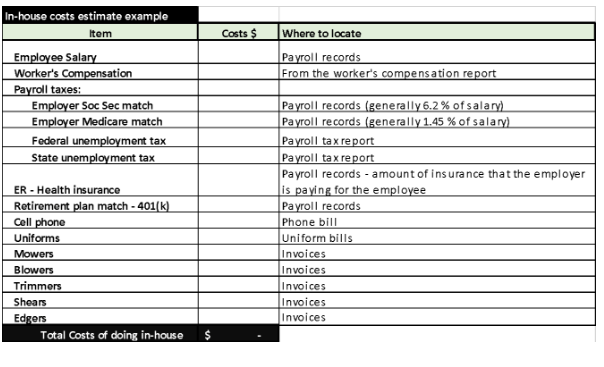 When analyzing the "true" internal costs of doing grounds maintenance in-house, the number can be very surprising and when compared to outsourcing, can at many times be more expensive.
After you take a few minutes to complete this - contact a reputable provider and ask for a proposal to compare to the calculated costs. You may be surprised!