As a commercial landscape property manager, you want to draw people into your facility – whether you manage an industrial facility, office park, hospital, homeowners' association, college, university, or retail center. And once people are drawn in, you want people to stay and enjoy your property and business. In other words, you want to retain repeat visitors and guests, giving them a place they can be proud to come to, enjoy, and refer to their friends and family.

Since your landscape is the first thing your visitors notice, your commercial landscape can make a huge difference in your property's curb appeal, value, and recruitment and retention efforts. If you can ensure your commercial landscape maintenance is well-planned and top-notch, you can keep your customers and visitors satisfied and your facility competitive, ultimately leading to increased revenue for your business.

In this guide, we'll discuss effective commercial landscape management strategies for your Northeast Ohio property so you can reap all of these benefits and maximize what your exterior can do for your business.
Table of Contents
Understanding Northeast Ohio Landscapes
Commercial Landscape Design: Appearance & Functionality
Year-Round Landscaping For Commercial Properties
Snow and Ice Management on Commercial Properties
Sustainable Landscaping Practices for Northeast Ohio
Benefits of Professional Landscape Management
Choosing the Right Commercial Landscaping Partner
Understanding Northeast Ohio Landscapes
Northeast Ohio's unique climate can make commercial landscape maintenance challenging for property managers with its sunny, dry summers and cold, snowy winters, as well as windy and wet springs and autumns in between.

The weather in Northeast Ohio has four distinct seasons: spring, summer, fall, and winter.

Spring's rain and warming temperatures bring new leaves on trees, blooming wildflowers, and visitors anxious to get out on the trail after a long winter. Average annual rainfall is around 39 inches.

Summer temperatures range from 49 to 95 degrees Fahrenheit and have the tendency to be humid.

Fall temperatures can range from low 70s during the day to freezing during the night. Fall foliage often peaks during the first few weeks in October. Summer weather conditions, such as drought, may alter the time that the leaves peak.

Winter weather conditions can rapidly change, due to the lake effect snow from Lake Erie. Temperatures vary from mid-30s to below 0 degrees. The area averages 61 inches of snow annually.

Transitioning from season to season comes with a lot of work for a property manager, making commercial landscape maintenance in Northeast Ohio more demanding. Following the suggestions in this guide can help you get a better handle on the tasks necessary for keeping your property looking good all year long.
Commercial Landscape Design: Appearance & Functionality
Everyone likes a little color in their lives. This is especially true with landscapes in commercial settings in Northeast Ohio.

Amazing blooms bursting with bountiful, bright, bold hues can add visual appeal and intrigue to your office park, retail center, industrial property, warehouse or other commercial site.

Well-planned commercial landscape design will include a great mix of perennials, trees, shrubs, and ornamental grasses that add solid base colors and textures to your landscape. They will also strategically add in extra boosts of brilliant shades throughout the seasons to keep your property interesting throughout the year – everything from spring awakenings to summer color pops to fall intrigue to winter warmth.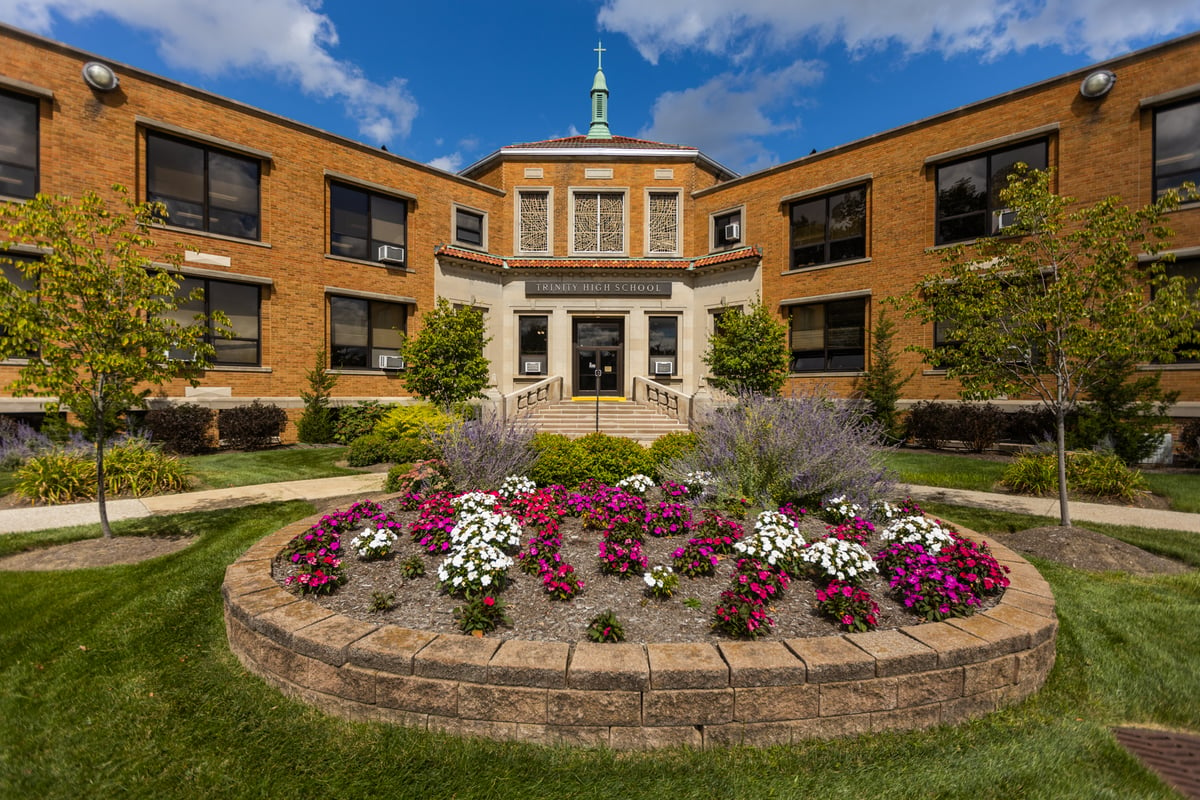 In addition to color and texture, incorporating hardscaping elements can add functionality and visual appeal.

Let's talk about the many important elements of commercial landscape design and how they can bring benefits to your site, including curb appeal, increased value, and greater attention where you need it most, such as near focal points like business signs and entryways and in high-traffic areas.
Have a Plan For Your Commercial Landscape Design
Attacking your landscaping for commercial properties in bits and pieces might provide temporary fixes here or there, but addressing a problem temporarily doesn't necessarily go toward a bigger goal or vision.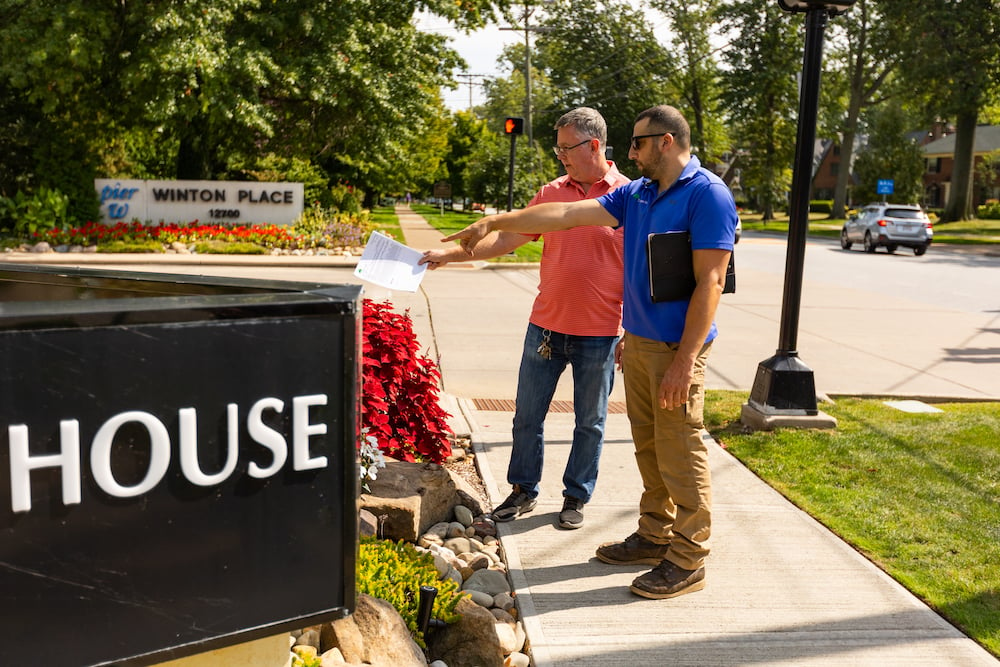 Hiring a professional commercial landscape firm to assist you with planning out your site design and strategy can make this process simpler for you. A company with creative ideas can not only help you choose the best trees, shrubs, and flowers for your area and site conditions, but also assist you in addressing problems like drainage and erosion, without breaking your budget. Budgeting out for multiple seasons can make it easier on you while still working to achieve your overall goals.

A plan can also help commercial facilities stick to a plant palette so the look across the property is consistent no matter how many times the landscape changes.
Choose the Best Plants
When you want to create an attractive commercial landscape design, you want a mix of attractive annuals, perennials, grasses, trees, and evergreens to provide variety, interest, and all-season appeal.

Obviously, some plants like certain conditions more than others. So after choosing a mixture of preferred plants, you want to place them together in locations where each plant can thrive. For example, you'd never put a sun-loving plant in a very shady spot; it wouldn't bode well for that plant later in its life. Always consider site location, sun exposure, soil condition, irrigation or water availability, and traffic when choosing plants as part of your commercial landscape design.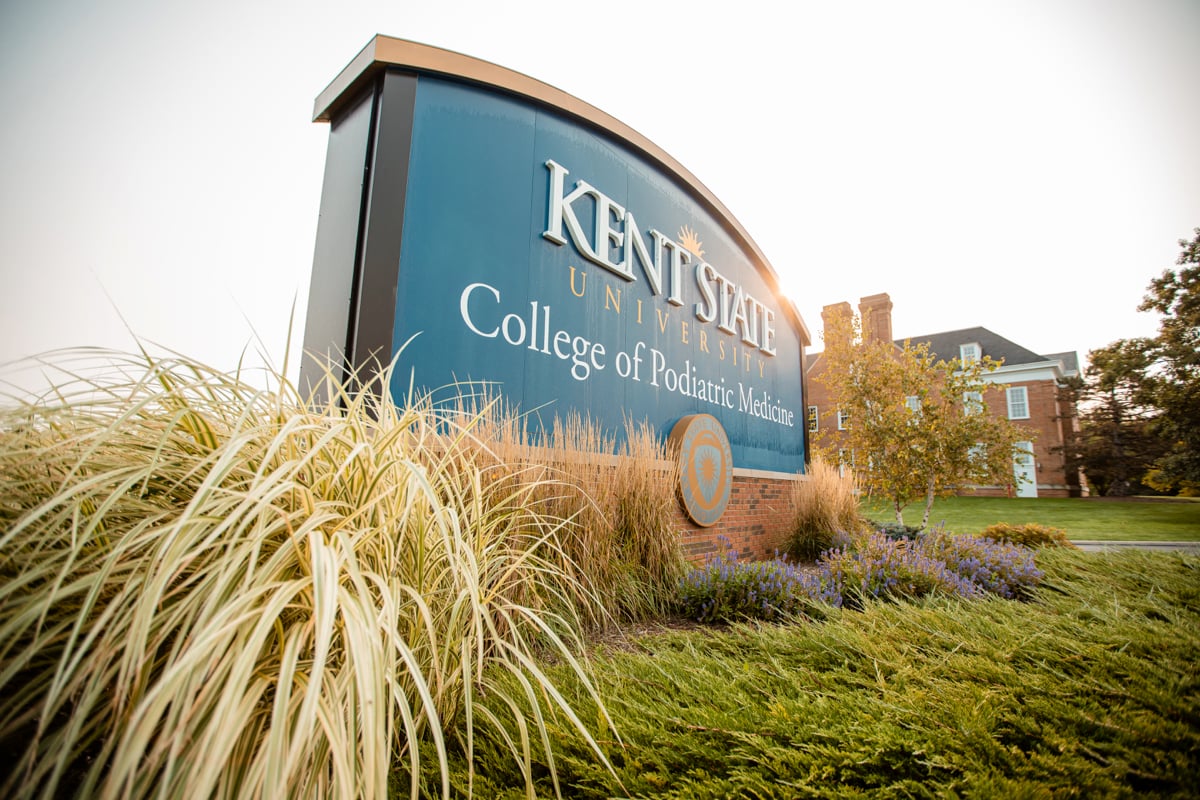 You also want to consider maintenance needs of your plants. By pairing the right plants with areas that receive conditions they prefer, you can have a more naturally low-maintenance facility landscape. Plants that are native to Northeast Ohio will usually better match the local conditions and require less care and attention. They will also improve your sustainability initiatives and help you stay within your budget.
Include Hardscaping Elements For Functionality and Visual Appeal
Hardscaping includes the non-living elements of your commercial landscape design, such as patios, pergolas, walkways, benches, stones, rock beds, boulders, gravel, wood, and landscape lighting.

Many hardscapes serve both useful and aesthetic purposes. Patios and walkways can complement areas of your facility while providing function and guidance, dictating where you want people to travel on your site. Retaining walls can help control erosion and manage slopes in a practical and beautiful way.
Year-Round Landscaping For Commercial Properties
In Northeast Ohio, commercial landscape maintenance is a year-round task. Neglecting a single season can lead to problems outdoors that can increase repair costs, as well as renovation expenses.

But as each season progresses, you may not know which landscape management services you need to perform and at what specific times of year they need to be done.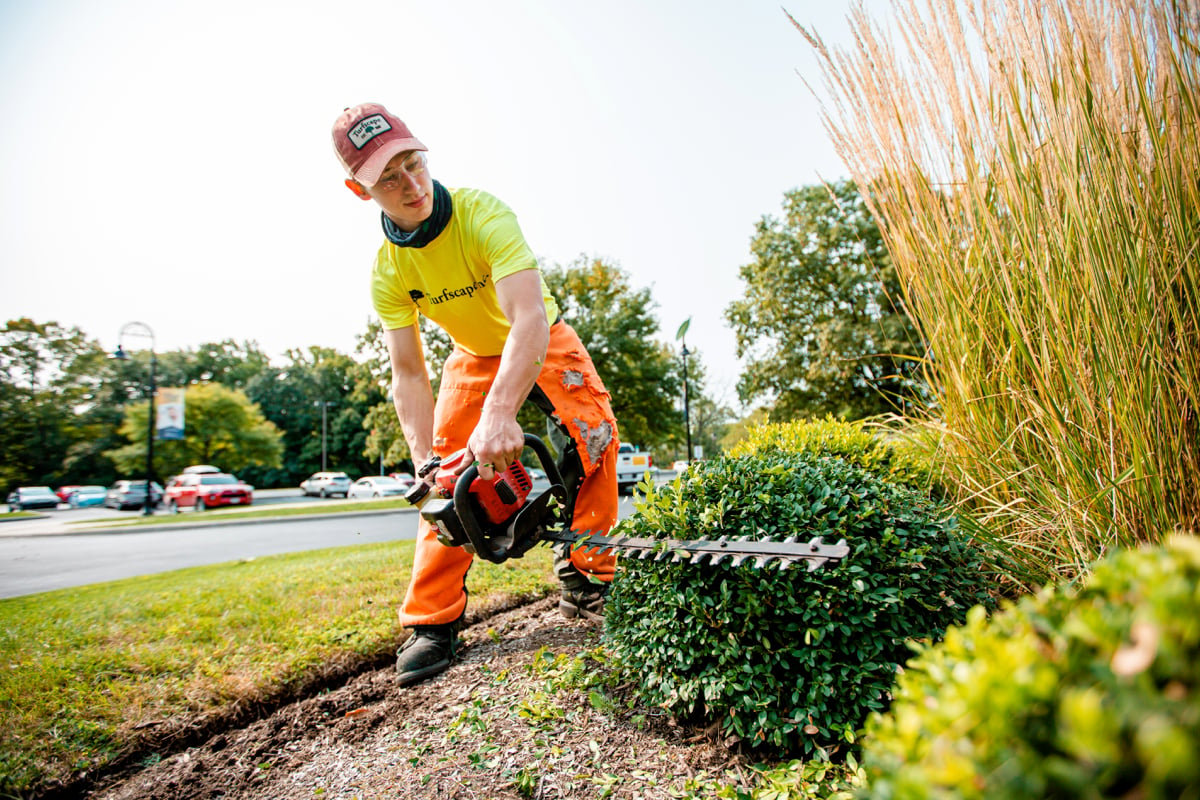 Sure, you'll find there's a bit of overlap. But most services need to be completed following a timeline so they can be most effective and add tremendous benefits to your Northeast Ohio commercial facility.

Embracing year-round landscape maintenance in Northeast Ohio can ensure your property looks good at all times and prevent problems, keeping you in line with your budget and securing continued good plant health and growth.

Let's talk about seasonal landscaping needs that can ensure you never forget important aspects of your property's grounds management throughout the year.
Spring
As a property manager, you want to keep your commercial landscape in the best shape possible during every season, and spring is an important one since the landscape is just waking up after a long winter.

You don't want to risk your health care facility becoming unsafe with overgrown branches, your retail center causing trips and falls with unmaintained hardscapes, your office parking lot lacking security, or your educational facility losing students and faculty due to an unsafe and unkempt exterior.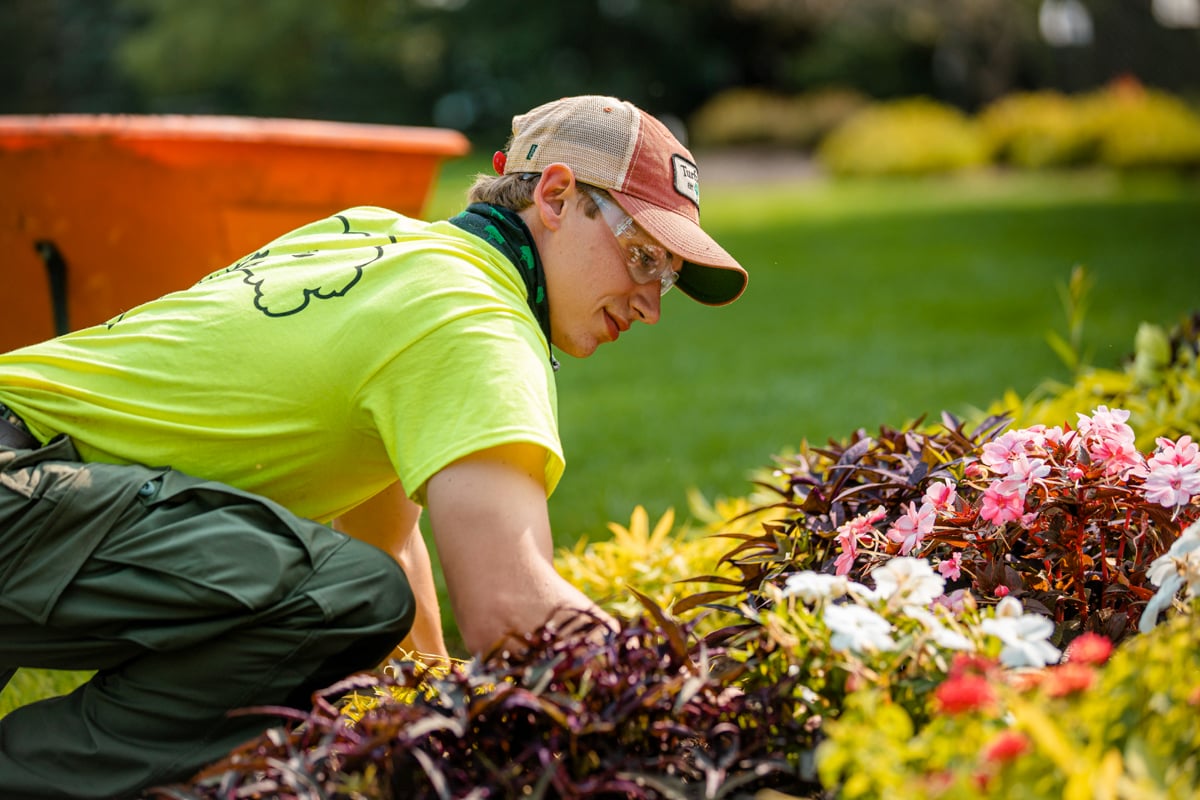 The transition from season to season isn't easy, and winter to spring may be the toughest. Prioritize these tasks in spring to ensure a seamless transition.
Address winter damage.

Snow and ice accumulation's impact on your commercial plants and damage from frequent snow plow and salt use can add up. Your first job in spring as part of seasonal landscaping is to assess what winter has done to your commercial landscape. Trim broken branches from heavy snow and ice buildup on trees and shrubs. The initial job that is a must-do in spring cleanup landscaping is assessing what winter has done to the commercial landscape. This improves plant health and cleans them up visually. For your turf, look for matted down areas or signs of snow mold, which appear as pink or tan patches. Rake those areas to bring more air in for recovery. Also check turf edges for snow plow damage and make necessary repairs. Gypsum can help balance soil pH in areas where excess salt may have sat during winter.
Conduct spring cleanup. Winter always leaves debris in its wake. It's time to clean up sticks, leaves, pine needles, pine cones, and other trash from your site. This presents a clean, tidy look and helps sweep winter away as spring unfolds.
Edge landscape beds and add fresh mulch. Give plant beds that edged look so there is a separation between turf and your commercial landscape beds to get a great visual boost. Once landscape beds are ready, mulch is a great addition to suppress weeds, maintain soil temperature, retain soil moisture, and add organic matter to your soil. Ideally, you want to add 2 inches of double-shredded hardwood mulch to your landscape beds to obtain these benefits.
Apply pre-emergent weed control. You can get ahead of some nasty weeds like crabgrass in spring with pre-emergent weed control. This means fewer weeds to manage as the season progresses, as well as a more attractive property.
Fertilize and mow your lawn. Spring fertilization can give your commercial lawn nutrients as it enters rapid growth. Your commercial landscape maintenance company should provide balanced fertilization based on your lawn's specific needs. Mowing will also resume in spring. Use sharp mower blades to provide a clean cut.

Conduct early spring or dormant pruning.

One pruning technique that is best done in late November through mid-March when plants are dormant is dormant pruning. This is a bit more aggressive than maintenance pruning, including larger cuts that clean up trees and shrubs and encourage more vigorous growth. Early spring pruning can also be done on certain trees and shrubs to ensure a clean look as the season begins.
Use annuals to give your property a boost. Incorporating color with spring annuals can give your commercial property a competitive edge. For instance, installing fall bulbs, such as tulips, daffodils, and hyacinths, can create early color pops of whites, yellows, and blues. Flowering shrubs like forsythia can add bright yellow, while creeping phlox, pansies, and violas offer mixes of vibrant shades that are cold-tolerant and can stand up to unpredictable spring temperatures.
Summer
Commercial landscape maintenance is best done using a proactive approach for each season – particularly for summer. Summer brings a unique host of challenges, including heat and drought.

The result of unmanaged grounds in summer can mean wilted flowers, a brown lawn, a lack of blooms, and unkempt plants.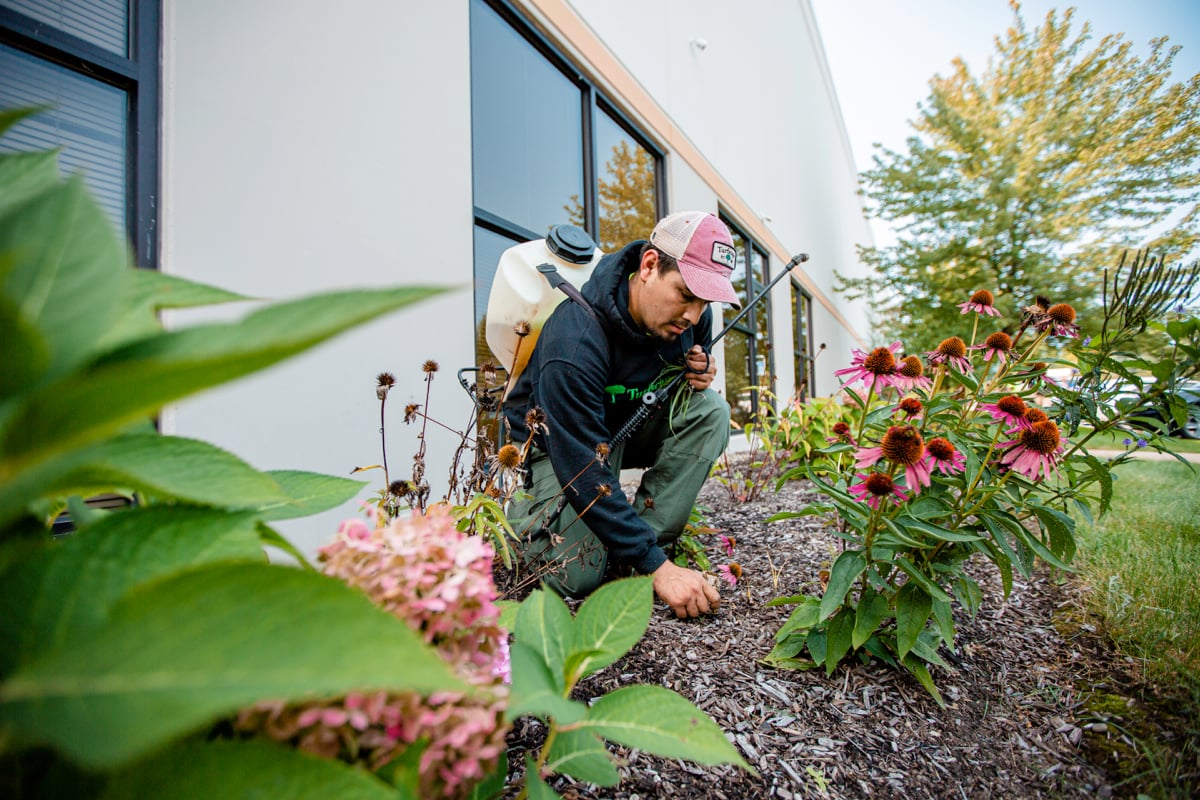 You want color, great visual appeal, and professional aesthetics that help bring in customers, employees, tenants, shoppers, visitors, and guests.

Follow these important seasonal landscaping tips to keep your Northeast Ohio commercial landscape healthy during the summer months.
Adjust your mowing schedule. Once summer is here, mowing may slow down on your commercial site, going from every 5 days to every 10 days. This is because grass growth is slowing down. The goal is to keep your mowing height at 3 to 4 inches to block weeds and encourage deeper root growth, as well as prevent the turf from burning in summer conditions. This means removing no more than one-third of the grass blade at any one mowing. Continue to use well-maintained mowers with sharp blades.
Revise your irrigation schedule. Water is important for seasonal landscaping in summer. An established, commercial lawn needs at least 1 to 1.5 inches of water weekly. You want to adjust your irrigation system since rainfall slows in summer and you no longer have that as part of your water.
Add and maintain seasonal color. Summer is a great time to add flowers to your commercial landscape. Vibrant annual plant displays can make your property shine at this time of year when all the buds are blooming in the brightest and boldest shades. To do this right, follow a proactive planning approach so that your seasonal color is installed and refreshed to match the changing weather patterns that happen in summer. This means making sure you have seasonal color maintenance to ensure those blooms can take the heat and get the water and care they need to continue looking their best throughout the season. Summer annuals are best installed in May or June in focal points and high-traffic areas.
Keep up with pruning. During the summer, it's also important to cut away dead, weak, or broken branches from your trees and shrubs to maintain a clean, fresh look. Not only does this ensure your trees and shrubs remain tidy, but it also promotes good health.
Fall
Keeping track of everything involved in seasonal landscaping can be tough.

While you may be slowing down as autumn rolls in, it's not the time to slow down on commercial landscape maintenance.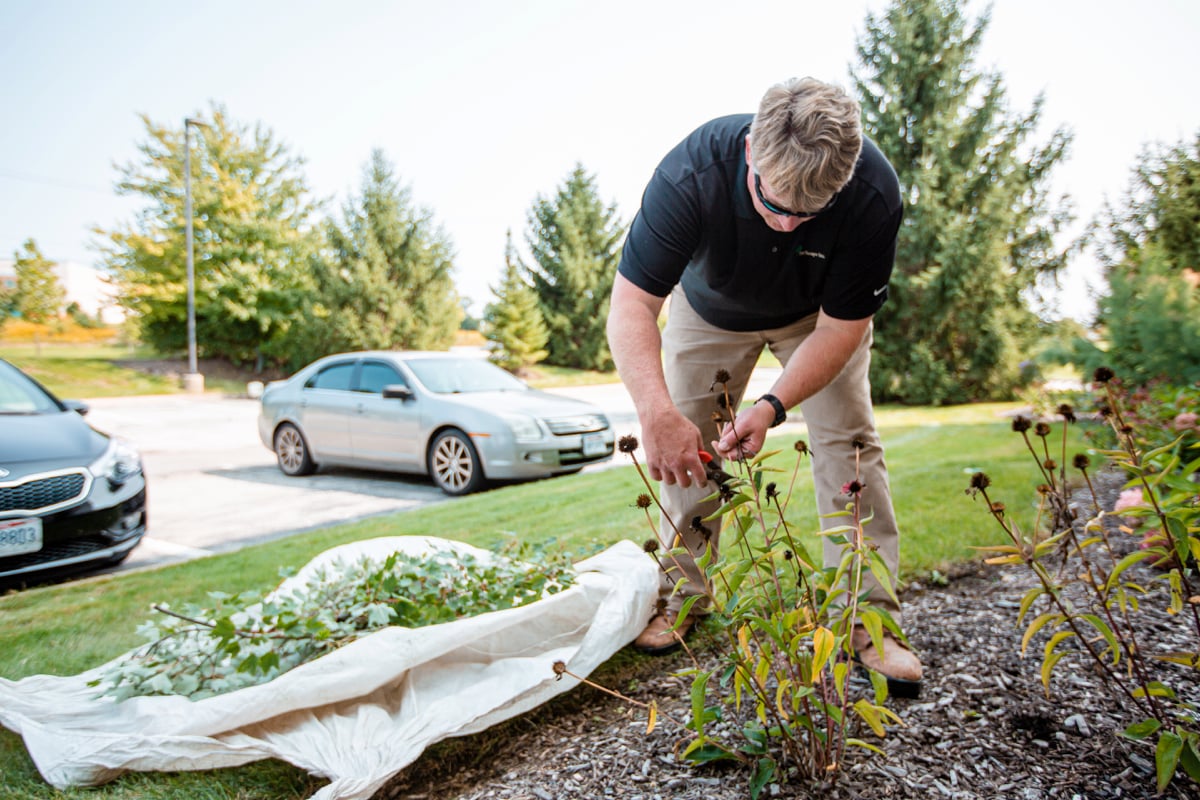 These to-dos can help you stay on track.
Cleanup leaves. If you have a lot of trees on your commercial property, leaf cleanup can feel nonstop. But removing leaves from the grass is important for the health of the turf. Rake up the leaves or blow them into piles and dispose of them to protect your lawn and better prepare it for winter slumber.
Maintain perennials. Your perennials have done a lot of work keeping your commercial site looking great throughout spring and summer. By fall, it's time to tidy them up. This includes deadheading or cutting back perennials and ornamental grasses so they remain neat through fall and winter and are ready for the coming spring.

Add seasonal color.

Seasonal color can be a vibrant addition to your commercial facility's fall landscape, boosting visibility and keeping visitors, customers, tenants, and others interested. The many colors of chrysanthemums paired with the vibrant purples or lime greens of ornamental kales and sweet potato vines can add the perfect fall accents.
Shut down your irrigation system. As the year comes to an end, your property needs less and less water. Winterizing your irrigation system in fall by blowing out remaining water is a pre-winter preparation step to avoid any leftover water freezing and damaging pipes or flooding facility buildings when it thaws.
Fertilize your commercial lawn in fall. A final boost of nutrients in fall can help your lawn go peacefully into winter dormancy, boosting its growth when spring returns.
Mow for the last time. For the last mow of the season, you want to cut the grass just a bit shorter to prevent snow mold.
Aeration and overseeding. Fall is the best time to aerate and overseed your commercial lawn in Northeast Ohio. Aeration, as the removal of small plugs of soil, gives your tired, worn, compacted lawn a chance to more easily receive oxygen, nutrients and water at the root-level where it's needed most. Overseeding after aeration creates the perfect holes for seed to contact the soil and germinate, making it more successful in strengthening and thickening your commercial lawn.

Prepare for winter.

Secure a snow and ice removal professional so you're prepared for the first snowfall. Snow fencing may be necessary to prevent large drifts. And you may need to wrap some trees with burlap to avoid winter burn.
Winter
Old Man Winter isn't very kind to your commercial landscape, and since you never know how bad winter may get in Northeast Ohio, you want to be prepared for the worst case scenario should it occur.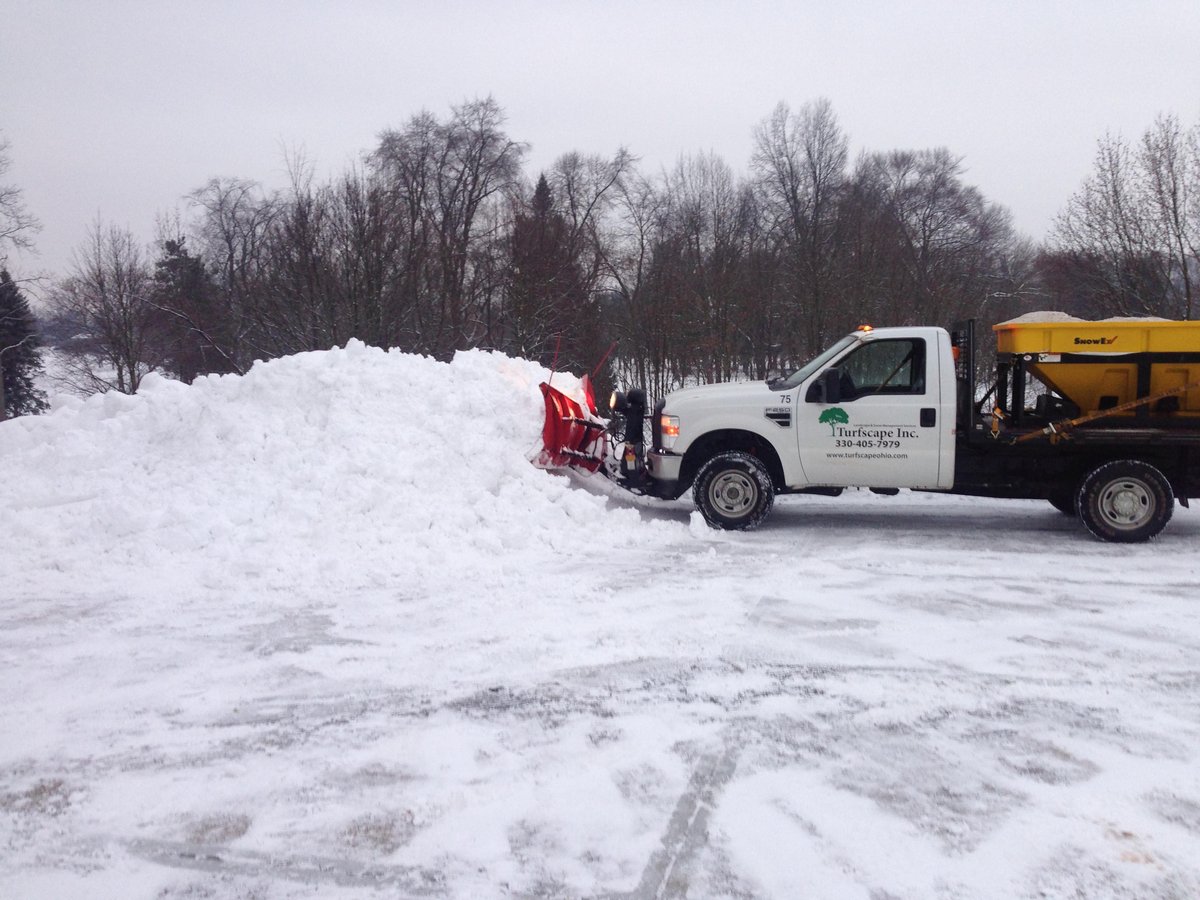 Follow these winter seasonal landscaping tips so your commercial grounds can survive the season and thrive come springtime.
Protect plants from winter damage. Winter burn can occur during warm weather in late winter and early spring. Since your evergreens don't become completely dormant, the fluctuating temperatures, sun's light, and winter winds can take their toll. You can protect your Northeast Ohio commercial property's evergreens from winter burn with a simple preventive measure. Some commercial landscape companies will provide applications of a product like Wilt-Pruf to help create a protective coating on plant foliage and stems, allowing your trees and shrubs to retain moisture during these periods of stress. Wilt-Pruf is a natural, biodegradable product, too, that reduces water loss. It can be used on trees, as well as shrubs like boxwood, rhododendron, azalea, and holly.
Choose the right snow and ice removal professional. Hiring the right commercial snow plowing company can be tough. No two companies are the same, and Northeast Ohio winters are always unpredictable. The goal for any commercial facility eager to avoid business delays due to random snow and ice storms is to plan early and secure your contract so you aren't taken by surprise and have a professional on board to help in a pinch.

Embrace dormant pruning.

Dormant pruning is best done in late November through mid-March when plants are dormant. During this process, a commercial landscape management professional will make larger cuts that clean up trees and shrubs and encourage growth. Pruning at this time of hibernation as part of seasonal landscaping ensures more detailed pruning without jeopardizing the health and vitality of your plants.
Snow and Ice Management on Commercial Properties
A harsh and unpredictable winter can wreak havoc on a Northeast Ohio commercial property that needs clear entryways and all-hours access, as well as open and accessible sidewalks and parking lots.

That's why you need a reliable and efficient commercial snow and ice management professional on your team to ensure limited business disruptions – no matter what kind of weather Old Man Winter delivers.
Look for these key solutions for this time of year from your commercial snow services provider.
A contract that covers the winter season. In Northeast Ohio, commercial snow removal contracts typically run from December 1st through March 31st every year. This should be stipulated in your contract and should fall naturally in line with when your regular landscape maintenance services begin and end. Once you have a signed contract in place, your service provider should be able to accommodate you during storms that fall outside of this window.
A list of required services and how you'd like them delivered. Many commercial snow removal companies offer snow removal services in two ways: per-occurrence or seasonally. Per-occurrence means you pay each time a company plows or salts your property. All-inclusive or seasonal means you pay a monthly rate for four months and you are covered no matter how many snow and ice events occur. You can also get a combination of the two based on your needs and budget.
An understanding of above-and-beyond costs. Some winters can be especially tough when snow piles excessively and requires removal from your site or ice is so thick it might need hand-chipping. These would be services that require hourly rates. Make sure you know what the cost is for this extra equipment and manpower in case a bad winter arrives.
Sustainable Landscaping Practices for Northeast Ohio
Sustainable landscaping typically serves two important purposes on a Northeast Ohio commercial property: improving the environment and cutting down on maintenance costs.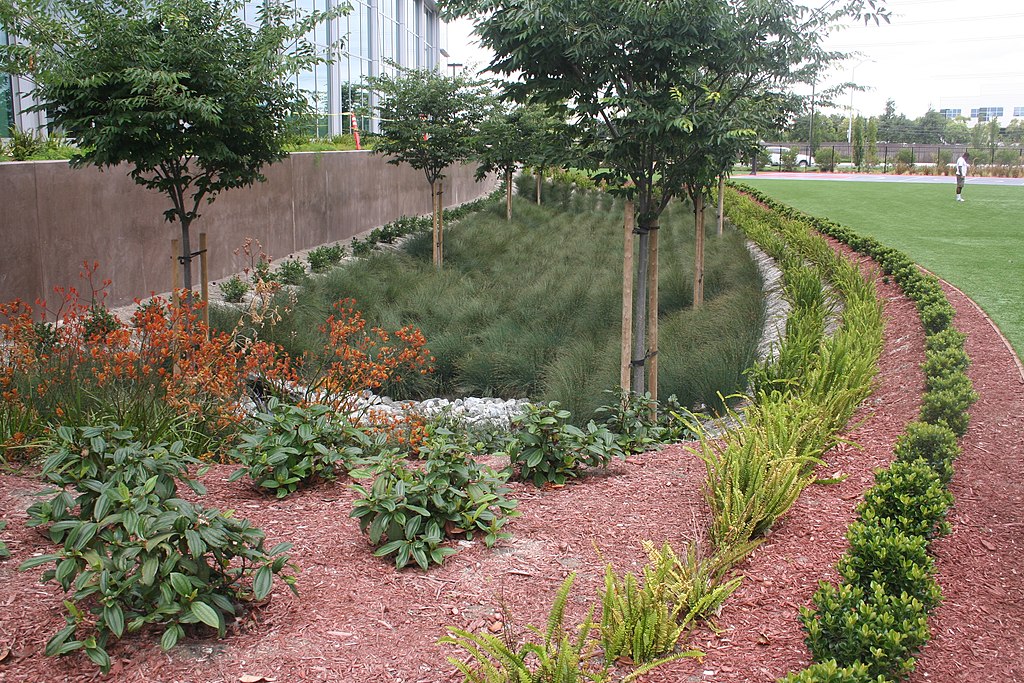 Try these 5 sustainable landscaping ideas to bring this element to your commercial site.
Plant a butterfly garden. These natural spaces are full of native plants that attract a variety of species, including bees, butterflies, and birds. Some facility managers have even been able to use these areas as places for people to enjoy on their sites. Not only does this sustainable landscaping concept improve the local environment, but it also cuts down on maintenance costs.
Try a bioswale. Excessive water use can be one of the biggest costs in a commercial landscape, so reusing water, filtering water, or saving water can all be positive property perks. One way to manage stormwater is called a bioswale. By definition, this area is a ditch or swale that uses native plants and gravel to help slow water flowing off of parking lots and concrete paths, while being an aesthetically pleasing addition to a site.

Incorporate prairie grasses.

There are many ornamental grasses that make attractive, low-maintenance, sustainable choices. Planting grasses on hillsides can even help with erosion control.
Add a rooftop garden. More commercial businesses are converting their rooftops into small gardens and green spaces, allowing their tenants or employees a space to soak up the sun or take breaks in nature. This sustainable landscaping initiative not only looks good, but also cools the building because of the shade the plants provide.
Practice dormant pruning. Dormant pruning of trees and shrubs may seem like a regular maintenance task, but it does incredible amounts for boosting plant health and reducing maintenance on your site. Trimming trees when they are dormant (December through March) can cause less damage, too.
Benefits of Professional Landscape Management
There are many reasons companies bring in outside help to take care of commercial landscape management to keep their properties looking professional and presentable.

Let's review the top ones so you can make a better decision for your own commercial facility.
Bringing in a Goal-Focused Partner
When you partner with the right commercial landscape professional, they will take note of your specific goals. Then they include this in their plan to address your facility's basic needs, as well as help you reach your other long-term goals.

They also have experts in important areas, including seasonal color, hardscape installation, and snow removal. This specialized knowledge can benefit you and make your property look its best.
A Focus on Commercial Landscape Management
An in-house crew at your facility can be pulled in so many directions to help complete last-minute tasks, in addition to regular duties. This can leave the grounds at the bottom of their to-do list.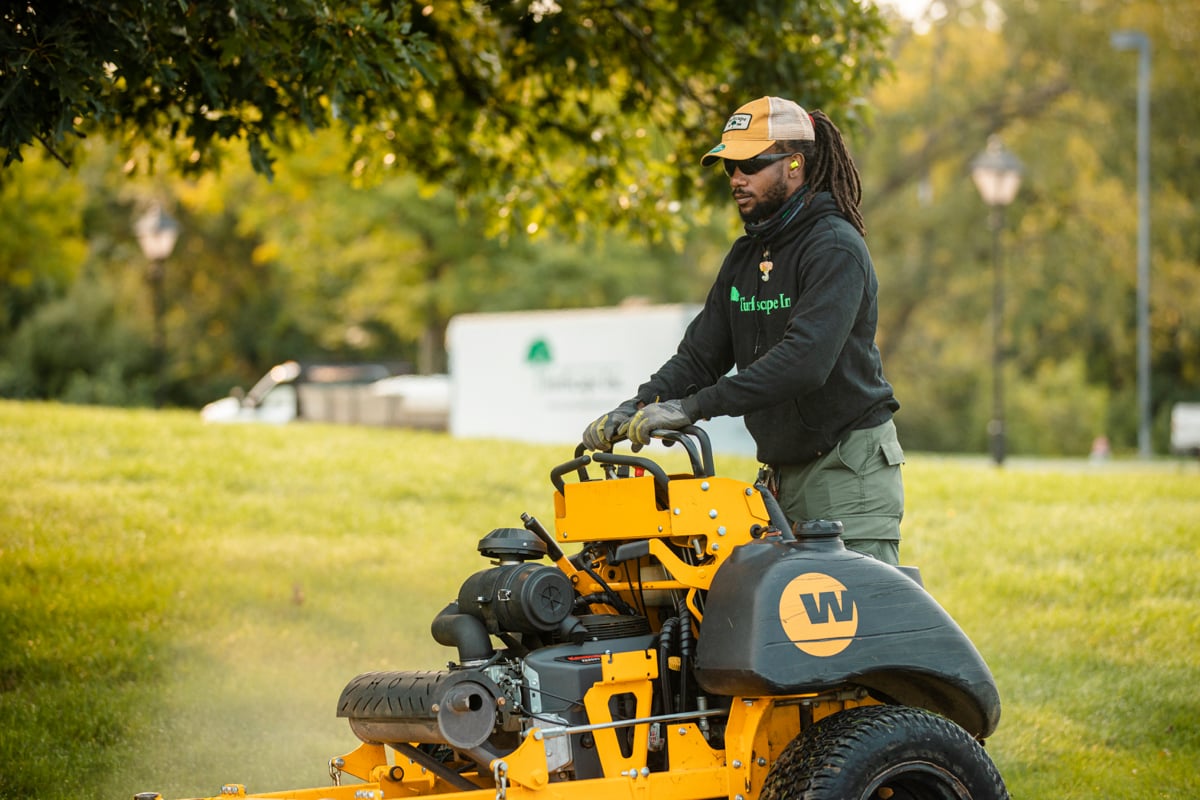 A professional commercial landscaping company, on the other hand, can keep your exterior top of mind. They train their crews on best practices so trees and shrubs are pruned the same each time, the lawn is mowed to the proper height, and snow is plowed in the most immediate areas first and piled in the right places every time. Since their focus on the outdoor areas is laser sharp, they take note of and remember your preferences so this regular and reliable work remains consistent.
Budget Savings
Employing an in-house crew for commercial landscape management means you need to hire employees, provide benefits, purchase equipment, and maintain that equipment.

This can all add up.

Outsourcing this work to a professional company can save you all of this headache and reduce your expenses.
A Better Looking Property
Your building's curb appeal is important because it helps create an environment that exhibits a positive first impression.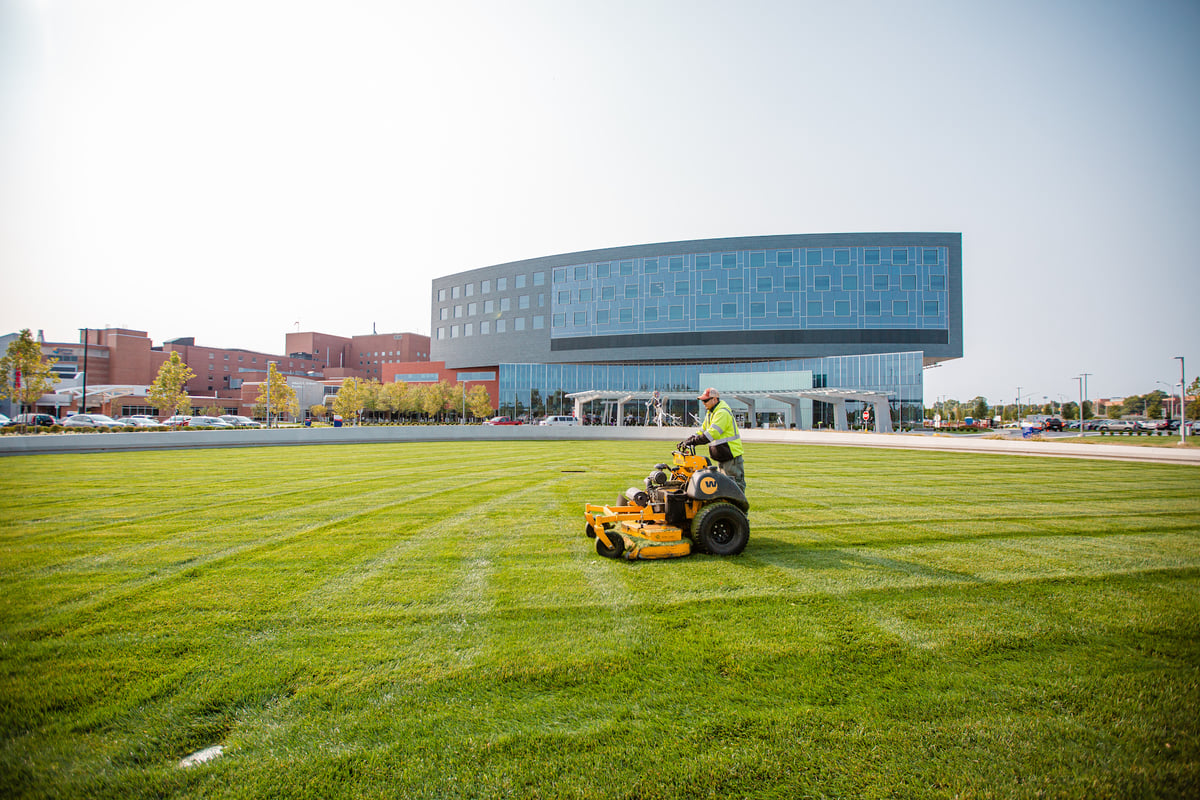 The right professional landscape management contractor will take as much pride in your property as you do because their company name and reputation is visibly on the line. They want to show off what they can do best. Landscape professionals are also motivated to do a great job because they want to keep your business. This means they will have a highly skilled and well-trained team ready to tackle the job.
Choosing the Right Commercial Landscaping Partner
If you're looking around your commercial landscape and not seeing the polished and professional-looking space you think your property needs, it might be time to ask yourself if you're using the right commercial landscaping company in Northeast Ohio.

You want to choose a landscaping company that's going to work as a part of your team keeping your site thriving. Let's look at the key characteristics you need to look for to find the best partner for your property.
Commercial Landscape Experience
When you hire a commercial landscaping company in Northeast Ohio, they should talk to you about your specific goals – everything from snow removal to seasonal color to designing outdoor environments.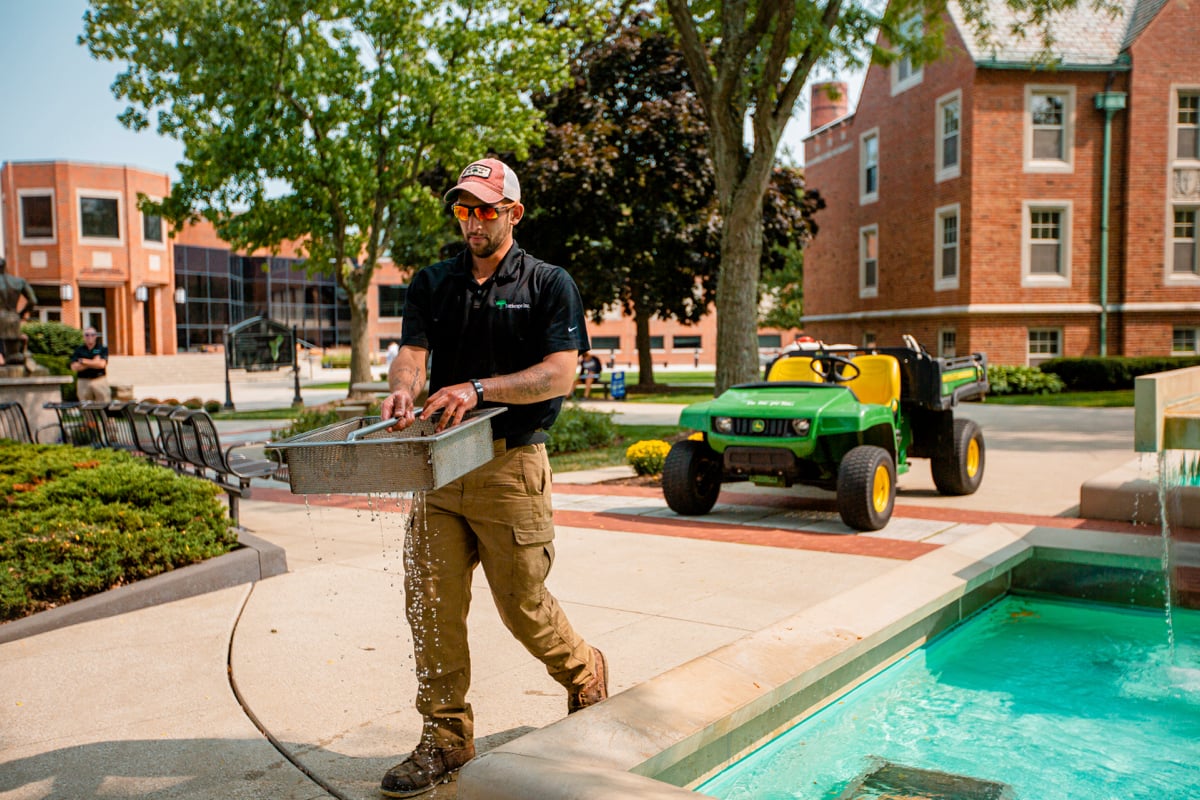 To achieve these goals, they have experts on their team with experience in the areas that matter most to you. This trained team and specialized knowledge ensures your current and future goals are met.
Contract Details and Service Frequency
Depending on the size of your commercial landscape site, you may opt to hire a commercial landscaping company to tend to your site weekly or maybe you require a dedicated crew that is on your property full-time each day of the week. Either way, you want a team that can do what you need for your property.

To find this team, you need to understand their full-service offerings, how often crews will be on your property, and how they work. The right commercial landscape partner for you will be transparent and open about the services they provide, how they conduct business, and their strategies for special requests you have. They should be able to answer all of your questions and detail these needs in your contract.
References For Your Review
When you choose a commercial landscape company, you want one that can provide you with references and examples of their work so you know what they can do and can do your research prior to hiring them.

This way, you are confident in your final choice and know what you're getting into.
A Safety and Security Focus
When you hire a commercial landscaping company in Northeast Ohio, you are also looking for one that will help enhance safety on your commercial property.

Commercial properties are public businesses that encounter traffic at all times of day and, in some cases like hospitals and medical facilities, night. This makes safety and security a key part of a facility manager's priorities.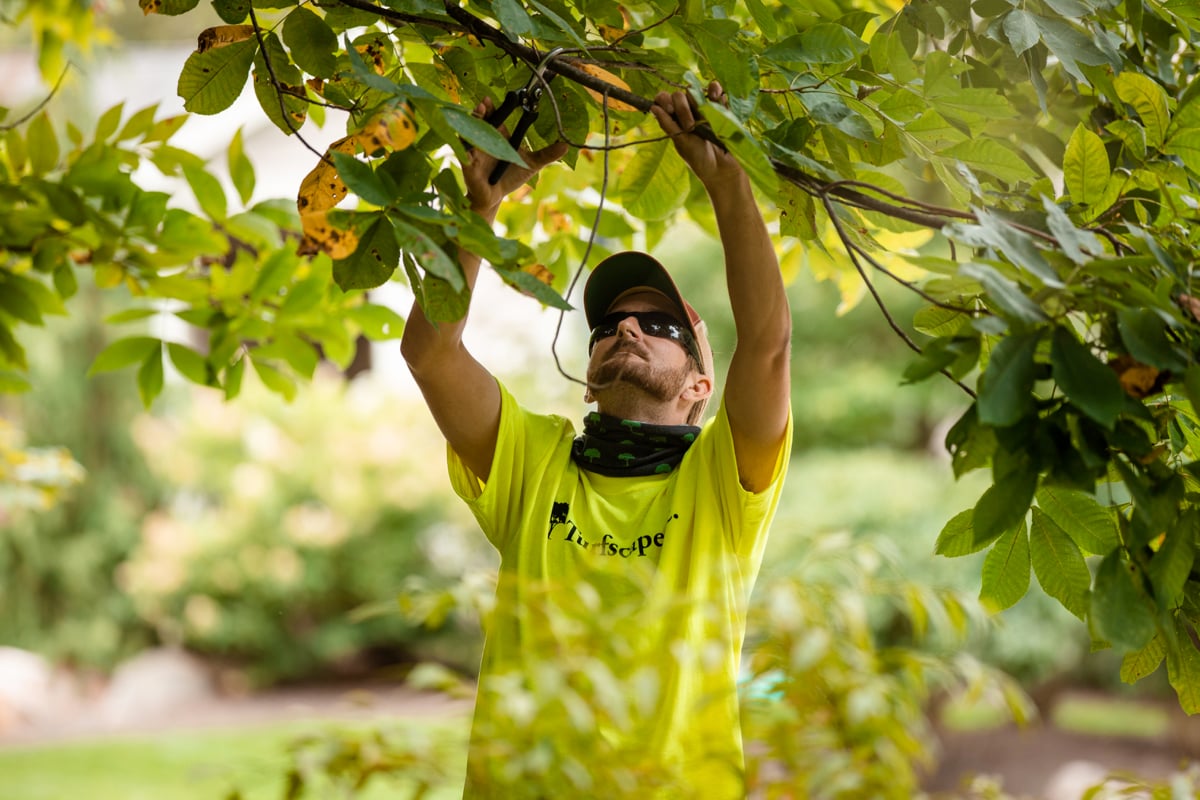 Some key outdoor maintenance tasks that can help include regularly trimming trees and shrubs so they aren't a hazard or in the way, as well as taking care of any drainage or water issues to avoid slippery areas, cleaning off debris after mowing, and repairing hardscapes to limit trips and falls.
Regular and Consistent Communication
You want to choose a landscaping company that can keep you updated on your property's happenings.

Brief monthly meetings, in addition to quarterly or at least biannual meetings for review and redirection, help maintain an ongoing dialogue. This helps you know your needs are being met.
Improved Value
Your commercial landscape professional should be completely transparent about the costs involved in your outdoor maintenance, as well as the costs of additional services or enhancements. They should also be willing to discuss your budget needs and challenges -- not only at contract renewal time, but also when you need it and are having budget issues or questions.

You should also be able to expect a high level of value from your commercial landscape service provider. Your partner should remove your headaches – not add to them.

Hiring a commercial landscaping company is an important decision. This is because your service provider doesn't function as just a vendor; your commercial landscape crew becomes an integral part of your facility management team. They should make your life easier and less stressful – all while providing your site with a professional, polished look you love.

We'd love to help you with your commercial property needs and make your property management job easier. Give Turfscape a call today so we can be that landscape partner that helps you improve your facility's curb appeal.

Image Source: bioswale