Colleges and universities across the country are known for having well-maintained and beautiful landscapes.
Those vast expanses of green, mixed with pleasing pops of color not only boost your educational institution's brand and reputation, but they also draw more students to your organization and give them additional reasons to brag about their alma maters.
Picture the Stanford University campus. Sure, it's known for world-renowned academics, but it also boasts an iconic Stanford "S" of red flowers, ornately decorated with other reds, whites and greens, in its quad -- the heart of the campus, its oldest and most iconic section. Why these colors? Because black, white, and cardinal are the school's colors -- its pride and joy. What better way to exhibit school spirit than right in its landscape?
Well, Ohio has some incredible campuses, too. And we'd like to acknowledge some who have great commercial landscape design, as well as suggest some color ideas for others that inspired us with their school colors and spirit.
Creative Seasonal Color Options for Northeast Ohio Colleges and Universities
Seasonal color is used in a college or university landscape to add flowering beauty to key campus focal points. Annuals, more than most other plants, enliven those big, eye-catching areas with the brightest of shades.
In fact, color can have more impact on a commercial landscape design than any other design element. But the trick is making sure you use color in the right areas and then maintain those areas so they pop versus sag due to poor maintenance.
To inspire your commercial landscaping color brainstorming, here are some of Turfscape's color ideas and suggestions for Northeast Ohio campuses and universities.
John Carroll University
The Society of Jesus founded John Carroll University in 1886. The Blue Streak Nation, as they refer to their sports, boasts blue and gold as their major colors.
Turfscape is currently working on a property enhancement plan at the 62-acre university campus where they are improving many areas of the landscape. The goal is to brighten the campus and show that it takes pride in its appearance.
This commercial landscaping master plan includes a display of annual flowers each season.
Turfscape planted bulbs this fall to come up in spring 2021 that include hyacinth and allium.
Hyacinth are fragrant, blue flowers -- iconic signs of early spring. The flowers come up in clusters of 20 to 50 bell-shaped flowers growing from long, central stems. Planting these bulbs in the fall gives them a cold period of eight to 12 weeks to help initiate this spring blooming.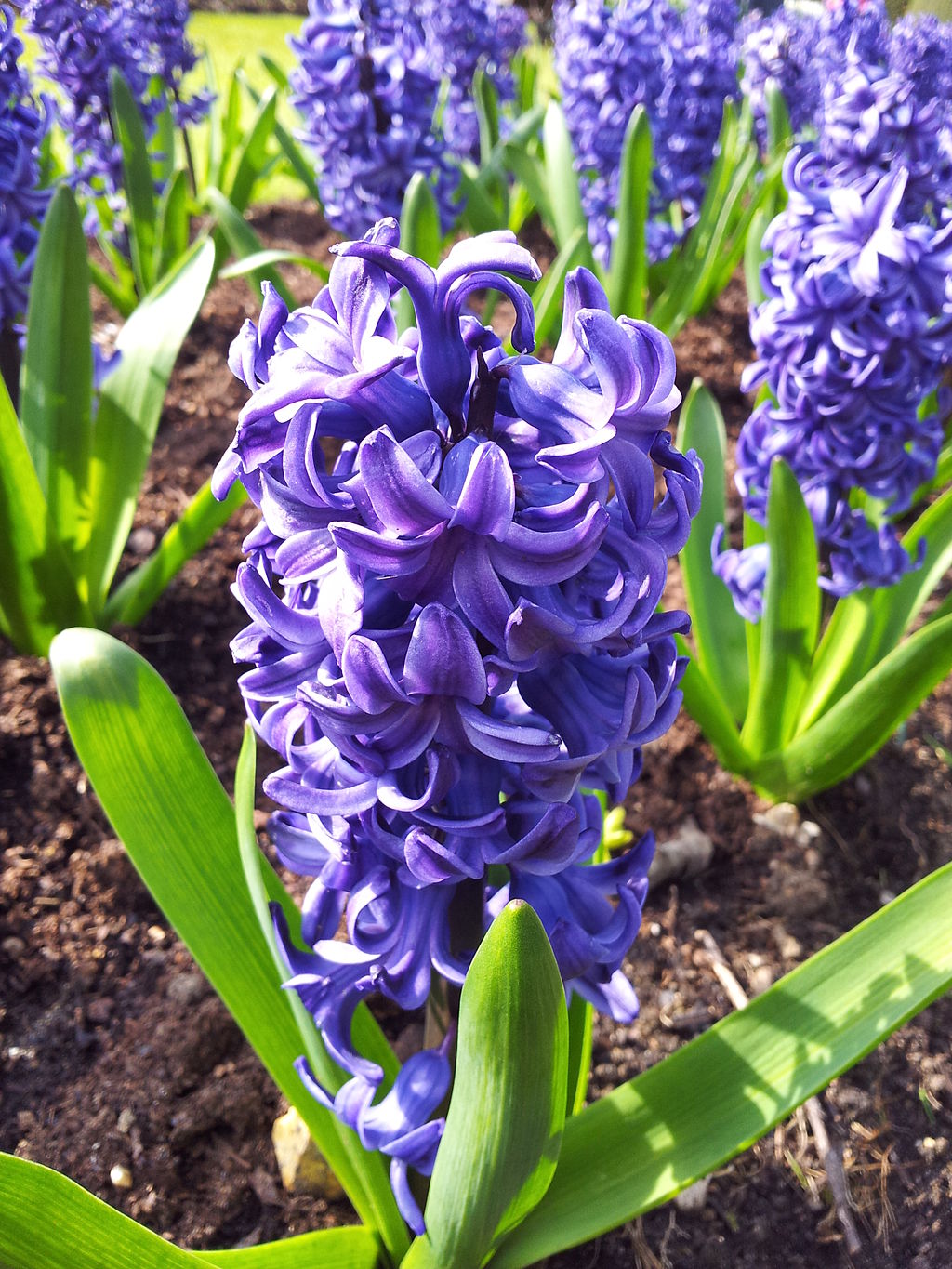 Turfscape also planted allium to bring a dramatic burst of color with large fluffy globe-like flowers in yellow and blue (they also come in white and purple). These lollipop-like blooms grow on top of slender green stems that grow as high as 4 feet tall. These easy-to-grow bulbs even bloom in late spring or early summer to fill the gap between spring bulbs and summer perennials. They are also deer-resistant, which is a big help on John Carroll's campus since deer are prevalent.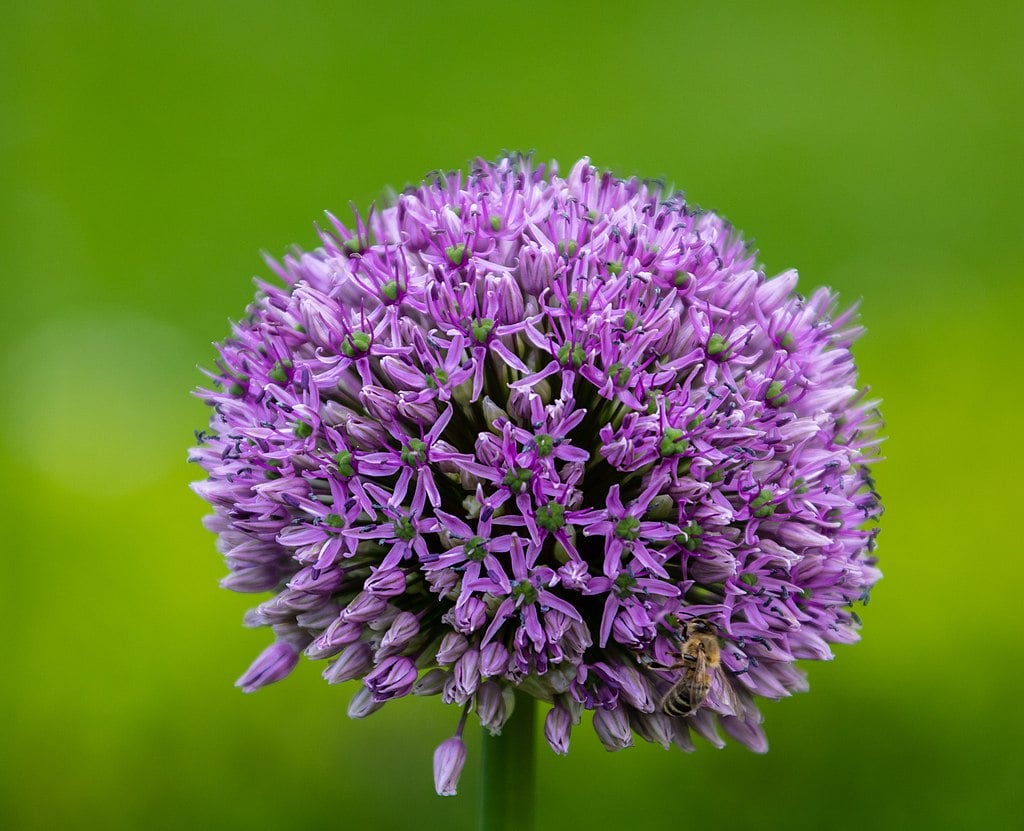 In the fall, the lime-yellow potato vine is a great burst of gold that does well in that urban setting. Mums and pansies round out the blue and gold color scheme.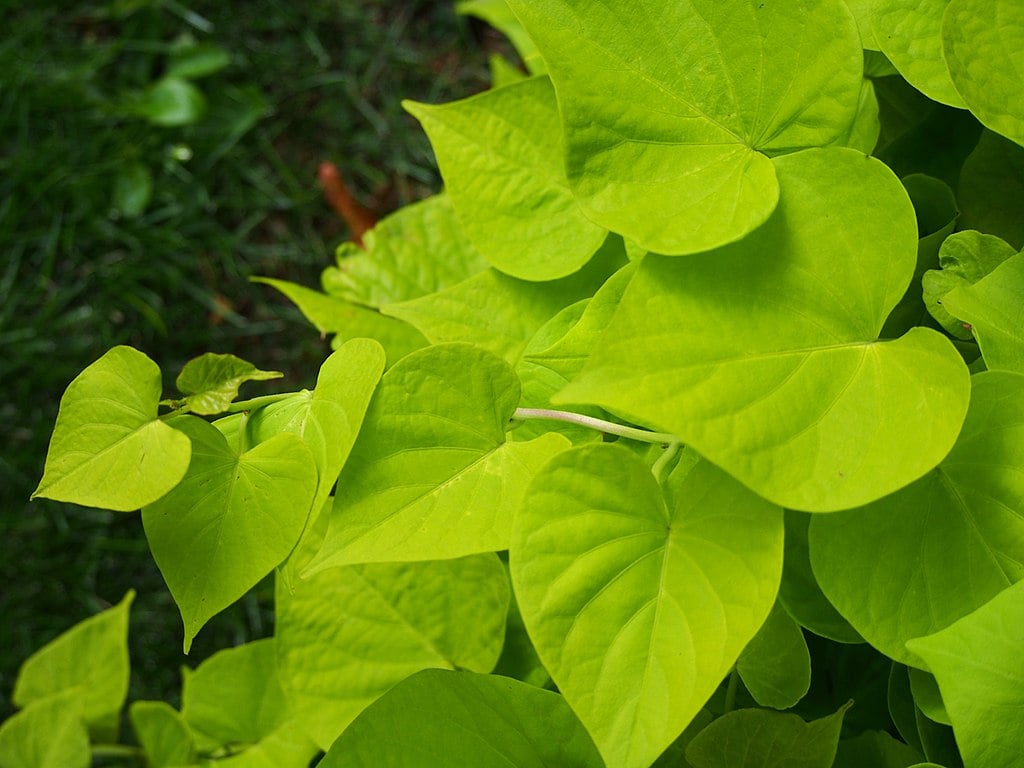 While blues and golds can be embraced and used in any form on John Carroll's campus, one color rule the university gave Turfscape is no purples and whites because these are the colors of their nearby competing university: Mount Union.
Some other universities in the Northeast Ohio area that can utilize these blue and gold shades include Akron University and Kent State University. Turfscape cares for a satellite campus for Kent State, and the college focuses on a vast array of yellows to represent the gold in its Flashes' blue and gold school colors.
University of Mount Union
Home of the Purple Raiders, Mount Union was founded in 1846 with an academic program grounded in liberal arts. And like their sports team name boasts, their colors are purple and white.
The Alliance, Ohio-based university was just voted the favorite university in Stark County for its eighth consecutive year.
To dress up Mount Union's 123-acre, picturesque campus, Turfscape's professional landscape designers suggest many flowers that come in brilliant shades of whites and purples.
Pansies and violas have popping shades, and purple and white are definitely a part of the options, in addition to yellows and reds. While the flowers look similar, pansies are the colorful flowers with "faces" in the center, or dark centers giving them personality. Violas, on the other hand, tend to be more tolerant of both heat and cold, while both flowers do prefer cooler, spring and fall temperatures.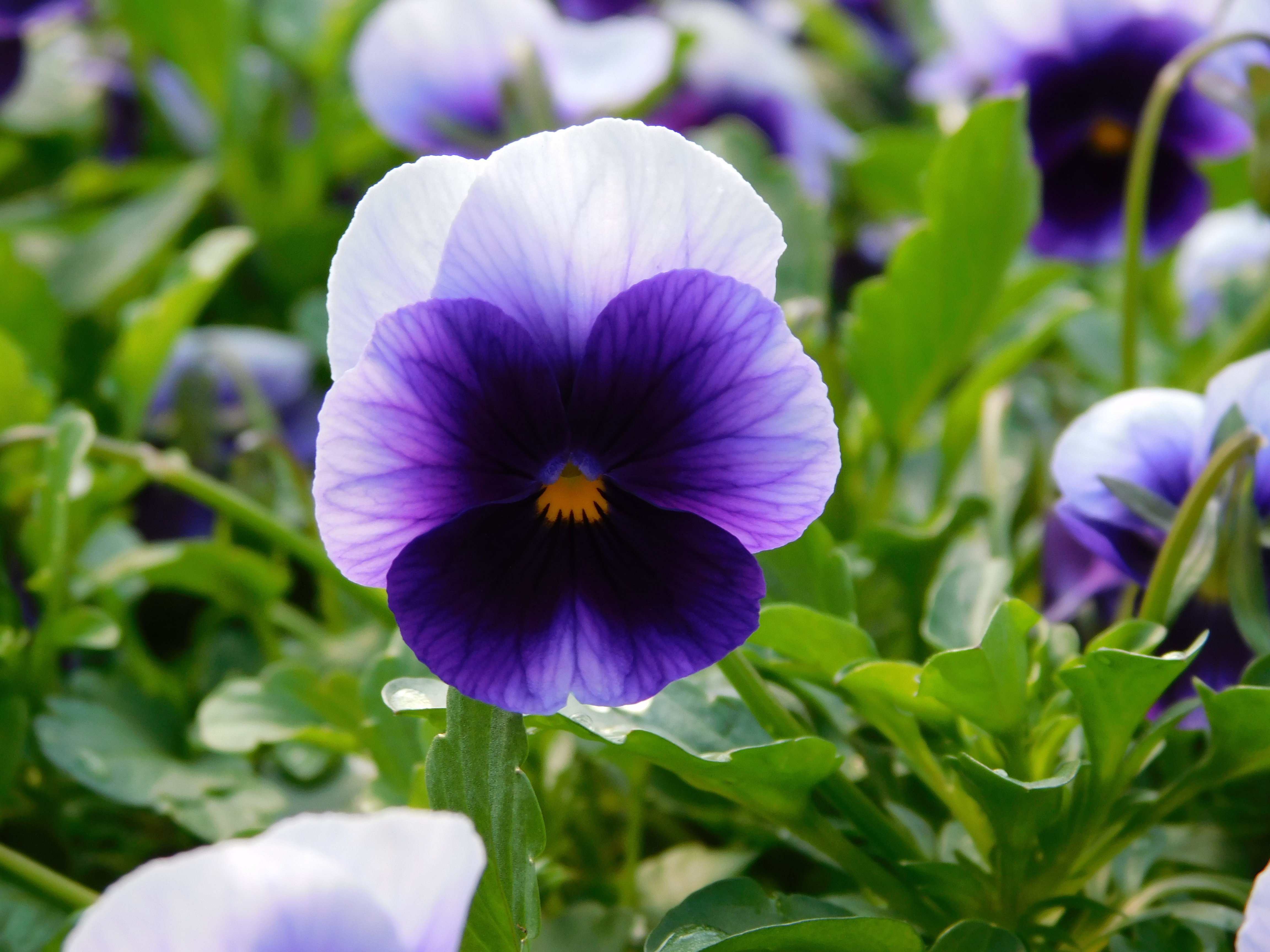 Both are go-to flowers that provide reliable color year-round in commercial landscapes, whether in a monochromatic scheme or planted with mixed colors.
Walsh University
The Brothers of Christian Instruction started Walsh University in 1960. Here, the Walsh Cavaliers march in the colors of maroon and gold.
In addition to pansies and violas in spring and fall, Sunpatiens are great options to reflect those school colors in the 136-acre university campus landscape beds.
Sunpatiens offer uninterrupted color from spring to fall, meaning the bold shades won't stop all through the growing season. Plant them in both shady or sunny areas for generous, round masses of showy flowers in whites, reds, pinks, and magentas that don't need a ton of maintenance and are disease resistant to boot.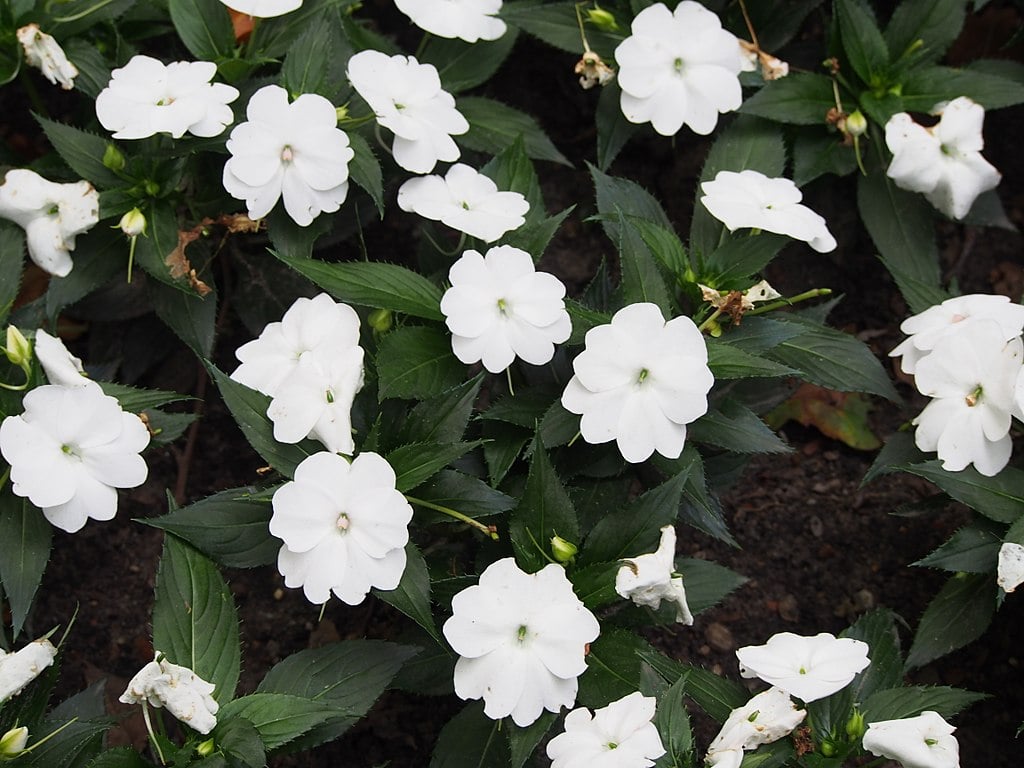 Shrubs that turn red in the fall can also benefit commercial landscape design like that at Walsh University that has maroon as a main color.
Cleveland State University
Established in 1964 as a state-assisted university, Cleveland State University's roots go back to the 1880s when the Cleveland YMCA offered evening courses, then becoming Fenn College before officially becoming Cleveland State.
On these 85 acres, forest green and white prevail for the Vikings sports teams.
As Turfscape's design experts point out, these colors come in abundance in the landscape. Starting with bulbs that introduce spring, tulips and hyacinths can bring white to an evergreen backdrop. Sunpatiens can continue that color through summer.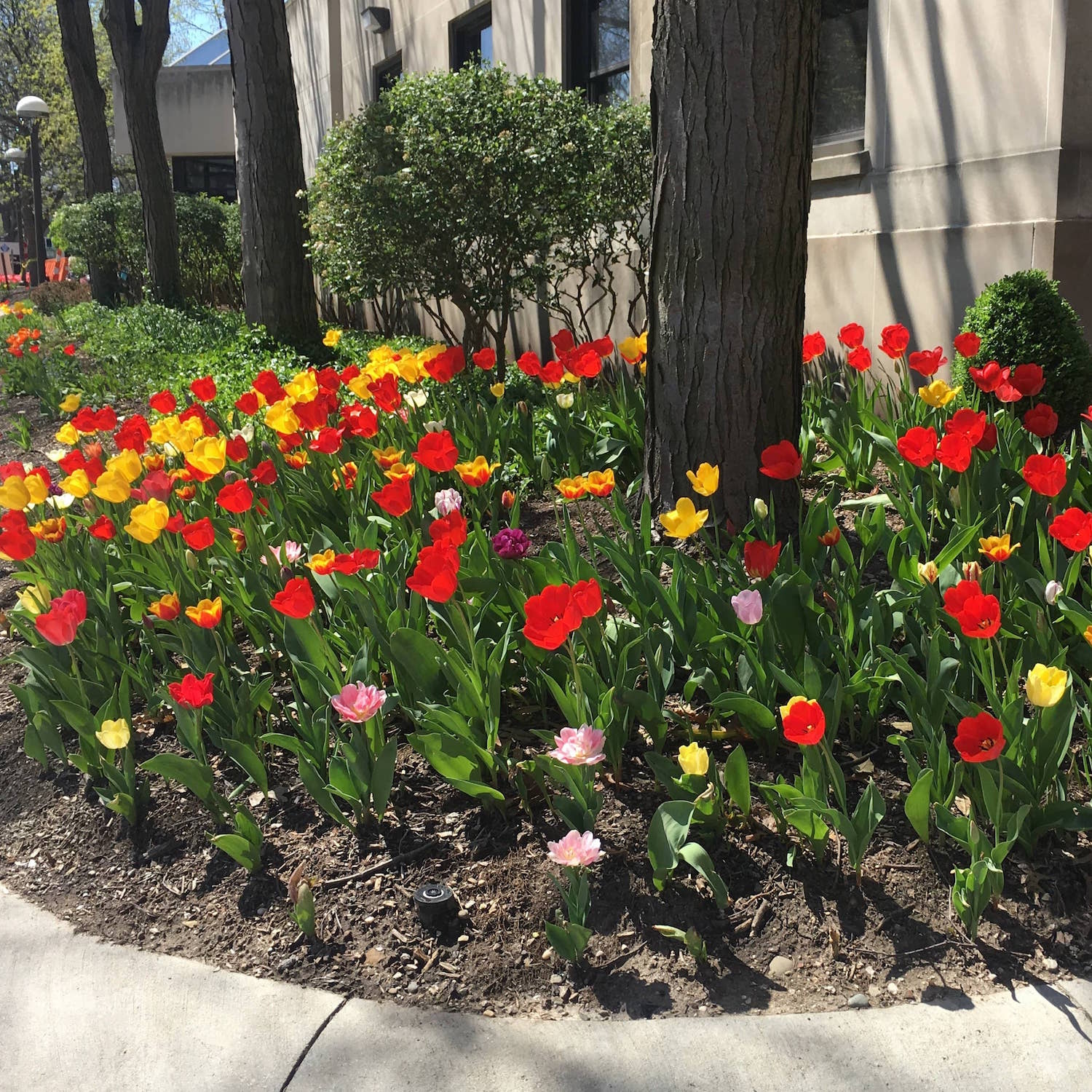 Then, in fall, mums can help close the season right on a commercial landscape. Mum blooms last for weeks and each plant is full of them. The color options are abundant and can be mixed to match almost any school spirit scheme. For Cleveland State, the whites are an easy choice mixed with all the greens the landscape can bring in perennial, tree, or shrub form.
Baldwin Wallace University
Baldwin Wallace University is an independent, liberal arts and sciences educational facility that was founded in 1845 in Berea, Ohio.
The Baldwin Wallace Yellow Jackets play in brown and gold. While golds can be used in abundance on the campus from tulips to daylilies to mums and everything in between, brown presents some challenges because flowers aren't readily available in that shade.
That's where commercial landscape design can get creative. As an example, for one of its hospital clients, Turfscape painted containers in black to match the building's architecture. For Baldwin Wallace, large containers can be painted brown or even a metallic bronze to bring in that school color to the hardscape, mixing in its yellow partner with the flower design.
Crank Up The Color On Your College Or University Landscaping
School colors and spirit give every Northeast Ohio college or university unique chances to dress up their landscapes through the seasons with punchy tones and textures in highly visible outdoor spaces.

Think the landscape at your educational facility could use a refresher to boost attendance, morale and school spirit? Maybe you know you want to focus on certain colors and stay away from others, but aren't sure which plants to choose. Or maybe your urban environment is challenging, and you don't know whether those annuals would perform well in your space. No one wants to waste money on the wrong plants or the time necessary to install and care for them.

A commercial landscape design update or enhancement plan could be just the solution your campus needs.
Learn more about our commercial landscape design and what we've done for other Northeast Ohio colleges and universities by giving us a call today. We'd love to start you off with a free quote and discuss your options together so you can make a great choice for your faculty members and students.
Images: Hyacinth, Allium, Potato Vine, Sunpatiens