Since 1988, the culture at Turfscape has been cultivated and nurtured.
From day one until now, I knew that the landscaping and snow removal industry was a tough, grueling business that required hard working, dedicated individuals. I knew to be successful as a company, I had to fill our team with employees that were passionate about the green industry, had immeasurable work ethic and understood the essence of Turfscape, including its core values. In my opinion, core values are a company's DNA. Many companies draft values, hang them on the wall and they're never discussed or referred to again. Not at Turfscape! We documented our core values 15 years ago and refined them a few years back. They are talked about in every company meeting where stories are shared, reinforcing the importance of each of them. Our core values are what set us apart from our competition and why we have been a commercial grounds maintenance market leader for close to three decades.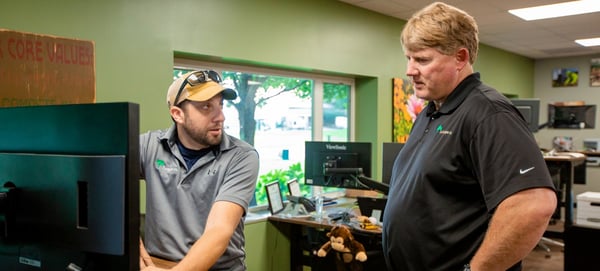 What are Turfscape's core values and how can you define each of them?
Do the Right Thing
The true test of a person's character is that they are willing to do what's right even if no one else is watching. If we damage something on a property, we are going to admit it, take responsibility for it and do the right thing by fixing it without a hassle. There have been numerous times that there isn't "proof" that we're the ones that damaged something, but we choose to take the higher road. We don't argue with the customer, we repair or replace the item and move on. Takeaway: We have learned that doing the right thing builds trust with our customers and strengthens the partnership between us.
Compete in Everything We Do
Turfscape's culture is an environment based on competition. Many of our employees coach sports or have played a sport in high school or at the collegiate level. As a result we have a competitive culture that competes in everything we do. From customer service…to efficiency…to sales…to quality…this competition keeps us on the top of our game. Even when we are having fun, we are competing. This has been displayed during our "Turfscape Olympics" where we have set up competitive events like backpack soccer, truck push, wheelbarrow races, tug of war and flag decorating by Turfscape location. Takeaway: We feel that encouraging a competitive environment develops our employees, makes our company stronger and creates a more desirable experience for our customers.
Humbly Confident
The Turfscape team is confident about what we do and how we do it. That doesn't mean we are arrogant or boastful. It means we are educated about the commercial landscape and snow & ice management industries, understand the properties we service and are confident enough to discuss such internally and externally. We aren't afraid to humble ourselves and always do what we say we will do…no matter how little the task. Takeaway: You want to surround yourself with employees that are humbly confident enough to never say "that's not my job."
Have Fun at Work
At Turfscape, we work hard, but we play hard too. During the winter we have company outings at places like Sky Zone Trampoline Parks, Whirly Ball & Laser Tag Complexes or a local ski resort to Polar Blast Snow Tube. In the summer, we attend an Akron Rubber Ducks baseball game, the Akron Zoo or rent out a room at the House of Blues and hire a band. We also have numerous cookouts throughout the year for our employees. As one of them stated "I can't even begin to describe the feeling of pulling into the shop after a hard day's work and being welcomed with food. Unbelievable." Some of these events are simple to plan and some are more involved. Some of these events are for employees only and some involve their families. Regardless of the situation, we feel the time spent at our have fun at work events is crucial to the success of our company and our employee's happiness. Takeaway: It's essential for high-performing teams to have great working relationships but friendships "off the clock" are just as important.
Turfscape Passion
This is the never say die attitude as it relates to customer service. Leading by example to take care of our customers even if it means making a personal sacrifice is what "Turfscape Passion" is all about. The exceptional employees at Turfscape have this and these individuals don't have to be told to do something, they just do it. When our team demonstrates Turfscape Passion it allows us to develop partnerships with our customers and team members. Making a difference in people's lives like this can only ultimately result in unlimited opportunities for all. Takeaway: Figure out what you're passionate about and what your company stands for and hire employees that have the same values and vision.
As you can see, at Turfscape our core values are how we roll as a commercial grounds maintenance company. They define who we are and what we are about. They are our road map and act as our guardrail to keep us on the right path. If you are interested in discussing your company's core values or focus, start a discussion below – I'd love to hear what you're passionate about and how that can positively affect your company.