Maintaining the lawn and tending to trees and shrubs at your industrial facility might seem like easy tasks. Just water them occasionally, and they grow just fine, right?
Not so fast. There's more to it than that. If you ignore your landscape assets, they suffer from neglect and then your commercial property is filled with unkempt, dying plants.
It looks bad. You look bad.
While you certainly don't need to devote all of your attention to industrial property landscaping, there are some things you can do each season to ensure your property looks attractive and professional, reflecting positively on you and your business.
Landscaping Ideas For Industrial Properties
Having an annual maintenance plan is the key to great looking industrial property landscaping.
This way nothing gets forgotten or left out as you get busy and landscaping falls to the bottom of the priority list. This is important because Mother Nature is always delivering extreme weather conditions. You don't want to forget about your property's needs and then find yourself looking at drooping plants or brown grass.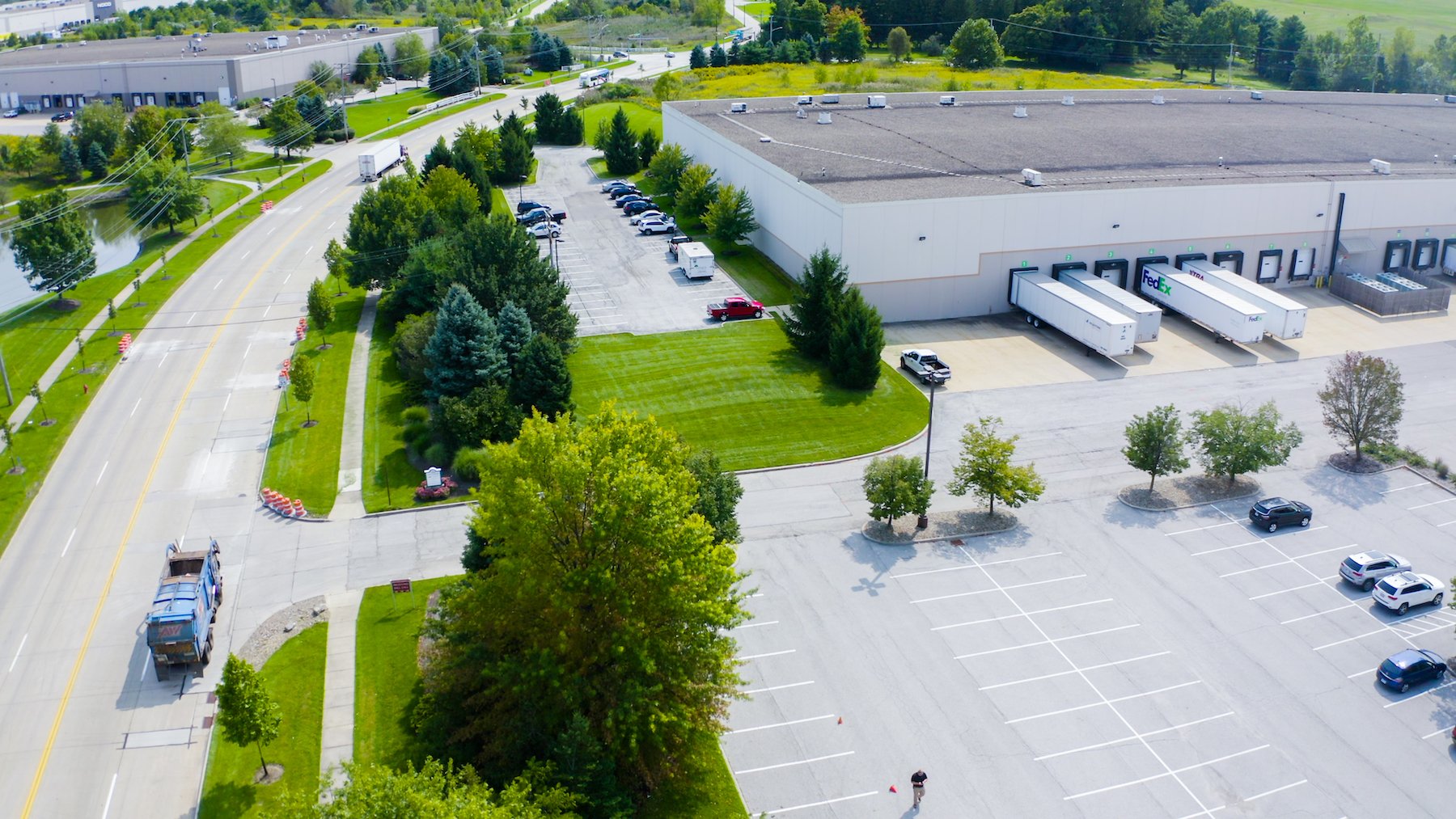 Here are essential landscaping tasks that keep your industrial site looking proper and polished.
January to February
During the early part of the year in Northeast Ohio, much of your landscape is hibernating under a blanket of snow. So there's not a ton of work you could be doing out there.
But this is a great time to be proactive and meet with your commercial landscape team to make your plans for the rest of the year.
Maybe there are some enhancements or new plant beds you'd love to implement. This is the perfect time to create and review these design and improvement plans. Your landscape service professional can give you more attention at this time, and you can focus on special projects, because you don't have peak growing season landscape work on your plate.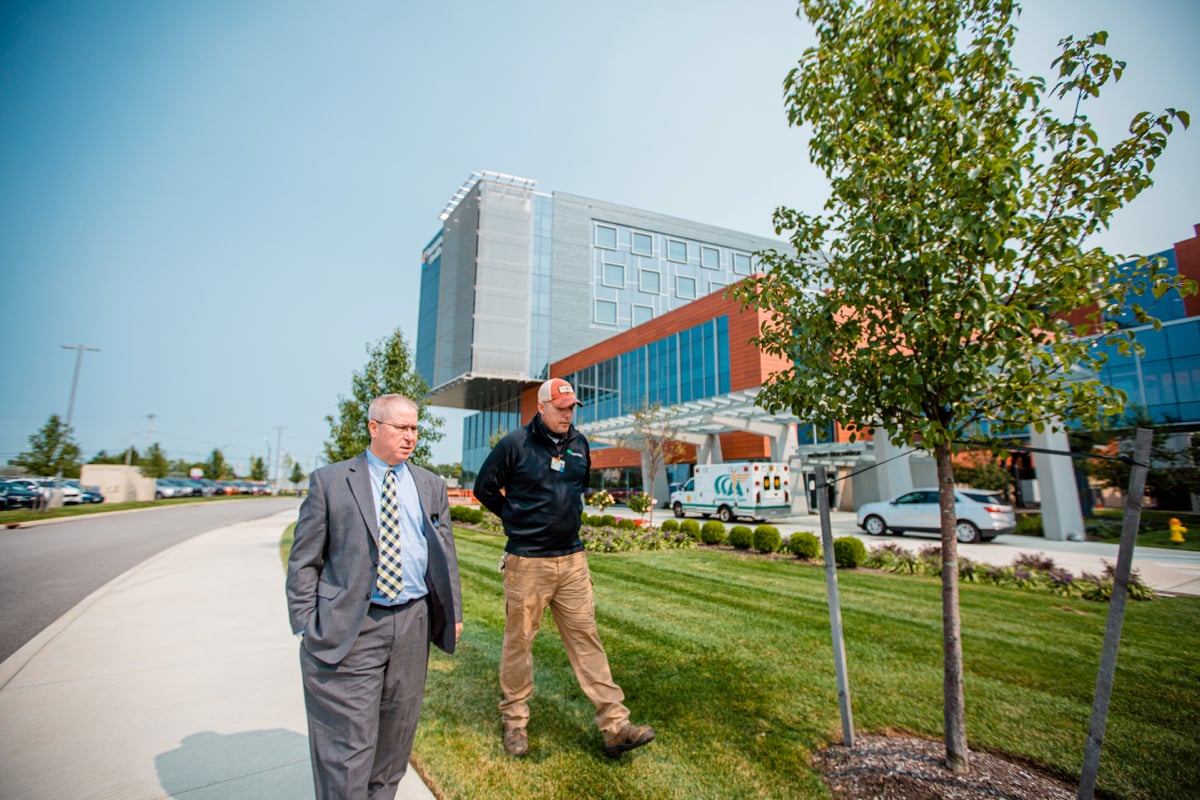 Get a jumpstart on your landscaping for industrial properties, and you'll benefit from a boosted reputation.
Also, if you have larger trees on your property, this is an ideal time for dormant pruning. Because deciduous trees have dropped their leaves, we have great visibility of dead or dying limbs and can clean these up to eliminate safety hazards on your site.
March 1 to May 1
Once March comes to Northeast Ohio, it's time for spring clean-ups.
After a rough winter where wind and melting snow piles have moved things around your property, it's time to collect branches, twigs, and trash, as well as rake and repair turf.
This provides an instant property facelift, letting your employees and customers know you care about your brand and providing a great working environment.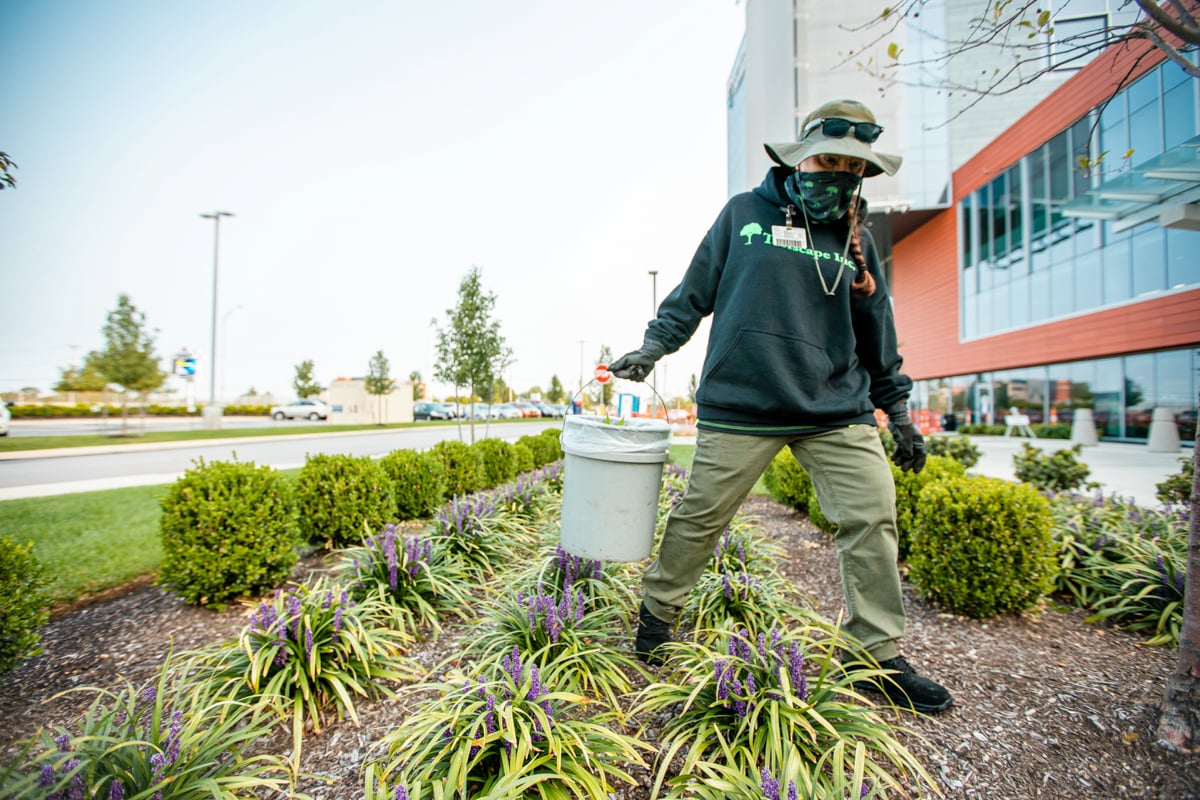 Bed edging is another great task to do at this time for cleaning up your landscape bed edges and sharpening your sites' appearance.
After those two tasks are accomplished, it's time to mulch. Like icing on a cake, this adds that final visual impact, and also keeps weeds down and moisture in.
Speaking of weeds, using pre-emergent herbicides in spring is a way to stay ahead of those early season weeds.
As a final splash of color while you wait for other plants to bud and bloom, adding spring color in the form of annuals like pansies to your industrial property landscape can perk up entryways and other property focal points.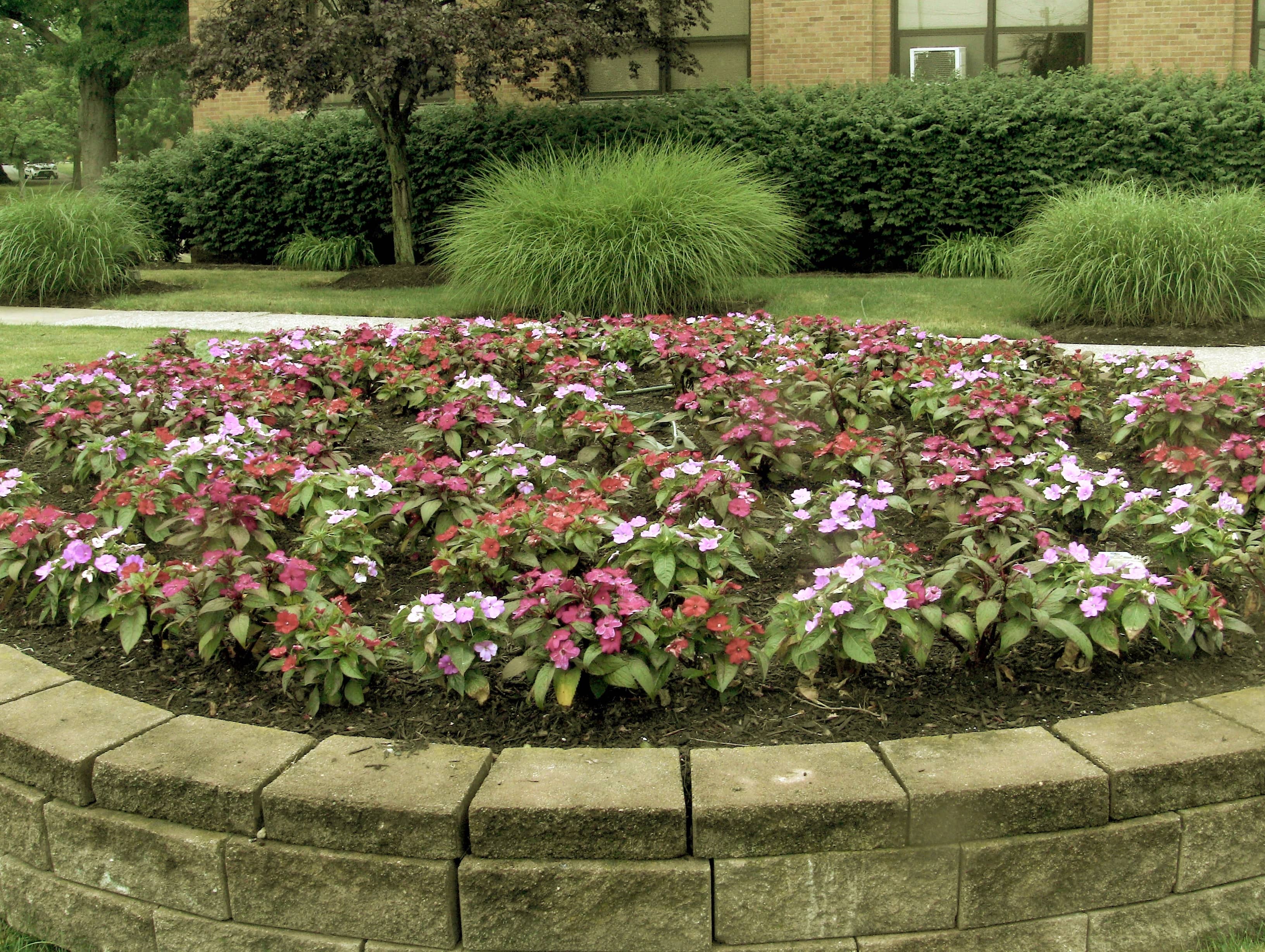 May 1 to September 1
Continuing the color show from the spring into summer with some flowers at key focal points is a great way to brighten landscaping for industry properties.
Begonias provide rich, continuous color. Canna lilies love full sun and add some drama. Geraniums, SunPatiens, petunia and lantana can also add variety in terms of color and texture, as well as staying power in hotter conditions.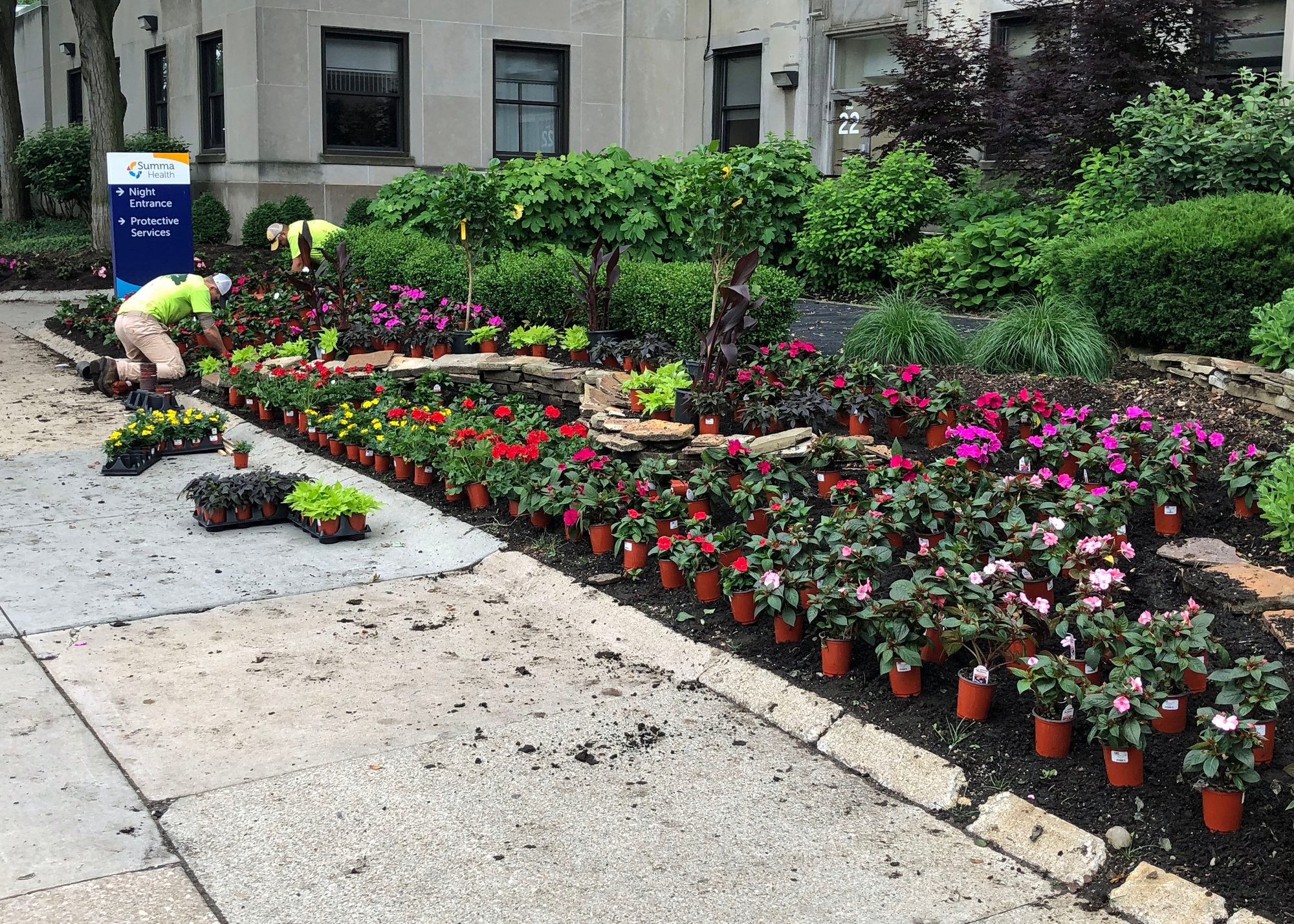 Fertilizing and treating your lawn with grub control and/or a mid-summer surface insect control treatment can help tackle any lawn issues you might have and keep your turf thick and green.
Summer pruning will also occur at this time of year to shape plants and keep them tidy.
September 1 to December 1
As you head into fall, your industrial facility landscaping should be doing well from the previous months of attention you've given it. Just a bit of proactive maintenance can really keep things shining.
In Autumn, transitioning from summer to fall color can freshen entryways and focal points, and containers, bringing in colorful mums, ornamental kale, and pansies.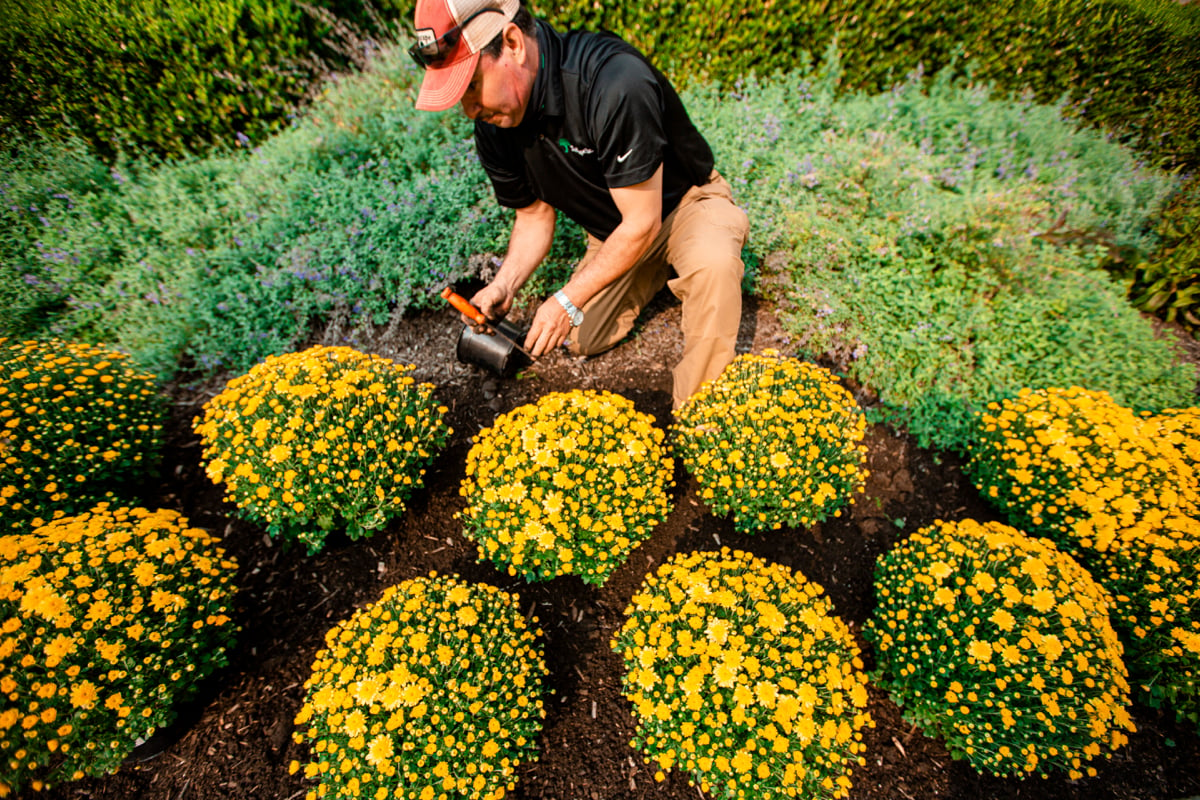 When you look at your long-term plans, if any hardscapes are on the list -- anything from retaining walls to patios for outdoor gathering places -- this is a great time to schedule those.
As the season winds down, fall cleanup is also important. Fall cleanup means raking leaves, cutting back ornamental grasses, and putting the landscaping properly to bed before winter rolls in.
Industrial Properties Need Nice Landscapes, Too
As you can see, you don't have to do a lot to maintain attractive industrial property landscaping.
Being proactive and having a plan in place for targeted attention and continuous improvement is what can keep your property from falling into disrepair.
If you manage an industrial site, you already know your time is limited and your plate is full. You may look at this list and find you can't focus any attention on the landscape.

That's ok. We can help. We know it can be hard to find the perfect partner who understands your specific needs and property challenges. Let us take that to-do off of your list. We can recommend the landscape ideas for industrial properties you need to maintain that quality, professional look on your budget.
Want to learn more about our services for your industrial site? Get started today with a free quote. We'll review your options together so you can make a great choice.