Summer storms in Northeast Ohio can run the gamut.

Some years we get a lot of thunderstorms and strong winds and other years we get a bit less. Sometimes there is hail and flooding and even tornadoes. While we never can fully predict what Mother Nature will bring, this is a prime time for commercial facility managers to adequately prepare for summer storms just in case this is one of those more extreme years.
Now is the perfect time to prepare a commercial landscape for storms to ensure fierce winds and torrential rain don't cause any significant damage to your commercial buildings or risk the safety of people who work and visit your property.

Every season, your commercial property needs special maintenance. This is even true during the winter when temperatures are dropping.
How to Protect a Commercial Property From Storm Damage
Flooding, rainy and slick surfaces, and blowing winds can all have a serious impact on your Northeast Ohio commercial facility.

Your goal then is to protect commercial landscaping from storms so that weak tree or shrub branches or flooding don't cause nightmares that add up to more headaches and wasted budget dollars on your property.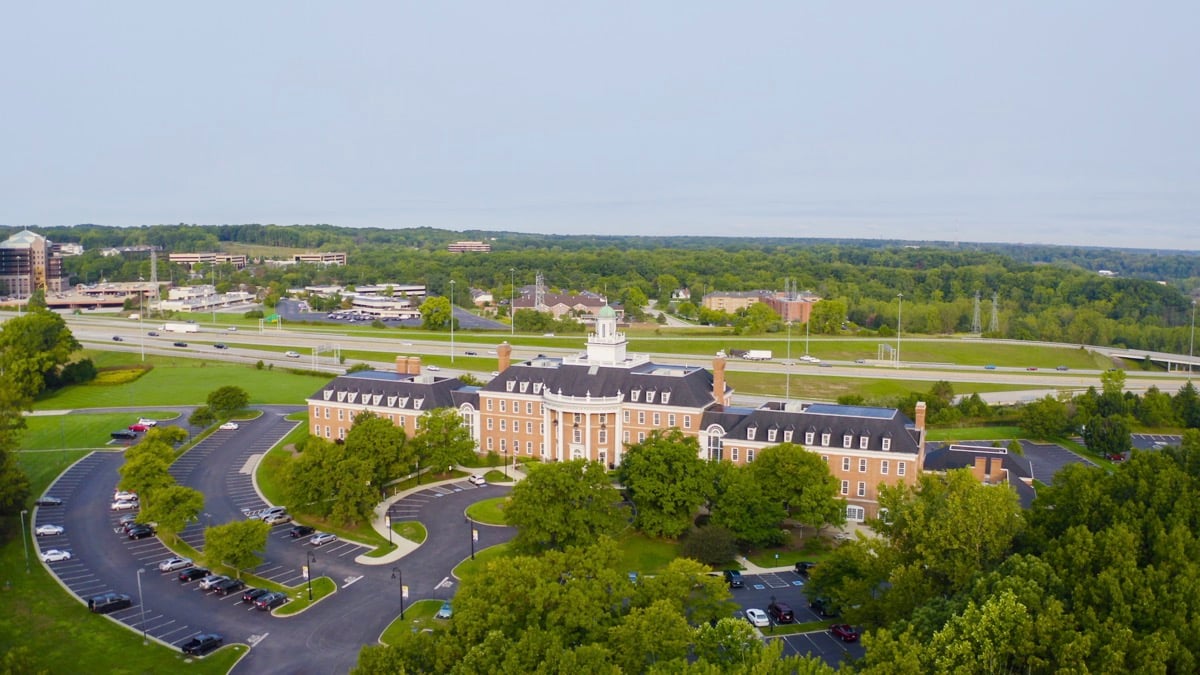 Follow these key steps to get your planning done correctly, building a stronger and healthier landscaping that can take whatever Mother Nature throws at it.
Remember Proper Tree Location and its Overall Importance in your Commercial Landscape
Location, location, location. It is not just a tip for real estate. Tree location is essential to ensure a safer and more secure commercial facility in Northeast Ohio.

When planting larger tree varieties, you want to ensure they aren't too near power lines or buildings where they can cause more damage if winds blow them about or branches break.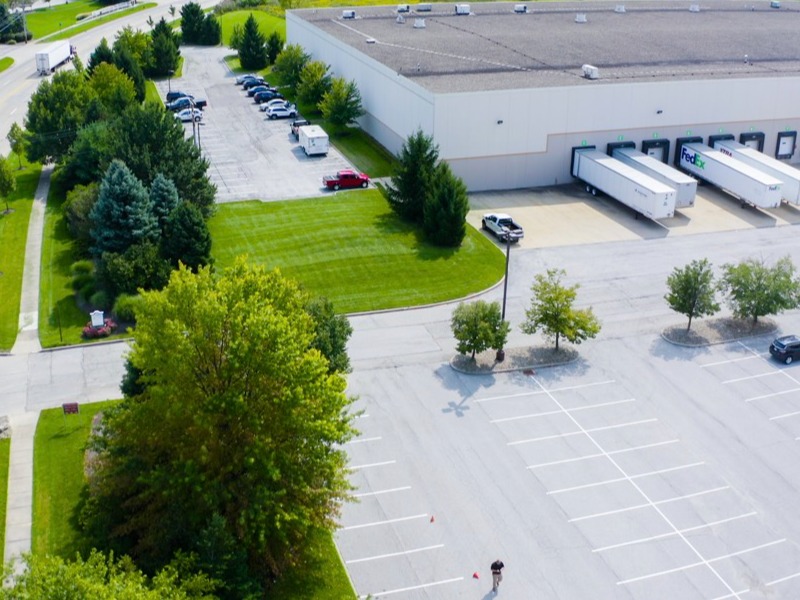 Wind-resistant trees could also be better choices for your property when thinking about storm damage impacts. Planting trees in groups can better prepare a commercial landscape for storms as well because it can create some great wind resistance.

When you are thinking about planting trees, planting them in fall is ideal. This ensures plant roots become established before the ground freezes and winter sets in. Those plants then are also better rooted to handle whatever summer weather comes, such as bigger winds and rainstorms.
Keep Up Property Maintenance to Ensure a Stronger, More Stable Overall Site
Protecting commercial landscapes from storms starts simply with regular and proper maintenance.

Weekly mowing during the growing season, spring and fall cleanups, bed edging and maintenance, fertilization, mulching, and snow and ice management can all keep your property in tiptop shape, making it stronger and more able to hold up to strong storms.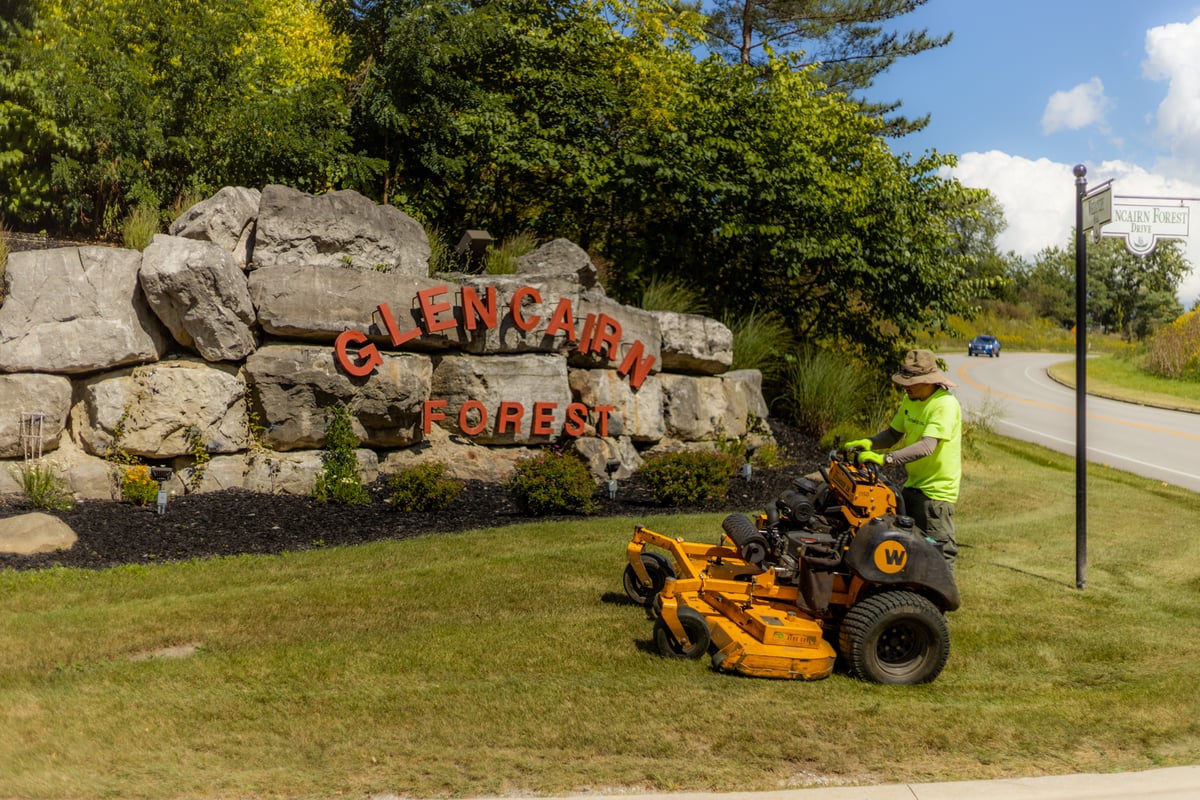 In addition to these basics, having regular safety- and security-focused property inspections can help catch potential problems before they occur. These findings usually include:
Trimming shrubs and trees, particularly near passageways and entryways to keep high-traffic areas clear.
Maintaining hardscapes to limit trips and falls.
Maintaining irrigation and drainage to avoid slippery spots.
Eliminating standing water and overgrown vegetation to prevent high pest populations.
Practice Proper Pruning to Reduce Risk of Fallen Tree and Shrub Branches
Your commercial property receives quite a bit of traffic – vehicular and pedestrian. You know it. If you manage a hospital, you have doctors, nurses, patients, and their visitors coming and going at all hours. If you operate a retail center or office park, you will see employees and shoppers moving through your property at a quick pace. It's a never-ending circle of traffic.

You don't want these people or vehicles to be stopped in their tracks by loose tree limbs that fall when the wind blows. It would be a huge and potentially costly hazard on your property.
That's why throughout the year, regular pruning of dead, dying, or diseased branches, as well as low-hanging branches, keeps faulty tree and shrub branches from falling at inopportune times when storms blow through. This can certainly protect a commercial property from storm damage that can happen if these branches were left on your tree.

In addition to regular pruning and having a professional on your property regularly assessing your tree health, you can also add dormant pruning during the winter months. Through this service, you're having your trees trimmed during their dormancy when they can handle more extreme pruning. This is a good strategy for those trees that are growing over your walkways or are approaching a stage of overgrowth where they are becoming safety risks.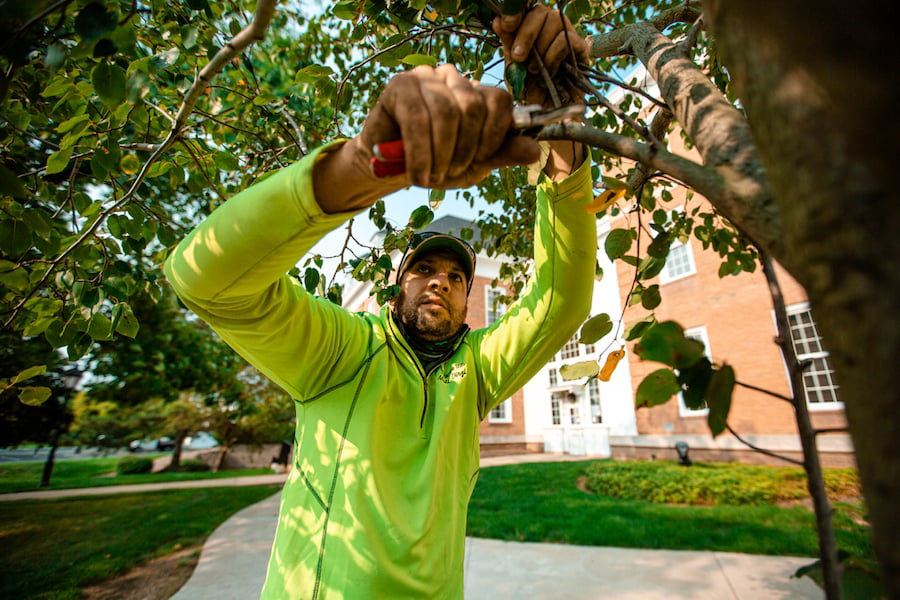 Cleaning up after your shrubs and perennials can also ensure broken twigs or old blooms or leaves and grasses don't blow around and litter your commercial property when storms are present. This means pruning them when necessary based on the plant species and cutting back ornamental grasses and perennials at the right times to keep them tidy.
Ensure Proper Drainage to Prevent Flood Damage and Other Damage from Excess Water Accumulation
After periods of rain or during rainstorms, you might notice some areas of your Northeast Ohio commercial property are not performing like they should.

Maybe lawn areas are turning into ponds and becoming excessively soggy. Maybe you have water collecting in puddles on your hardscapes. Maybe you see trees standing in ponds instead of soil. All of these sights on your commercial facility can be signs of drainage issues.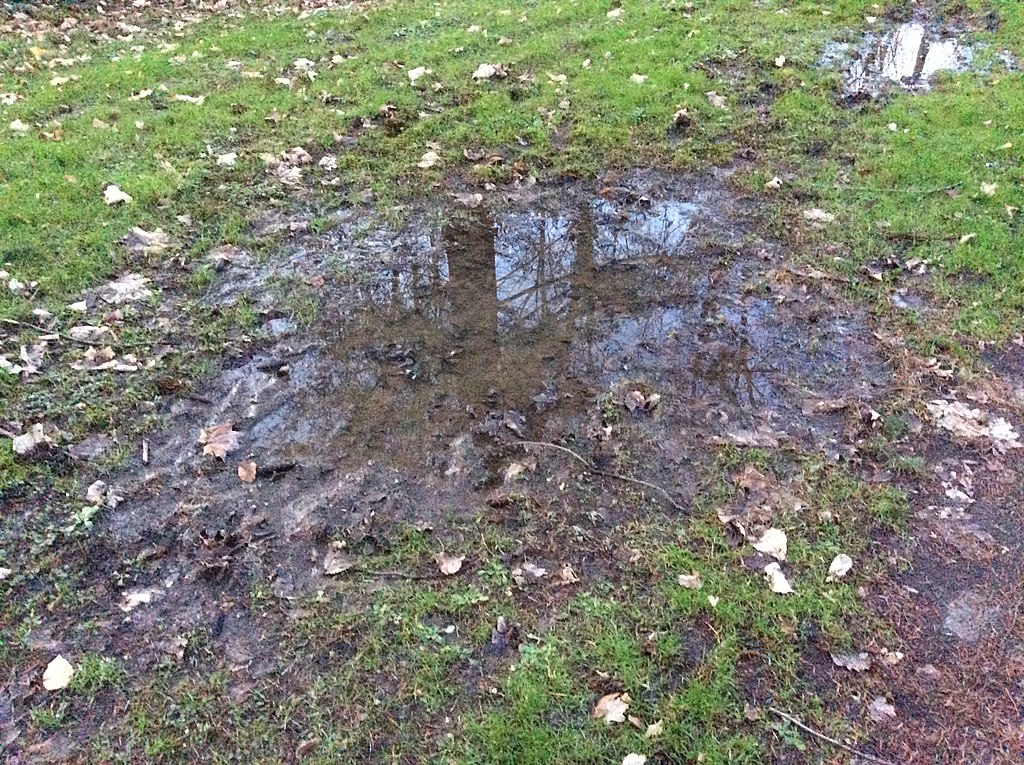 Preparing a commercial landscape for storms includes staying ahead of drainage issues before summer storms arrive and turn drainage problems into much bigger and more costly messes.

Not only can sitting water lead to mold or mildew buildup, soil compaction, mosquito breeding, and building damage in the form of leaks and flooding.

Fixing these drainage issues can involve proper grading, irrigation system checks and repairs, installing french drains or dry creek beds, and turf repair and reseeding.
Important Extra Tasks to Do Before Severe Storms Arrive to Boost Safety
If you have done all the to-dos listed above on your commercial facility, you are primed for a storm to come through your Northeast Ohio commercial property.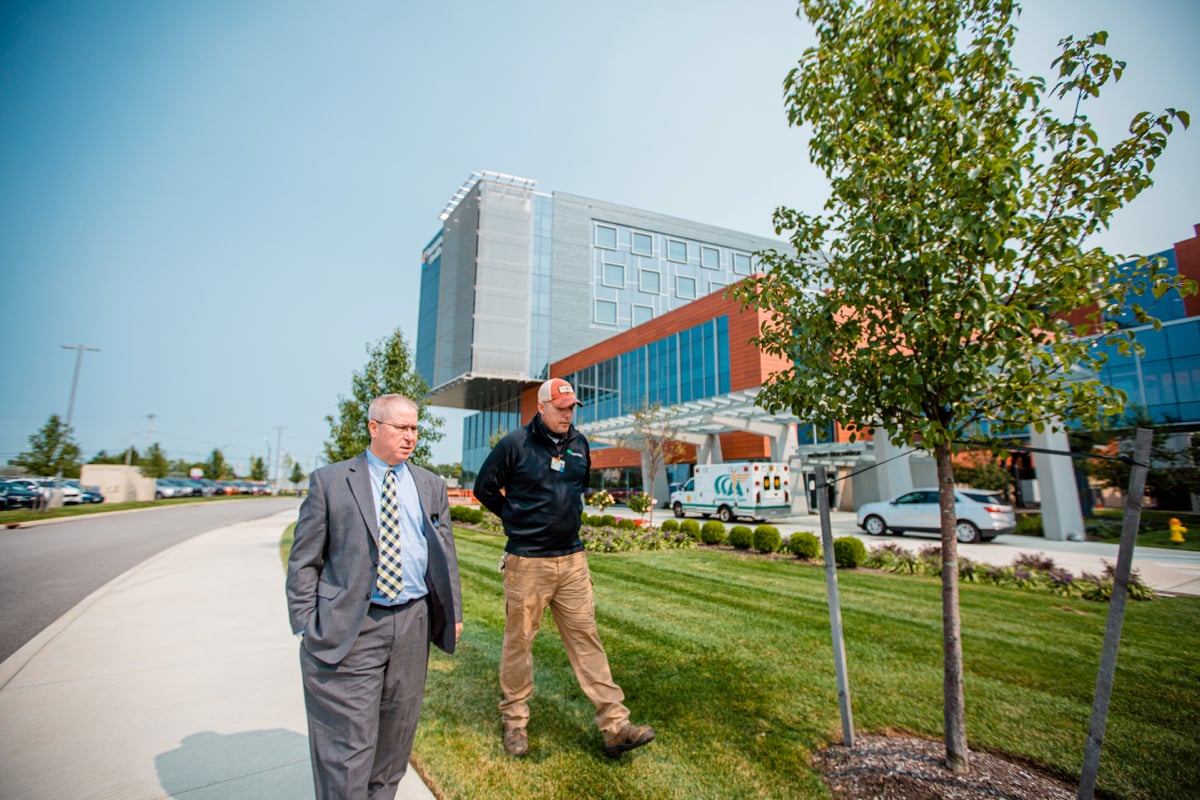 But if your area is expecting a particularly severe storm, you can also prepare a commercial landscape for storms by asking your landscape professional to come to your site and do some additional maintenance tasks to further protect your property from damage.
This service usually involves securing any objects that could fly about when strong winds come through, eliminating any potential building, vehicle, or pedestrian damage.
Don't Neglect Storm Preparations on Your Commercial Property
We know it's easy to stop thinking about your landscape as a risk once the weather warms up and the sun is shining.

But summer storms don't care about your tight budget your busy schedule. They blow through regardless and deserve some consideration and proper planning.

After all, with everything else on your plate, the last thing you want to add to your list is storm damages to repair. Imagine what that would do to your budget.

We get it. Being diligent and planning for a rainy day now can save you so much time, money, and headaches throughout the year. Don't wait until the last minute. Turfscape can help you prepare your commercial landscape for storms so you can put your facility in the best position possible for a safer storm season.

Want to learn more about our commercial property storm preparation services in Northeast Ohio? Get started today with a free quote. We'll review your options together so you can feel confident and make a great choice.
Image Source: puddle in grass