Not much can spruce up your Northeast Ohio commercial property more than a little color.

Spring blooms are bright and cheerful, waking us up from the gray, dreary winter and large snow and ice piles. They also signal that warming weather, longer and brighter days, and increase in sunshine. The scents of these plants are also intoxicating and fresh, bringing another element to their high-energy hues.

In summer, flowers get brighter, bigger, and bolder, and they bring with them the flitting and fluttering of butterflies and birds.

Then, in fall, as temperatures cool, the colors change once again, becoming deeper and richer, mixing warms and cools and blending with the changing landscape behind it.

Your commercial property can welcome each season, celebrating them for the tenants, employees, visitors, and guests on your site – from the health care workers and patients at hospitals to local shoppers at retail centers to homeowners at HOAs to employees at office parks and industrial facility workers. In fact, color can do quite a bit to entice people on your property – boosting curb appeal and building your business reputation.

How can you best do this? With commercial property container plants. Planters are a great way to add additional visual interest and functionality to your site.

Let's talk about professional commercial landscape container designs and installations, so you can learn more about how they can enhance your property and make your site stand out in Northeast Ohio.
Top 8 Reasons to Add Commercial Property Container Plants to Your Facility Landscape
Bright, fresh plant displays in commercial container pots can give your facility an updated feel as each season progresses.

Unlike your other more permanent landscape plants, trees, and shrubs, containers can surprise visitors with some pop and punch, capturing the feel of each season.

In fact, planters serve many functions on commercial sites. Let's learn more.
1. Containers Help Define Outdoor Spaces
Commercial flower planters can serve many functions on commercial facilities – one of which is space definition.

You may see planters creating more intimate outdoor spaces. They act as natural barriers that define not only the space, but how you would prefer people move through it.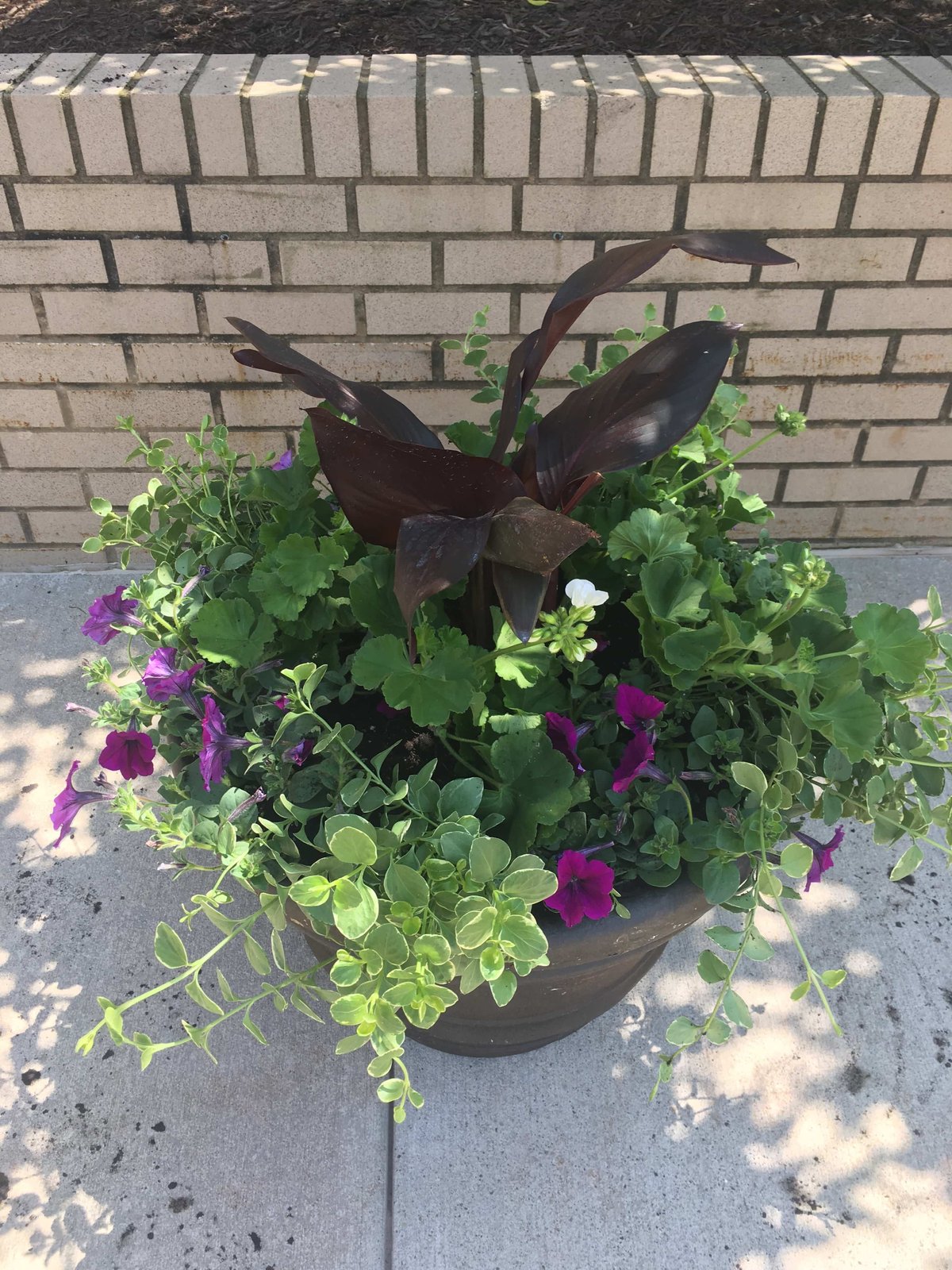 Think of containers as ways to accent office or storefront entrances. People won't jump over giant planters. Larger pots slow people down, encouraging them to walk around an area. This can help you steer shoppers to courtyards, encourage visitors to head away from eyesores, and keep movement in areas where you want the action to be.
2. Containers Can Assist in Muffling Sounds and Creating Privacy
In addition to defining spaces, commercial flower pots can also be used to serve specific purposes in certain areas of your site.

A tall and colorful container can create privacy in an intimate outdoor lunch area in your office park or healing garden in your hospital landscape. Planters can screen a swimming pool at your HOA or apartment complex or create an intimate atmosphere at your restaurant's outdoor patio.

If your commercial property is located in a bigger city, containers can also help muffle sounds to tone down surrounding, busy traffic noises.
3. Containers Can Add Color and Height
Many times, commercial landscapes are vast green spaces lacking shade. Commercial container pots can add pops of color that break up that boring green and create drama and added texture and interest.

Impatiens and geraniums have a classic flower look with small curved petals surrounding a center, for instance, while marigolds are textured yellow balls. Salvia has the shape of a flame with a round bottom coming to a point at the top. These are only a few of the possibilities.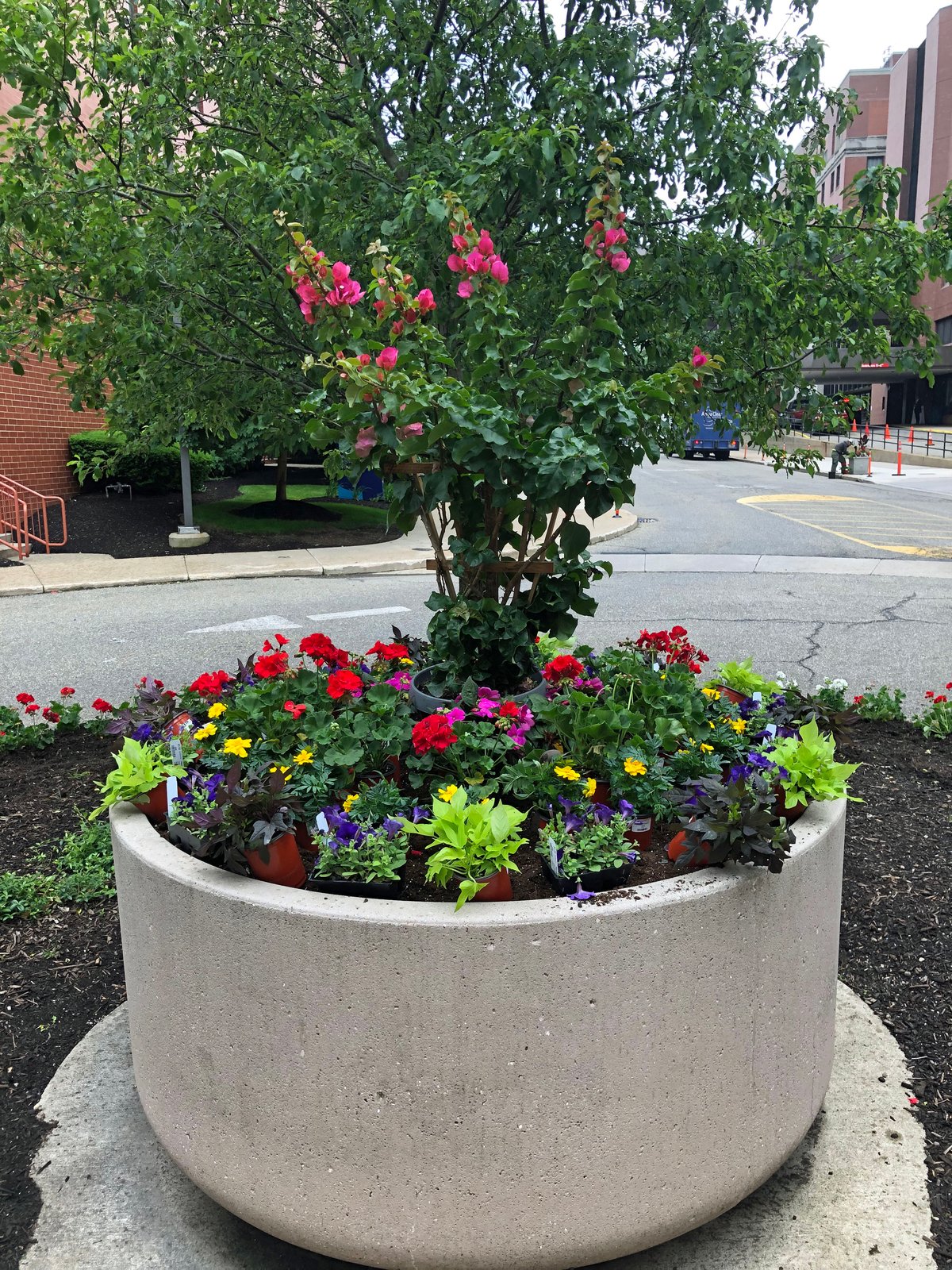 Planters can also accommodate small shade trees, colorful shrubs, ornamental grasses, or perennials to create bold colors that bring brilliance to your site in the form of height. This can transform an otherwise one-dimensional space. Some planters stand tall at eye level, while others are smaller and closer to the ground. You never want containers to be so small they go unnoticed, but not so large they impede your business' entrance. Your goal is to enhanace your commercial site, not detract from it.
4. Commercial Property Container Plants Can Dress Up Any Facility
Plants are some of the greatest ornaments a facility manager can add to adorn and accent their commercial spaces.

The right plants and planters can bring simple, practical elegance to a commercial landscape. They can make artistic statements, be filled with plants that match a brand-specific color palette to boost brand recognition and reputation, and they can create a welcoming environment – attractive seating, for instance, or a gathering space.

Professional commercial landscape companies can creatively take a dull space and elevate it to a whole new level with commercial flower planters that bring unity, relaxation, and a cohesive color connection.

Having flowers near an entrance, for instance, gives the impression that you care about your business. It also showcases an opportunity for you to give the customer a feeling for what your company is all about.
5. Containers Offer Variety
Commercial flower pots come in all shapes and sizes, as well as colors and textures. This is before you even add flowers or plants to the mix.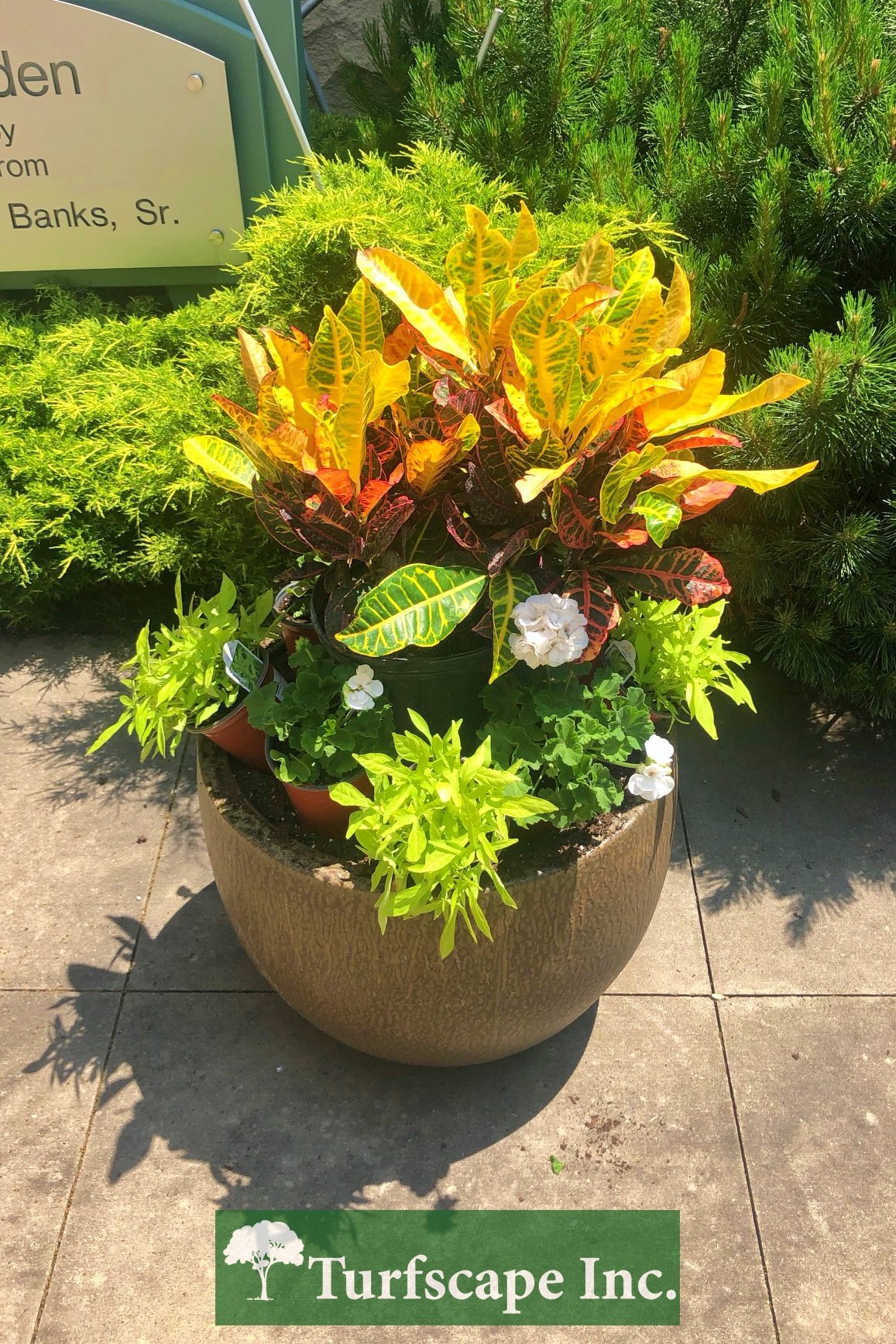 Planters can be large stone pots or urns, window boxes, small clay pots, or more modern-looking aluminum plant holders.
6. Containers Are Mobile
Flowerbeds on your commercial property cannot be moved, therefore flowers must be planted where the beds are located.

But commercial flower plants can be moved anytime you need them to be. You can place them near your business entrance, and then move them to a certain area during a special occasion to add some brightness and floral dimension. Maybe you have a corporate meeting or college commencement on your site, for example.
7. Planters Can Hide Unsightly Areas
Does your commercial property have air conditioning units you don't want to stand out or unsightly trash cans you'd prefer not be visible?

Commercial property container plants solve these problems by blocking nasty areas with a bigger, bolder presence that is packed with flowers and foliage.
8. Planters Adapt With the Seasons
You can be one of the first commercial properties in the area to showcase spring's best shades in commercial container pots. Pansies and violas add delicate color that is tough in this transition season.

In summer, you can crank up the volume with the brightest, sun-loving shades out there.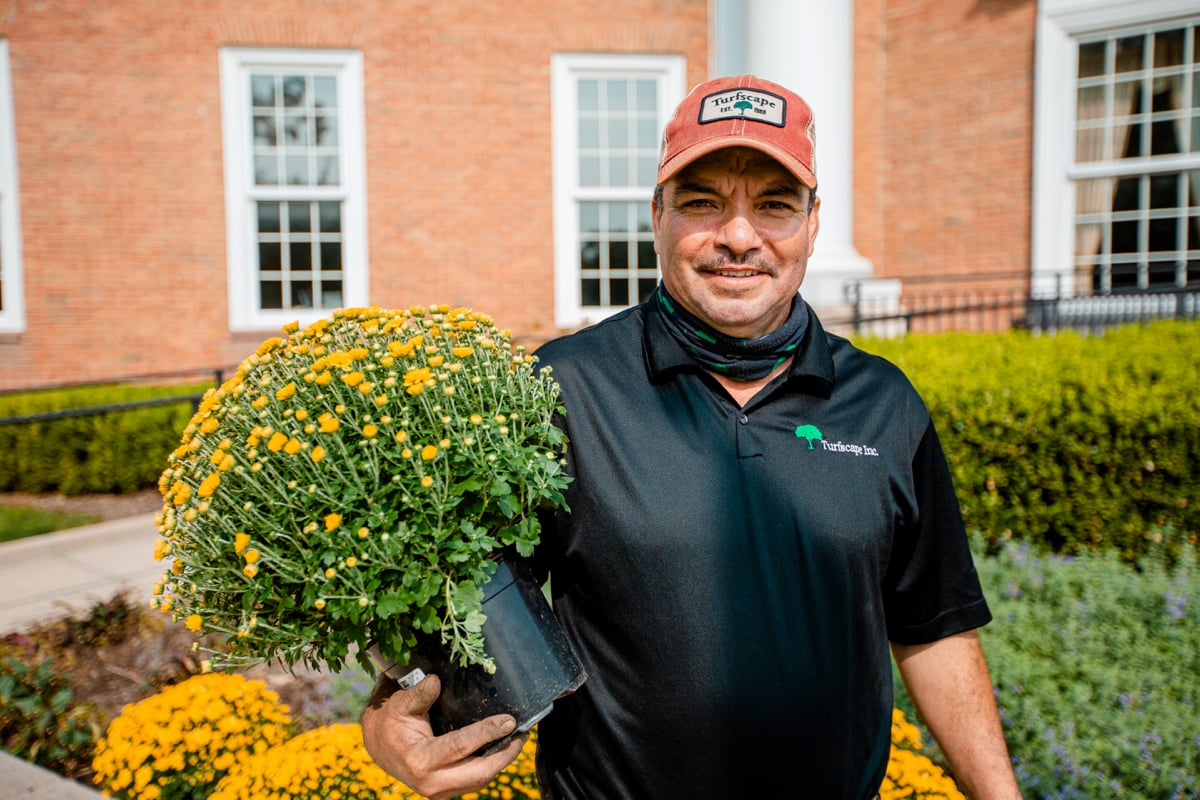 Then, in fall, mums, flowering kale, ornamental cabbage, ornamental peppers, sweet potato vine, and purple fountain grass add rich, deep greens, purples, and magentas to the mix.

In winter, evergreens and unique red branches and other decor can ensure your containers bring positive attention to your property all year long.
Need Hard-Working Commercial Flower Planters? Trust Turfscape
Commercial flower pots aren't just for one season. Planters can be utilized all year in your Northeast Ohio commercial property.

In fact, stunning, vibrant planters attract shoppers, make apartment communities more appealing, create privacy, screen unattractive views, and boost your brand recognition.
If the thought of figuring out planters on your commercial property has your head spinning, give Turfscape a call. We'll help you choose striking planters, as well as pack them with gorgeous plants, and take care of them through each season so they always look appealing and fresh.

Are you ready to boost the appeal of your commercial property with wow-worthy outdoor containers bursting with well-chosen plants? We'd be thrilled to assist you in coordinating colorful displays throughout the year so you don't miss a beat.

Want to learn more about which container plant displays would work best in your commercial space in Northeast Ohio? Get started today with a free quote. We'll review your options together so you can make a great choice.