University or college campuses, educational facilities, and schools are certainly complex commercial sites. They tend to be larger spaces full of buildings for learning, open areas of turf, shade and ornamental trees, rolling hills, and gathering nooks.
As students move in and out of those properties, they have to be able to safely and easily navigate these properties – whether they are coming to school once in the morning and leaving in the afternoon or moving from class to class throughout the day and evening hours.

That's why landscaping on these commercial facilities can make a huge difference in a student's experience – not to mention teachers, professors, and other people navigating these sites. Landscape maintenance services for schools can also boost an educational facility's reputation, increase attendance, and amplify a student's entire learning experience.

As a facility manager of an educational facility you might be wondering what services make the most sense for your property to ensure you're getting all of the major benefits without exceeding your budget.

Let's look at an ideal list of commercial landscape tasks that can work best for you and why they shouldn't be neglected on your school or college site.
9 Important Landscape Maintenance Services for Schools, Colleges and Universities
As you may already know, your school landscaping can do so much for your facility – from aesthetics to safety to making your educational facility a place your students can use and enjoy.

But to get to this point where your landscape is doing everything you need it to do, you need to have the right maintenance program that includes the best commercial landscaping for schools that you can get.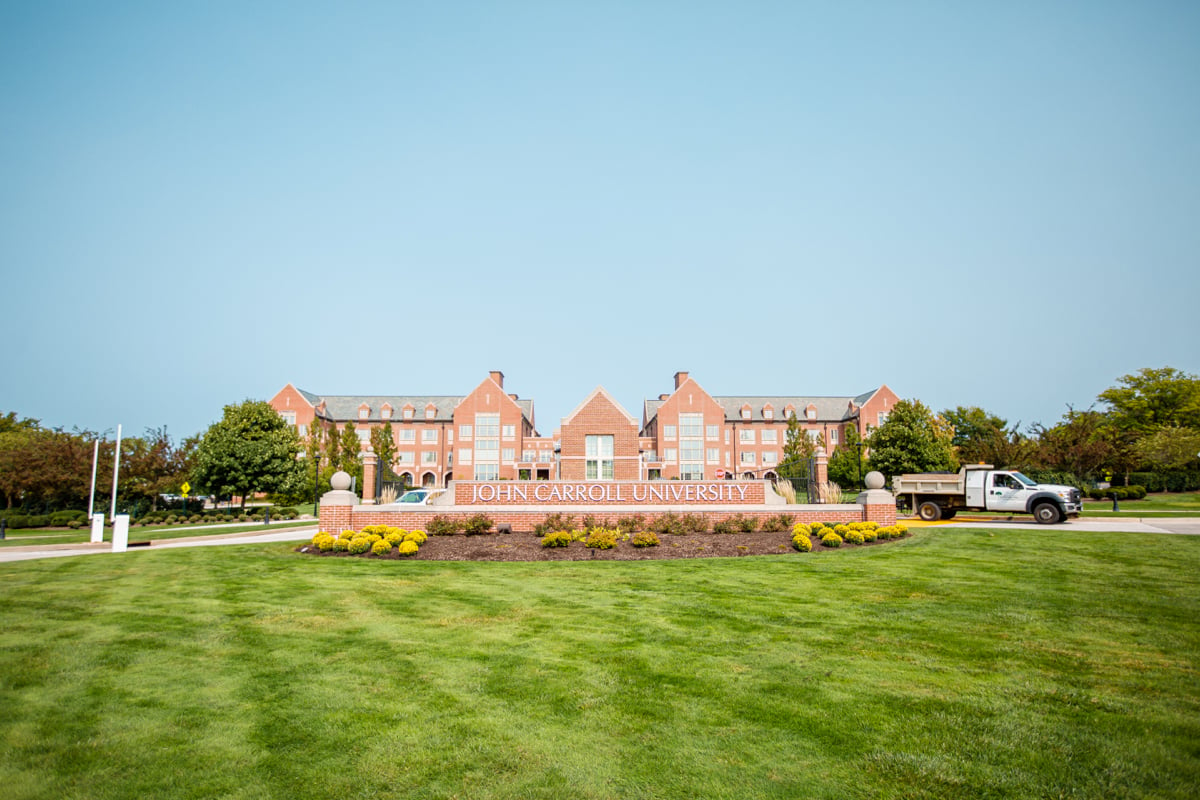 And if your budget is tight, you should still be able to make improvements to keep your school grounds neat, safe, and inviting.

These maintenance to-dos are the best for keeping your commercial landscape on track for continued improvement, while looking sharp and keeping visitors, students, guests, parents, and teachers secure.
1. Mowing
Mowing is a key basic service for your educational facility that is important for visibility and a professional, polished, clean appearance.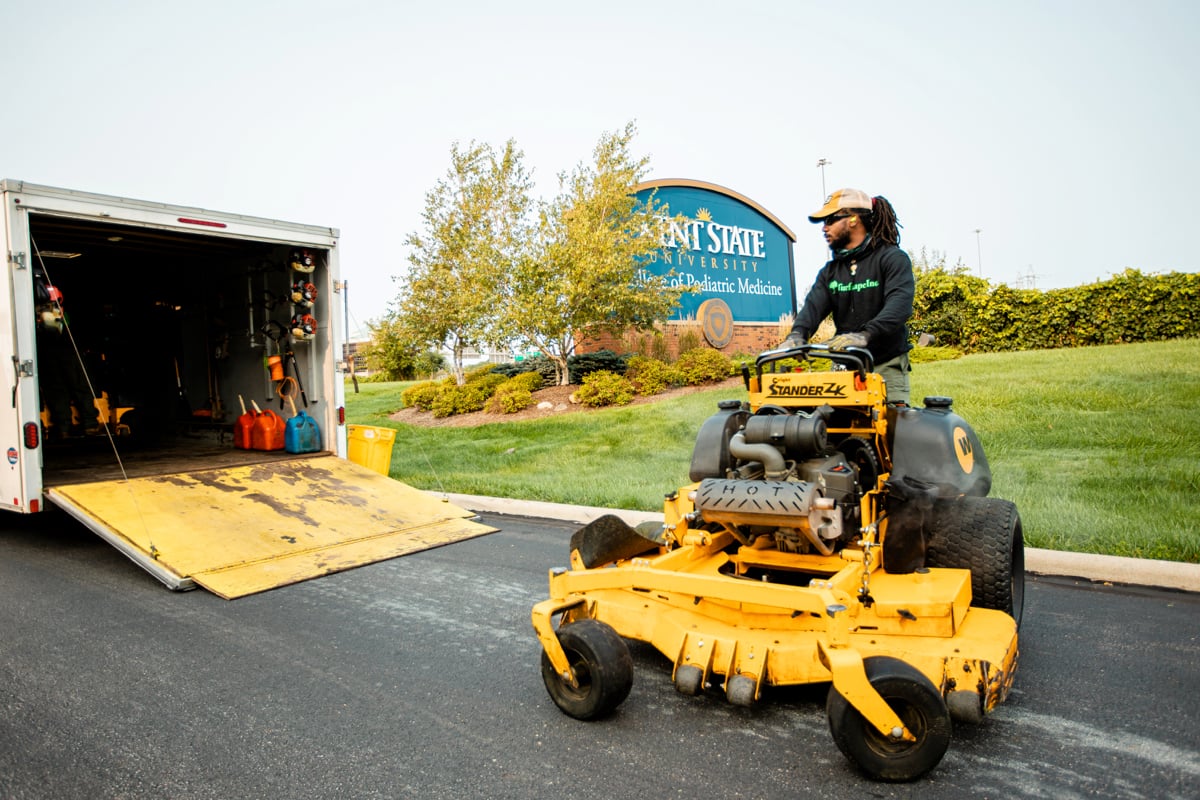 No one wants to drive up to a school with a weedy, leggy lawn that looks like it's spotted and seen better days.

As part of landscape maintenance for schools, mowing should be done weekly during the growing season and include lawn edging and blowing and cleanup.
2. Spring Cleanup
After winter, you need to clean up your commercial landscape. The season does a number on Northeast Ohio properties with heavy snow and ice accumulation, as well as winter winds.
This tidying is essential to transition your education facility into the growing season, ensuring it looks good in the process.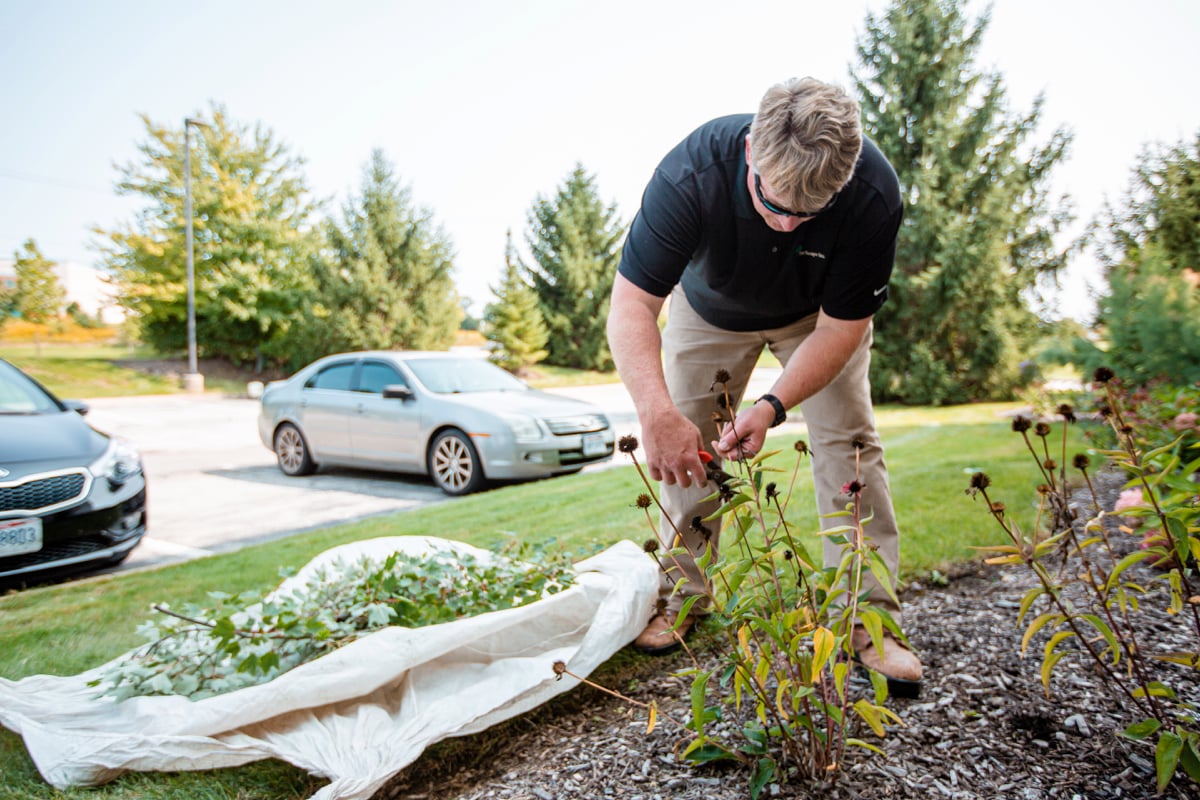 The spring cleanup portion of landscape maintenance for schools can begin in February, but typically start in March and go through mid-April or until mowing begins on your property.
This service usually includes leaf and debris cleanup, a lawn checkup and repair, and a landscape bed cleanup that includes pre-emergent herbicide application to keep those early weeds at bay. Any perennials that were left over winter and need to be cut back, such as ornamental grasses, are usually trimmed at this time as well. Bed edging finishes the services.
The end result is a school property that is polished and ready for new growth without looking beat up or trashed after the winter months.
3. Fall Cleanup
Just like spring cleanup is necessary to start the growing season, fall cleanup is a must-have landscape maintenance service for schools that facility managers shouldn't avoid.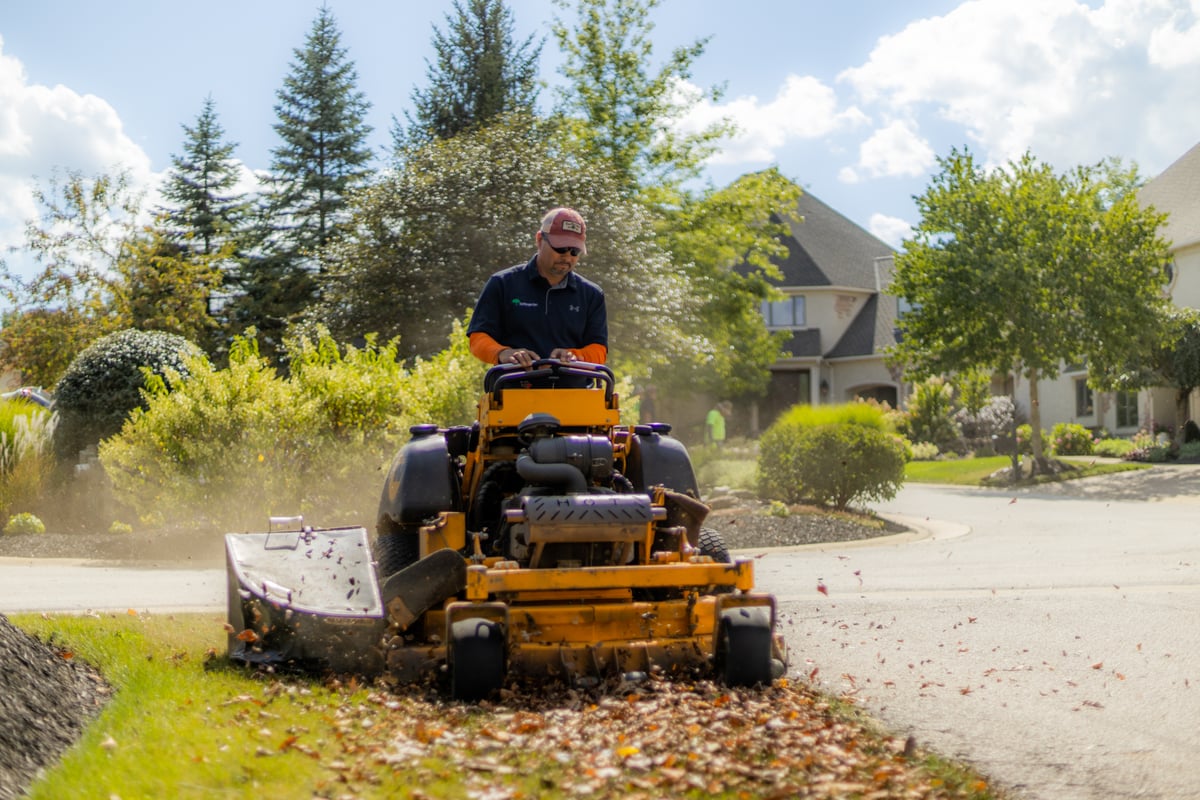 This service includes leaf raking and pickup to maintain the health of your grass areas; perennial maintenance, which includes deadheading or cutting back perennials; irrigation system shutdown and winterization; fall fertilization; a final mowing; aeration and overseeding; and a seasonal flower installation for impact and continued color as the growing season winds down.
4. Bed Maintenance & Edging
Keeping your educational facility neat and tidy is part of having it look sharp and professional.

Your landscape beds tend to collect items throughout the year – trash, sticks, twigs, and leaves.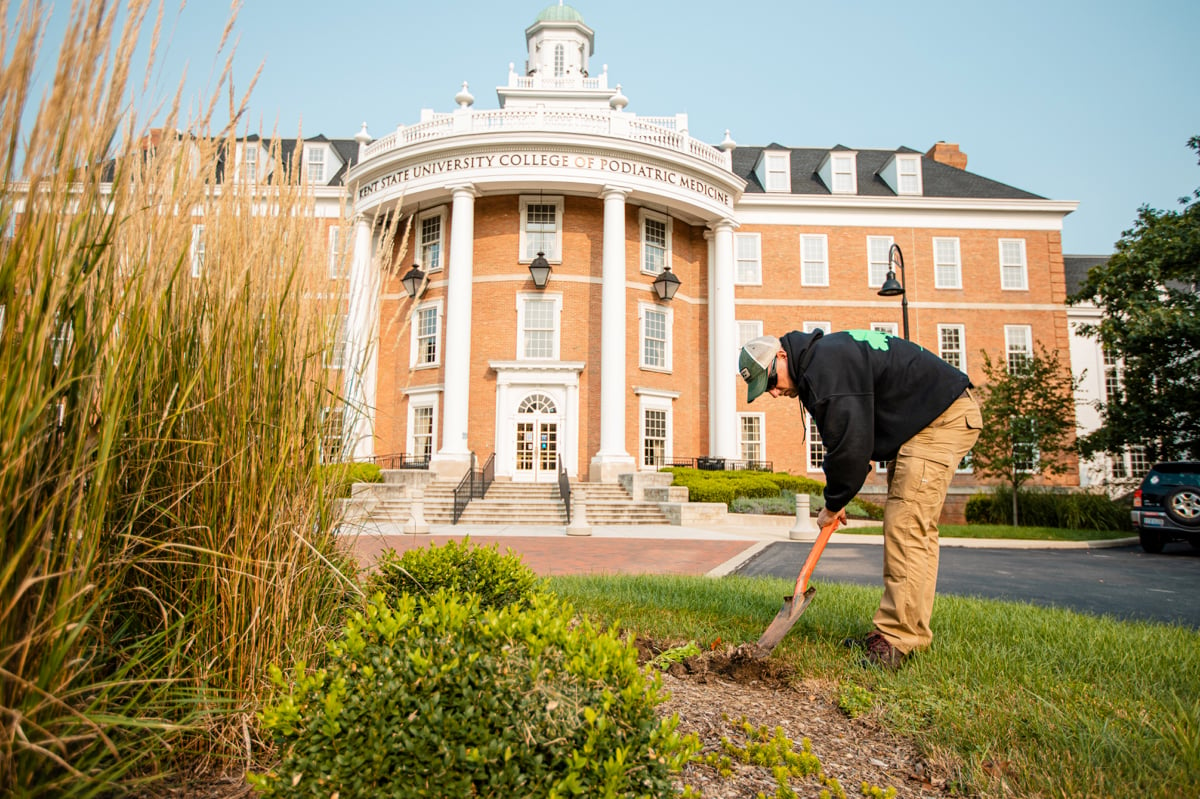 Cleaning up the beds and edging them is part of commercial landscaping for schools that gives your whole property a clean, fresh look.
Staying ahead of weeds with pre-emergent herbicides also ensures they don't infiltrate your beds, adding layers of messy, unattractive and undesirable invaders to your space.
5. Fertilization
Keeping your grass healthy is another key part of commercial landscaping for schools.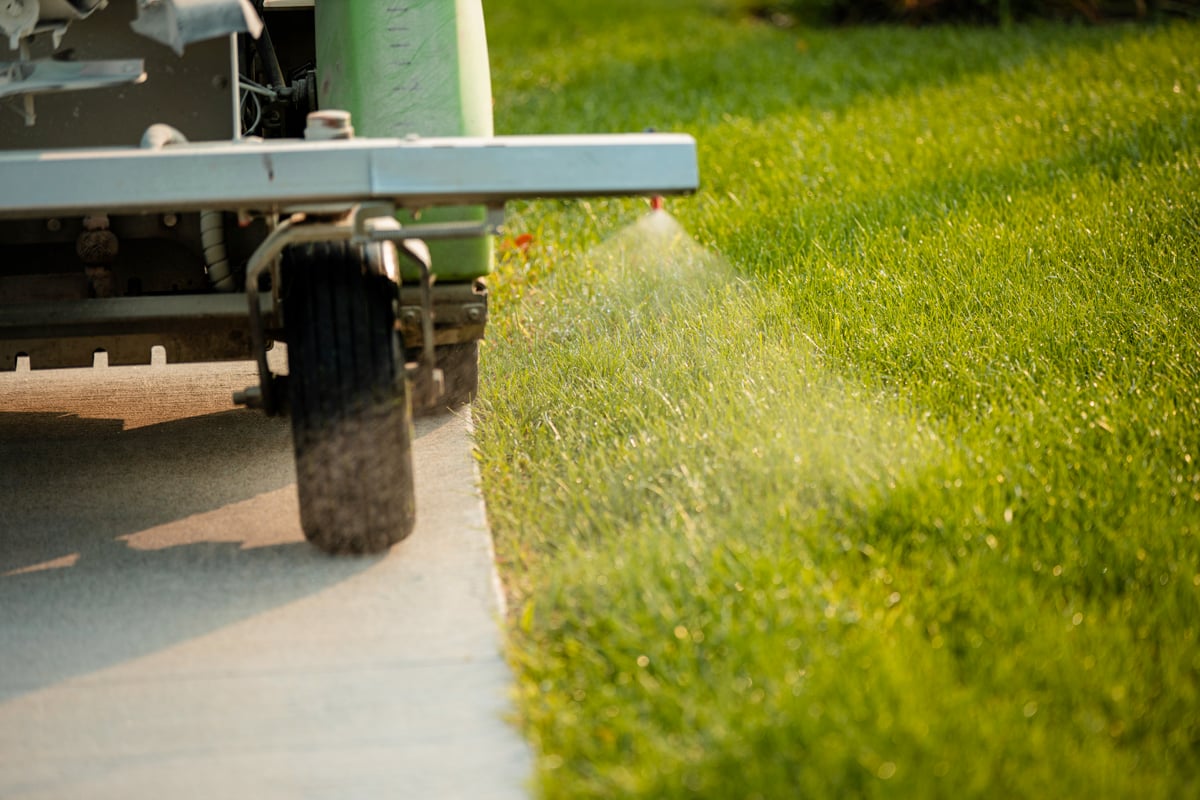 Your lawn can make up a great deal of your property, as well as take quite a beating with a lot of foot traffic.

A fertilization program ensures your lawn receives the nutrients it needs to grow thick and strong and look good, while withstanding this continued abuse.
6. Snow & Ice Management
Unpredictable, harsh Northeast Ohio winters can wreak havoc on your commercial landscaping for schools.

And, as you're well aware, learning doesn't stop just because the weather piles up. As such, having a reliable snow and ice management program is vital to ensuring students, their parents, and your school's employees can make it safely on and off your property throughout the day.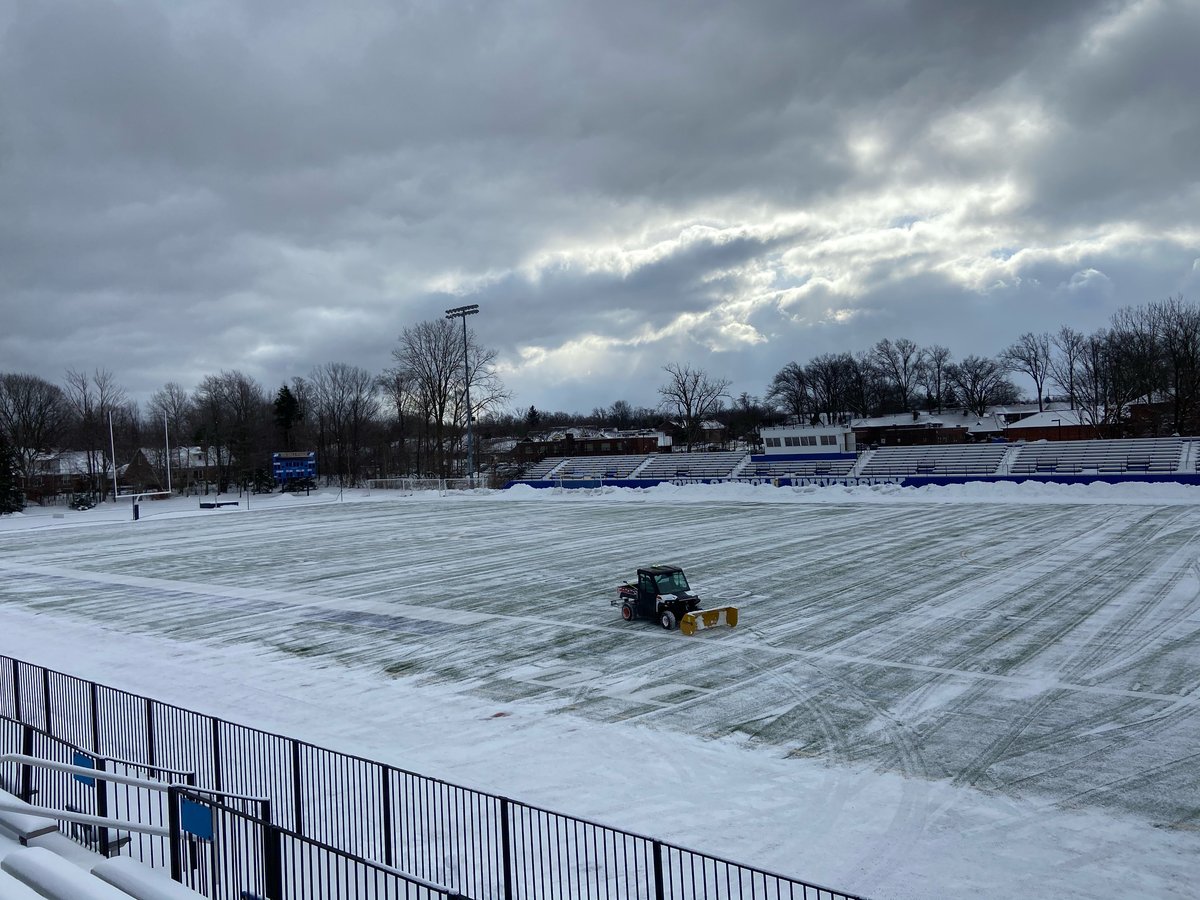 This includes plowing and deicing sidewalks, parking lots, walkways, entryways, and other high-traffic spots.

For Northeast Ohio, you want to make sure you have this service at the ready each year between Dec. 1 through March 31.
7. Seasonal Color
A school, college, or university draws students in with their attractive landscaping, and color is a big part of that.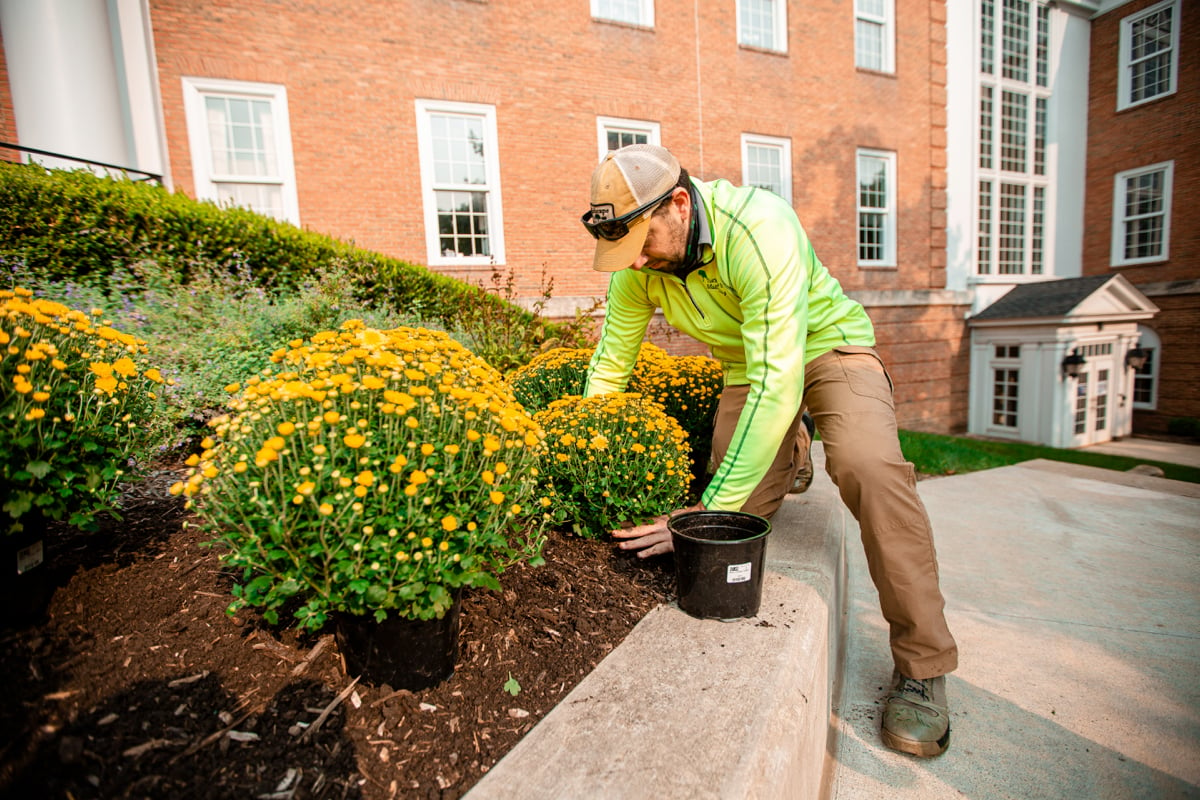 Seasonal color as a landscape maintenance service for schools can also amplify your brand and reputation. You can even use a plant palette made up of your school colors to create added impact.

Color is usually best done in containers and entryways or near signage – high visibility areas. And you want to freshen it up with the seasons to keep it looking clean, crisp, and colorful.
8. Mulch
Nothing livens up your educational facility landscape like a fresh layer of mulch.
And in addition to aesthetics, mulch helps your soil retain moisture and regulate soil temperature, it suppresses weed growth, and adds nutrients to the soil as it breaks down.
All of these perks can help prevent root compaction, improve your soil's physical structure, and reduce any lawn mower and string trimmer damage to your plants.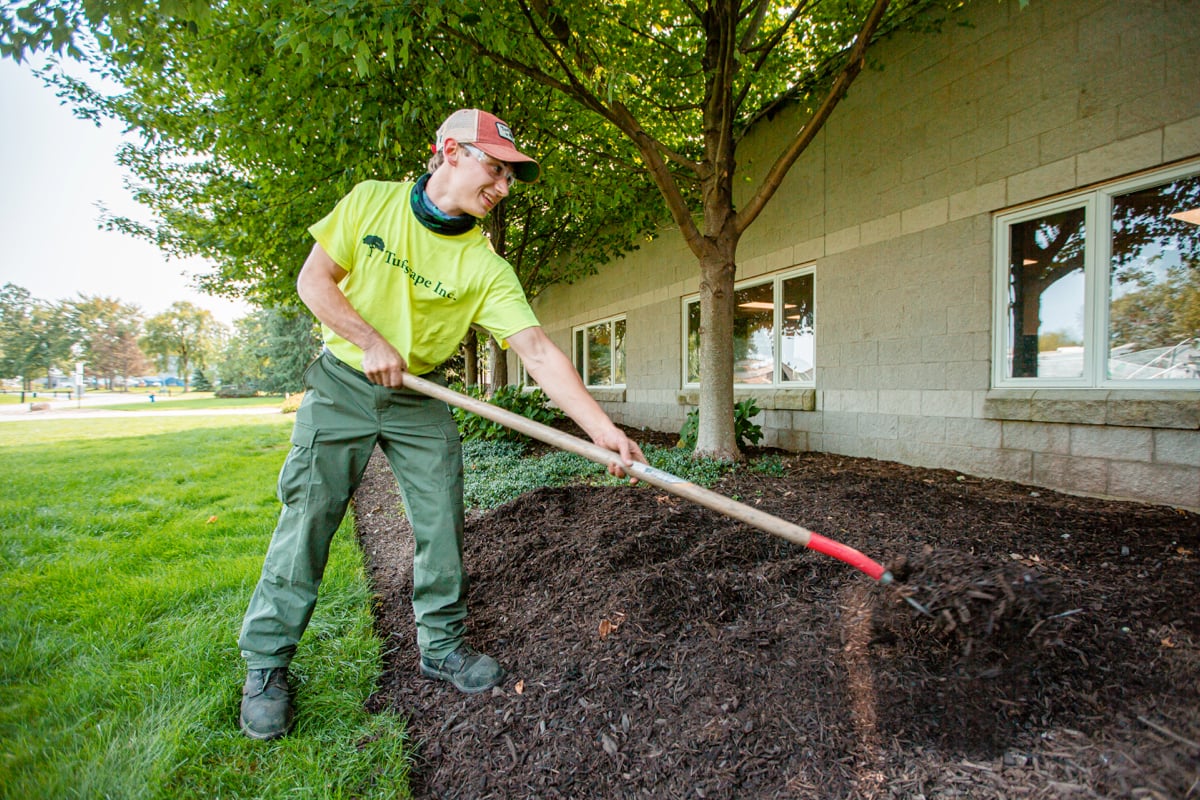 Shredded hardwood mulch is great for your property, but it does need to be refreshed annually to continue providing these benefits. It's a part of commercial landscaping for schools that maintains an organized appearance, as well as delivers positive health perks to your soil.
9. Regular Property Inspections for Safety and Security
You want people at your educational facility to feel safe and secure – no matter what time of day it is.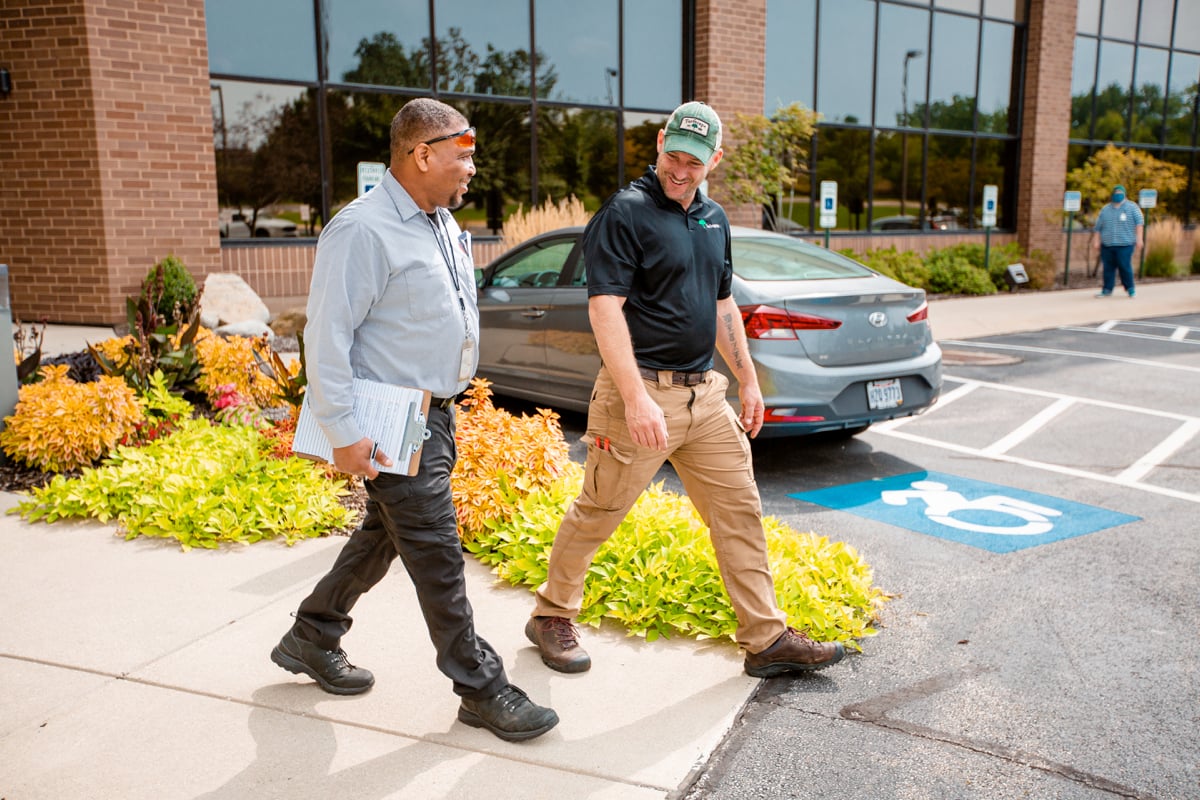 Landscape maintenance services for schools that enhance safety and security on your priority include:
Trimming trees and shrubs, especially near walkways, to keep pathways clear.
Keeping hardscapes maintained to limit trips and falls.
Maintaining irrigation and drainage to avoid slippery areas.
Eliminating standing water and overgrown vegetation to prevent excessive mosquito populations or other pests like ticks.
Let Turfscape Help You with Your Commercial Landscaping for Schools
Students, their parents, and their educators want to feel like their educational facilities are well-maintained, safe, comfortable to navigate, and make them feel proud to go to daily.
We know you have a lot of operations and facilities headaches to deal with. We hope this list helps you prioritize those outside issues so you can better manage your to-do list and budget.

Turfscape can help you by offering a customized, proactive educational facility maintenance program. From proper lawn care to mowing/maintenance to trash patrol to spring and fall cleanups and regular trimming, as well as seasonal color boosts and enhancements, we can become an addition to your team and make sure your school stays in tip-top shape.

Want a more beautiful Northeast Ohio educational facility? Request a proposal for a customized plan today. Together, we can help your property and you look nothing but amazing.