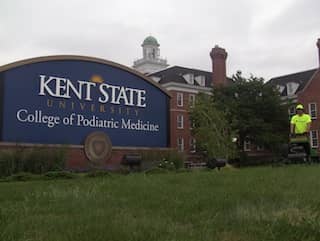 The grounds around your school are more than just turf to mow and beds to weed. Your school's grounds are part of your institution's branding as first impressions are made, school pride for students and staff, and campus safety.
Obviously, the upkeep of the grounds around your school requires a financial investment, given all of this.The question is, how much investment? And could you save money if you outsourced this critical task?
What does in-house grounds maintenance really cost?
When it comes to dollars, it's fairly easy to crunch numbers and make comparisons. What do your numbers look like when you add up all the costs associated with using in-house grounds maintenance vs. a vendor? Make sure you factor in all the costs associated with:
Owning equipment, big and small, from the tractor to the riding mower to the weed whackers
Maintaining all of this equipment on a regular basis and when something breaks down
The fuel and oil for all of this equipment
Insuring and licensing this equipment
The cost of the facilities for housing it all, including upkeep and utilities
Payroll for your grounds maintenance supervisor plus all of the crew
Insurance, workmen's comp and benefits for employees
Then let's add one more number: the cost of snow removal. We're in the Midwest. Snow removal is something we have to do, and if you're doing it with an in-house staff, then you have all of the costs associated with that equipment too…equipment you only need for a short time each year.

Are those numbers adding up?
Once you have a good handle on the real costs of in-house grounds maintenance, not just the assumed ones, it's time to compare those numbers to the real cost of outsourcing. Contact a vendor such as Turfscape and find out just what outsourcing might cost you so you can do a comparison.
Then factor in the intangibles too, those benefits you'll gain with outsourcing that don't really have a dollar amount associated with them, benefits like more attractive and safer school grounds; a professionally trained staff that can do more with less by properly caring for your turf, trees and plants; snow removal when you need it; and peace of mind knowing it's all being taken care of.
Turfscape makes switching easy.
If you've done the math and you realize outsourcing is the more budget-friendly option, you might still think you can't switch because of all you have already invested in equipment and employees. We understand those concerns! And as your grounds maintenance and snow removal vendor, we'll alleviate those concerns. For example, we can help you sell your equipment, and we can possibly hire your employees.
Now what reasons do you have for staying with the more expensive option?