Every season, your commercial property needs special maintenance. This is even true during the winter when temperatures are dropping.
Winter's colder climate, snow buildup, and ice accumulations can wreak havoc on your commercial property and landscape in which you've invested time and dollars. Winter's wind and freezing temperatures can lead to property damage, utility interruptions, or even temporary business closures. No facility manager wants to deal with those headaches.
That's why it's important to take steps now focusing on winterizing your commercial property to keep it in optimum shape.
Commercial Property Winterization
Flooding, slippery surfaces and conditions, snow piles, and ice and snow weight can all add up on different areas of your facility.
Heavy snow and ice can accumulate on weak tree branches, risking falls on cars, buildings, or people. Swift ice melt can flood and the constant freeze and thaw cycle can harm hardscapes, sidewalks, walkways, or entryways. Even not preparing your vast expanses of turf for winter can cause snow mold or other damage that can be visible come springtime.
The goal: Prepare your commercial property for winter now to ensure a clean, professional look through this rough season, and have a better result come spring when your landscape wakes up again in Northeast Ohio. Follow these 6 steps to get the job done right.
1. Planting Time
Before winter, as Northeast Ohio temperatures cool off, this is actually the prime time of year to plant any new trees, shrubs, and perennials you want to add to your commercial landscape.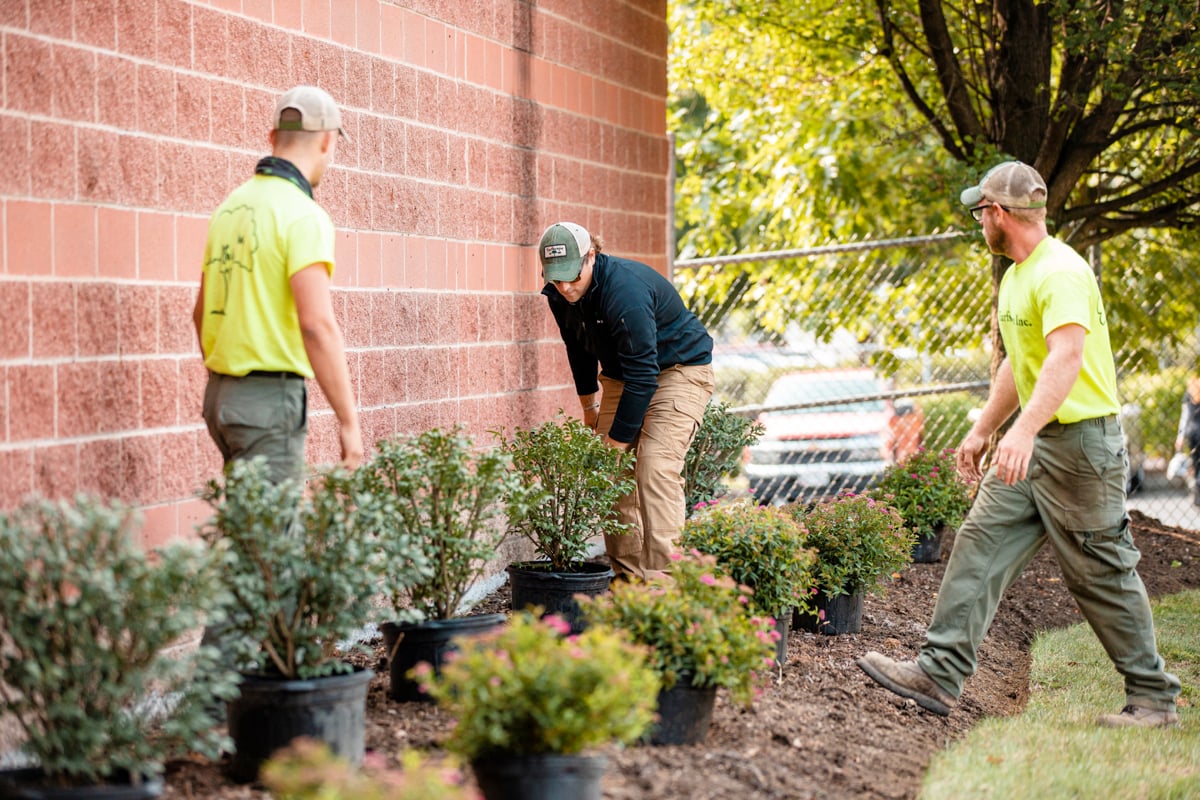 Planting in September through November allows plant roots to become established before the ground freezes and winter sets in. Those plants then are also better prepared to handle summer's extreme heat and drought, as well as fight off any pests or diseases.
If you have been looking to freshen up a space or add a landscape bed, prepare your commercial property for winter and the seasons ahead by getting planting done now.
2. Aeration & Overseeding
Commercial property winterization includes doing those lawn maintenance tasks that can prime it for better growth the next year.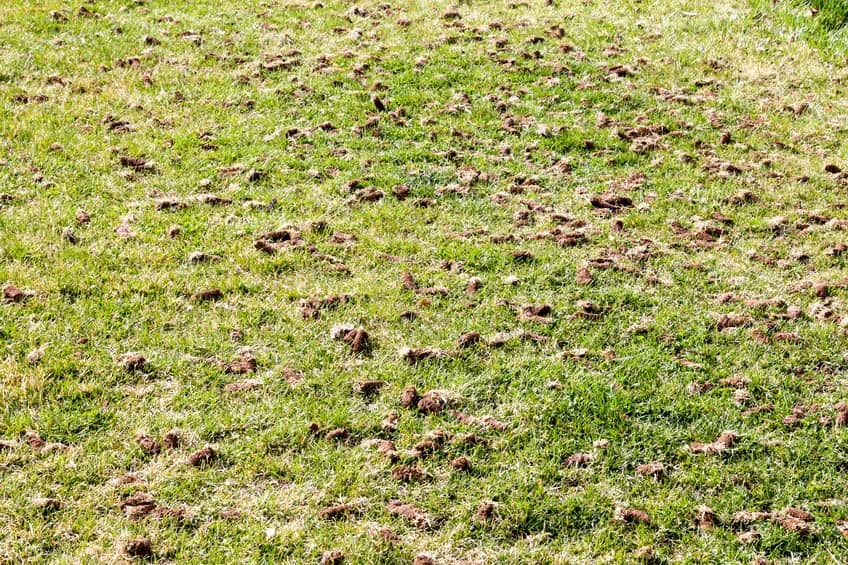 Aeration and overseeding your commercial lawn are great tasks to perform before winter to improve your lawn. Aeration, as the removal of small plugs of soil, gives your tired, worn, compacted lawn a chance to more easily receive oxygen, nutrients, and water at the root level where it's needed most.
Overseeding is a perfect addition here because those plugs that are removed through aeration create the perfect holes for the seed to contact the soil and germinate. This improves the germination process considerably, making overseeding more successful in strengthening and thickening your commercial lawn.
3. Fall Cleanup
Before winter arrives, you want to make sure you have done good leaf cleanup from the fall. Raking up the leaves or blowing them into piles and disposing of them or removing them keeps your lawn looking fresh, while also preparing your commercial property for winter.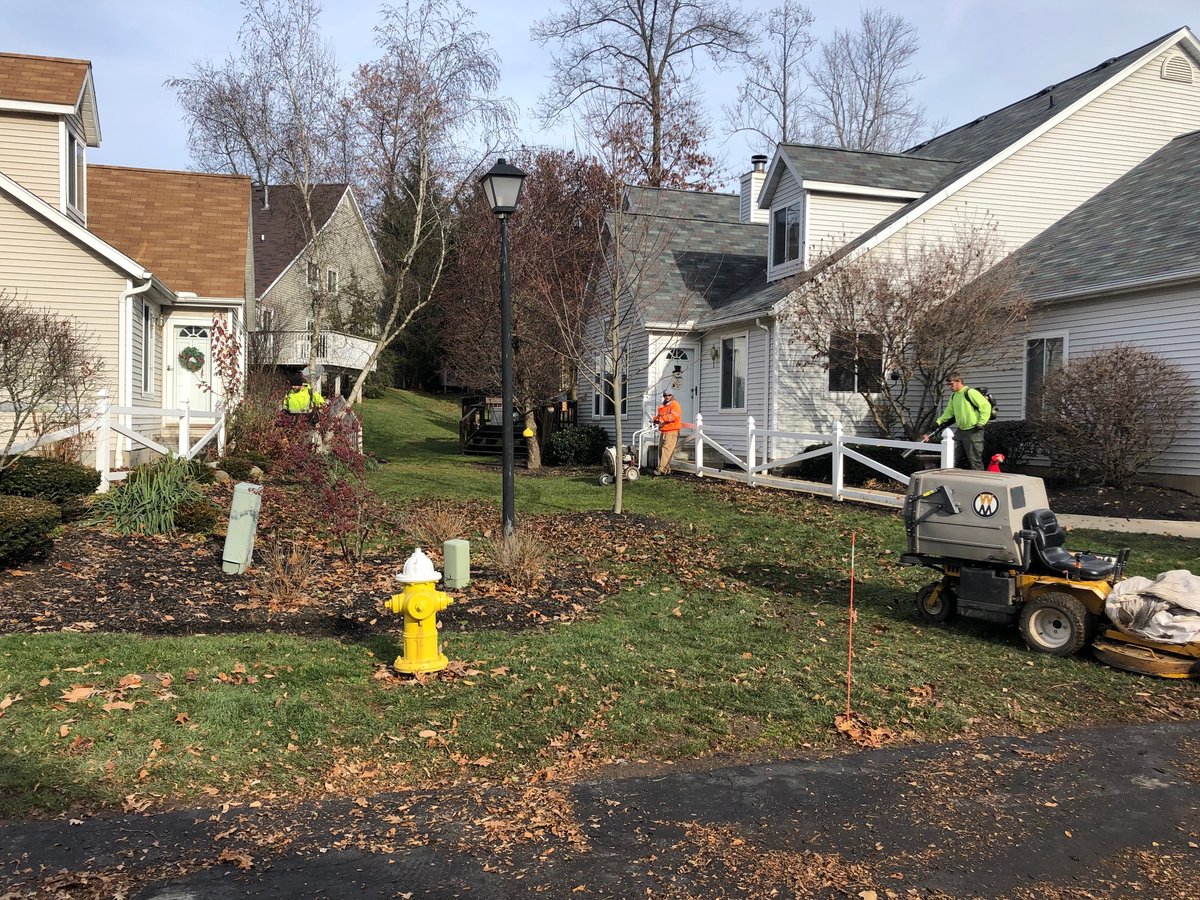 This is so important because leaves that are left on your lawn can become wet from snow and ice and smother your turf during the winter, causing disease to develop.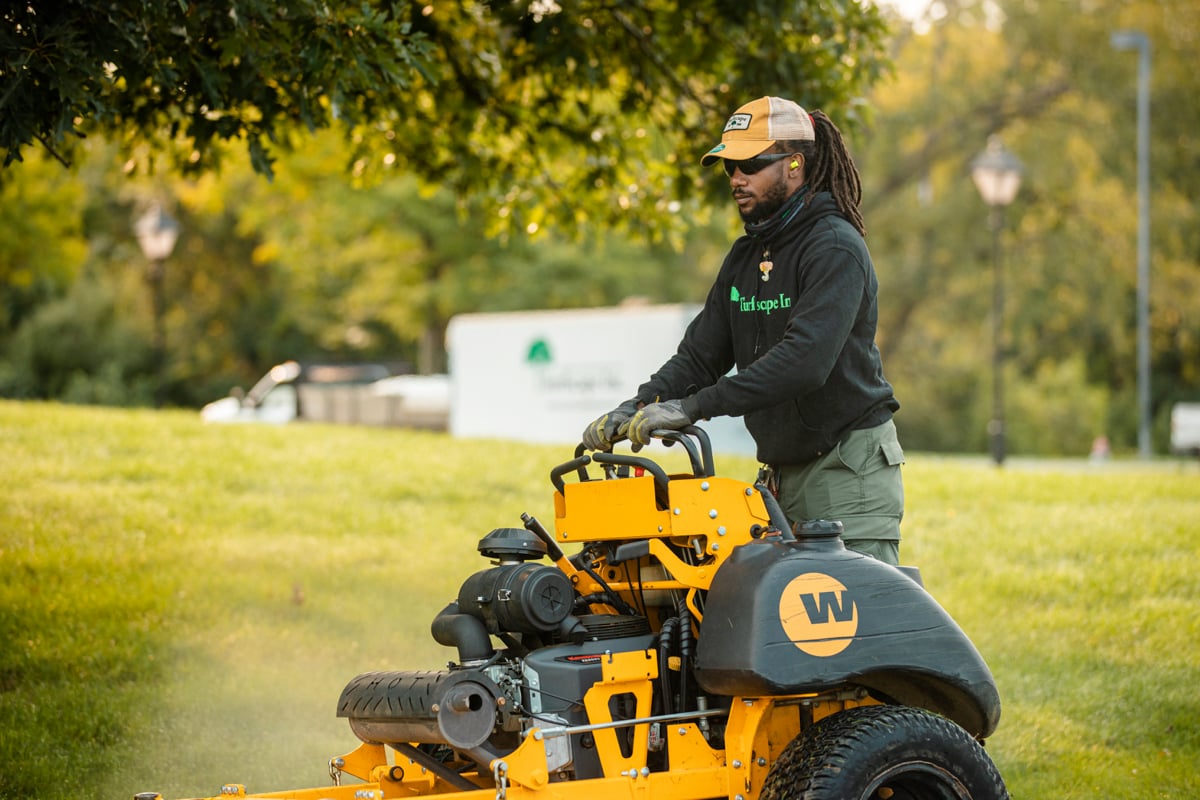 After that is complete, we approach the last mow of the season on your commercial property. This means cutting the grass a bit shorter going into winter to prevent snow mold from accumulating where it can harm your lawn or cause it to look unattractive next spring.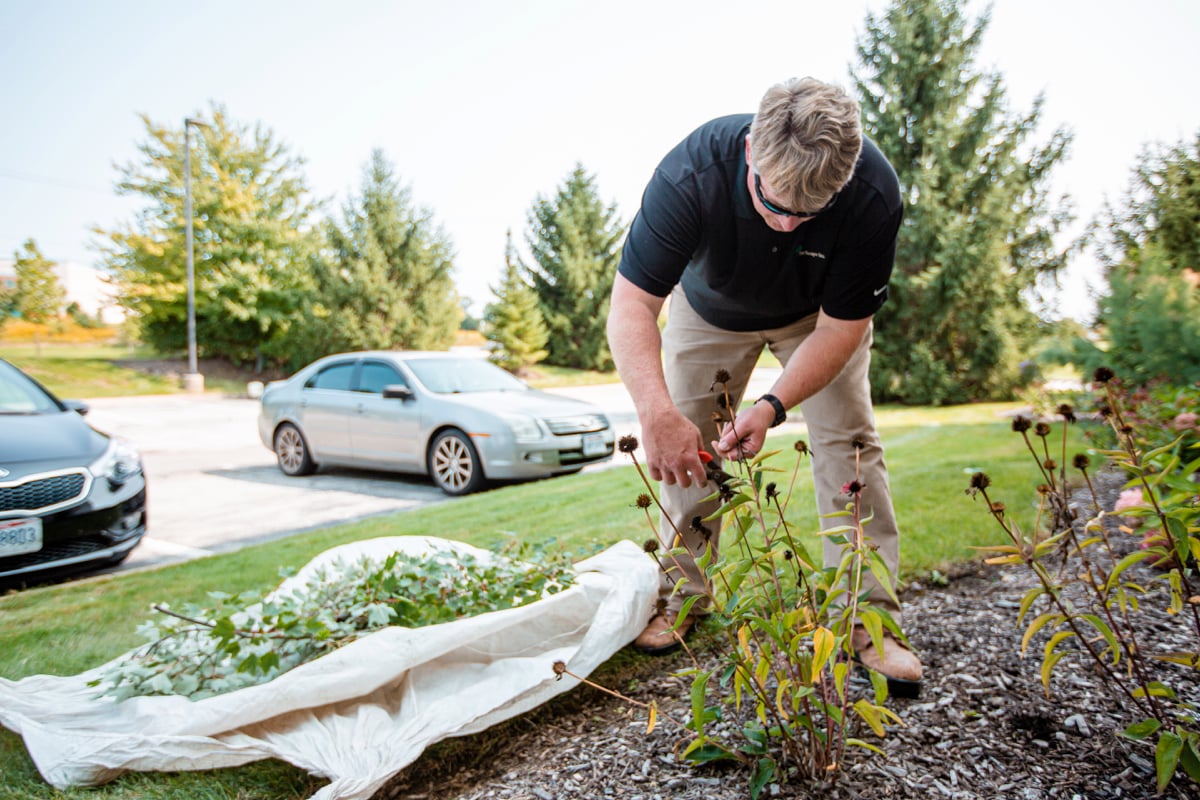 Next, you need to tend to your commercial landscape perennials. They've done a great job adding color and variety to your site all spring and summer, but in fall they need a little TLC so they can repeat this job next year. Cleaning them up includes deadheading or cutting back perennials and ornamental grasses to keep them neat and prime them for spring growth.
4. Irrigation System Shutdown
During the growing season, your commercial facility's trees, shrubs, perennials, annuals, and lawn require regular irrigation. But as the year comes to an end, your property needs less and less water.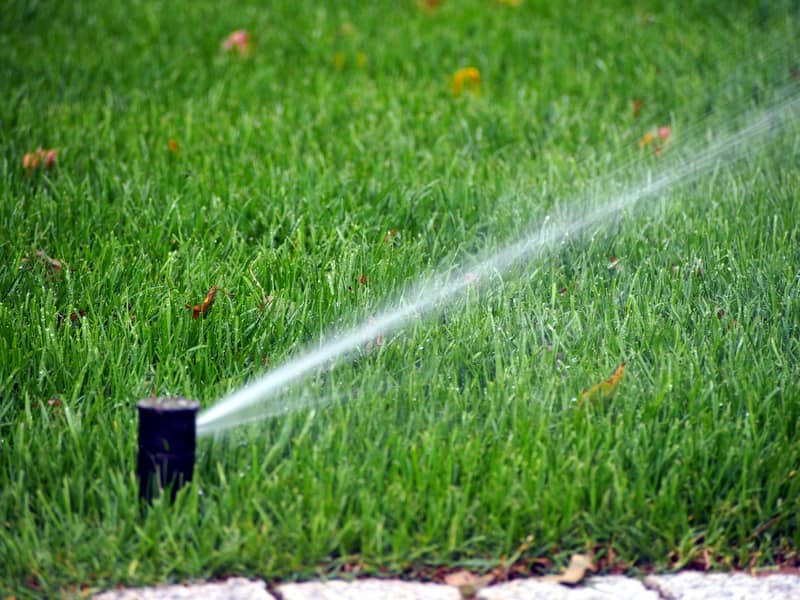 Commercial property winterization in Northeast Ohio has to include an irrigation system cleanout and shutdown to avoid system damage during those winter months when freeze and thaw cycles are extreme. This includes blowing out any leftover water and shutting the system down properly so you don't face any severe damage or costly repairs come springtime.
5. Wrap Plants
If you have new trees on your commercial property or those with thinner bark, wrapping them could help protect them from winter's frigid temperatures.
This winter protection is important because winter sun warms tree bark and then temperatures drop very quickly once the sun disappears, which can crack and dry bark or lead to sunscald. This can also impact evergreen needles, turning them brown.
Wrapping sensitive trees with burlap can provide winter protection to those trees that are weak, newly planted, dehydrated, or exposed to heavy wind on a regular basis.
6. Sign Your Snow Contract Early
Have you signed your snow and ice management contract yet? We get it; you're busy. In fact, a lot of commercial facility managers wait until the last minute to make a final decision on the right snow removal contract.
But the earlier you sign a snow and ice management contract, the more your service professional can plan to efficiently take care of your property, and the better prepared you'll be in case of early snow and ice storms in Northeast Ohio.
Signing your contract in fall allows your snow and ice removal services professional to strategically develop an efficient route for your commercial property, so you are prioritized on their list. It also ensures they have time to properly prepare a plan for where to pile snow on your site and develop strategies for different types of snow events; you know we get all kinds of storms in Northeast Ohio -- from strong ice storms to heavy snow and slushy mixes of the two.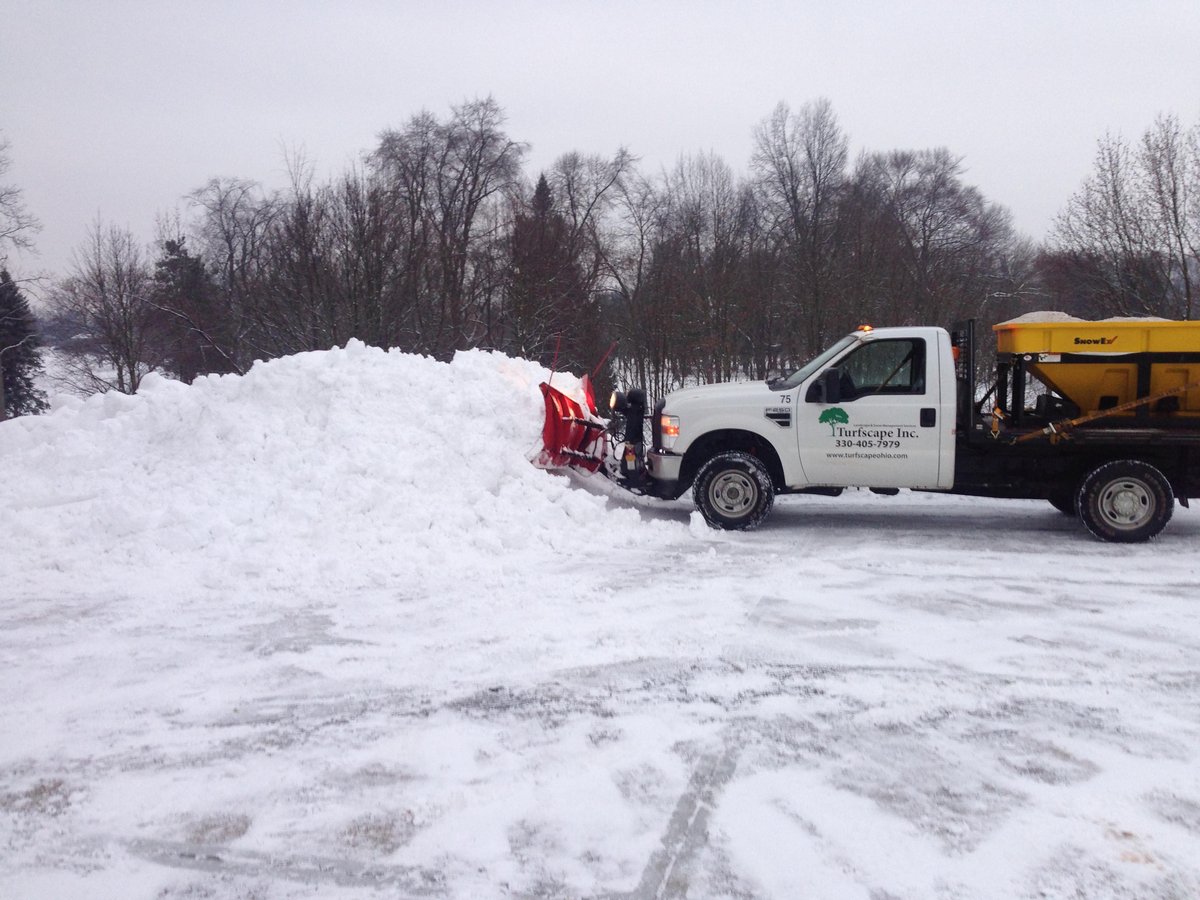 Your property may also require some extra precautions to best protect it from snow and ice. This can include the installation of plow stakes to protect areas from snow plow damage or snow fencing to limit large drifts.
A snowplow operator may also want to have time to walk through your site before winter so he or she knows what your preferences and priorities are. Every property is unique, and your service professional will want to provide you with unique solutions to adequately address your needs and requirements.
This is one of the most important steps to winterizing a commercial property since we never know what Mother Nature is going to bring during the winter months, despite the forecasts. For the winter of 2021-2022 in Northeast Ohio, for instance, the Farmers' Almanac is predicting a lot of cold, flaky weather, so commercial property managers should expect some decent snowfall in January at the very least.
Don't Neglect Winter Preparations on Your Commercial Property
We know it's easy to stop thinking about your landscape once the weather cools down. With everything on your plate, the last thing you want to add to your list is to go out there and start cleaning things up and preparing for winter. We completely understand.
But being diligent now can save you so much time, money, and headaches through winter and into spring. Don't want to wait until the last minute. Turfscape can help you with commercial property winterization so you can put your facility in the best position possible for a tidy winter and gorgeous spring.
Want to learn more about our winter commercial property preparation service in Northeast Ohio? Get started today with a free quote. We'll review your options together so you can feel confident and make a great choice.