Do you look around and see beds full of weeds and overgrown shrubs at your healthcare facility?

Has your commercial landscaping service underperformed? Do you feel ignored or that they don't communicate well with you? Maybe you keep making lists of things you want done on your property but you have absolutely no time to address them. Not to mention, you thought these headaches were taken care of.
Listen to your gut. It might be time to find a new partner. But the last thing you want to do is make a bad decision. Workers, patients and their families rely on you to keep your hospital or healthcare facility safe and welcoming.

You should begin your search armed with the right questions to be sure the service provider you choose to perform the landscaping for your healthcare facility is the right one for you.

Here are the top 6 subject areas on which you should target your questions.
6 Topics You Should Focus On When Seeking a Commercial Landscape Service Provider For Your Hospital or Medical Facility
Few types of properties feature such a diverse mix of people as a medical facility. People are coming and going 24 hours a day -- from employees and staff to patients and their families, as well as security and emergency personnel.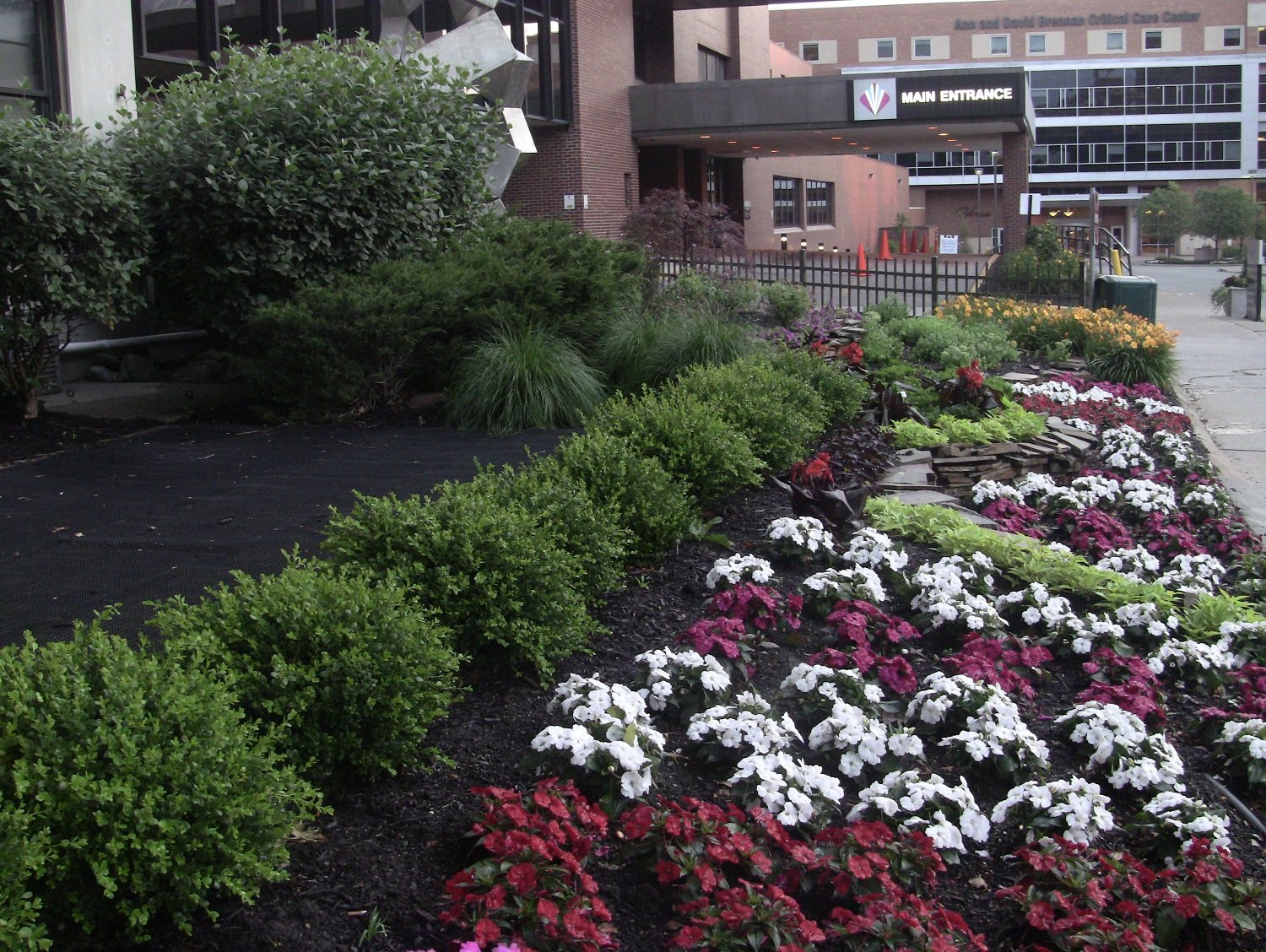 Landscaping for medical campuses must take all of these things into account. The professional you hire must meet all of your unique needs, including knowing appropriate strategies for your property type, working within your budget, being able to prove to you that they have a solid track record working on accounts similar to yours, and that they keep safety and sustainability top of mind.

The following areas and suggested questions can help you figure out if the commercial landscaping company you're interviewing is the right one for you.
1. Proper Landscaping for Healthcare Facilities
A great partner that provides the right kind of landscaping for hospitals will guide you on the right plants for various areas on your property. It's the right plant, right place principal. For instance, you wouldn't put a new planting bed by the parking lot that gets hammered with salt in the winter because those plants won't survive.

The right color of plants and landscaping elements can impact how people feel, which is important at a medical facility. That's why planting beds at a hospital will include more detailed designs that people can enjoy from a closer distance.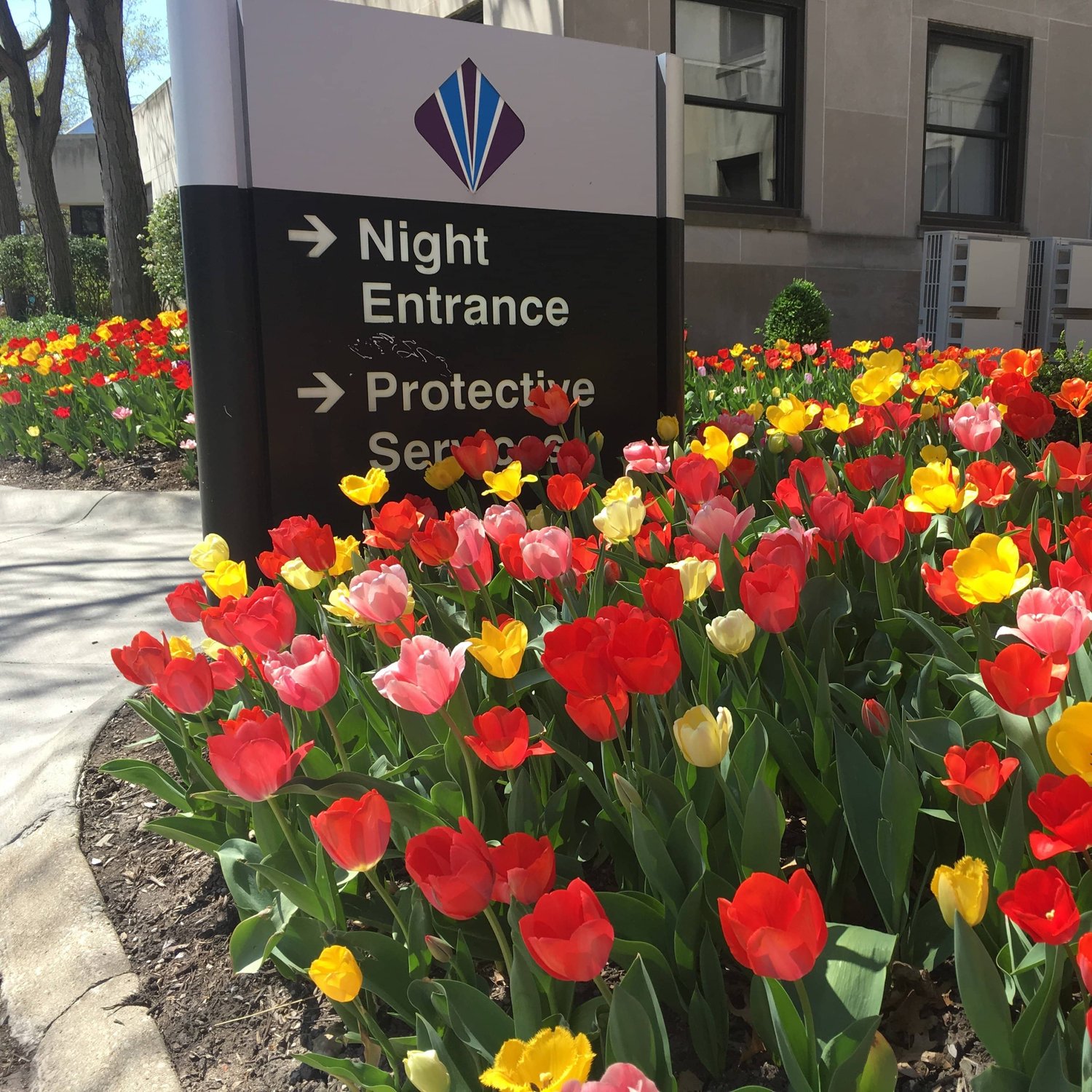 Cleanup is also a critical part of medical property maintenance. When so many people are coming and going on a property, they will inadvertently drop trash. This is in addition to regular natural trash that will develop from leaf drop or sticks and branches that result after storms.

A professional experienced with landscaping for medical campuses will know these standards and be able to suggest improvements to your property to maximize them.

QUESTIONS TO ASK:
What's the right seasonal color plan for a hospital environment?
What experience do you have with landscaping for hospitals?
Do you offer trash patrol as part of your maintenance services and can you tell me more about that part of the program?
2. Frequency & Contract Details
Depending on the size of your hospital site, you could have a landscape crew arrive a couple of times each week to perform regular services or you may even have a dedicated crew that is on your site full-time Monday through Friday. In this case, they are completely focused on your property, like an extension of your current staff.

To be able to understand how a commercial landscape contractor would work on your property and compare services from one company to the next, you have to get a full understanding of services provided, how often crews are at your property and how they work. Your commercial landscaper should be transparent and open about what services they provide, how they conduct business and what strategies they use for specialty services. For instance, if they provide irrigation, is it performed by subcontractors and did they disclose that to you?

QUESTIONS TO ASK:
Can you tell me about your maintenance contract?
How often will you be on my property?
What services are included in landscaping for hospitals? Leaf removal? Weed control? Tree and shrub pruning?
What's your crew size?
Do you arrive at the same time every week? Will I have a dedicated crew on my property throughout the week?
Do you work with partners for some services and can you explain how that works?
3. References & Examples
Nothing expresses how a hospital feels about their commercial landscaping service than their willingness to share their positive experience. Service providers with expertise providing landscaping for medical facilities will have case studies detailing their work that they can share with you.

QUESTION TO ASK:
Can you provide examples/references from other health care systems/medical campuses?
4. Safety
Hospitals and medical facilities must maintain safety at all times. Landscaping for hospitals must enhance safety on the property. Regularly trimming trees and shrubs so they aren't a hazard or in the way, as well as taking care of any drainage or water issues, are some examples of things you need your service provider to include in their weekly maintenance work. It's just a part of those specific tasks that are non-negotiable on medical campuses.

This need for safety also extends to the people visiting your hospital. They can be sick or older and they must avoid slips and falls when walking in and out of your facility. A commercial landscape company that keeps this in mind, for instance, will clean off debris after they mow sections to avoid any hazardous walkways before moving on to the next section. It's a common courtesy that makes their service extra special to a hospital environment with unique needs.


This includes not just crew member behavior but also the general appearance of company vehicles and employees. Since they are a representation of your brand while working on your property, clean logoed uniforms, well-groomed workers and neat, maintained vehicles are crucial. Employees should also be wearing the proper safety gear and personal protective equipment.

And, of course, today, crew members also wear masks on the job, as well as conduct daily truck and equipment sanitation to keep each other and passers-by safe from COVID-19.

QUESTIONS TO ASK:
How does your landscaping for medical campuses benefit my property from a safety perspective?
Do your crews wear uniforms and personal protective equipment/safety gear?
5. Reporting & Communication
Hospital landscapes are dynamic. Sometimes they require service at off-peak hours or at times that don't interfere with important busy hours at the facility.

This is why holding occasional meetings and sending regular communication between the landscape service and you (as well as any necessary hospital staff) is crucial to determine what needs to be done and coordinate appropriate timing.

Brief monthly meetings, in addition to quarterly or at least biannual meetings for review and redirection, help maintain an ongoing dialogue to ensure everyone's needs are being met. You should be comfortable with the amount of communication you receive from your service provider, as well as the reporting on services provided. This relationship building and communication builds a certain level of trust.

QUESTIONS TO ASK:
Will you send me updates or reports after services are completed detailing what was done on my property?
How do you track what services are scheduled and when they will be performed on my property?
How often do you meet with me to discuss landscaping at my hospital or medical facility?
6. Budget, Cost & Value
When discussing landscaping for your medical facility, your landscape professional should be completely transparent about costs involved and what's included versus what might be considered additional services or enhancements. They should also be willing to discuss your budget needs and challenges -- not only at the beginning of the year, but also mid-year when you might have budget questions or concerns.

There's also a level of value you should be able to expect from your commercial landscape service provider. Partnership is about fixing problems without having to be asked. You don't want to have to chase around your service provider to tell them you noticed a dead shrub. The goal of a great partnership is removing your headaches … not adding to them.

Value can also be seen in how crews respond to situations that happen on a daily basis at your facility. Many times, patients and their families don't come to hospitals because they want to be there. On top of that, they are usually emotionally stressed about their visit. Landscape professionals must be trained to be sensitive to this. This includes being willing to smile, step aside to let people through when necessary, and quietly do their jobs without adding to the nearby drama. So on top of technical lawn care skills, your service provider should have people skills. Crew members should consider themselves as part of your hospital experience as they are there on the grounds among your employees and visitors.

QUESTIONS TO ASK:
How do your costs compare to other commercial landscape companies?
Can the budget be reallocated during the contract?
How can your company add value to my medical campus?
7. Noise, Pollution & Green Initiatives
A conscientious crew is helpful when it comes to landscaping for healthcare facilities. This is true not only to make people feel comfortable, but also to meet their sustainability needs.
For instance, power equipment can be noisy. Does your services provider make sure to use louder equipment during hours that you've approved that are less disruptive? Do they avoid major courtyards during lunchtime? Do they politely turn off loud equipment when people are walking by to wait for them to pass?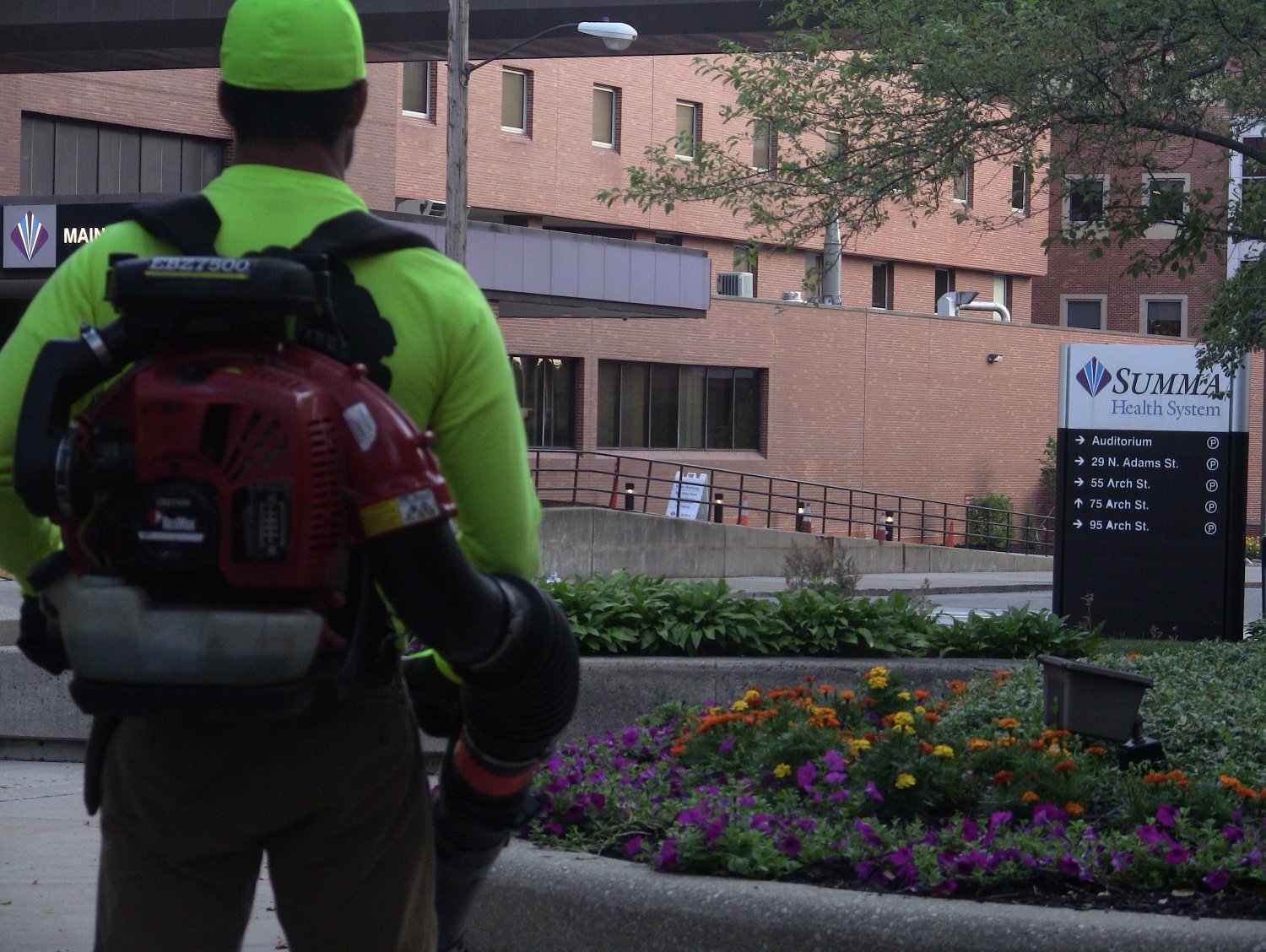 When it comes to sustainability, your commercial landscape service should be using the latest equipment that reduces noise and emissions. They should also perform proper lawn care services, which means they are using targeted products on calibrated equipment to minimize inputs and maximize results.

QUESTIONS TO ASK:
How much noise will you make on our property?
How will you help to protect the environment at our healthcare facility?
We Can Help You Make A Good Choice For You
Landscaping for hospitals is special because service providers don't function as just vendors, but as integral parts of your facility management team. Not only should they make your life less stressful, but with their services and presence they should also provide comfort to workers and visitors to your property.

We know you have a lot of facilities and operations issues that require your attention. When you want to form a healthy partnership, we hope these questions make it easier for you to make an informed, well-researched decision.

Want a more customized, proactive maintenance program for your Northeastern Ohio healthcare facility? Turfscape can help. Request a proposal today. We'll review your options together so you can make the best choice for your property.