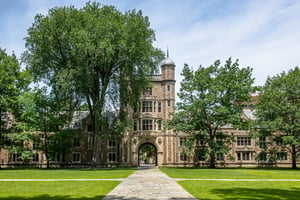 Spring is in the air in Northeast Ohio (well, some days at least), and with the sun shining and warmer temperatures, students, faculty and visitors are going to be roaming your campus more often, and your landscape is one of the first things they'll notice. Seeing muddy grounds, salt residue and other remnants of the winter season can seem overwhelming when deciding where to start your spring cleanup. When you partner with a commercial grounds maintenance company in Northeast Ohio, they can take care of the landscape maintenance services for you. At Turfscape, we focus on the following landscape maintenance services for schools.
Weekly Grounds Maintenance Services
These are the landscape maintenance services that give your campus curb appeal. Our team takes care of:
Spring cleanup

Lawn maintenance

Bed maintenance

Pruning

Fertilization
Seasonal Color
Make a great first impression to parents, students, faculty and visitors by utilizing seasonal color. Not only do flowers brighten up your campus, but they also make a statement that you care about your grounds. In late spring, our team plants pansies and summer annuals. In fall, our team plants mums.
Special Event Support Services
Spring is the prime time for school events such as open houses and graduation ceremonies. Turfscape can beautify your campus as well as provide additional staffing to help you set up for these seasonal events.
Daily Trash Removal
Nothing detracts from a beautiful campus more than debris on the ground. We can monitor grounds daily to ensure they are clean and well kept.
Athletic Field Maintenance and Preparation
Turfscape can take away the hassle of field maintenance and preparation for both spring and fall sports. This lets athletic directors focus on what they do best. We can also provide additional staffing for sporting events.
Access to the Turfscape Network of Contractors
When you partner with Turfscape, you gain access to our network of contractors that can help solve problems that typically arise in the spring, including:
Irrigation

Tree removal

Concrete repair

Broken asphalt
Snow Removal
Even though snow removal is likely the last thing on your mind, it's always important to think about in Northeast Ohio. Looking ahead to the next winter season, you can also count on Turfscape to handle snow removal on your campus. We keep your parking lots and sidewalks safe for your students, faculty, staff and visitors and do so by monitoring weather conditions 24/7. Services include:
Plowing

Shoveling

Salting

Deicing
The look of your campus plays a huge role in attracting new students and staff and keeping existing students and staff satisfied and happy to be part of an organization that takes pride in their outdoor grounds. Choose to partner with a grounds maintenance contractor that can provide the landscape maintenance services that will make the biggest impact on your school grounds. Contact us today so we can start beautifying your property.