At Turfscape, you will find many advantages to being part of the top commercial landscaping and snow removal team in Northeast Ohio. Not only will you have the opportunity to work with cutting edge equipment and dedicated, enthusiastic professionals like yourself, you will receive on-the-job training allowing you to excel in your role every day. Besides offering top industry pay with overtime, Turfscape offers a cornucopia of benefits which would be impossible to list them all, so we've highlighted some below:
Health insurance

401K with company match

Paid vacations & holidays

Continuing education emphasis

Volunteering & Giving Back to our community opportunities

Profit sharing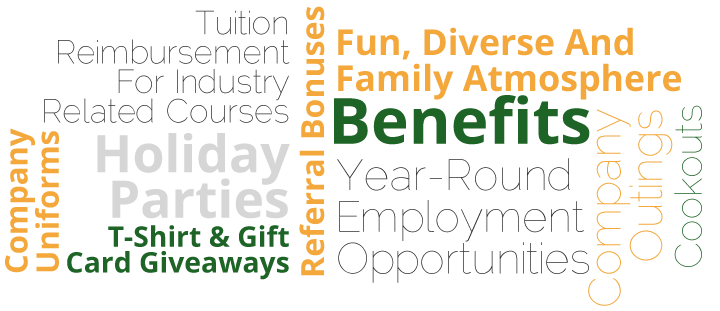 So as you can see, we pride ourselves on offering benefits and opportunities to our employees to help transform that "summer job" into a career! Would you like to learn more about what Turfscape can offer you? We are ALWAYS HIRING THE RIGHT PEOPLE…apply now and we will be in touch!