Planting perennials, trees, shrubs, and flowers on your commercial property in Northeast Ohio is important for so many reasons.

It gives you instant curb appeal, safety and security, makes employees and guests feel welcome, and improves the overall appeal of your commercial site.
You're probably thinking you can just throw some plants in the ground, water them, and they'll do the rest of the work for you.

Unfortunately, there's a bit more to it than that.

If you plant certain things too close together or put plants that like sun in a shady spot, you'll end up with overcrowded plants or those that suffer from improper conditions. Before you know it, your commercial property is full of hideous, dying plants.

And not only does your property not look good, you don't look good.

Proper plant placement is key when it comes to installing trees, shrubs, and flowers at your commercial site. Let't talk about why plant placement is important and some of the keys to getting it right.
Why Is Proper Plant Placement Important?
Proper plant placement for commercial properties can do quite a bit to amplify safety, plant health, and curb appeal at your facility.

This is especially true with trees. Plant one too close to your building and without proper maintenance, it could pose a danger if limbs should drop on your buildings or people traveling to and from your property. Tree roots can grow up to three times the width of its crown, potentially damaging underground pipes, walkways, or parking lot areas.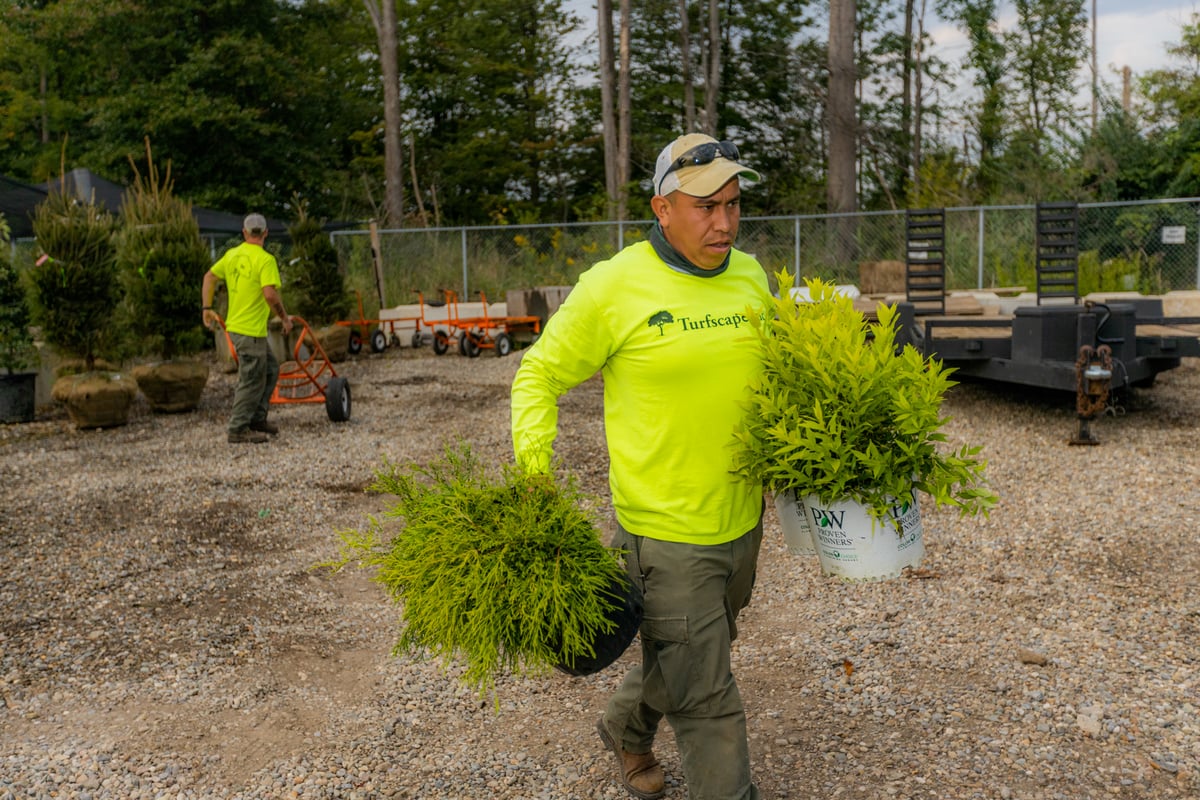 Shrubs can grow over pathways, inhibiting fluid movement of employees and visitors on your site. The wrong kind of plants in the wrong places can even scratch people with their thorns or branches.

When it comes to aesthetics, proper plant placement can enhance your signage versus block it and encourage great visibility versus block it.

And this one might surprise you: Placing plants in the appropriate locations for their needs also cuts down on your maintenance costs. How? Because a plant growing in conditions it loves doesn't need as much water, attention, or excess care.
Key Areas For Proper Plant Placement For Commercial Properties
Plants are key components to any landscape, and commercial facilities are no exception. Any landscape without some great greenery and touches of color can look pretty bleak and bland.

But there are some things you can do with proper plant placement to get the best design strategy for maximum impact.
Remember Right Plant, Right Place
To create an alluring and attractive commercial landscape, you need a mix of bold and beautiful annuals, perennials, ornamental grasses, shrubs, trees, and evergreens to add interest, variety, and incredible appeal throughout all of the seasons.

It's a fact that some plants like certain conditions on your property over others. So you must consider the location when choosing your plants.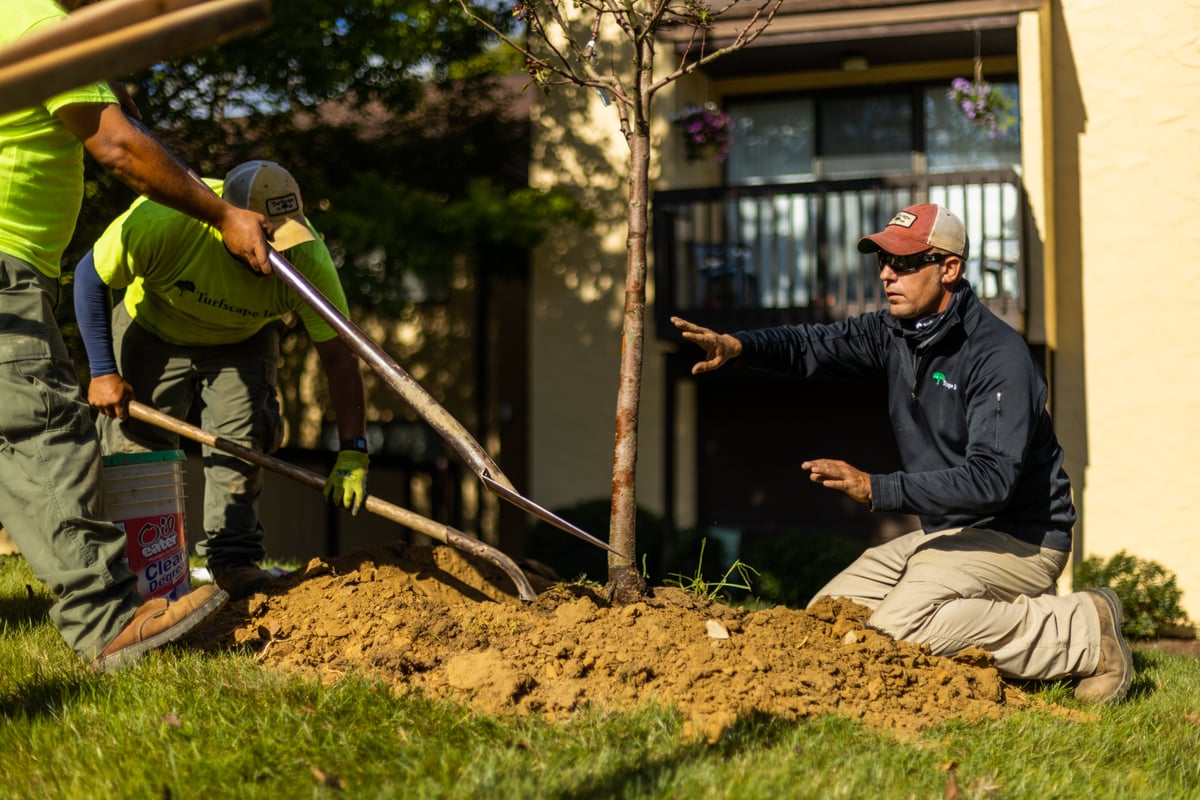 Proper plant placement means putting plants that prefer sun in sunnier spots on your site, and the same with shade-loving plants. You should also consider the water needs of your plants, so you're not placing a plant that doesn't like wet feet in a soggy location. Misplacing these plants can mean some will burn and brown from too much sun or wilt because they aren't getting enough water.

You also want to consider which plants are deer tolerant. Placing those too close to wooded areas could risk them regularly getting nibbled on by deer.

When choosing plants, your professional commercial landscaper will always consider site location, sun exposure, soil condition, irrigation availability, disease and pest resistance, and traffic levels. This also ensures your plants live long, healthy lives.
Think About Long-Term Growth
Sure, when you are first installing commercial landscaping plants, you want to place them close together for an instant appeal.

But you have to consider the fact that plants will grow. While they look one way today, they could look completely different tomorrow. Planting them too close today means they'll have to be removed and replaced in a few years once they grow.

Your commercial landscape professional will consider plants at the size of maturity in your design versus just what they look like when they are first put into the soil.
Safety Is Also a Part of Proper Plant Placement
When you add plants to your commercial facility landscape, you also have to consider safety and security.

If you install shrubs that grow too big in front of certain key areas, they can block important sight lines for vehicles entering or exiting your property, interfere with pedestrian traffic, block security cameras, block safety lighting, grow into overhead wires, and add unwanted hiding spots for burglars and intruders.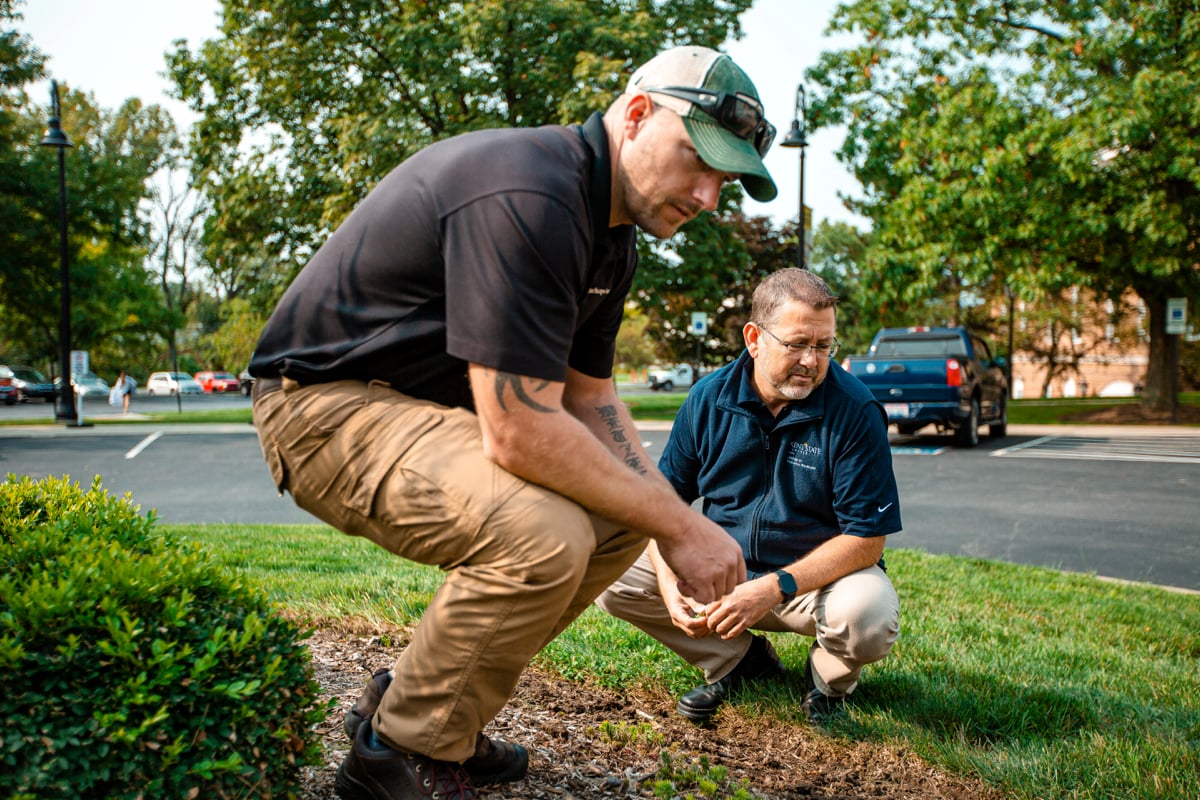 These are issues you don't want to erupt on your commercial landscape if you can prevent them. Knowledgeable professionals know proper plant placement includes considering safety as a major part of the equation in choosing plants and designing outdoor spaces.
Consider Curb Appeal
Commercial landscape professionals know how to place commercial landscaping plants for maximum appeal.

This means partnering plants that bloom during different seasons so your property has great curb appeal all the time. And adding plants that accent certain high-traffic areas to draw attention where you need it most. It also means mixing plants in various colors, sizes, and textures that work together for show-stopping, multi-seasonal interest.
Proper Plant Placement Can Reduce Your Maintenance Costs
Plants need proper maintenance. Think about how much water the plant will need and how much pruning might be necessary.

If placed in the wrong spot, a plant near an entrance may overgrow and impact sight lines, requiring much more trimming.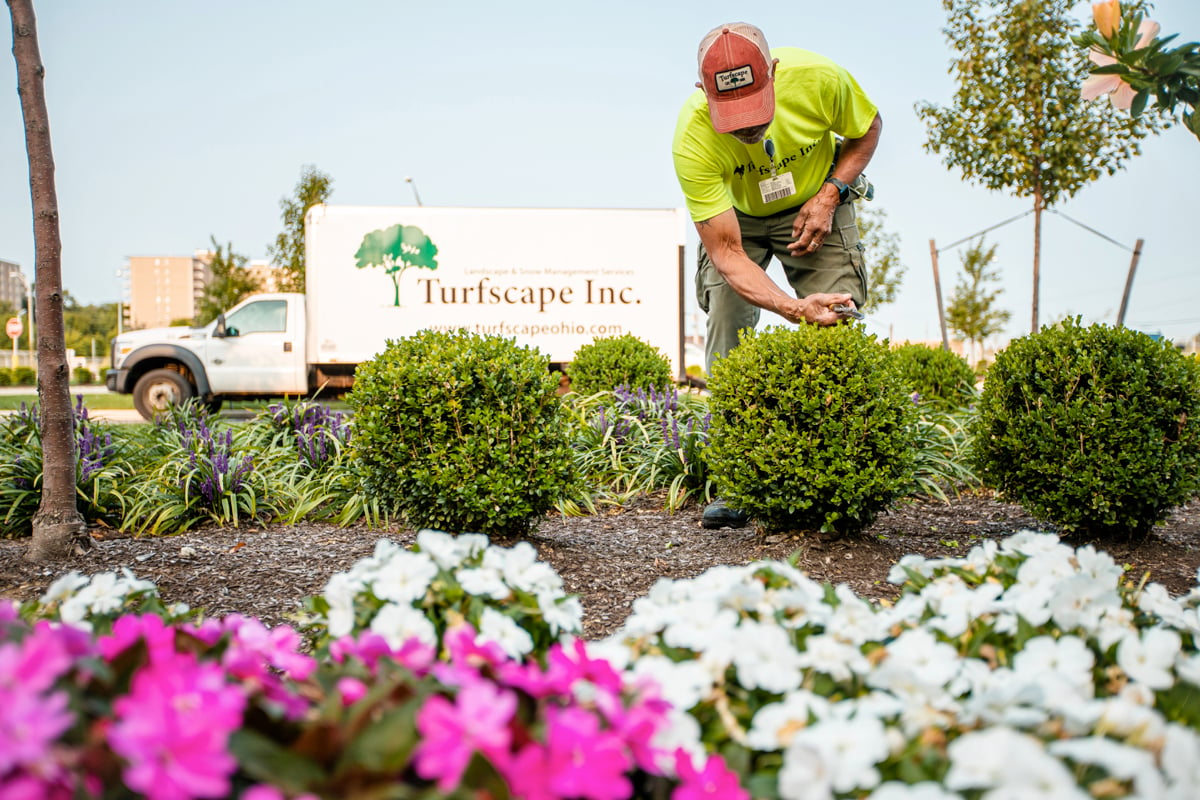 Think about how much clean up a plant will require if it's known to drop leaves or flowers. Or does it drop leaves late in the season and need a later fall cleanup service?

Proper plant placement can cut down on maintenance costs because you're pairing the right plant with its conditions, considering its mature size at planting and using its attributes to accent the perfect areas on your commercial facility. Smart planning with your commercial landscape professional now will save you headaches later.
Don't Forget About Snow & Ice in Northeast Ohio
In Northeast Ohio, you always have to consider winter as a factor when installing commercial landscaping plants.

Certain plants can experience issues during heavy snow, ice, and salt accumulation during the winter months.

There are likely areas on your commercial property where you tend to pile snow in the winter. Planting important, ornamental trees there isn't a good idea. Other plants, such as some perennials and ornamental grasses that aren't as impacted by snow, could be OK located there, however.

Salt applications and the resulting plant burning could also be an issue in Northeast Ohio winters. Choosing hardy plants for areas near hardscapes that will be salted regularly can save plants from being impacted. Adding burlap or snow fencing on parking lot edges can also help protect plants in these locations.
Prevent Additional Stress With Proper Plant Placement
If your plants are installed too close together or too near to your buildings or begin to block pathways or entrances, they will eventually need to be removed and replaced.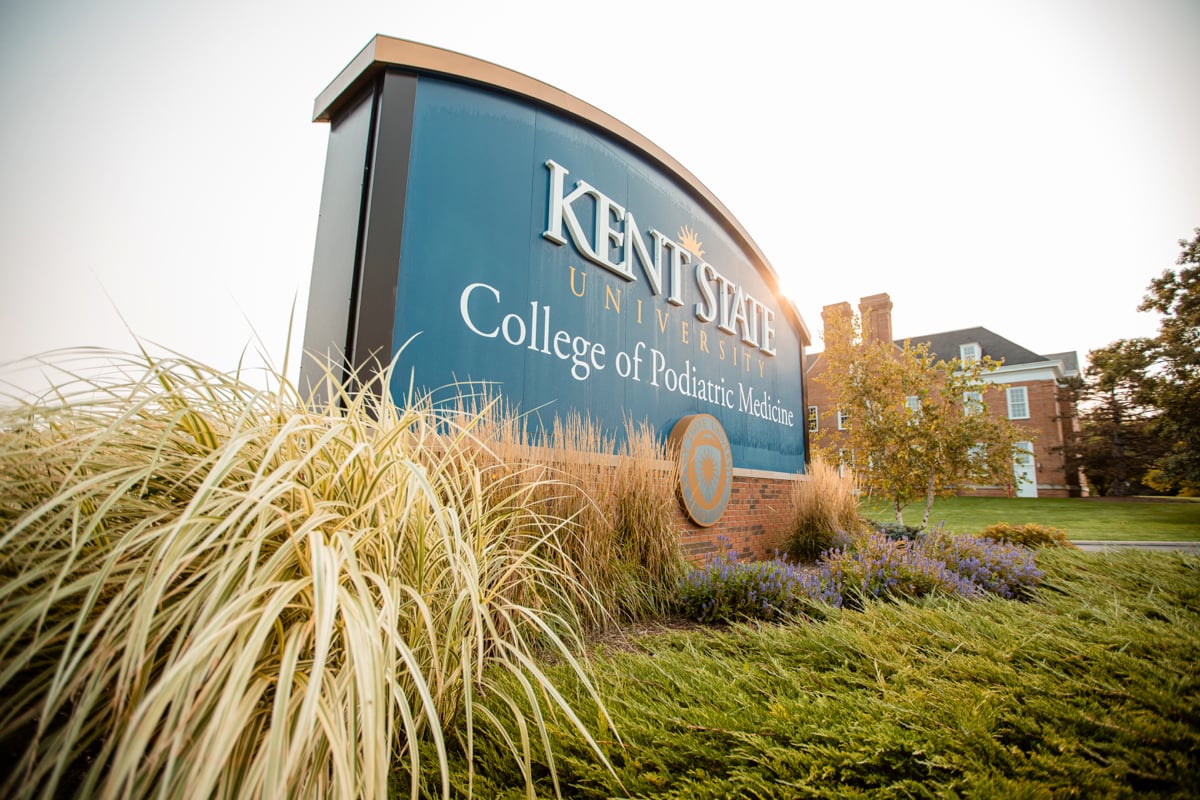 This means you are spending additional dollars you didn't budget, and adds stress to your day.

Placing commercial landscaping plants properly in the first place with the knowledge of your commercial landscape partner can save you additional costs and anxiety.
When It Comes to Commercial Landscaping Plants, Location Matters
You have a lot of choices when you're looking for the right commercial landscaping plants.

While choosing the right plants is important, it's best to merge the right plants with the correct locations to save yourself time, money, and headaches, and ensure long-lived, healthy plants.

Since there are so many plants out there to choose from, pairing the proper plant to the best location can be challenging. We get it. It takes years to learn the ins and outs of understanding plants, their needs, their growth patterns, and their habits to ensure they are put in homes that match these characteristics.

And you just want your commercial facility to look great at all times, boosting your brand reputation and not giving you any issues. Makes sense to us.

Turfscape can help. We are experts in choosing plants, properly placing plants, and maintaining them. We do this everyday, and we know Northeast Ohio conditions. We can assist you in making the right choices so you can get the curb appeal you crave at a budget that meets your requirements. We can guide you toward a landscape that does exactly what you need it to do for your commercial property.

Want to learn more about how to choose and place the best plants for your Northeast Ohio commercial property? Get started today with a free quote. We'll review your options together so you can make a great choice.