Maybe you've been handling grounds maintenance at your commercial facility for a while or maybe you've been just doing it for a short time. Either way, deciding to outsource these services to a third party company is something you might be considering.
And that's natural. You might be curious if it's more or less expensive, for instance. You might also be wondering if it's easier to supervise or whether you'll feel like you have to micromanage this aspect of your property management. You might even be curious if your inside crew is staying up-to-date on new outdoor ideas and best practices and if something could be done better or more efficiently than it is now.
In fact, there are many reasons companies bring in outside help to take care of commercial grounds maintenance to keep their properties looking professional and presentable.
Let's review them so you can get a better handle on how to make this decision for your own commercial facility.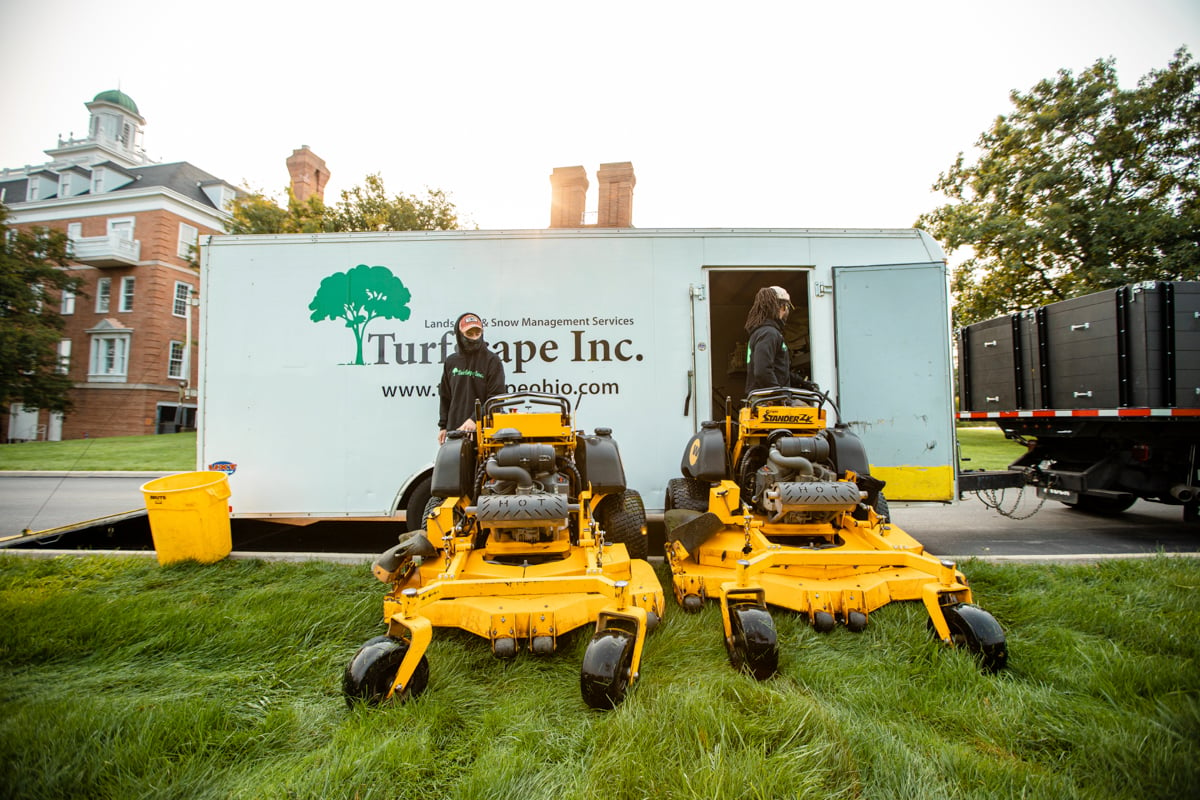 Why You Should Outsource Commercial Grounds Maintenance
Whether your facility is a hospital, a college campus, an industrial property, a retail center, or an office park, finding new ways to improve your daily productivity is always on your to-do list.
As maintenance costs rise across your entire facility, you constantly struggle to get the most out of your property management crews. Focusing on indoor needs and concerns, you may even find you neglect outdoor maintenance because crews lack the time, experience, or it becomes out of sight out of mind.
Here are 6 reasons that outsourcing commercial landscaping may be the right decision for you.
1. Efficiency and Safety Are High On Your Priorities List
When you're trying to reach your goals, ensuring your facility is functioning as smoothly as possible can make a big difference in whether you get there or not.
That's why it's no surprise that this is one of the top reasons to outsource your facility's grounds maintenance. When you partner with the right commercial landscape professional, they will take note of your specific goals. Then they include this in their plan to address your facility's basic needs, as well as help you reach those other long-term goals on your list.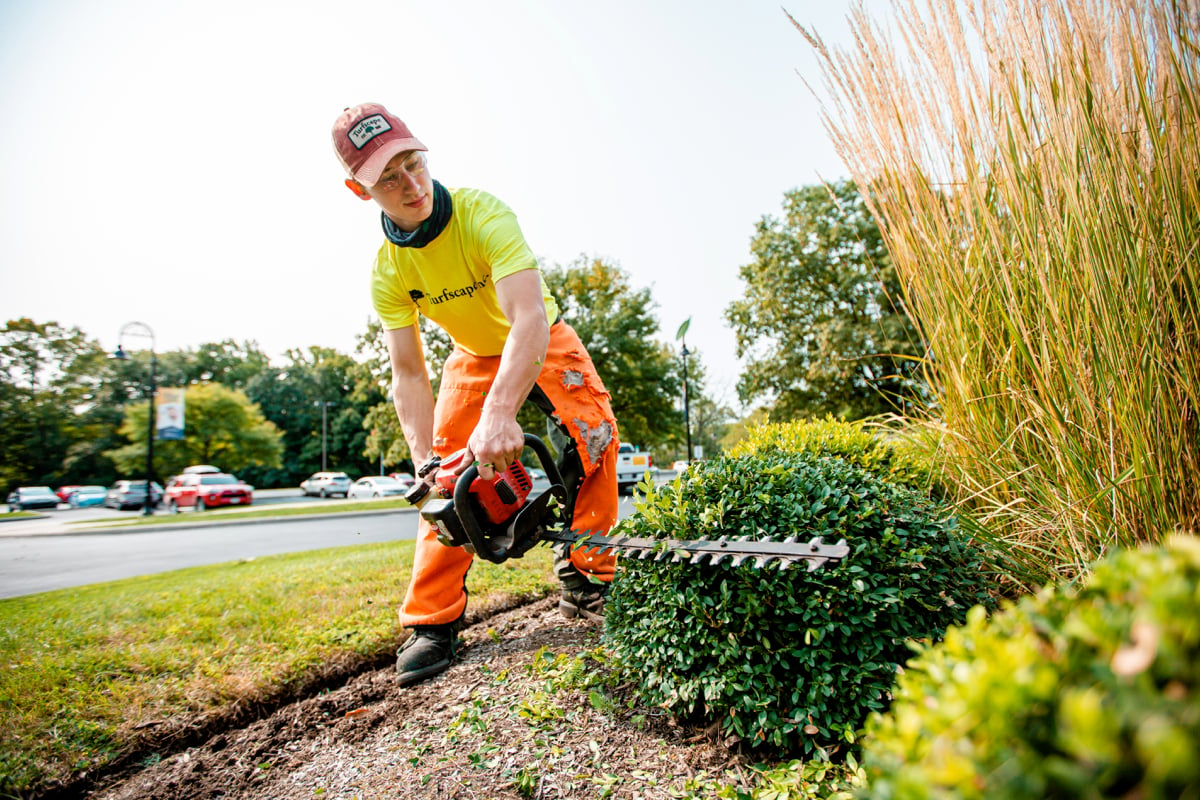 To do this they have experts on their team with experience in various exterior maintenance areas -- from seasonal color to snow removal to hardscape repair. This ensures your problems are taken care of quickly and correctly, using the latest technologies, as well as the most recent safety practices. This is specialized knowledge that trained team members focus on day-to-day at all kinds of facilities that can benefit you.
Then if something is needed quickly, this outsourced team can rally to bring you additional skills and resources immediately without you having to seek out other specialists or part-time help.
2. You Don't Want to Neglect Commercial Grounds Maintenance
An in-house crew at your facility can naturally be pulled in so many directions to help complete last-minute tasks, in addition to regular duties. Things like emergency inside repairs or setting up an event space can take precedence over commercial landscape tasks.
This can negatively impact the consistent maintenance of your property, as well as its overall cohesive look and feel. A professional commercial landscaping company trains their crews on best practices so trees and shrubs are pruned the same each time, the lawn is mowed to the proper height, and snow is plowed in the most immediate areas first and piled in the right places every time.
Since their focus on the outdoor areas is laser sharp, they take note of and remember your preferences so this regular and reliable work remains constant.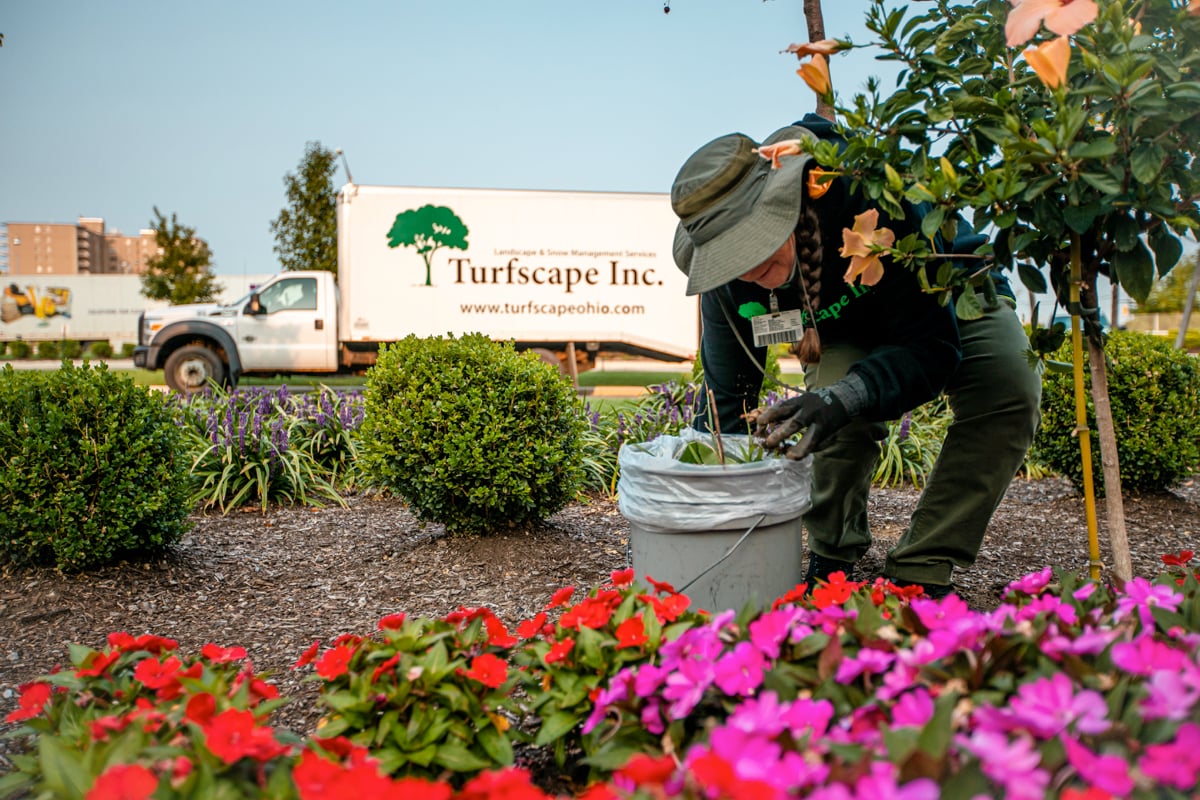 3. You Want to Save Money
You may not think initially that outsourcing commercial landscaping could save you money, but it can.
Employees, first of all, cost more than their wages. You have to cover everything from insurance to benefits to workers' compensation and also spend time managing their reviews, growth, and progress.
Additionally, you have the cost of equipment. This includes owning, fueling, repairing, and storing your mowers, blowers, trimmers, snowplows, and other machines. You have to rely on your in-house crew to also choose the best equipment and keep it primed to perform on a weekly basis so they don't use the wrong tools to get a job done, resulting in shoddy work. All of this takes a level of expertise and time that they may not have available.
4. You Want Your Property to Look Its Best
Keeping costs down is a natural part of your job as a facility manager. But you also want great results. Outsourcing commercial landscaping can actually get you the best of both.
Your building's curb appeal is important because it helps create an environment that gives visitors, guests, owners, employees, and tenants a positive first impression on what kind of experience they will receive at your facility. Curb appeal is a direct representation of your business. You don't want your staff to only tend to your grounds when they have time. You want to constantly enhance your curb appeal by bringing an expert in to handle it.
Having a trusted landscape partner with broad capabilities and experience can help free up your internal resources without sacrificing your property's upkeep.
The right landscape contractor will also take as much pride in your property as you do because their company name and reputation is also visibly on the line. They want to show off what they can do best.
Landscape professionals are also motivated to do a great job because they want to keep your business. This means they will have a highly skilled and well-trained team ready to tackle the job. And throughout the year, they will continue to educate their employees, supporting them in their quest to learn plant identification, earn certifications, and broaden their knowledge base.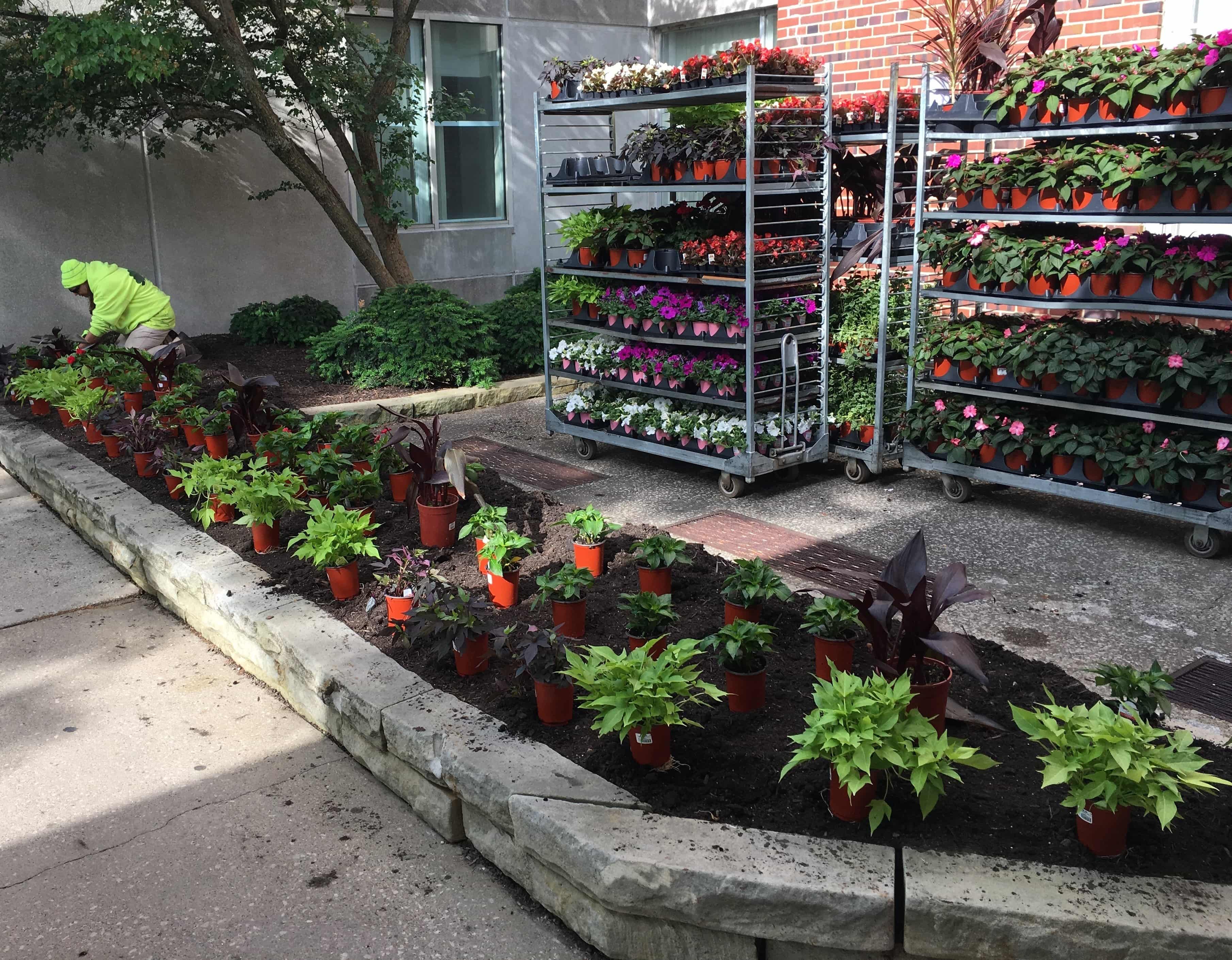 5. You Want to Save Time and Decrease Stress
Your job as a facilities manager is busy. You are being pulled in so many directions. The goal is to get commercial grounds maintenance tasks accomplished without sacrificing other important inside to-dos. The last thing you want is tenant complaints or liability issues to pile up.
By hiring a company you trust for your commercial landscape management, you can relieve that additional stress, as well as lighten your workload. When you hire the right landscape partner, you won't have to micromanage them or worry at 2 a.m. whether they are taking care of the massive snow and ice building up during a recent storm. Instead, you can sleep and arrive at your property in the morning to completed work and clear access to your property when it's needed most.
6. You Want to Build a Great Working Relationship With a Trustworthy Partner
When you do make the decision to outsource commercial grounds maintenance, you want to work with someone who will take the time to understand your needs and build a relationship with you. This way they know your preferences and continue to understand your business and your goals. A partnership like this can only lead to continually improving work and strategies.
A landscape vendor that wants to build this kind of relationship with you can also help you make a smooth transition from an internal to external landscape team. This might include helping you sell your equipment or transition your employees to new roles. That can be an added layer of stress taken off of your plate that you don't have time to manage.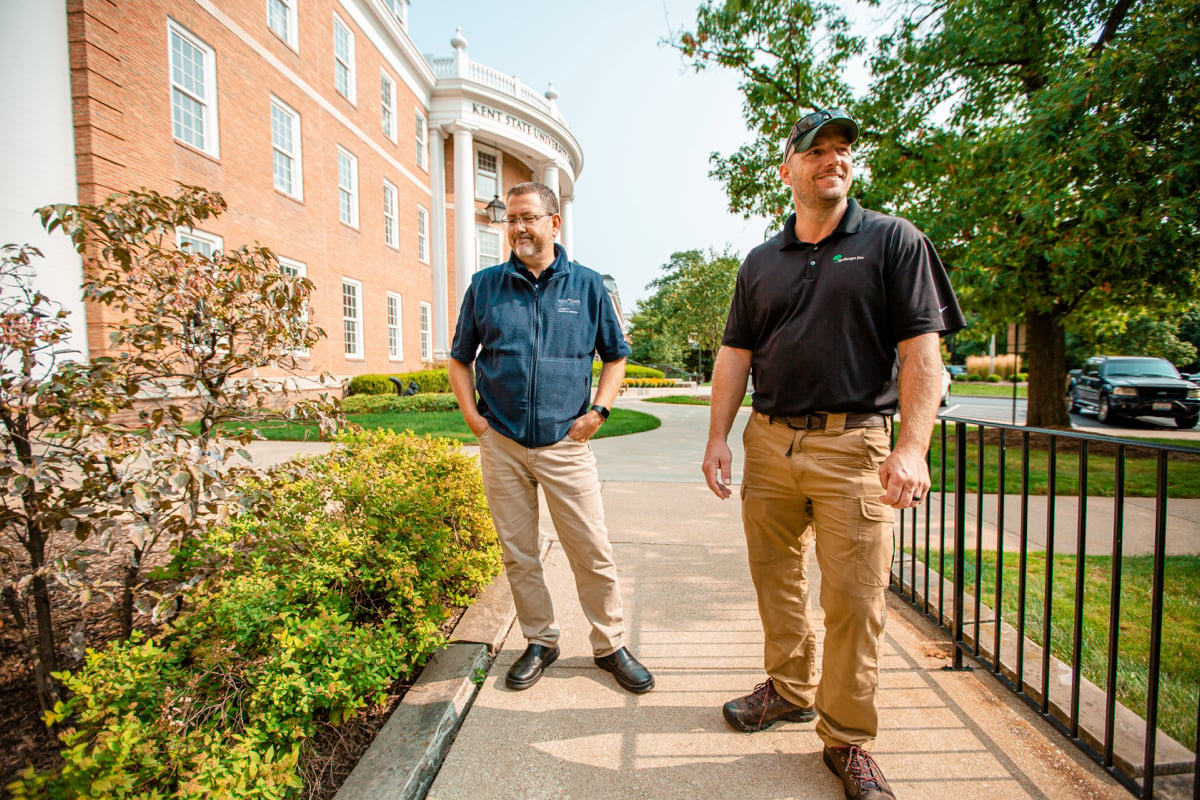 Embrace the Many Benefits of Outsourcing Commercial Landscaping
We know you have multiple options when outsourcing commercial landscaping in Northeast Ohio. You want to find a company that will not disappoint you, will offer a fair price, and will provide top quality service that you don't have to nitpick.
We completely understand. Anyone in your position as a facility manager would want the same attention to detail and organized, professional, efficient service. After all, your name is on the line.
Because you have to make a wise decision, we want to help you go through your checklist and factor the pros and cons. Hopefully this list helps you better understand your options so you can make a better choice for you and your facility.
While you're reviewing all your information, Turfscape is happy to make time to visit your property and share what we can do to help. We strive to grow professional bonds with facility managers in Northeast Ohio to make your job easier and help your business thrive.
Want to learn more about outsourcing commercial landscape maintenance in Northeast Ohio? Get started today with a free quote. We'll review your options together so you can make a great choice.