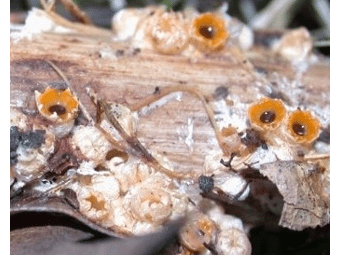 If you're mystified by tiny, black spots appearing on your property's siding, wooden deck, windows, plants, rocks or other surfaces, there's a chance you may be encountering shotgun fungus (also called artillery fungus). The shotgun fungus is caused by a type of white rotting, wood decay fungi that live on moist, landscape mulch and are responsible for the little black spots you are encountering.
Though the spots appear to resemble insect feces, scale crawlers or possible air-borne pollutants, they are actually mature spore masses expelled from fruiting bodies of a fungus known as "shotgun" or "artillery" fungus. This fungus develops in organic mulches. It is usually a greater problem in spring and fall, under cool, moist conditions and between temperatures of 50 to 70 degrees.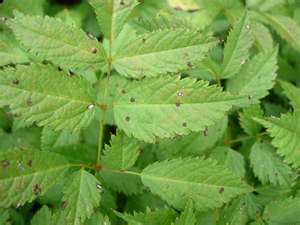 This very small type of mushroom fungus is a cream or orange-brown cup containing a black round mass of spores which are very difficult to see. The mushroom fungus opens up like a flower, and seeks out bright light sources at which to shoot the spores. Spores can be "shot" as high as the second floor of a building (about 20 feet!), and can spot downspouts, soffits, windows, cars, sun-reflecting glass, and other bright surfaces. According to some scientists, the fungus can generate up to 1/10,000 of a horsepower when expelling these spores. The spores are one to two millimeters in diameter, black, sticky and globular in appearance. If you scrape off the top of the black spots with your fingernail, you will reveal a reddish or cream color.
Although the spores can ruin the appearance of parts of your property, the good news is the shotgun fungus can be cleaned and precautions can be taken to deter the fungus from growing.
Solution:
Overall: Although attempting to remove the spots from surfaces is difficult and sometimes futile, we recommend using only non chlorine based cleaners, in conjunction with a coating which contains an EPA registered fungicide. If you decide to gently scrape the infested area, care must be taken to avoid damage to the surface or the paint. Spores can be cleaned off of wooden decks and re-coated.
Mulch: Installing new mulch each year, or at least every other year, has been shown to help deter shotgun fungus. If, year after year your mulch continues to develop shotgun fungus, another solution is to incorporate nonorganic mulch like gravel, stone and black plastic into your landscaping.